Date: Sunday 11th February, 3am (UK)

Location: Perth, Australia
Venue: Perth Arena
The 'Super Samoan' Mark Hunt is back and despite a fractious relationship with the UFC, has been slotted into the co-main event with the young and promising Curtis Blaydes.
This is a real veteran vs prodigy match-up with not only the stages of their careers differing but also their fighting styles. We have come to learn what to expect from Hunt who will stand and throw thunderous bombs, absorb bombs and attempt to avoid takedowns like a fad diet. This style combined with his unholy power has made him a fan favourite all over the world since his beginnings as a kickboxer.
Blaydes, on the other hand, has transitioned into MMA from a very strong wrestling background. After holding school records and winning a championship at NJCAA (National Junior College Athletic Association) level, Blaydes made his professional MMA debut in 2014 and won his first five fights.
Unfortunately for him, he then met Francis Ngannou for his first UFC fight and subsequently his first loss. However, he has improved drastically since this knockout and has built on his athletic pedigree by moving to Denver, Colorado and training with top fighters at Elevation Fight Team. He now has eight wins to his name and his looked exceptional in the process, adding a knockout threat to his arsenal.
Although Blaydes' striking has improved, it would be foolish to stand and trade with the 'Super Samoan' – a man who eats punches that would capsize the average man and who throws with power that would capsize any man would love nothing more than to have a slugfest with Blaydes.
However, we should fully expect the American to call upon his Wrestling to take the fight away from Hunt. Whoever can avoid the each other's strengths i.e the strikes of Hunt and the takedowns of Blaydes, will likely create the winner in this bruising contest.
See below for the statistical breakdown: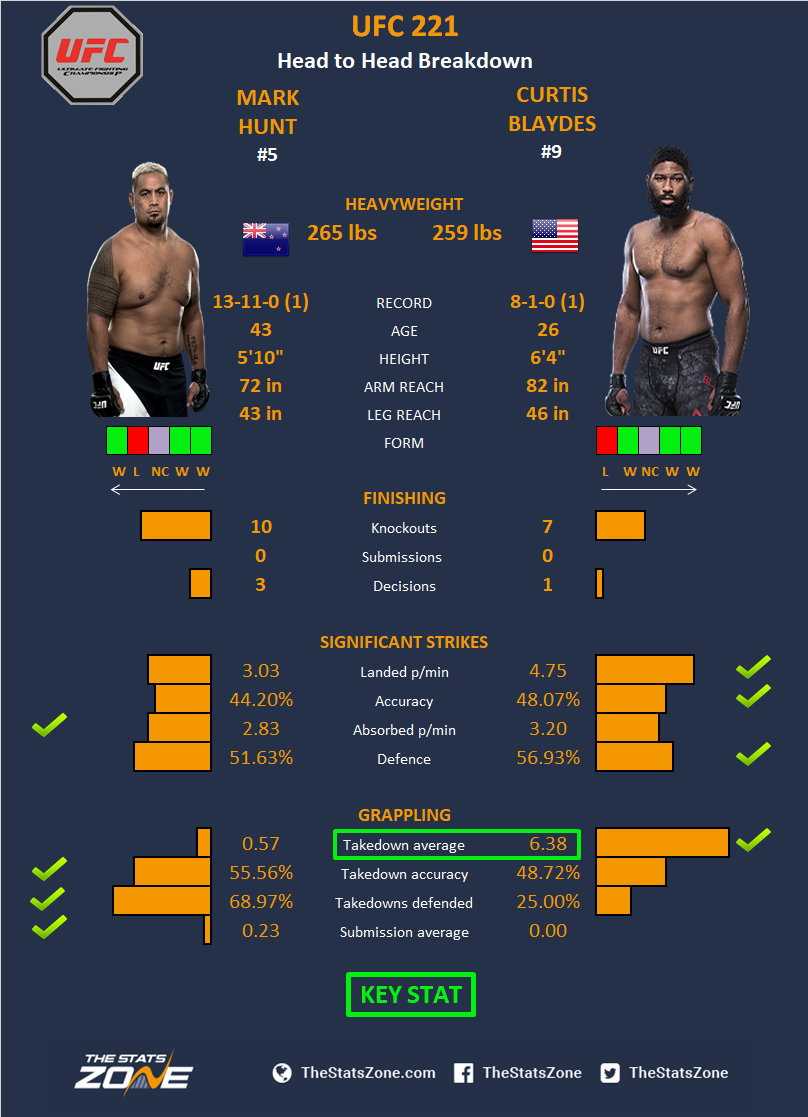 Striking and grappling stats sourced via FightMetric.