Date: Sunday 31st December, 3am (UK)

Location: Las Vegas, Nevada
Venue: T-Mobile Arena
Khabib Nurmagomedov makes his much anticipated return to the octagon after botching his weight cut and falling ill hours before his interim championship bout with Tony Ferguson at UFC 209. He has now recovered and hopefully healthy enough to compete at UFC 219 and square off against the number 4 ranked Edson Barboza.
Fight fans have been deprived of seeing Nurmagomedov fight due weight issues and serious injuries throughout his career which is a real shame as he possesses some of the strongest skillsets in MMA and is unbeaten which is incredibly rare at this level.
His grappling is simply on a different level - he possesses mutant strength, allowing him to ragdoll opponents with world class Sambo and suffocate them with destructive ground and pound. However, if there is anyone that has the weapons to stifle the Russian's takedowns it's Barboza.
One of the most electrifying and devastating strikers in MMA, Barbosa's kicking techniques are so fast and so powerful that Nurmagomedov has no choice but to be careful when shooting in for a takedown. The human highlight reel displays these skills in most of his fights being the only fighter to finish two fights via leg kicks and who can forget his wheel kick against Terry Etim and the flying knee in his last fight against Beneil Dariush.
However, these skills are useless if he cannot avoid the inevitable takedown attempts from the demon from Dagestan. Barboza's grappling has improved drastically since training with Ricardo Almeida's team and his takedown defence will be pivotal to any success. The Brazilian's best form of defence will have to be attack. If he is hesitant to throw his blistering kicks in fear of being taken down he will be a sitting duck.
So, to cause the upset and inflict the Russian's first loss, Barboza has to be aggressive. One mistake against Nurmagomedov and you'll be on your back in pain – however, one mistake on the feet against Barboza can land you in hospital.
Nurmagomedov edges the striking stats because the majority of his punches have been inflicted while on top-position on the ground whereas Barboza's strikes have been inflicted from a distance and will be his only chance of victory.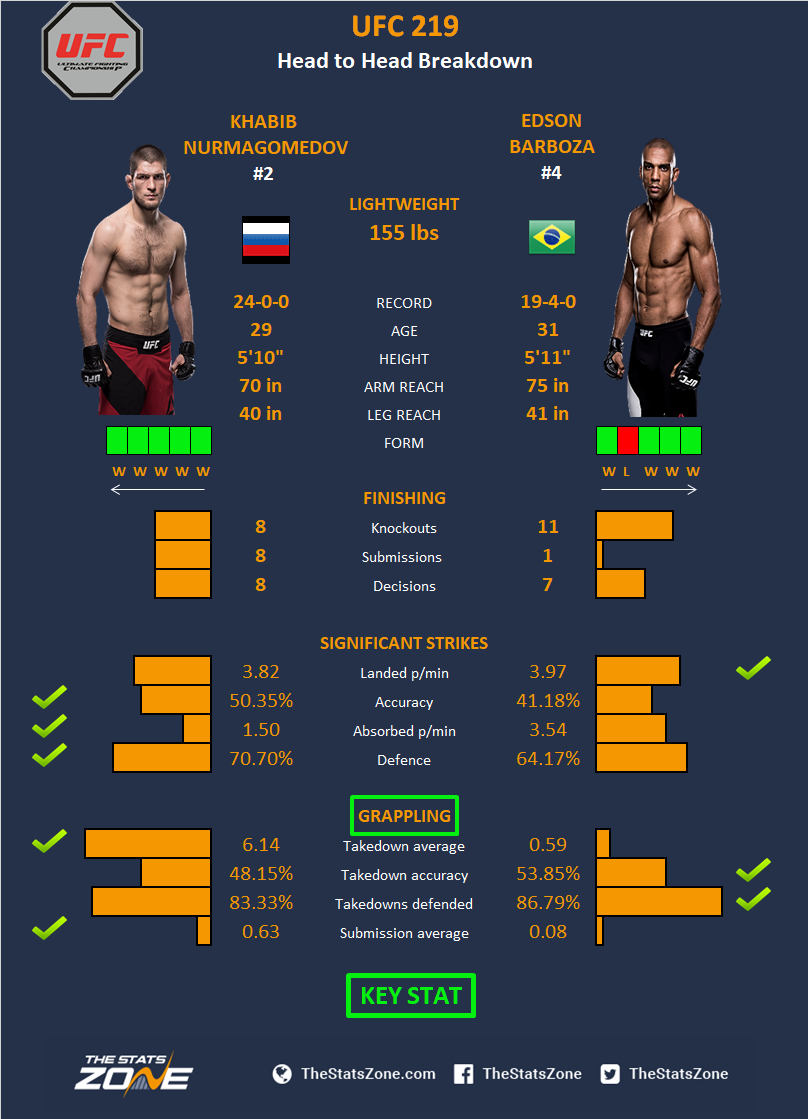 Striking and grappling stats sourced via FightMetric.