Date: Sunday 29th October, 2am (UK)
Location: Sao Paulo, Brazil
Venue: Ginasio do Ibirapuera
John Lineker returns in front of his home fans after his six-fight win streak was snapped by top bantamweight contender, TJ Dillashaw. Lineker looks more at home back in the bantamweight division, not because he lacked success as a flyweight but because he came into those fights incredibly depleted, struggling to make weight on almost every occasion. He now looks more energized which means more fuel for his famed power.
Infamous in his own country of Equador, Marlon Vera makes the short trip to Brazil looking to continue his surging career. A fledgling compared to Lineker, Vera has displayed a remarkably well-rounded skill set in his six UFC fights. Lineker is by the biggest fight and most dangerous opponent of his career so far and he will shoot up the rankings with a win.
The key stat highlighted is their significant strike accuracy. If Lineker can find a home for his heavy hands the fight can end at any moment. Vera has proven knockout power of his own but will be looking to avoid all significant strikes and take the fight to the canvas where he can unleash his skills in Brazilian Jiu-Jitsu.
See below for the statistical breakdown: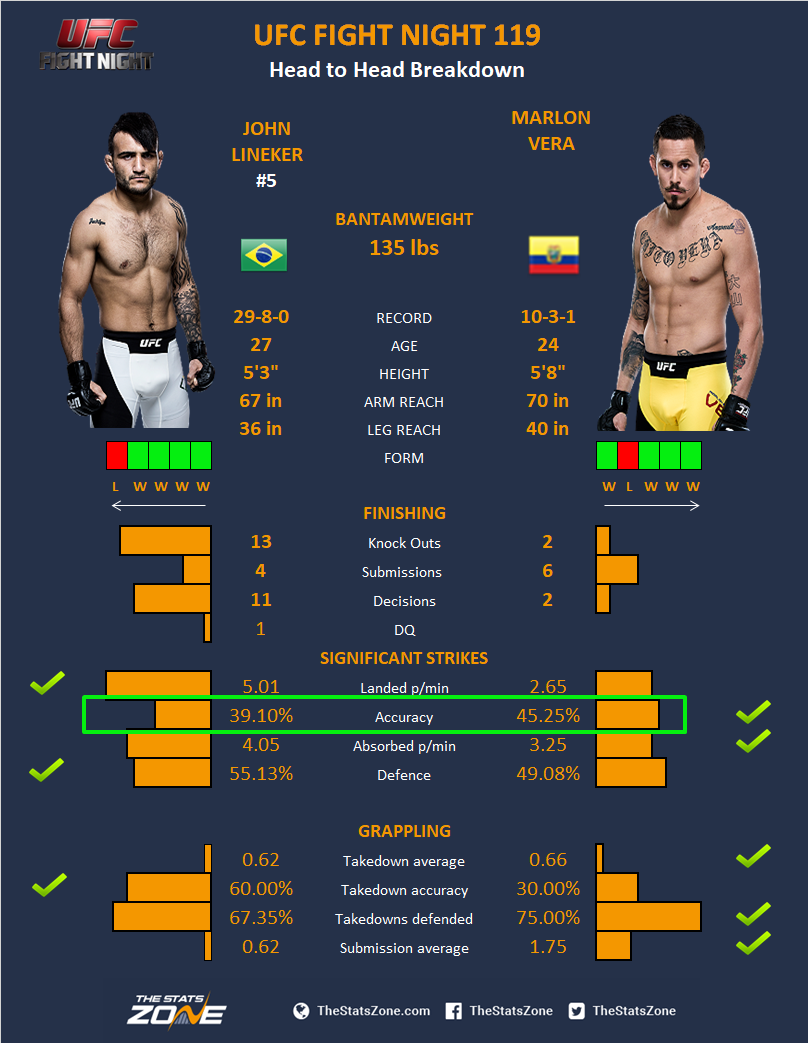 Striking and grappling stats sourced via FightMetric.