Date: Saturday 7th October
Location: Las Vegas, Nevada, US
Venue: T-Mobile Arena
Fabrício Werdum vs Derrick Lewis
A big heavyweight clash sets up the main events as former champion Fabrício Werdum takes on Derrick Lewis, with both fighters experiencing rocky form going into this bout.
After earning the title after submitting Cain Velasquez, Werdum got knocked out by Stipe Miocic in his first title defence and bounced back with an impressive win over Travis Browne but narrowly lost a decision to Alistair Overeem in his most recent fight. Lewis' tremendous six-fight win streak was snapped by Mark Hunt in his last fight so they are both hoping to bounce back with a win and get back on track for another title challenge.
The motivation of 'The Black Beast' is in question after he announced a shock retirement after his loss to Hunt. A persistent back injury certainly played its part in the decision but nevertheless it was a huge surprise considering that it was his first loss in seven fights. However, fortunately for fans, this fight was announced a couple months later. It seems a complete rest is exactly what the active bruiser needed to feel the urge to get back in the cage.
This is just as well because Werdum will be his hardest challenge to date. Werdum is one of the most accomplished heavyweights around. He is a multiple time World Jiu-Jitsu champion and a former Strikeforce and UFC champion with a plethora of wins over legends of the sport. Reaching the twilight of his career, he looks as if he is enjoying his fights, displaying new techniques and surprisingly looked revitalised in his last fight after suffering a devastating knockout. At the age of 40, though, he is competing with father time as well as a lethal knockout artist.
Lewis will be hunting Werdum's chin and will want nothing to do with his grappling. It will be no surprise to see Werdum call upon his Muay Thai skills and attempt to chop the big man down with leg kicks and knees but that will be a huge risk as 'The Black Beast' only needs one opportunity to connect with the skull and end a fight. Any damage to the Brazilian could force him to take the fight to the ground which will be done with ease as he is also a black belt in Judo and that could be curtains for Lewis.
See below for a statistical breakdown. The key stats here are the takedown and submission stats, highlighting the mismatch in ground skills.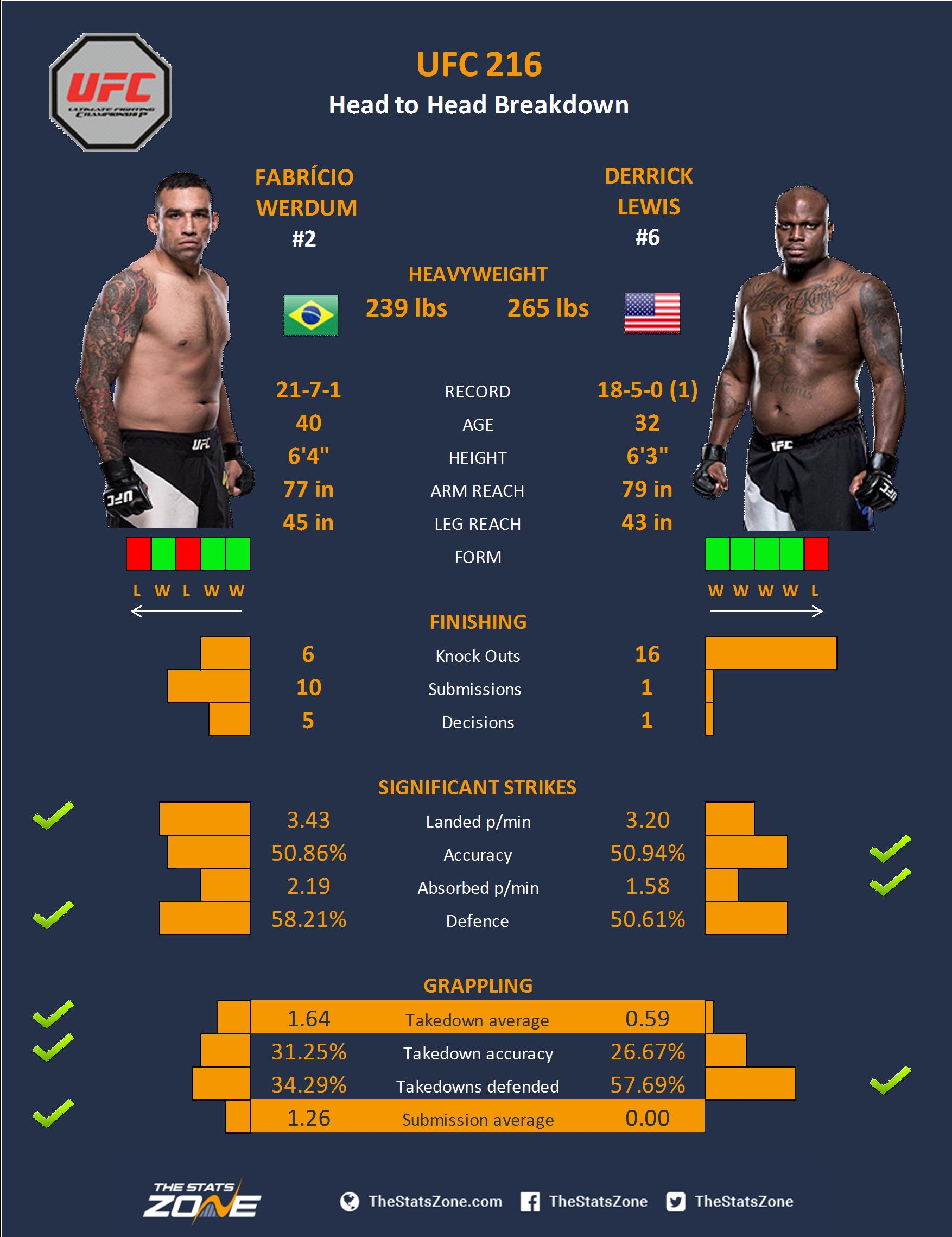 Striking and grappling sourced via FightMetric.