Date: Sunday 28th January, 1am (UK)

Location: Charlotte, North Carolina
Venue: Spectrum Center
Drew Dober has an incredible amount of experience for his age with nine UFC fights already. He has been at the right and wrong ends of spectacular finishes as well as the 'no contest' ruled after the referee mistakenly stopped his fight with Leandro Silva believing he tapped.
Dober has displayed immense potential but has struggled to get a winning run going. He has all the skills – an amateur World Muay Thai champion complimented by strong grappling skills with Wrestling and an ever-improving Brazilian Jiu-Jitsu game and now has the added confidence of going into this fight on the back of a superb knockout over UFC veteran, Josh Burkman.
A real test of his skills and character will come as he meets Frank Camacho who is also incredibly experienced for his age. Camacho has earned success on the regional circuits but needs to prove himself in the UFC and a win over Dober will certainly do that.
The man from the Northern Marian Islands will be confident he has the power advantage, looking to avoid any takedown attempts and unleash his power. Dober has to be wary of the hands of Camacho with 15 knockouts out of his 21 wins but Camacho has to throw with caution as Dober possesses the skills to threat in any area.
See below for the statistical breakdown: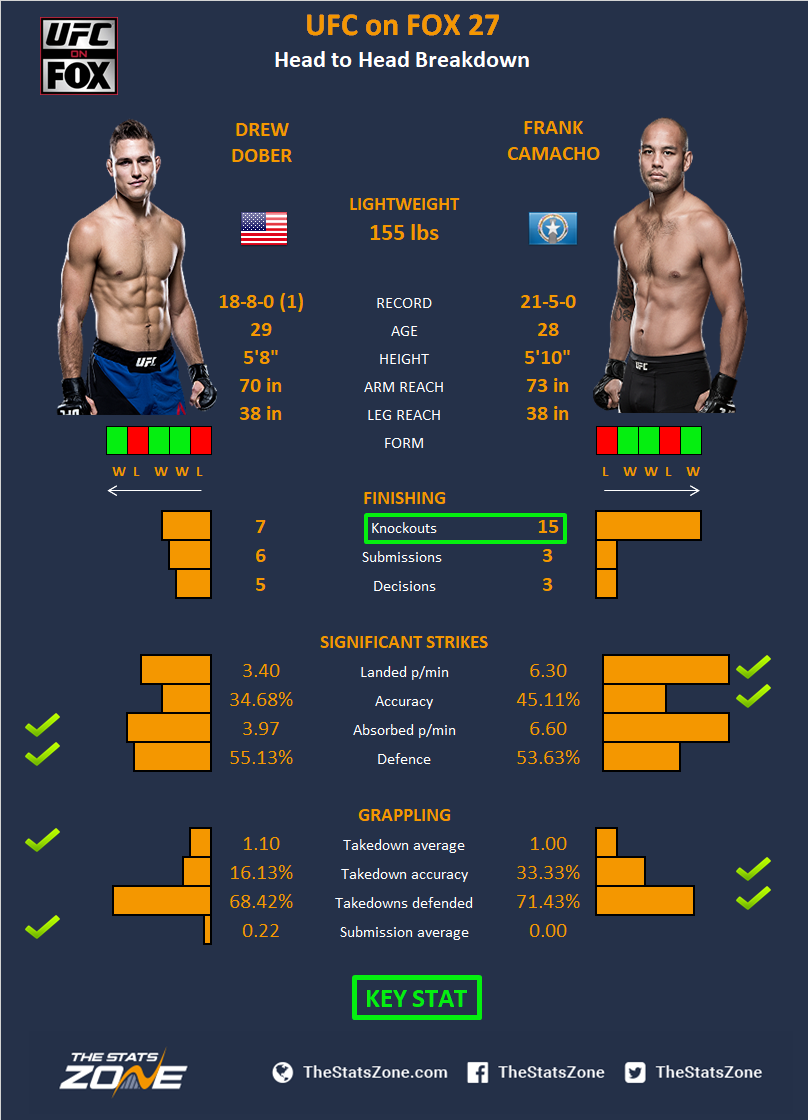 Striking and grappling stats sourced via FightMetric.