Date: Sunday 29th October, 2am (UK)
Location: Sao Paulo, Brazil
Venue: Ginasio do Ibirapuera
The return of The Dragon. Lyoto Machida makes his comeback to the octagon after serving a ban for consuming a banned substance. However, his stock is still high especially in Brazil where he is adored and the fans cannot wait for him to display his mesmerising ability once again.
Loved for his throw-back style, Machida is a black belt in Brazilian Jiu-Jitsu but made his name as one of the best Karate practitioners in MMA with deadly precision and ruthless counter-striking, which has created a sensational highlight reel.
With an epic highlight reel of his own, including five 1st round knockouts in his last seven fights, Derek Brunson is one dangerous opponent, especially after such a long layoff. However, the tactics of Brunson fall straight into the hands of the Karate expert. Brunson charges at his opponents, hoping to catch them off guard, which is exactly the trap Machida strives to set. He lures them to attack after frustrating with a lack of offence but counters like a marksman, only requiring one shot to completely fold his opponents.
So we may see Brunson reframe from his usual blitz attacks and focus on his exceptional wrestling. He is a powerful grappler but also has to be weary on the ground as Machida is also a black belt in Brazilian Jiu-Jitsu.
The key stat highlighted is Machida's takedown defence. If he can keep the fight standing, he is in his element, but if Brunson can take him down, it could be a long night.
See below for a statistical breakdown: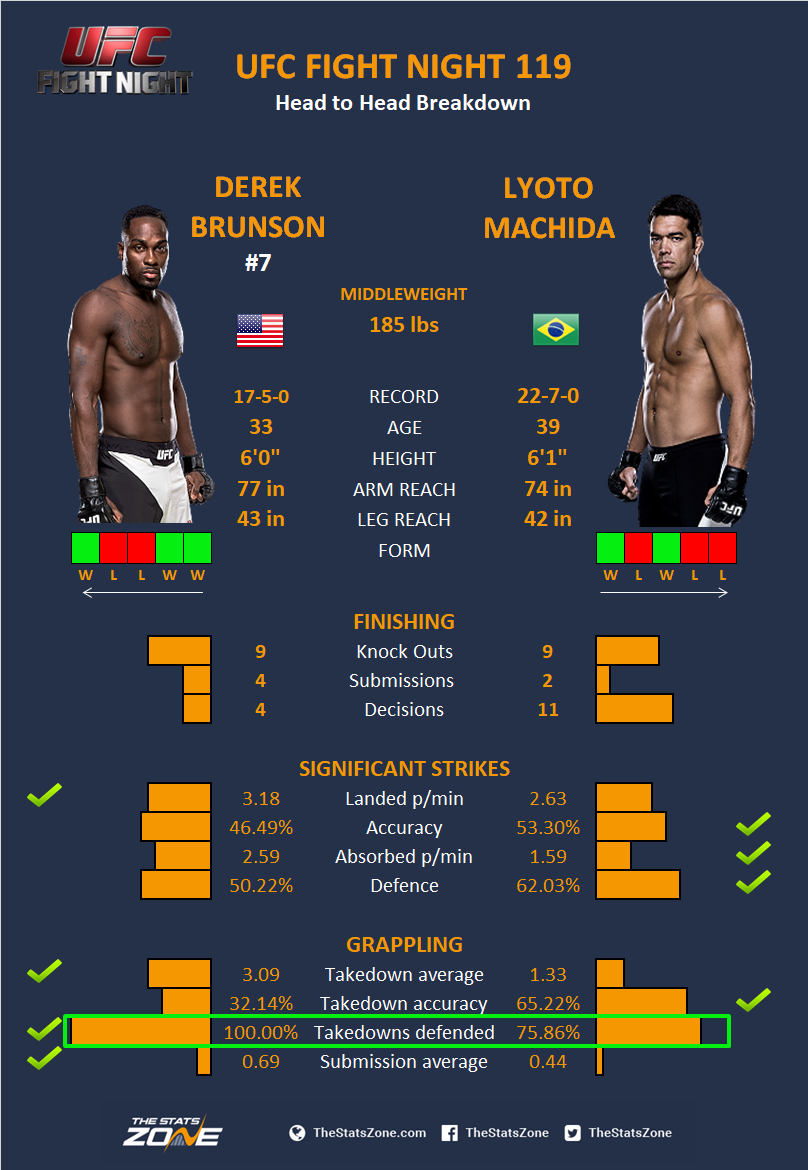 Striking and grappling stats sourced via FightMetric.