Date: Sunday 29th October, 2am (UK)
Location: Sao Paulo, Brazil
Venue: Ginasio do Ibirapuera
This is a blockbuster for a co-main event. Demian Maia found his sweet spot when he dropped down to the welterweight division and focused on his world class Brazilian Jiu-Jitsu and grappling. He suffocated seven top contenders earning himself a shot at the champ, Tyron Woodley. Unfortunately, he fell short along with the expectations of the fight and on his return to the cage, he has been handed the red-hot prospect of Colby Covington.
With only one loss to his name, he has become a real threat in the division. This match-up has many fans excited due to the fact Covington is a similar mould to Maia. An NCAA Division 1 wrestler, he takes his opponents down at will and grinds them down into submission.
Their game plans are effective as they are predictable. They want to get their hands on their opponents, take them down and control them which should provide an intriguing contest to see who is the better grappler. Let's just hope their strengths do not cancel each other out and they decide to stand for the duration of the fight.
The key stat highlighted is their submission average. The fight is expected to take place on the mat so the deadly finishing of Maia may be the deciding factor in the grappling exchange.
See below for the statistical breakdown: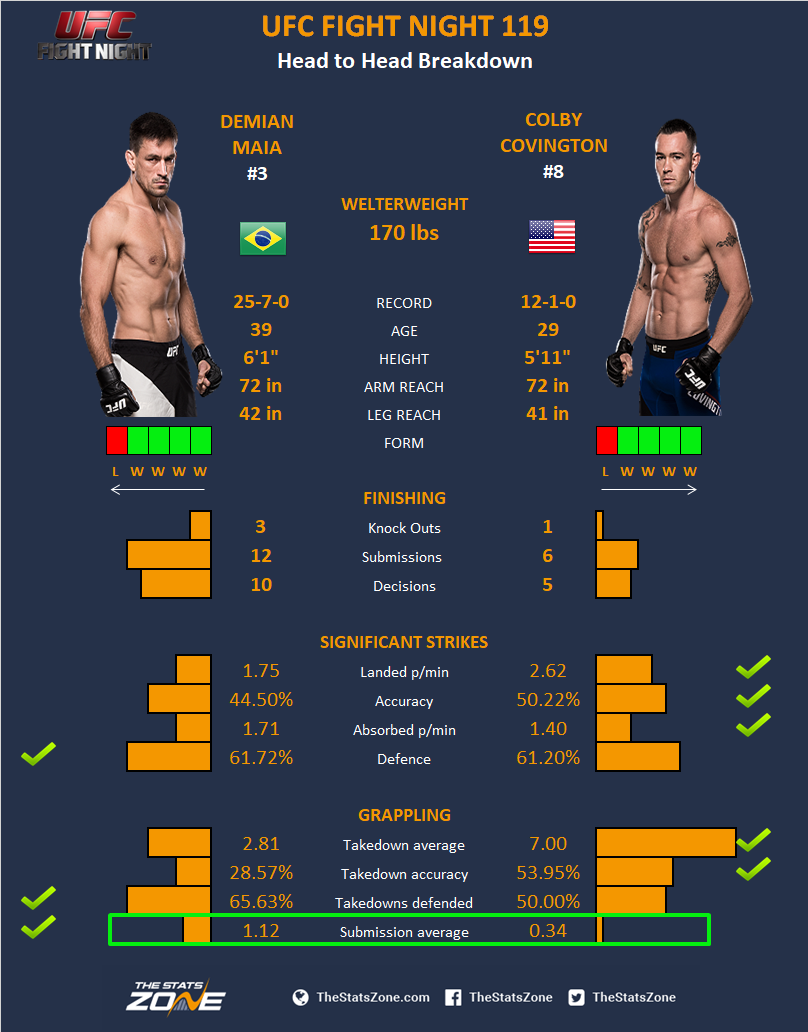 Striking and grappling stats sourced via FightMetric.