Date: Saturday 7th October
Location: Las Vegas, Nevada, US
Venue: T-Mobile Arena
Demetrious Johnson vs Ray Borg
Demetrious Johnson's chance of breaking the record for the most UFC title defences was put on hold at UFC 215 due to Ray Borg falling ill just days before the event. Fortunately, the UFC have scheduled a quick turnaround for this title fight and fans will be able to witness the spectacle as the co-main event at UFC 216.

If you were playing a computer game, trying to create the perfect flyweight, it would resemble Demetrious Johnson. Mighty Mouse has evolved into arguably the most complete Mixed Martial Artist of all time and performs as if he was manufactured in a lab, with flawless technique and speed that his opponents simply have no answer for.
Since he won the flyweight championship back in 2012, 10 victims have succumbed to the virtuoso performer, which equals the most title defences in UFC history, sharing the mantle with Anderson Silva. A win over Ray Borg at UFC 215, then, will give Johnson the record outright.
Borg, however, has recovered from illness to spoil the party and snap Johnson's streak, carrying genuine confidence of pulling off the upset. Although the division is shallow, he has swum up to the top of the pile of contenders after a couple of impressive decision wins over Louis Smolka and Jussier Formiga, showcasing bullish wrestling which he feels will be his route to victory.
His wrestling will be his closest ally in defeating Johnson and he must mix grappling with strikes to unsettle Johnson in the scramble and he will have to start strongly. Mighty Mouse not only dictates his fights but he beats opponents at their own game, whether it's submitting Jiu-Jitsu champions, out-grappling Olympic wrestlers or out-striking the best strikers in the division. It's what makes him the pound-for-pound best fighter right now so Borg will have to be even more aggressive than usual to create openings and leverage his power.
Unfortunately for Borg, Johnson has never been more motivated with the UFC record in sight. Borg certainly has the ability to cause an upset but will have to put on a career best performance. Win or lose for Borg, he will leave the cage a better fighter and at the age of 24 will surely be back to challenge for the title again. For Johnson, if he earns that record, let's hope he takes superfights to give the fans what they want and potentially cement his legacy as one of the best fighters of all time.
See below for a statistical breakdown. The key stats highlighted is their record. Borg has a great record and is vastly experienced for his age. Johnson however, has more fights and more wins over the very best of the division which is a huge advantage.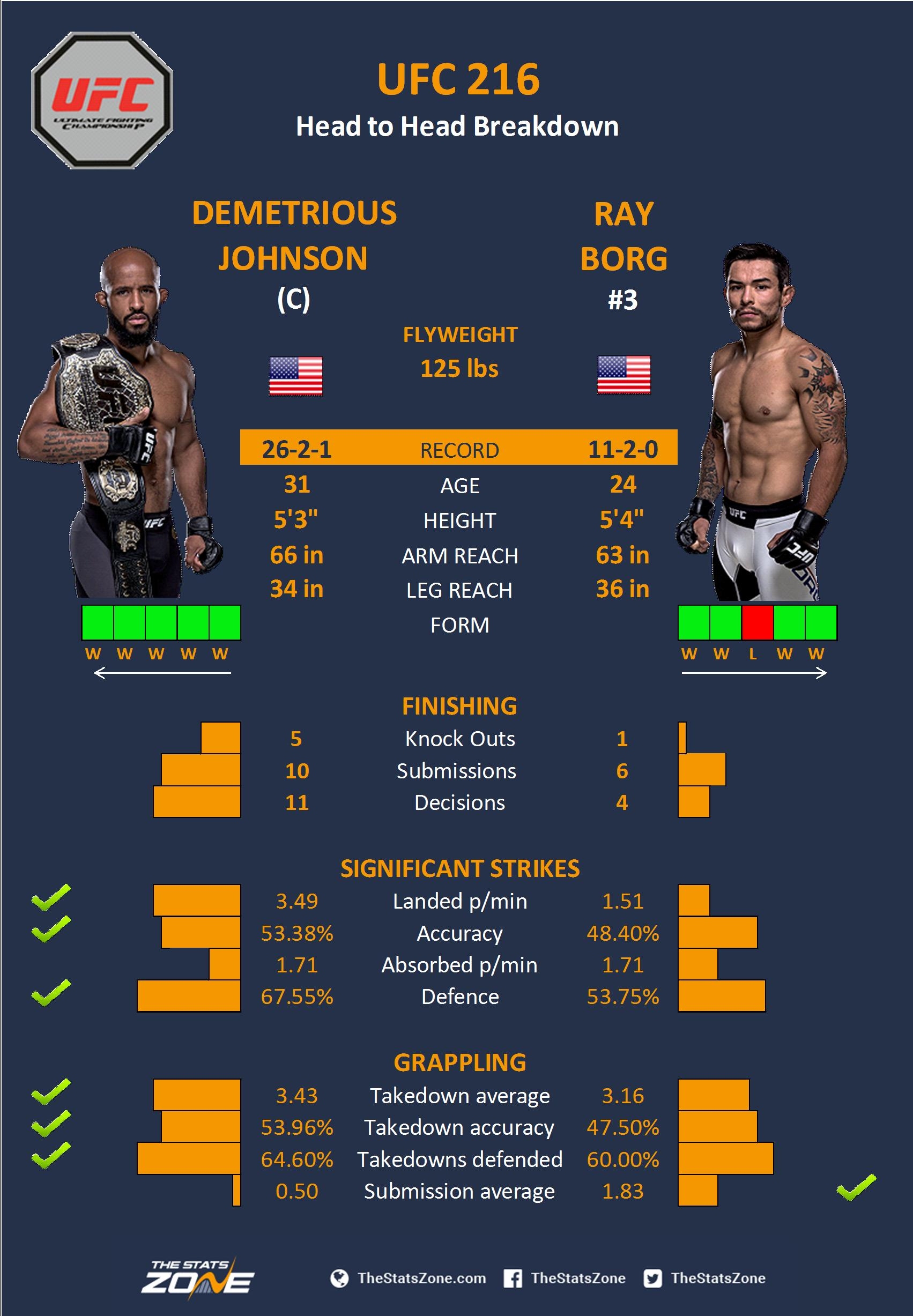 Striking and grappling sourced via FightMetric.