Date: Sunday 20th January, 3am (UK)

Location: Boston, Massachusetts
Venue: TD Garden
Since dropping down to light heavyweight in the UFC, Daniel 'DC' Cormier has been on a rollercoaster of triumph, frustration and heartache with Jon Jones conducting every turn. An array of misdemeanours from Jones has prevented DC from creating any kind of legacy and redemption after handing him his first career loss in 2015.
Throughout DC's UFC ride, Jones has received arrests for DUI, drag racing, a hit-and-run accident and receiving lengthy fight bans for cocaine and performance enhancing drug (PED) use, all of which has postponed fights and forced him to be stripped of the title on two separate occasions.
Since their first encounter, DC has earned success few fighters will ever experience, claiming the vacant title with incredible wins over Alexander Gustafsson and Anthony Johnson twice, staking his own claim as one of the best light heavyweights of all time.
However, his chance of redemption after Jones served his most recent ban was obliterated when Jones landed a ferocious head kick and finished DC off with strikes. Recovering from this devastating loss – physically and mentally, Jones was caught again for PED use, turning the fight into a 'no contest'.
After the difficult realisation of being second best, DC has been handed back the title, and as the only man to beat him has been exposed for cheating he is now back in discussions for being one of the best light heavyweights of all time.
What a ride, but it's not over as a Swiss-shaped hump looms around the corner in the form of the young and hungry Volkan Oezdemir. Although he has only had three UFC fights, the power he possesses in his hands makes him one of the most dangerous light heavyweights in the division, which was beautifully displayed in his last two fights, starching Misha Cirkunov and Jimi Manuwa in under a minute.
He has wasted no time in getting his title shot and will settle for being the heavy underdog again in this fight. Although he has never been taken down in the UFC, he has never fought anyone with the grappling prowess of DC. With the exception of Jones, the Olympic wrestler has enjoyed ragdolling his opponents and if he can avoid the nuclear power of Oezdemir like he did Anthony Johnson, it should be a comfortable night for the champion.
The grappling is the clear route to victory for DC, and although he would like to show off his underrated striking, he would be foolish to take the young slugger lightly. Oezdemir has the confidence as well as a three-inch reach advantage but will have to be cautious in avoiding the immaculate timing of takedowns and overwhelming cardio of the champion.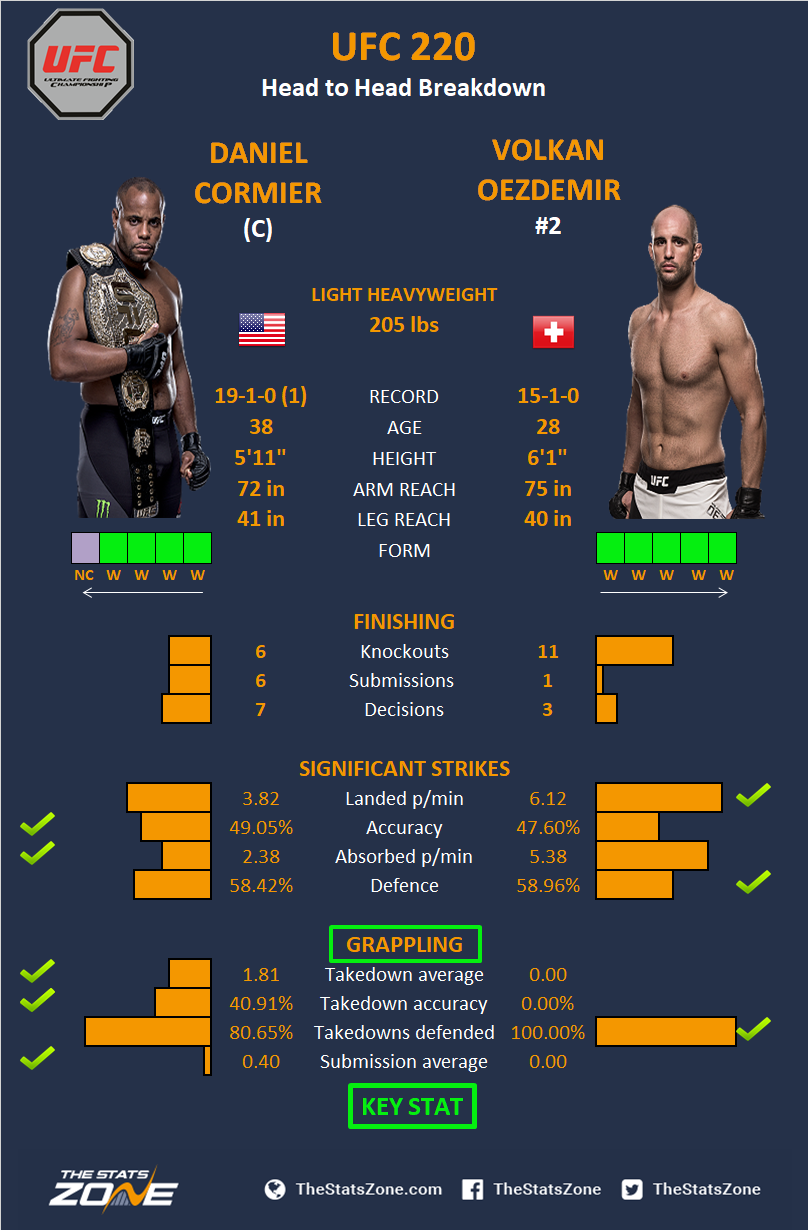 Striking and grappling stats sourced via FightMetric.