Date: Sunday 31st December, 3am (UK)

Location: Las Vegas, Nevada
Venue: T-Mobile Arena
This bout between two young and promising lightweights has been pushed up into the main after bantamweight Jimmie Rivera has been left without an opponent days before UFC 219. You have to feel sorry for Rivera who was preparing for the biggest fight of his life against Dominick Cruz who pulled out with a broken arm and then days out, John Lineker was rushed to hospital with a tooth infection. Talks of Marlon Moraes also fell through this week meaning Rivera has put his Christmas and honeymoon on hold for nothing.
Anyway, this fight between Dan Hooker and Marc Diakiese is more than worthy of being on the main card and has every chance of being the 'fight of the night'. They are both very exciting fighters who relentlessly hunt the finish in all their fights.
Hooker has struggled to string two wins together in his last six fights but in between losses to stellar competition he has pulled off exceptional finishes – a head kick knockout to Hatsu Hioki, a guillotine choke to Mark Eddiva and a spectacular flying knee knockout to Ross Pearson in his last fight.
Not to be outdone, Diakiese is a true showstopper himself. The former Bamma lightweight champion amazes fans with his striking displays, showing off his Capoeira skills mixed in with devastating Muay Thai and Kickboxing. He was really starting to make noise after winning his first three UFC fights and extending his unbeaten record to 12-0, however, he narrowly lost a decision to Drakkar Klose in in last fight who gave a tutorial in how to beat Diakiese.
Klose weathered the early storm of attacks from Diakiese and went on to grind out a win and this is exactly what Hooker needs to do. They are both very strong grapplers but Diakiese boasts a speed and power advantage on the feet which will be a huge threat to the New Zealander in the first round.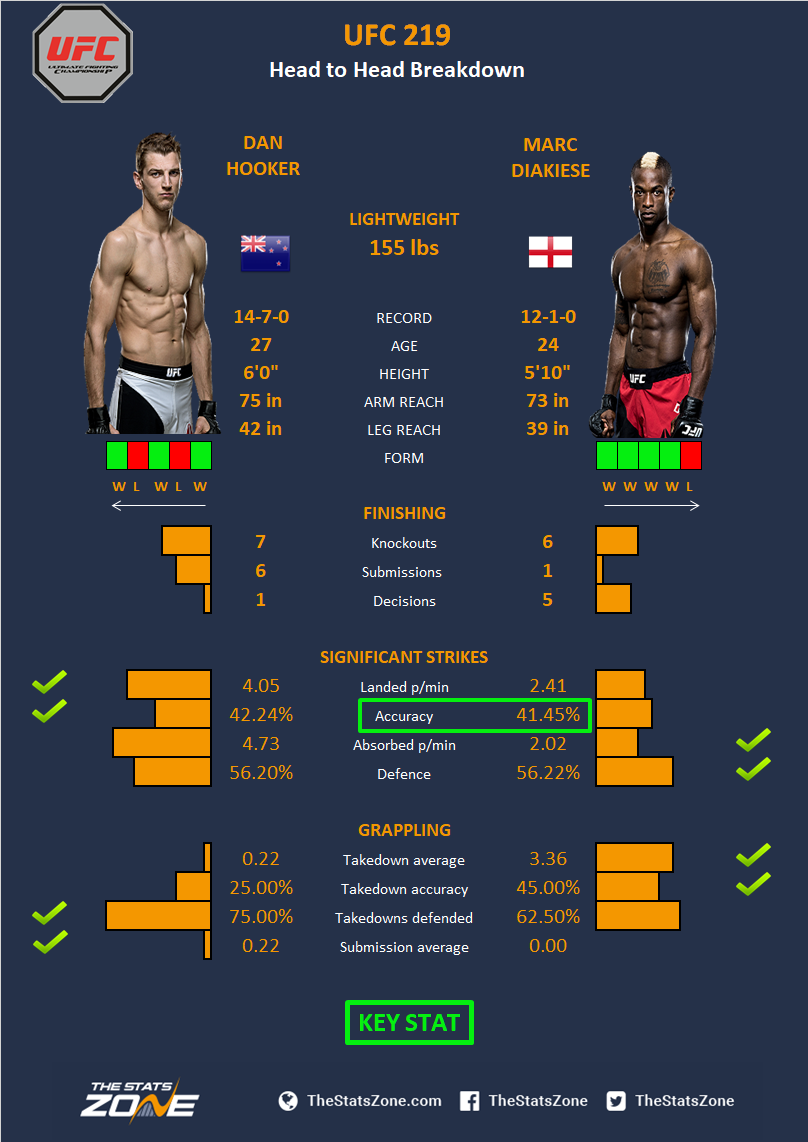 Striking and grappling stats sourced via FightMetric.