Date: Sunday 5th November, 2am (UK)
Location: New York City, New York
Venue: Madison Square Garden
The second title fight of the night is a colossal clash and one of the most anticipated bantamweight fights of all time. Cody Garbrandt makes his first defence of his belt against former team mate and foe, TJ Dillashaw. This is a genuine grudge match overflowing with bad flood originating from Dillashaw's departure of their team (Team Alpha Male), a decision which Garbrandt took very personally.
They now square off after Garbrandt surged up the bantamweight division and took on one of the best pound-for-pound fighters in Dominick Cruz. Garbrandt was a big underdog but carried confidence of finishing all but one of his fights via knockout. On the night he was mesmerising. He took Cruz on at his own game - out-working, out-moving and out-striking the champion. Debilitating injuries throughout Cruz's career and on the night played its part in his performance but taking nothing away from Garbrandt – he earned the belt and champion status.
In 2014, Dillashaw had his own Garbrandt moment when he toppled Renan Barao when the Brazilian was sitting on a record of 32-1-0 (1). After a couple of title defences, he lost the belt to Cruz via a tight decision but has earned a shot to get his belt back and with the history of these former training partners, this bout was inevitable.
Watching closely from the sidelines will be Cruz who was really the inspiration of both these fighters. The division was practically built on his achievements as Garbrandt and Dillashaw looked on in admiration and jealousy. For years they studied his fighting style, knowing one day they would meet him in the cage and you can see how elements of their success have stemmed from Cruz's fighting style.
They are now ahead of him in the pecking order and have evolved their own successful styles. They are both incredibly athletic and quick with immense stamina but Dillashaw is the more cerebral fighter, leveraging his skills via tactical game plans, whereas Garbrandt is more of an assassin and an emotional fighter with one-punch knockout power.
This fight combines the highest skill level in striking with the highest amount of animosity and there is so much more on the line than just the belt. Pride will be an overwhelming factor but holding the belt means opportunities for super fights and these will evaporate with a loss.
The key stat highlighted is the significant strike defence, which is on a different level to most fighters as it is with hypnotising movement patterns. As they are both expected to throw at their usual ferocious pace for five rounds, their defence will be crucial to gaining the upper hand.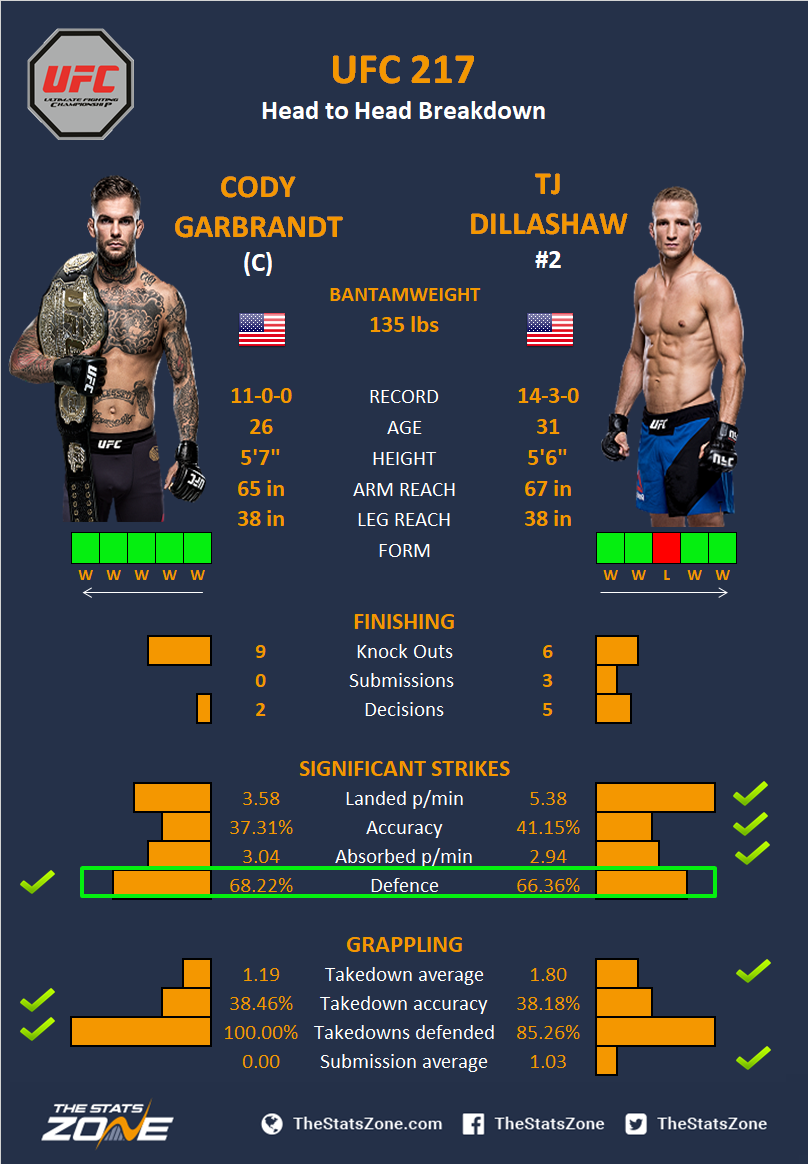 Striking and grappling stats sourced via FightMetric.