Date: Saturday 7th October
Location: Las Vegas, Nevada, US
Venue: T-Mobile Arena
Beneil Dariush vs Evan Dunham
The main card kicks off with a lightweight bout after the UFC veteran called out Beneil Dariush. The Iranian has become accustomed to fellow fighters calling him out and has admitted it only motivates him in preparation for the fight.
Dariush is very experienced himself with 11 UFC fights (8-3) but is coming off a devastating knockout loss to Edson Barboza. He was looking excellent until he dived in for one takedown too many and was met with a thunderous knee to the dome. In contrast, Dunham is coming off four straight wins - all coming via a unanimous decision - and is confident of adding Dariush to his victim sheet.
This will be an intense match-up; both are great grapplers who really force the pressure for the duration of the fight. Dariush is the superior striker and is far more technical with a black belt in Muay Thai but Dunham's striking has improved and can't be overlooked. He does not have the power of Dariush, however his output is relentless which sets up his takedowns.
This promises to be an evenly-matched contest fought at a frenetic pace. We expect both men to press forward and apply their own pressure, with Dariush relying on his technical ability and Dunham relying on his toughness.
See below for a statistical breakdown. The key stat highlighted is the 'significant strikes landed per minute' which represent very high averages. In particular Dunham, who boasts the most 'total strikes landed' (1489) of all time in the lightweight division.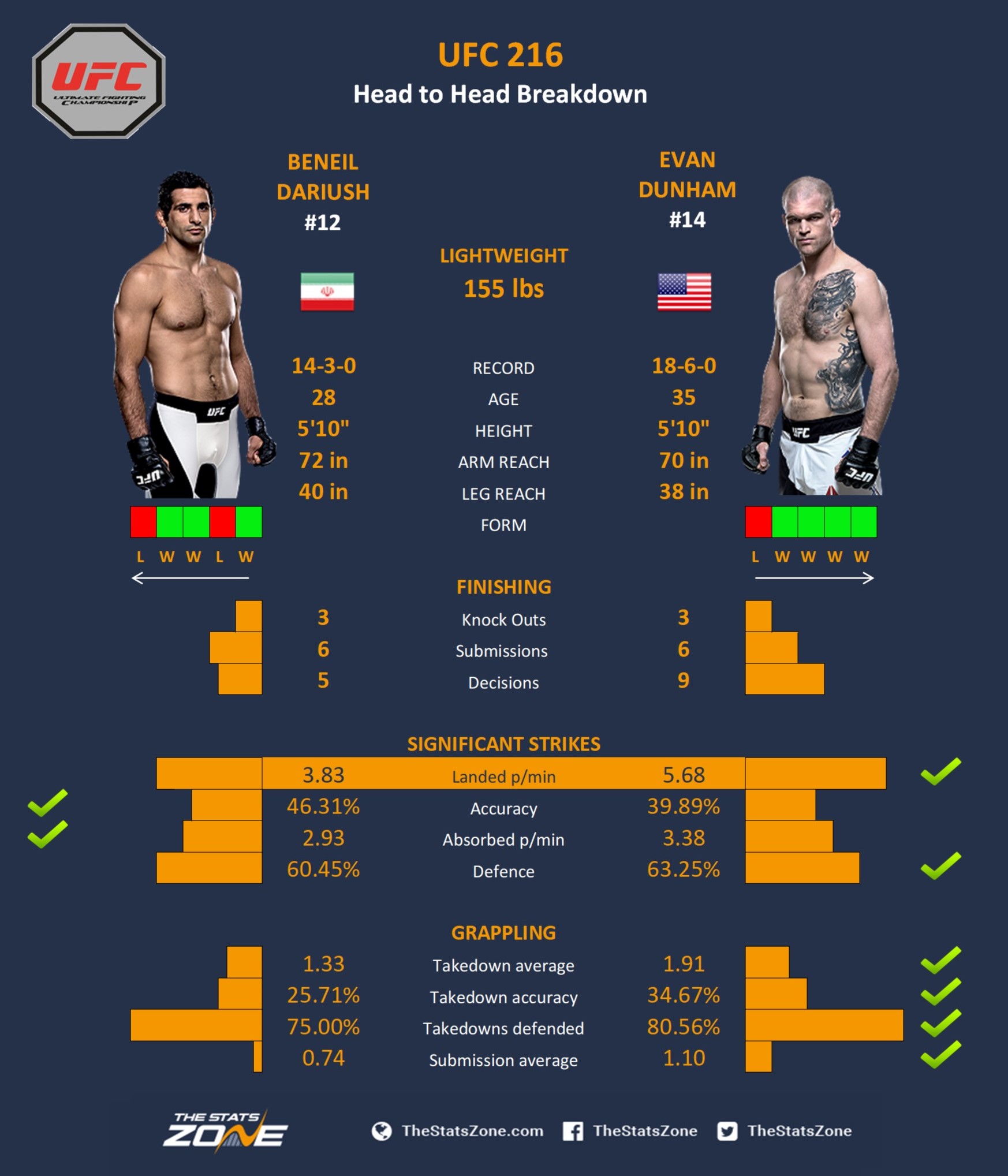 Striking and grappling sourced via FightMetric.