Date: Saturday 2nd December

Location: Detroit, Michigan
Venue: Little Caesars Arena
The most decorated striker vs the most powerful striker. Two heavyweight behemoths grace the co-main event featuring the legend Alistair Overeem and rising star Francis Ngannou.
Fighting since he was 14 years old, Overeem has seen and achieved it all accept the coveted UFC heavyweight title. Ngannou on the other hand – despite being 31 – only started MMA five years ago and has copious amounts of potential. From a very humble background in Cameroon, the natural powerhouse has dedicated his life to MMA and has surged through top competition in a frightening way and is being touted as the next superstar, which is exactly what the heavyweight division needs right now.
Ngannou's record speaks for itself with 10 finishes in his 10 wins – six knockouts and four submissions. His power is terrifying, putting opponents to sleep with just a touch of leather. He truly lived up to his reputation in his last fight which was his biggest test on paper – Andrei Arlovski who was virtually sent airborne with an uppercut off balance. He now takes on Overeem who is not a gatekeeper, he is the number one contender for a reason with wins over the very best in the world.
It is hoped this fight doesn't end in a flash as it will be enthralling to see seasoned technique vs brute force. Since his drug test ban in 2012, Overeem has evolved into a more considered and intelligent fighter and this is exactly the approach required for Ngannou.
The Predator likes to press forward in search for openings so we should expect Overeem to be measured with thunderous chopping leg kicks and knees in the clinch. However, we know Ngannou doesn't have to search long for these openings with murderous punching power, in particular his uppercut – he is a severe threat from any distance.
With the skills and attributes on display, a knockout is more than likely but how we get there could depend on the experience of these juggernauts. Will Overeem's decades of elite experience be enough to slay The Predator?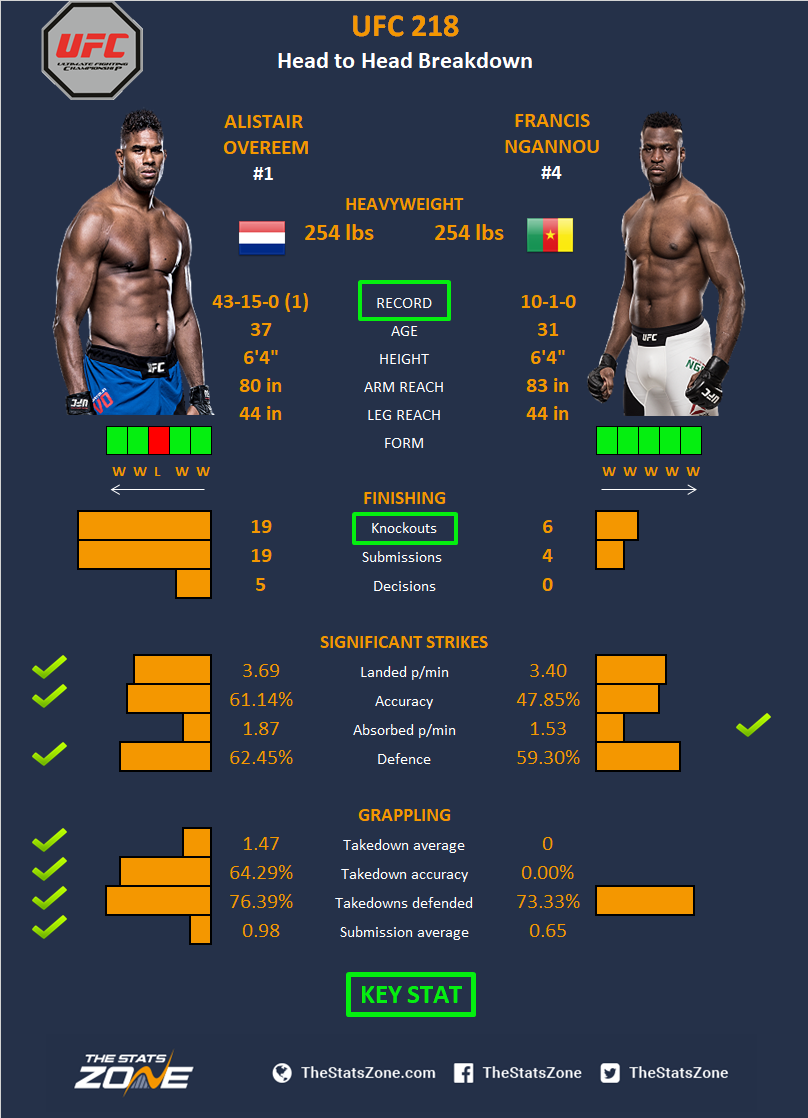 Striking and grappling stats sourced via FightMetric.