Mighty Mike, MVG, The Green Machine – whatever you choose to call him – has been phenomenal for a number of years now, but can any other sportsman or sportswoman on the planet lay claim to dominating their chosen profession to the same degree that Michael van Gerwen has done in darts this past year? The Dutchman is undoubtedly the best player on the planet, and arguably the greatest tungsten thrower of all time (we'll get to that), but there's just one problem for the darting genius…he isn't the world champion.
A Year To Remember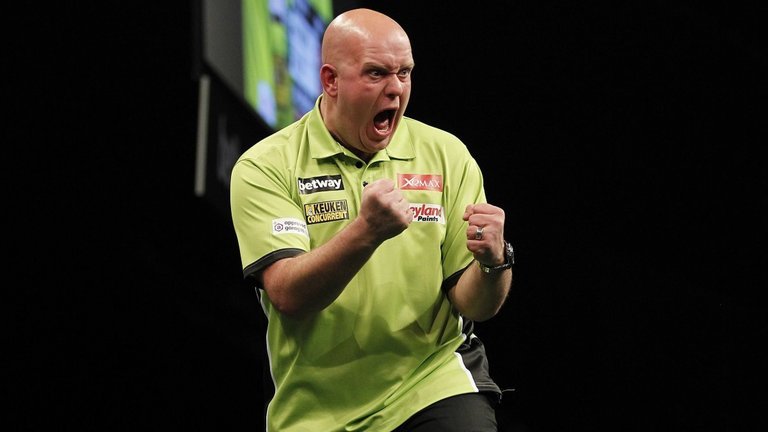 Since last year's World Championship, where he was sensationally eliminated in the last 16 by an inspired performance at the hands of the doyen of Dutch darts, Raymond van Barneveld, Van Gerwen has enjoyed near constant success: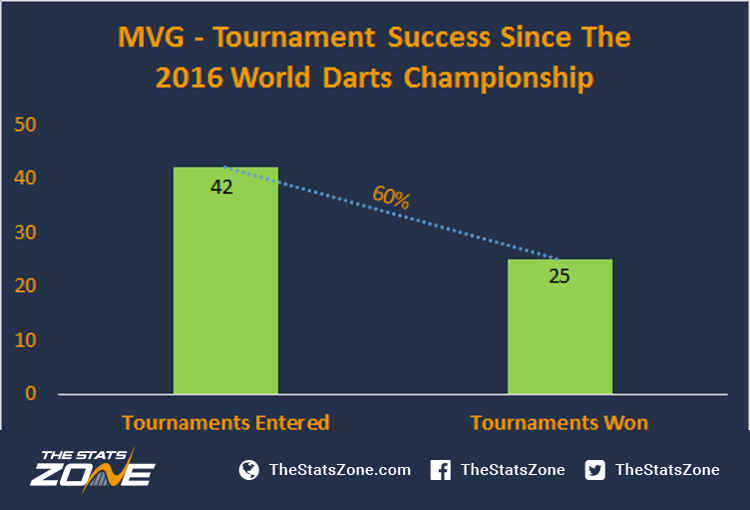 He certainly didn't let his World Championship disappointment derail him. Instead, month after month, tournament after tournament, the Dutchman reminded us all that he is the man to beat. Indeed, in the 42 tournaments Van Gerwen entered during this time period, he emerged as the champion in 25 of them – a staggering tournament win ratio of 60%. Additionally, he reached the final in nine of the 17 tournaments he didn't win.
Perhaps even more notable is his record in the big events this year, as he claimed all six of the televised ranking events since Ally Pally, those being the UK Open, World Matchplay, World Grand Prix, European Championship, Grand Slam of Darts and Players Championship Finals.
Of the "unranked" televised tournaments, MVG also collected the Masters, Premier League and World Series of Darts trophies. Perhaps his only significant individual loss of the entire year was to Phil Taylor in the final of the inaugural Champions League of Darts, the first PDC competition to be screened on the BBC.
Let's take a look at how his year has compared to other players: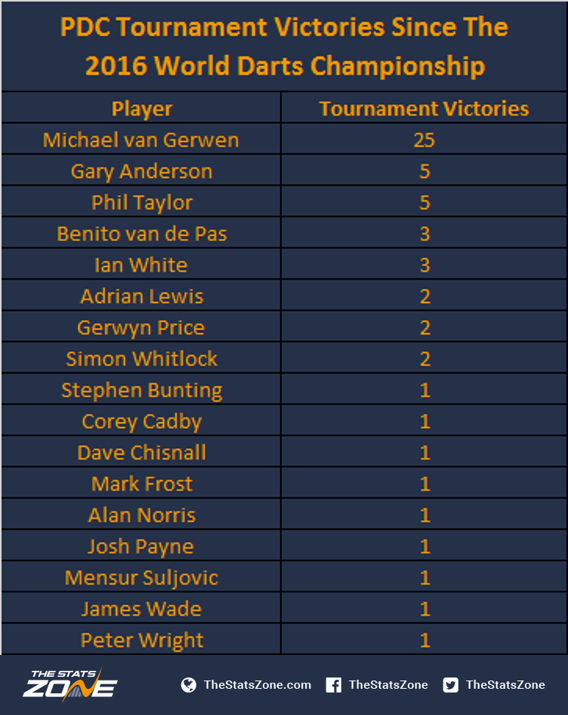 In the same time period, his nearest competitors were the aforementioned Taylor and the reigning double world champion, Gary Anderson, who both picked up five tournament victories along the way.
Since the 2016 World Darts Championship, Van Gerwen's record reads 207 wins, 20 losses and four draws. So, who has managed to defeat him?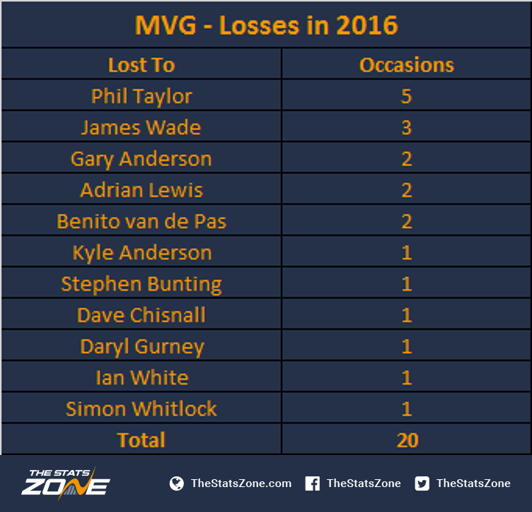 11 players have recorded a victory over MVG in 2016, with Taylor triumphing on five separate occasions and James Wade, Gary Anderson, Adrian Lewis and Benito van de Pas all enjoying multiple victories. Significantly though, not one of these players has a winning record over MVG in 2016. Of the 20 losses, 17 of them prevented Van Gerwen from winning that specific tournament, whilst the other three were academic defeats in the Premier League, Champions League of Darts and the World Cup of Darts.
The Greatest Ever?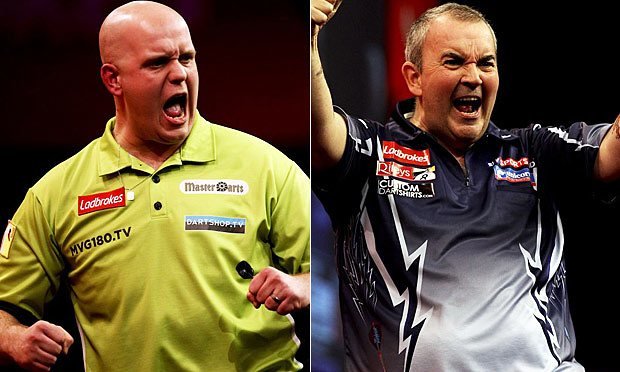 Van Gerwen's dominance this year rivals that of Phil Taylor when he was at his unbeatable best, so comparisons with "The Power" are inevitable. Prior to Van Gerwen's emergence, Taylor, who is still performing at the highest level at the age of 56, dominated the world of darts for over 20 years and has, understandably, been labelled the greatest darts player to ever walk the earth. In recent times though, there are some who claim that Van Gerwen has already surpassed him. A comparison of their titles in 'premier' events does little to support this theory: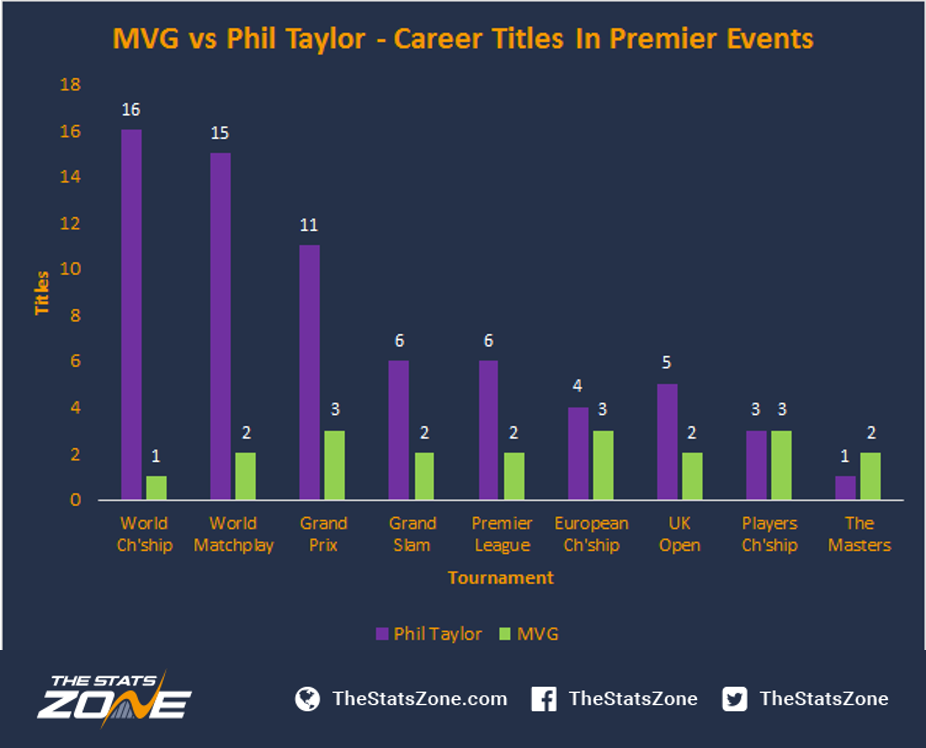 *Taylor's 16 World Championship wins include the two BDO titles he won in 1990 and 1992.
Taylor comfortably leads in terms of titles won in almost every tournament, including in the biggest of them all – the World Championship. The Power has been victorious here a staggering 16 times, a record even Van Gerwen himself thinks will never be surpassed, mainly due to the increasing competitiveness of the modern game. However, given MVG's multiple successes in other major tournaments, a return of just one World Championship title, coming in 2014, is somewhat underwhelming. Of course, at 29 years Taylor's junior, the Dutch darting sensation still has plenty of time on his hands in order to emulate, or even surpass, his great rival.
Clearly, Van Gerwen is a long way behind Taylor in terms of titles won, so why is he even in the 'best ever' debate?
Averages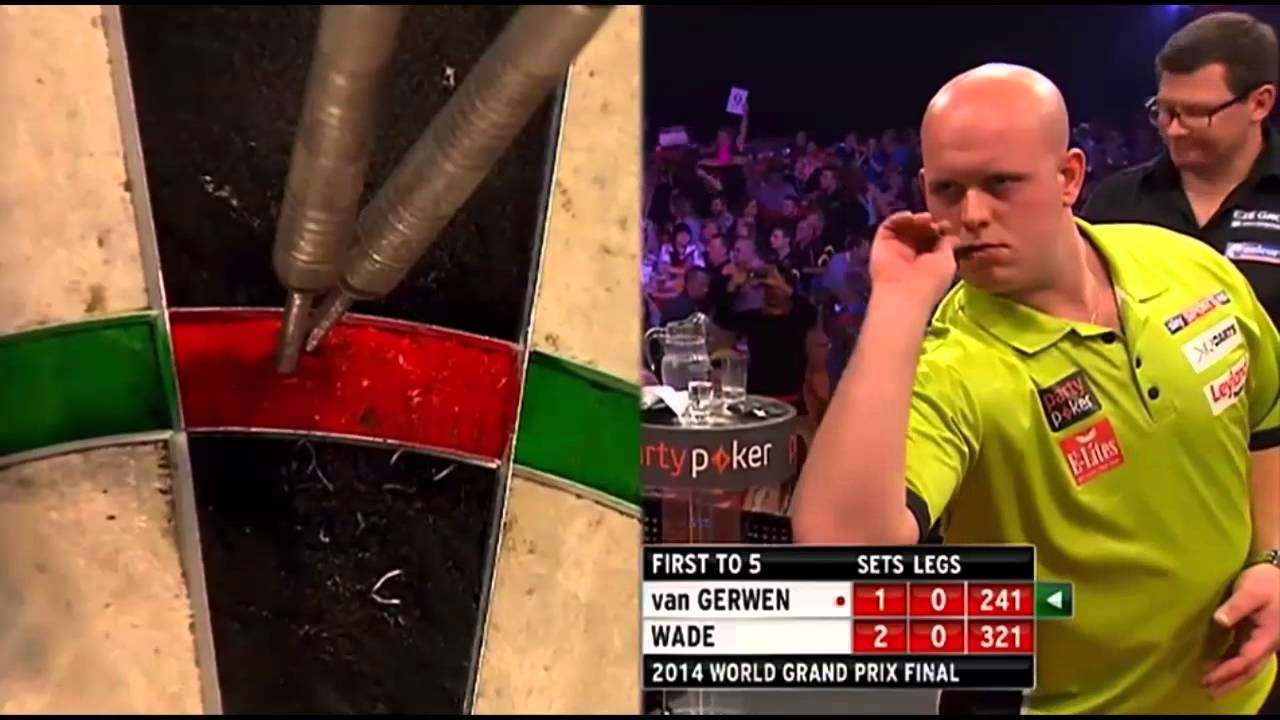 Nowadays, ton-plus averages are far more commonplace than they used to be, and Van Gerwen is every bit 'prime' Taylor's equal in this respect. In fact, MVG holds the world record for the highest ever televised three-dart average of 123.40, a feat he accomplished this past year in a Premier League match against Michael Smith. What's even more extraordinary is that he went off the boil towards the end of that match, and was the width of a wire away from posting a 135+ average which would have obliterated the previous record by an unthinkable margin: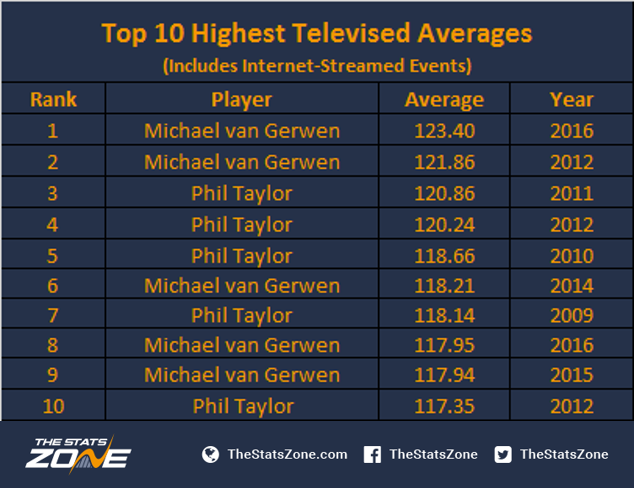 The fact that both men appear five times each shows that, over the past few years, Van Gerwen has been playing some of the best darts ever seen and is clearly capable of reaching the heady heights set by Taylor.
What about their head to head score?

Taylor has the edge here, but the majority of his wins came when Van Gerwen was a raw and erratic youngster. Since the Dutchman has been winning titles however, he has been catching up in this department, and just taking 2016 into account would show Van Gerwen leading by eight wins to five (with one draw).
His To Lose?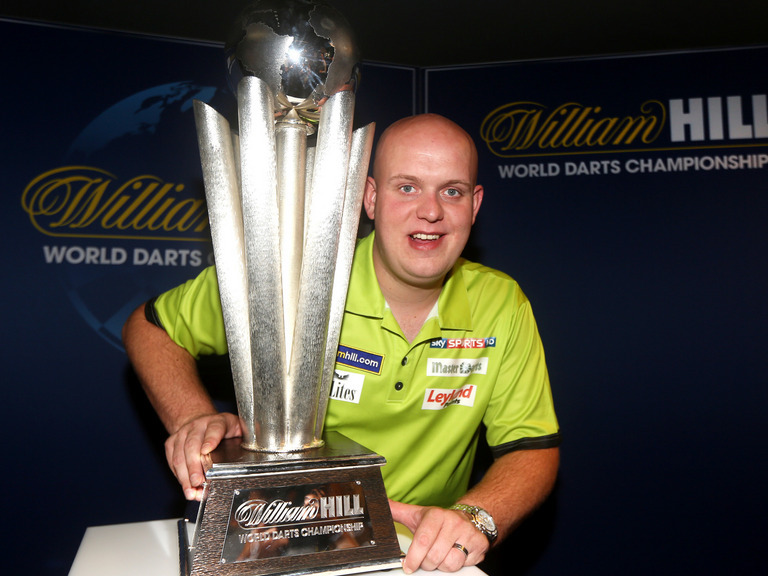 Going into the 2017 World Darts Championship, Van Gerwen is the clear favourite to lift the Sid Waddell Trophy, and anything other than a win would have to be deemed a major failure given his domination of the circuit. Surely a win is a formality, then? Well, it was a similar situation in the lead up to the last two World Championships, but it was the Flying Scotsman Gary Anderson who emerged victorious on both occasions, so there can be no room for complacency for the world number one. Prior to last year's event, Van Gerwen stated that he would happily give up all of his trophies just to win another World Championship, but when asked the same question this time around he indicated that he no longer felt that way – clearly an attempt to relieve some of the immense pressure on his shoulders.
Michael van Gerwen begins his quest for this year's trophy on Saturday, and he will hope to still be on that Alexandra Palace stage lifting the title that he believes is rightfully his on 2nd January.