With the Masters upon us we decided to have a look at the concept of form in golf. Unlike many other sports, form in golf is a tricky concept to define and poses a lot of questions: How do you measure it? Ranking, scoring average, strokes gained, tournament finishes? What is the timespan? Do you measure over a set period of time or a set number of tournaments as some players compete in fewer tournaments than others? Then how long do you measure for? 2 weeks, 5 weeks, 20 weeks? The last one is a bit of a tricky question as we don't really know yet if there is a set time a player can be on form or not.
After much thinking we decided on the following criteria.
Use strokes gained over the field per tournament. This gives us the most granular ranking in terms of player performance and unlike scoring average it adjusts for the difficulty of the course and weather conditions.

Take a 5-week rolling average of the strokes gained and graph the results. This should mean that we are able to spot short term spikes in form from the sharp peaks and long term form with plateaus.
We chose to focus on the current top 10 players in the world and compare their performance in PGA tour events. European Tour only events were avoided in case the relative strength between the two tours skewed the results.
We decided to graph the form as a function of time. This graph will give a comparison of form at the same point of time between players, but will not adjust for long absences from playing such as injury or the choice to play fewer tournaments. This means players like Rory McIlroy have a long plateau due to a period of injury.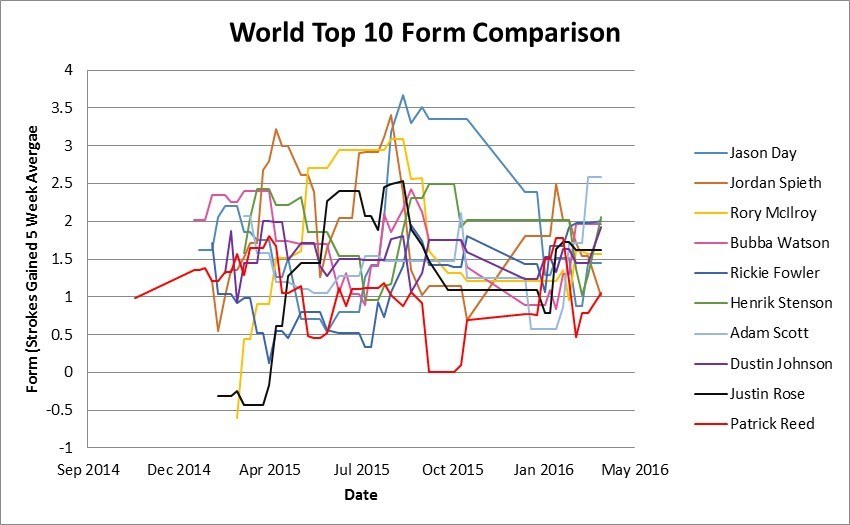 The first graph doesn't appear to show a great deal in terms of the peaks and troughs. It's noticeable that all of our top 10 spend the majority of the time with a form of at least 0.5 strokes per round gained over the competition and, aside from Adam Scott and Patrick Reed, the rest of the top 10 average at least 1 stroke per round better than the field average. The highest 3 peaking players are Day, Spieth and McIlroy who are the only ones to have any consistent presence above the 2.5 strokes gained per round average. When we take the lines for these big three players we see quite an interesting trend. We see that Spieth and McIlroy both had their best form from April 2015 to August 2015 after which they both had quite significant dips in form. At the time of this happening, Day started to hit his peak and probably benefitted from the other two having drops in form. Although it's questionable whether the other two would have been able to take any tournament wins away from Day as he has had the highest peak and quite a long plateau at the top.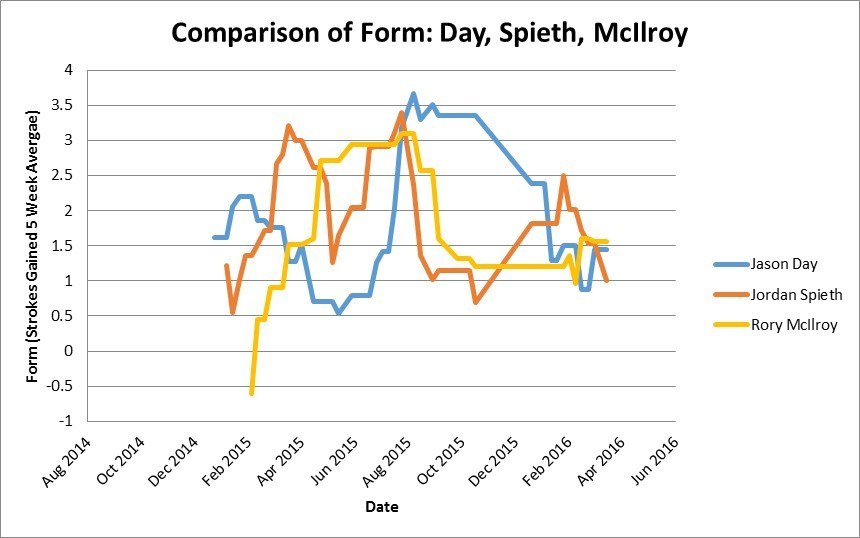 For the first time since Tiger Woods dominated the sport we have these 3 young players (potentially 4 if we include Rickie Fowler) able to dominate the schedule. So how do they stack up compared to the success of Tiger Woods during his dominating stretch? To look at this we've collated the strokes gained average of Tiger Woods over the field for every season since he burst onto the scene in 1996. Below are Woods' top 10 yearly scoring averages for the seasons where he competed in enough events to be ranked.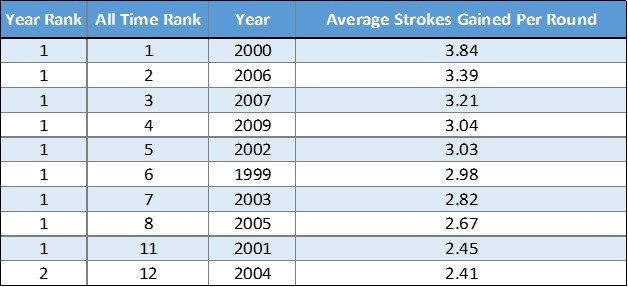 Astonishingly, Woods ranked 1st in every year but one where he finished narrowly behind Vijay Singh. Not only that but if you compare this to the peaks we have for our modern day superstars, at their very best over a five tournament period, none of them match what Woods was able to achieve for a whole year in 2000. Only Day was able to peak above Woods' second best year of 2006, whilst Spieth peaked above Woods' 2007 average and McIlroy only just peaked above Woods' 4th and 5th best year.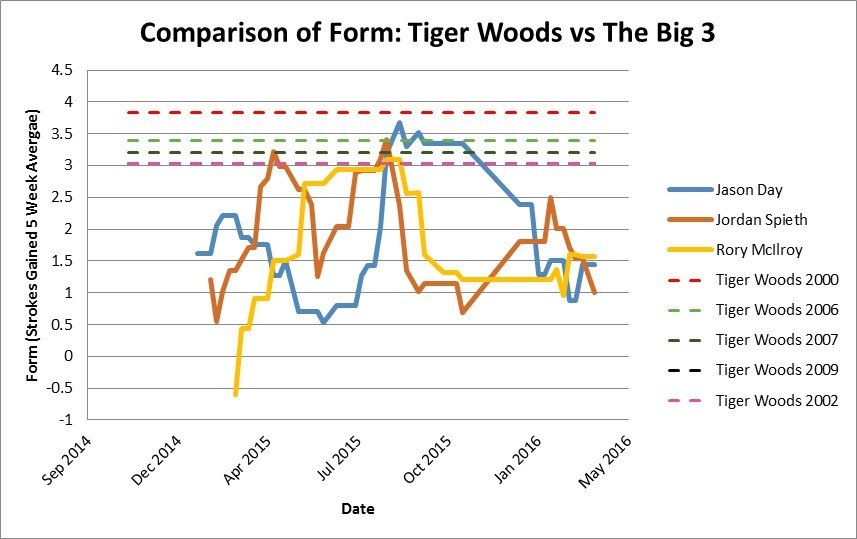 So can form last over a whole year? It's an interesting area to look at as most players make changes to their swings, equipment and body during the offseason. We've seen from our top 10 that a number of those were relatively consistent over the course of twelve months and so it's not unreasonable to suggest that form could last an entire year. When we look at our top 10 over the course of the 2015 season they occupy the top 6 spots in terms of strokes gained over the field average on the PGA tour. They would hold the top 7 spots, however Rory McIlroy is unable to be classified due to not completing enough events.
Our technique doesn't give us a perfect look at form but it does give an insight into measuring form in golf. Moving forward a number of adjustments such as adding a decaying function over time to our method would likely give us an accurate look at players' form.
On a final note, only Adam Scott stands apart from our current top 10 in terms of form heading into the Masters. So he could potentially be the one to repeat his 2013 feat and win another Masters title.