AT A GLANCE

When is Pacquiao vs Broner? Sunday 20th January, 2019 - 05:00 start (UK)
Where is Pacquiao vs Broner? MGM Grand Garden Arena, Las Vegas, USA
What channel is Pacquiao vs Broner on? Live and free on ITV4
Are tickets still available for Pacquiao vs Broner? https://www.axs.com/uk/events/365552/manny-pacquiao-vs-adrien-broner-tickets
THE BREAKDOWN
Boxing legend and P4P great Manny Pacquiao makes his first world title defence since losing to Floyd Mayweather Jr. in May 2015 when he faces America's Adrien Broner. The meeting between the eight-weight and four-weight world champions respectively makes this one of the highest calibre bouts in recent history on paper, but Pacquiao's age and Broner's private legal problems away from boxing perhaps make this less exciting than it may have been a few years ago.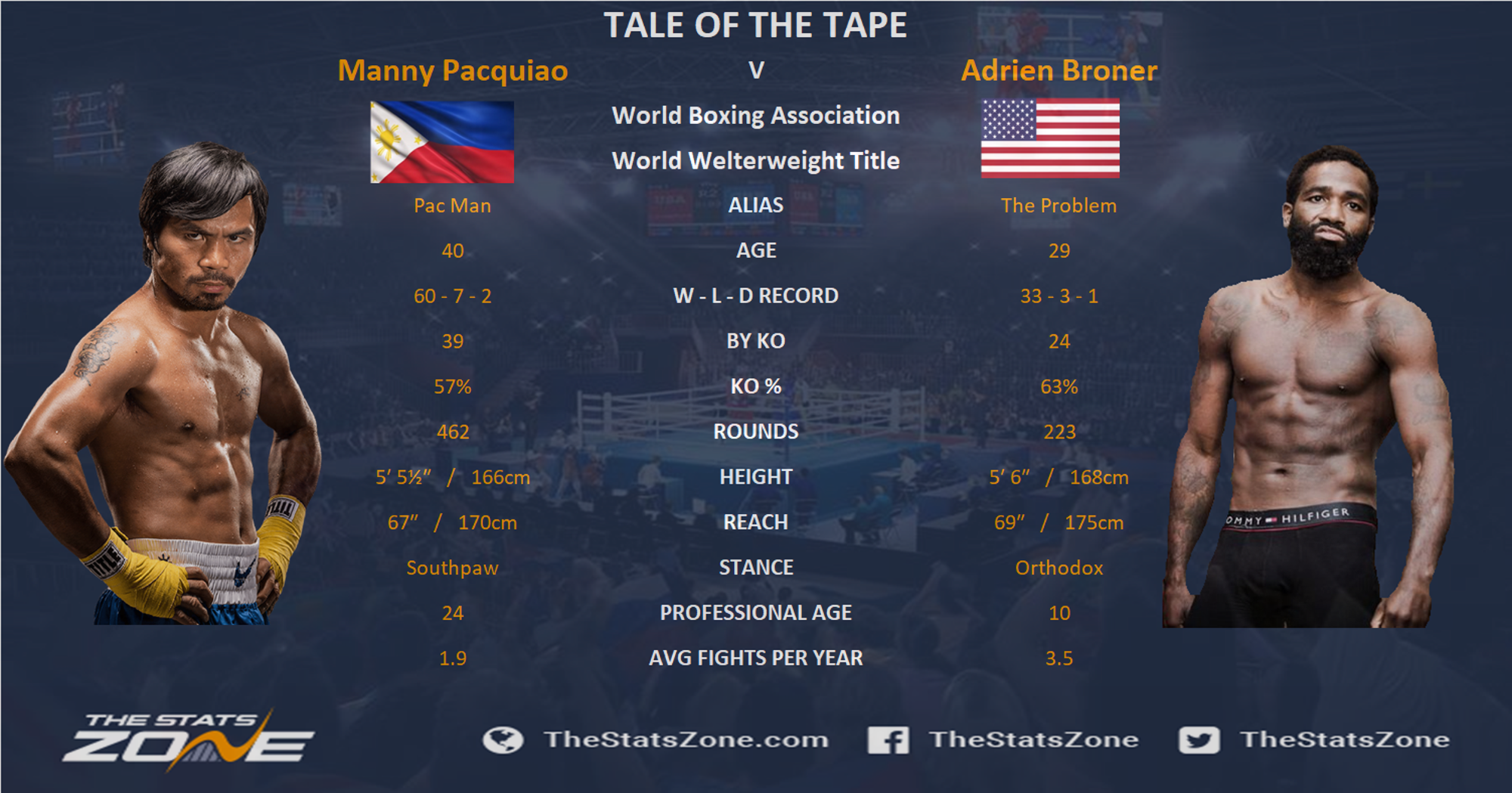 'PacMan' is the only boxer to win 12 major world titles in eight different weight divisions and for that fact alone he should be made favourite. Pacquiao has had 31 more bouts than his opponent, amassing over double the amount of rounds (462) from his 24 years as a professional.
'The Problem' is naturally the bigger of the two with a slight height advantage and a notable reach gain of two inches. However, each of Broner's three career defeats have been in the welterweight division, showing it is a class he struggles in which may further favour Pacquiao.
Pacquiao's longevity is quite extraordinary with one of his secrets being the fact that he has on average fought just 1.9 times per year compared to Broner's 3.5. This may be significant for 'Pac Man' as he will be a much fresher 40-year-old and should still possess his lightning speed and explosiveness that was witnessed in his previous bout.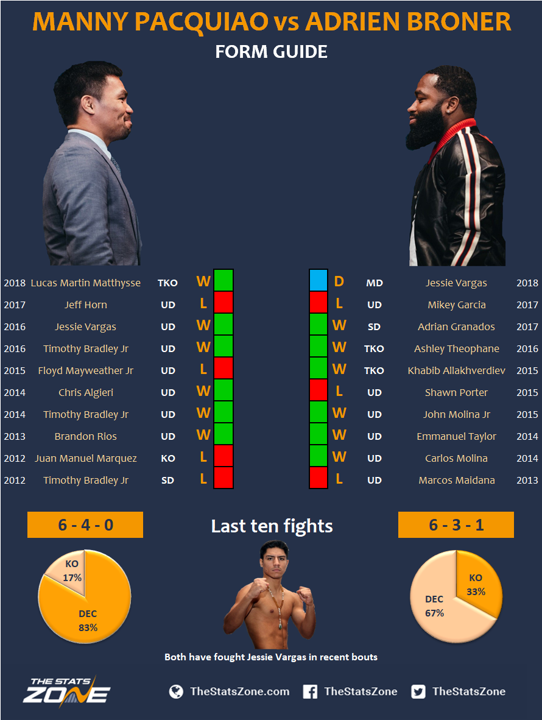 Both fighters have struggled in their last ten bouts, with Broner suffering all three of his defeats during his last nine outings while Pacquiao has recorded four of his overall seven losses. However, this is perhaps more down to the calibre of opponents they have been facing with them both fighting many of their respective division's best.
Both have fought Jessie Vargas in recent bouts at welterweight with 'Pac Man' recording a convincing unanimous decision while 'The Problem' fought out a draw.
Notably, Pacquiao recorded a KO victory against Lucas Martin Matthysse during his last outing which was his first in such fashion since Miguel Cotto in 2009 – 15 fights ago. This could suggest Pacquiao may be focusing more on his explosive power again.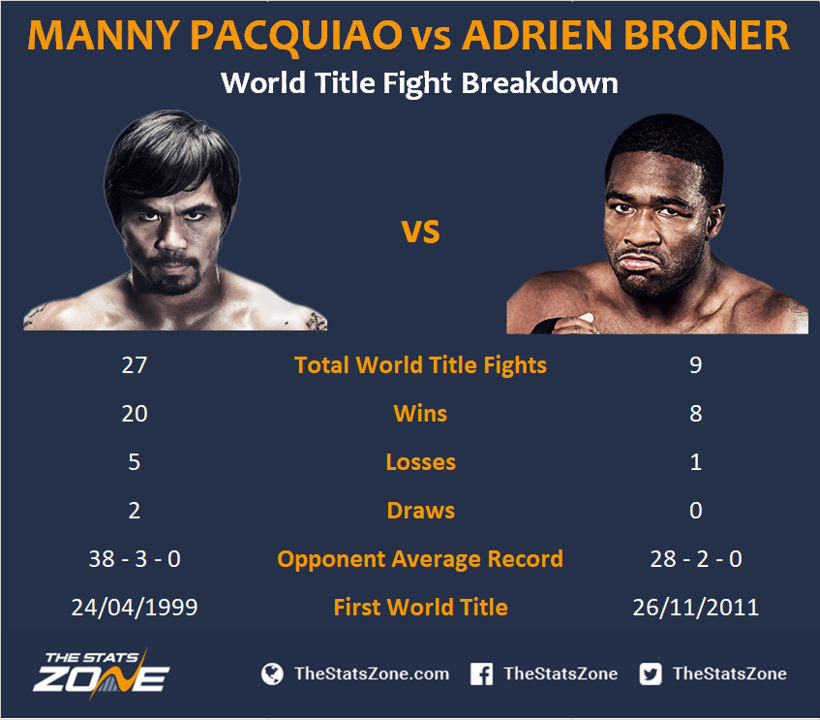 Pacquiao has averaged a remarkable 1.1 world title fights per year since his professional debut, recording 20 victories, five losses and two draws. His calibre of opponents have been many of the very best in the business with an average record of 38 victories and just three losses.
For a four-weight world champion, Broner is arguably one of the most underrated boxers around. Few rate his ability highly, which is perhaps more down to his personality and behaviour outside of the ring rather than his boxing prowess. Nonetheless, with just one world title loss from nine against and an opponent average record that boasts 28 victories with just two losses, Broner should not be underestimated.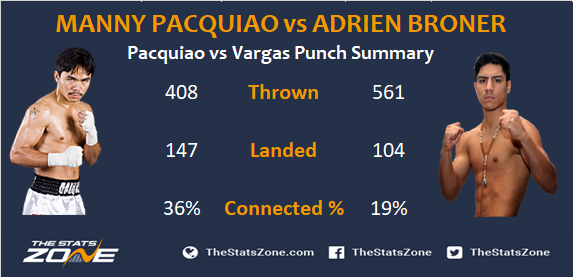 Pacquiao's UD victory against Vargas was a boxing masterclass, simply nullifying Vargas' volume of punches whereby he only connected with just 19% compared to 'Pac Man's' highly accurate 36%, even though he threw 153 fewer punches.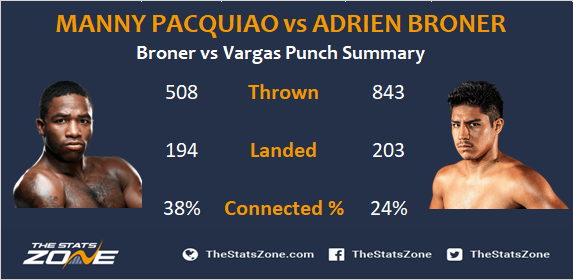 Broner's SD draw against Vargas was a very different encounter. Vargas threw a staggering 843 punches and connected with 23% which equated to just under a 100 less than what he manged against Pacquiao. However, Broner was even more successful, landing 38% of his 508 punches.
THE PREDICTION
The boxing world is seemingly hoping for a Pacquiao victory as it has been publicised that a rematch against Floyd Mayweather Jr. is on the cards next if he succeeds. Whether this is the case remains to be seen, but it would certainly justify why 'Pac Man' is still competing at an age where most have long retired.
'The Problem' has lived up to his nickname in recent years with social media suicide scares, court orders and even the possibility of jail time. However, it appears he has got his life back on track with the help of long time mentor Floyd Mayweather Jr., who many have likened Broner's style too. As a four-weight world champion and still under the age of 30, Broner still has a lot to offer in boxing but it simply depends on which version turns up on the night.
Pacquiao still possesses the same hunger and motivation to be at the very top and judging from his previous bout, he has the exact qualities to keep him there. With his experience and determination to make the Mayweather rematch happen, a victory for 'Pac Man' is most likely. Conversely, the manner in which he wins depends on Broner. If the pre-2016 Broner turns up, this has every chance of being decided via split-decision, however if the more recent Broner turns up, a late round KO victory is more probable for Pacquiao.