Welterweight Manny Pacquiao and Timothy Bradley will fight for the third time at the MGM Grand Arena in Las Vegas, Nevada, on Saturday night. After Bradley edged the first in a controversial points decision in 2012, Pacquiao evened the scores in 2014 with a points win of his own. They face each other again on Saturday night in what could be Pacquiao's final fight.
So how do the duo match up?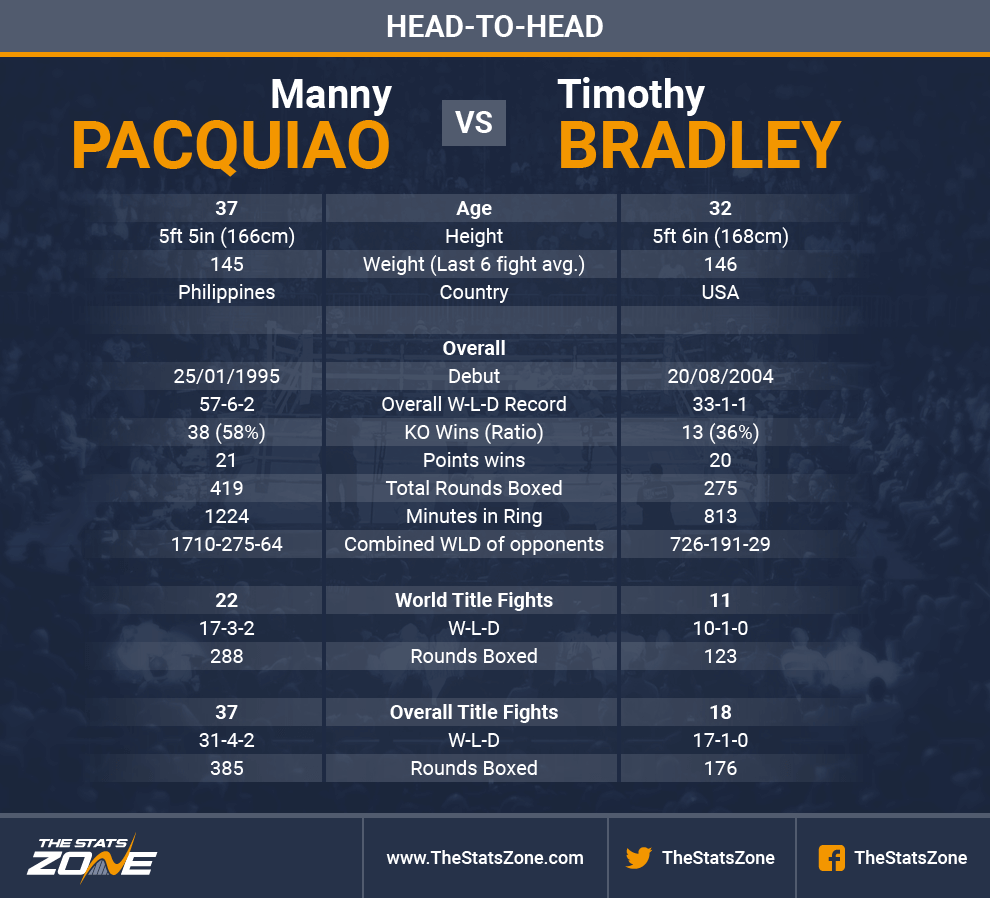 Activity
This favours Bradley as he has fought twice since Pacquiao's disappointing loss to Floyd Mayweather last May. Bradley beat the previous unbeaten Jessie Vargas last June, followed by a TKO win over Brandon Rios in November. Sharpness may well be an edge for Bradley against Pacquiao who is coming off shoulder surgery last year.
Age or experience?
The biggest question coming into this for Pacquiao is whether Father Time is catching up on him. The 37 year-old has five years on Bradley (32) but hs been fighting for almost ten years longer as a professional. His experience far outweighs that of Bradley having fought double the amount of world title fights, but could that catch up with him during this fight after a year out of the ring?
Recent record
Bradley's only ever career loss came against Pacquiao. Since then he has won two fights and drawn one against Diego Chaves which really should have been a points decision victory in his favour. Pacquiao on the other hand, has 3 wins and 3 losses in his last 6 fights, albeit against top levels opponents in Bradley, Mayweather and Marquez.
Power
Pacquiao's knockout ratio is significantly better than Bradley's. Despite Bradley's muscular frame, he has frequently struggled to register knockouts with only 13 in 33 fights. However, it is important to point out that Pacquiao's record has diminished since he moved up the weights and as he has gotten older. He has just one TKO in the last ten fights with the other 9 going the distance. While Bradley has two TKOs in the same time span, so do not read too much into the KO ratios without context.
These two headline a card showing live on HBO PPV in the States and Premier Sports in the UK which loaded with some top class battles, including a Super Middleweight title fight between division champion Arthur Abraham and top prospect Gilberto Ramirez.