POWER COUPLE: WEEK 1 (AMY & CURTIS)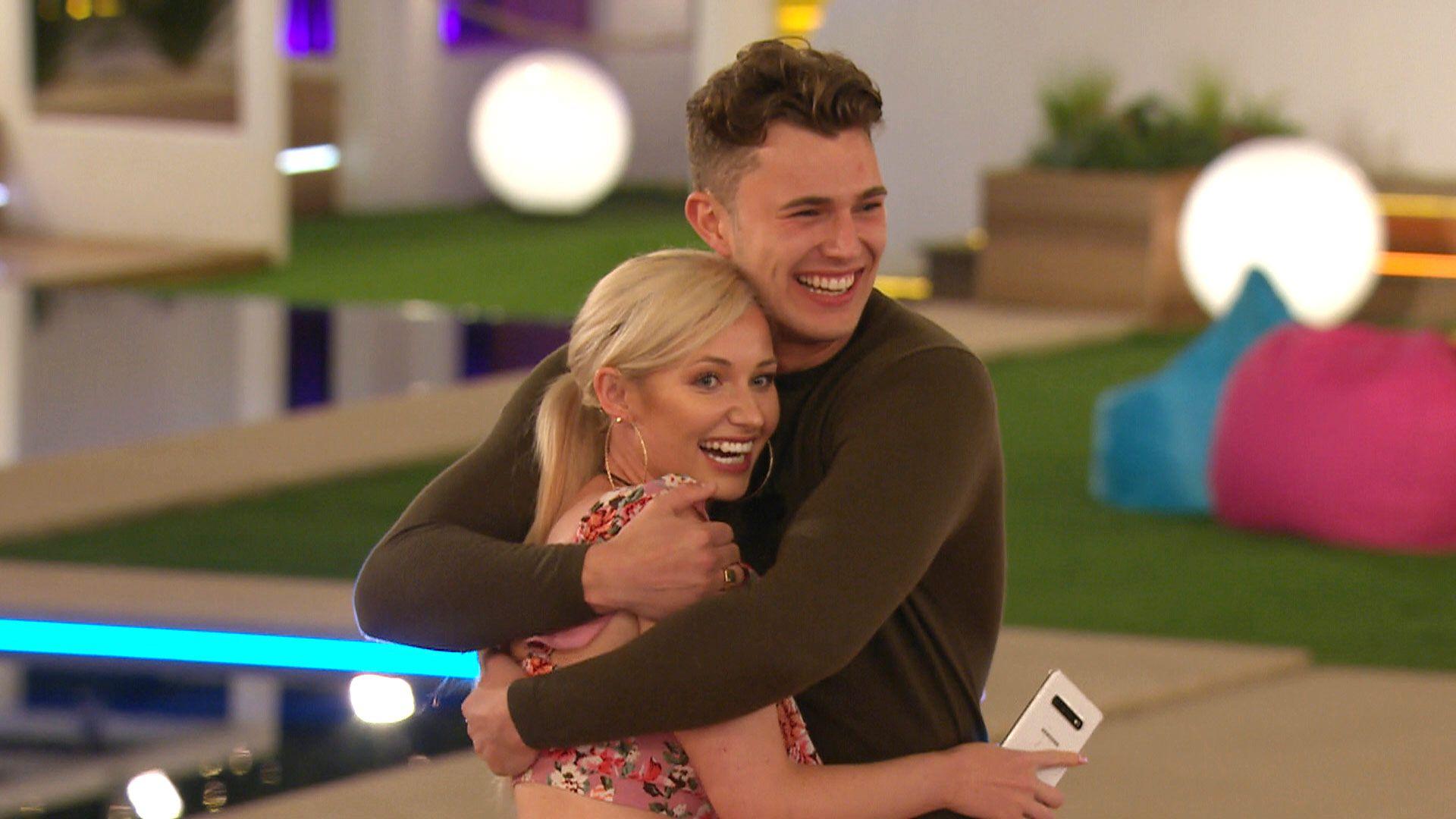 We've combined the stats of all five couples to bring you our overall winner from week 1. It's surprising to find that there are actually 14 people inside that villa, as I could only count about nine last night. I am reliably informed that the official couples are: Callum and Amber (Callum is the one who looks like a member of crew that keeps getting caught in shot), Michael and Yewande, Sherif and Anna, Tommy and Lucie (whose house everyone else appears to be staying in), and Curtis and Amy. Anton and Joe are of course not applicable, but were both rather cute together in their denim collar jackets post-recoupling, sulking in unison.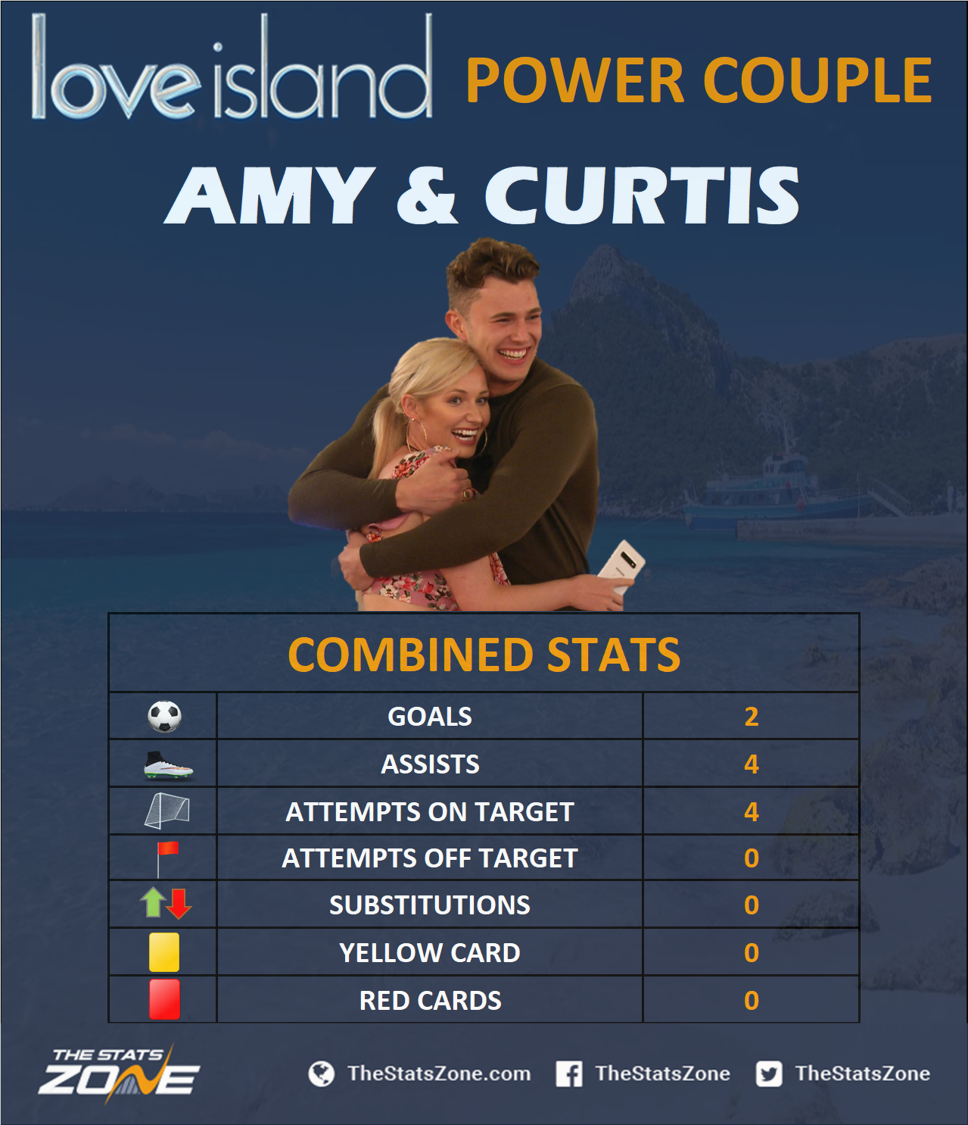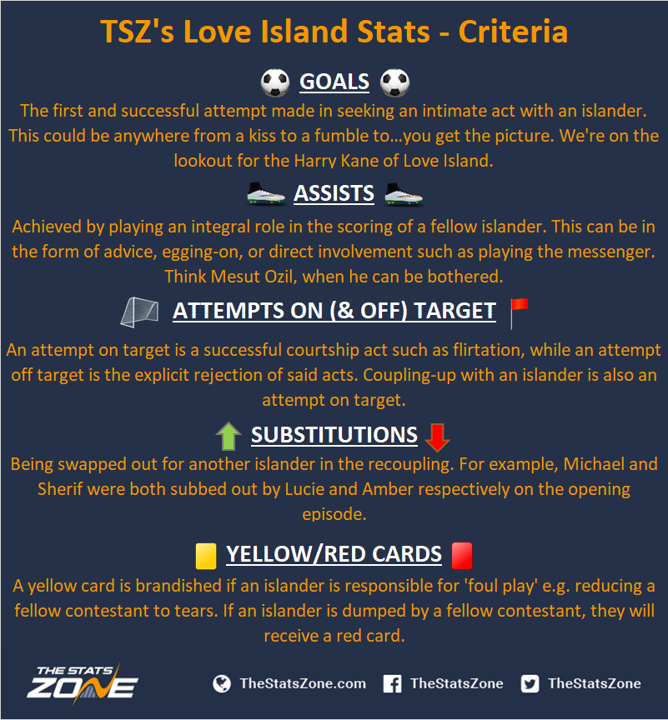 Like Liverpool FC's industrious full-backs, Trent Alexander-Arnold and Andrew Robertson, Curtis and Amy have the combined best assists in the league so far (four). One for our Player of the Week Amy, and three for Curtis Pritchard, who is either a terribly nice guy or a very smart player indeed. He has managed to post himself at every crisis point since his arrival in the villa, apart from whenever Sherif has needed some sound advice about how to simultaneously ignore and attract Anna.

Furthermore, the pair became the second goal-scorers of the competition after their overnight lips liaison (as no one is calling it), drawing with Joe and Lucie in that department on one apiece. The pair also share a 100% attempts on target record for their successful coupling, as well as an attempt each for Amy's securing of Anton and Curtis' wooing of Yewande. If Curtis and Amy can continue their quest to be just the right side of always-involved-in-other-islanders'-business, they look to be certain of a live finals place.
Tonight's episode should see us finally meet Molly-Mae, the new Islander who has been walking very slowly towards the villa for the last day and a half. She's been in that hot-tub since last night, bless her, now she's all bath-wrinkly.