It isn't often that Welsh domestic football falls under the sporting spotlight, but the exploits of The New Saints (TNS) have been hitting the headlines lately and making people sit up and take notice; Craig Harrison's men have won 21 league games in a row this season (22 if you include last season), scoring 74 goals in the process whilst only conceding 11. This recently eclipsed the previous Welsh record set by Bangor City of 15 consecutive wins back in 2010-11, and they now have their sights set on the British record of 25 league wins in a row achieved by Martin O'Neil's Celtic in 2003/04. Chairman Mike Harris has stated that the club's ambition is to get into the group stages of either the Champions league or Europa league (a feat League of Ireland side Dundalk FC have achieved this season), and in the process "demonstrating to the world that there is actually a way of producing football teams of high quality on a very restricted budget".
Here at TSZ, this has inspired us to look into the longest league winning streaks in European football; we'll start by investigating the top 10 winning streaks in top flight European football, before delving deeper into the 'big five' (Premier League, La Liga, Bundesliga, Serie A and Ligue 1) European leagues.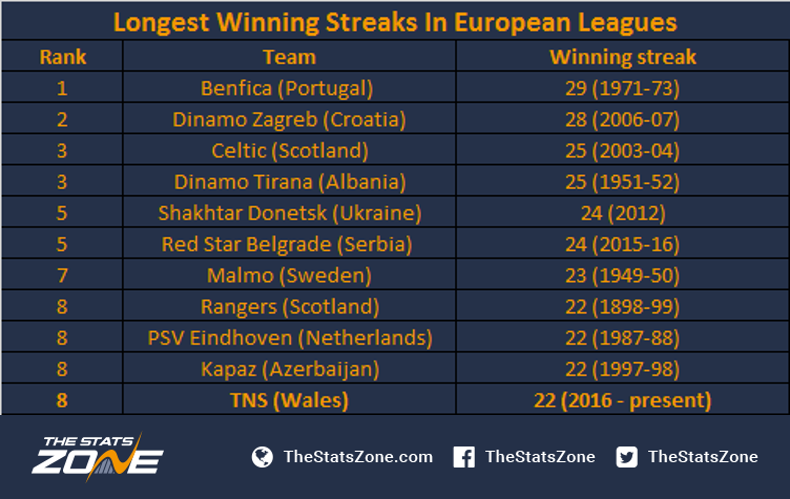 To put the current achievements of TNS into context, they are currently joint eighth on the list of all-time longest winning streaks in top flight European leagues. They are now just three victories away from the British record; however, as all good manger's preach, we are sure Craig Harrison will be echoing the saying "one game at a time".
The best league winning run in Europe goes to Portuguese giants Benfica, who in the years 1971-73 won an incredible 29 consecutive league games. They are closely followed by Dinamo Zagreb – a team boasting Vedran Corluka and Luka Modric – with 28 wins back in 2006-07.
As a side note, there are reports of the Sparta Prague side of 1919-23 claiming winning streaks of 51 and 60 games, but the unreliable Czechoslovakian records during this period casts doubt over the validity of these claims.
Now we shall shift our focus on to the top five European Leagues: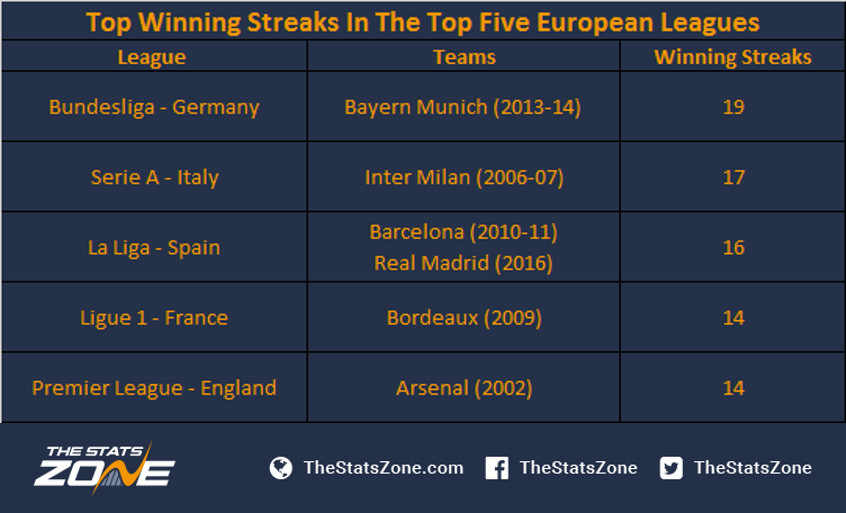 When just considering the top five European Leagues we can see that Bayern Munich come out on top with 19 consecutive wins, followed by Inter Milan in 2006/07 with 17. Spain's Barcelona and Real Madrid are both tied on 16 consecutive for the La Liga record, whilst some may be surprised to see Bordeaux – who amassed 14 consecutive wins in 2009 – claim the Ligue 1 record. Notably, all of these records have come in recent times, suggesting there is a trend of certain clubs dominating their respective leagues.
We see Arsenal's 'Invincibles' with the English record, so let's take a look at the top five streaks in the Premier League era: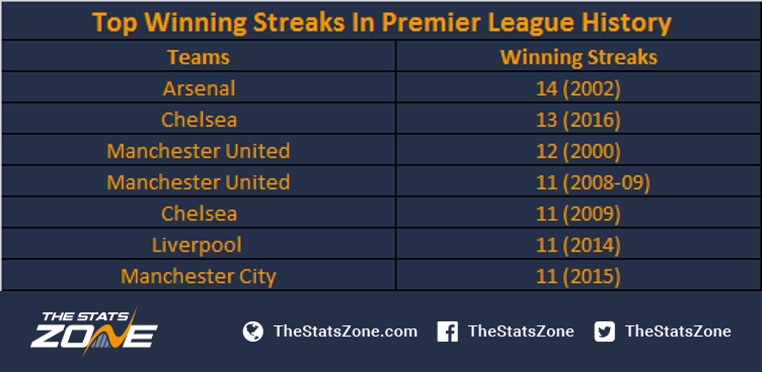 Arsenal hold the current record in the Premier League of 14 consecutive wins; in 2002 they won 13 games in a row on their way to the title and followed that up with an opening day victory in the next season. Chelsea are just behind their London rivals after embarking on a 13-match winning run in 2016, whilst Manchester United are third with 12 straight wins in 2000; they reeled off 11 straight victories when storming to the title and won on the opening day of the following season.
In more recent times, both Liverpool in 2014 and Manchester City in 2015 have been able to put a run of 11 consecutive victories together.
TNS may have already cemented themselves in the Welsh history books but it's a little early to be glancing up at Celtic's British record just yet. After all, the Welsh side's manager Craig Harrison won't want to make the same mistake that Dinamo Zagreb boss Branko Ivankovic made after his side secured a 28th consecutive league win in 2007;
"We have a great side. We are going to win a 29th game in a row and equal Benfica's record"
A glance up at the all-time-list will tell you all you need to know about the price of complacency!