Ever since Southampton's return to the Premier League in 2012, they have managed to improve their final league position each year, culminating in finishing a club best sixthplace last season. However, this impressive feat has not gone unnoticed amongst the other Premier League clubs. At the end of each season, the media frenzy around Southampton's best players begins, portraying the league's top teams circling like vultures, waiting to pick off Southampton's next big star. This annual occurrence is not new to Saints fans; Theo Walcott, Alex Oxlade-Chamberlain and Gareth Bale all left Southampton before their Premier League revival, and all have gone on to win major trophies and entertain European fans at the highest level. But does a big money move away from Southampton always work out for the best? TSZ decided to look at the biggest transferred players away from Southampton since their Premier League return.
Nathaniel Clyne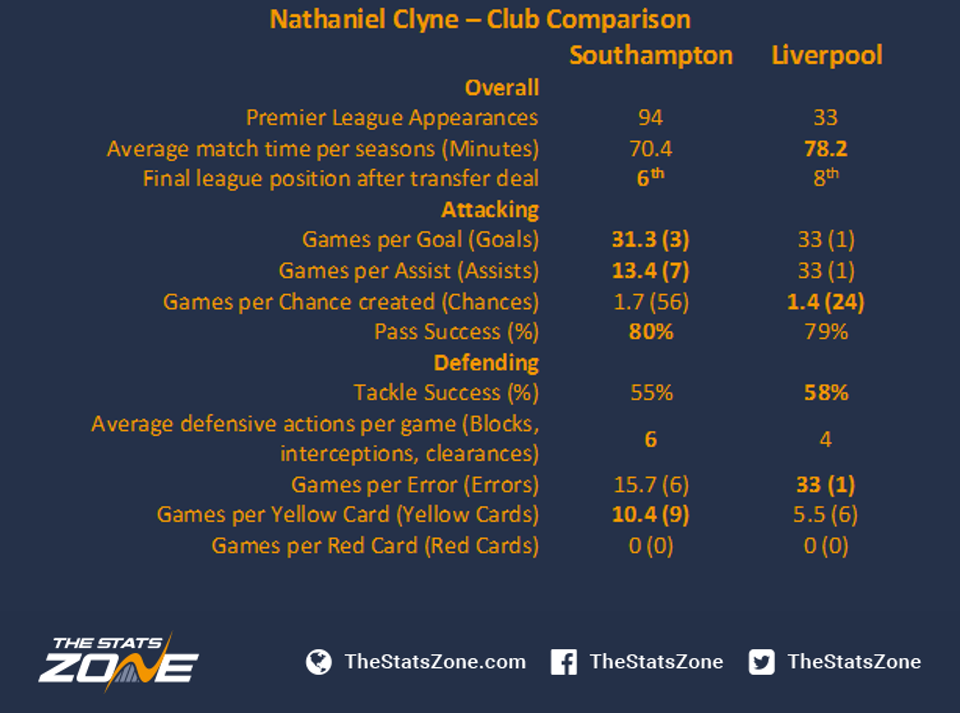 Plucked from Crystal Palace in 2012, Nathaniel Clyne steadily built an impressive reputation as he helped establish Southampton back in the Premier League. His consistent performances at right back also granted his first England cap in 2014. Since his big money move to Liverpool, Clyne has enjoyed regular first team football, notching up a greater average match time per season than his time at Southampton. Both his attacking and defending stats appear incredibly consistent, suggesting he seamlessly transitioned into his new club without a hitch. However, one thing that cannot ignored is the fact that since his transfer, Liverpool slipped down to eighth in the league, two places below the team he left.
Morgan Schneiderlin


Having been at Southampton since the age of 18, Morgan Schneiderlin grew into one of the best central midfielders the Saints had seen in modern times. Although incredibly disappointed when he moved away, many fans felt he had earned his chance to play for one of the "big" teams. However, it appears that he has not produced the same level of performances at Manchester United as he had at Southampton. Poor performances and lack of game time meant Schneiderlin lost his place in the French nation team squad prior to Euro 2016, only to be included at the last minute due to an injury to Lassana Diarra. A glance at the stats reveals that the majority of his attacking and defending prowess appears to be far more effective during his time at Southampton – for instance, he recorded zero assists all season and only completed 37% tackle success whilst at Manchester United. However, although he has played considerably less since his transfer, you cannot ignore the fact that Manchester United finished above Southampton and he recorded his first major trophy triumph (2016 FA Cup).
Adam Lallana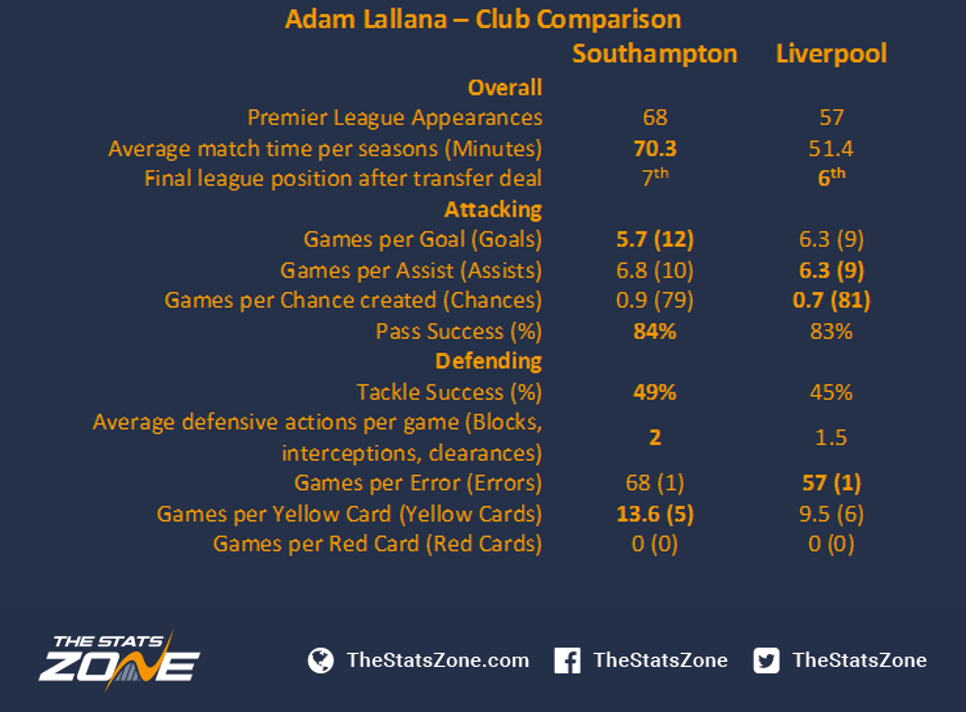 When Southampton's captain, Adam Lallana, decided to jump ship in 2014, it left a bitter taste in the mouth of many Saints fans. Since the age of 12, Lallana had been with the Saints, growing into a full England international by 2013. His early life at Liverpool was a mixed bag, with fans wary of his substantial price tag, but he soon grew into his role, boasting consistent attacking stats compared with his time at Southampton, and marginally better in terms of assists and chances created. His transfer to Liverpool meant he finished one place above Southampton the following season, yet he played considerably less minutes throughout the campaign.
Dejan Lovren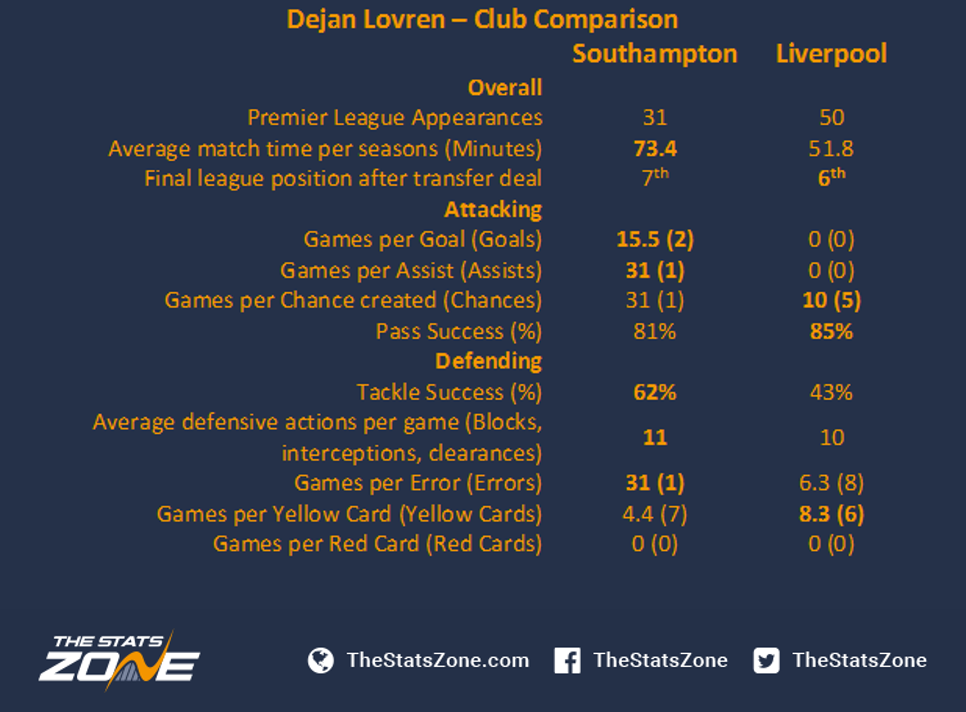 Dejan Lovren, another unpopular figure down on the south coast due to his petulant actions prior to his transfer to Liverpool. Saved from a disastrous time at Lyon, Southampton rescued his career, where he became a huge success for the Saints. Surprisingly, he boasts an impressive games per chances ratio for Liverpool, averaging a chance created every 10 games, which for a centre back is rather remarkable. However, he has endured heavy criticism since his move to Liverpool, following some unconvincing early performances, and the stats appear to show why. Lovren has suffered a huge decrease (19%) in tackle success since his time in Southampton. But the most glaring statistic of them all is the fact that at Liverpool, he averages a defensive error every 6.3 games, compared to one solitary error at Southampton in 31 league games. Despite, this poor record, it must be noted that Lovren is winning his critics over with a much improved second season with Liverpool, where he only suffered two (25%) of his eight defensive errors overall.
Calum Chambers


After only 22 league appearances for Southampton, Arsenal stumped up a vast amount of money to bring Calum Chambers to North London. Despite being the Saints' second choice right back behind Nathaniel Clyne, he showed great early promise during his time at St. Mary's. Having never been a first choice defender at either club, his average match time at both clubs is significantly low, with his average time dropping to a disappointing 24.8 minutes at Arsenal. His attacking stats read slightly better at Arsenal, where he scored his first ever league goal. He has also maintained consistent defending stats at both clubs with minimal differences between tackle success % and average defensive actions per game. However, he has racked up a significantly worse disciplinary record during his limited time at Arsenal.

Luke Shaw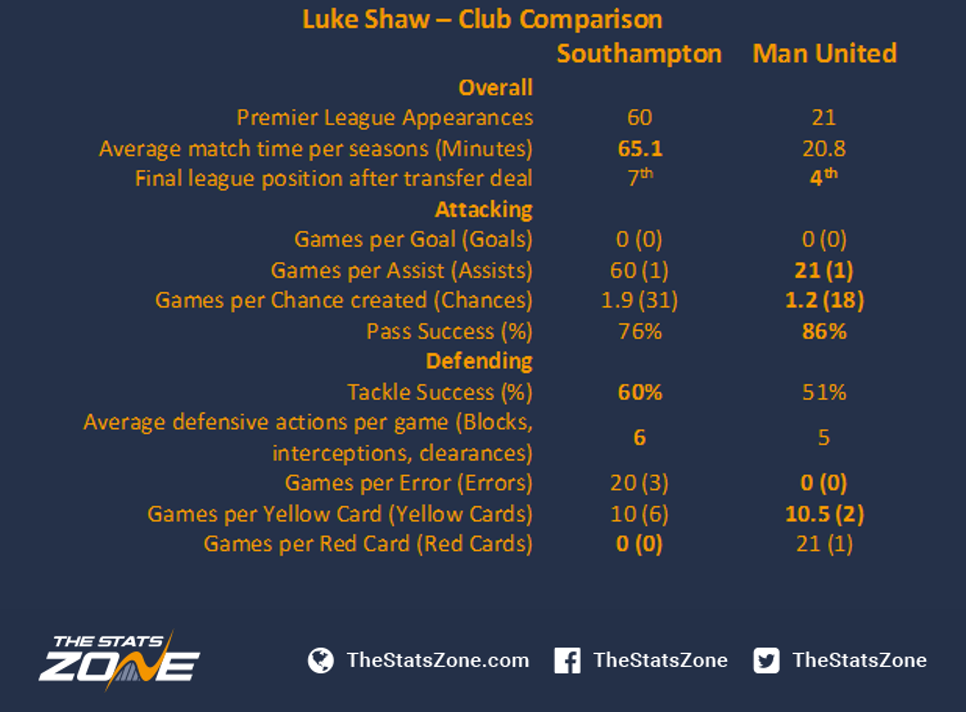 In 2012, Luke Shaw was the next academy star from the renowned Southampton production line to impress, before finally getting his big money move to Manchester United in 2014. During his time in Manchester, he has been victim to an unfortunate series of injuries, meaning that his average match time is a very sad looking 20.8 minutes. In terms of attacking stats, he has improved since his move, despite the limited game time, creating more chances per game and completing a higher pass success %. He managed a better tackle success % at Southampton, but boasts zero errors for Manchester United in his limited career in the North-West.
Overall
In all but one case, every player has played far less football for their new club compared with their time at Southampton. The only exception to this was Nathaniel Clyne, who interestingly was the only player to finish below Southampton the following season after their transfer was made. In terms of performances, both the attacking and defending stats show that in the majority of cases, players have been able to maintain a consistent level on the pitch after switching clubs. However, only Schneiderlin and Chambers have managed to lift a major trophy since their big money move away from the Saints. Hindsight is of course a wonderful thing, but how many players would have made the swap away from Southampton, knowing they would be sacrificing significant game time for a handful of league places? The gamble has paid off for some, but for others, their careers are now plagued with uncertainty. So, in the wake of the transfers of Sadio Mané and Victor Wanyama to Liverpool and Tottenham respectively, what can fans expect from their new signings? Only time will tell if they have made the correct decision.