AT A GLANCE
When is UFC 229? Sunday 7th October, 2018 – 01:00 (UK)
Where is UFC 229? T-Mobile Arena, Paradise, Nevada
What channel is UFC 229 on? BT Sport 2
Where can I stream UFC 229? BT Sport subscribers can stream the fight online via the BT website
Are tickets still available for UFC 229? http://uk.ufc.com/event-ticket-info?utm_source=ufc&utm_medium=tab&utm_campaign=tickets
THE LOWDOWN
The current lightweight champion Khabib Nurmagomedov will be the favourite with the majority of bookmakers. He is expected to dominate Conor McGregor with his elite grappling, take him down and grind out a violent win. However, here are some stats that may sway you in favour of a vintage McGregor finish.
Firstly, what's at stake? This will be one of the biggest MMA fights of all time. McGregor made history by becoming a two-division champion, earning the lightweight title as the then featherweight champion.
However, that was nearly two years ago when he starched Eddie Alvarez and he hasn't returned to the cage since. His glamourous boxing fight with Floyd Mayweather and counting all the dollars made has kept him occupied but this time off has forced the UFC to strip him of his title. In the meantime, Nurmagomedov has stretched his unbeaten record and captured the coveted lightweight championship.
Add a simmering feud that boiled over when McGregor attacked a coach full of fighters after a pre-fight press conference causing damage to the bus as well as the fighters inside. One of those fighters (although not injured) was Nurmagomedov - the target. Altercations between team mates somehow justified these actions but this has all stirred a cauldron of anticipation for this colossal clash.
Now, let's get into the stats, starting with the head-to-head breakdown:
THE STATISTICS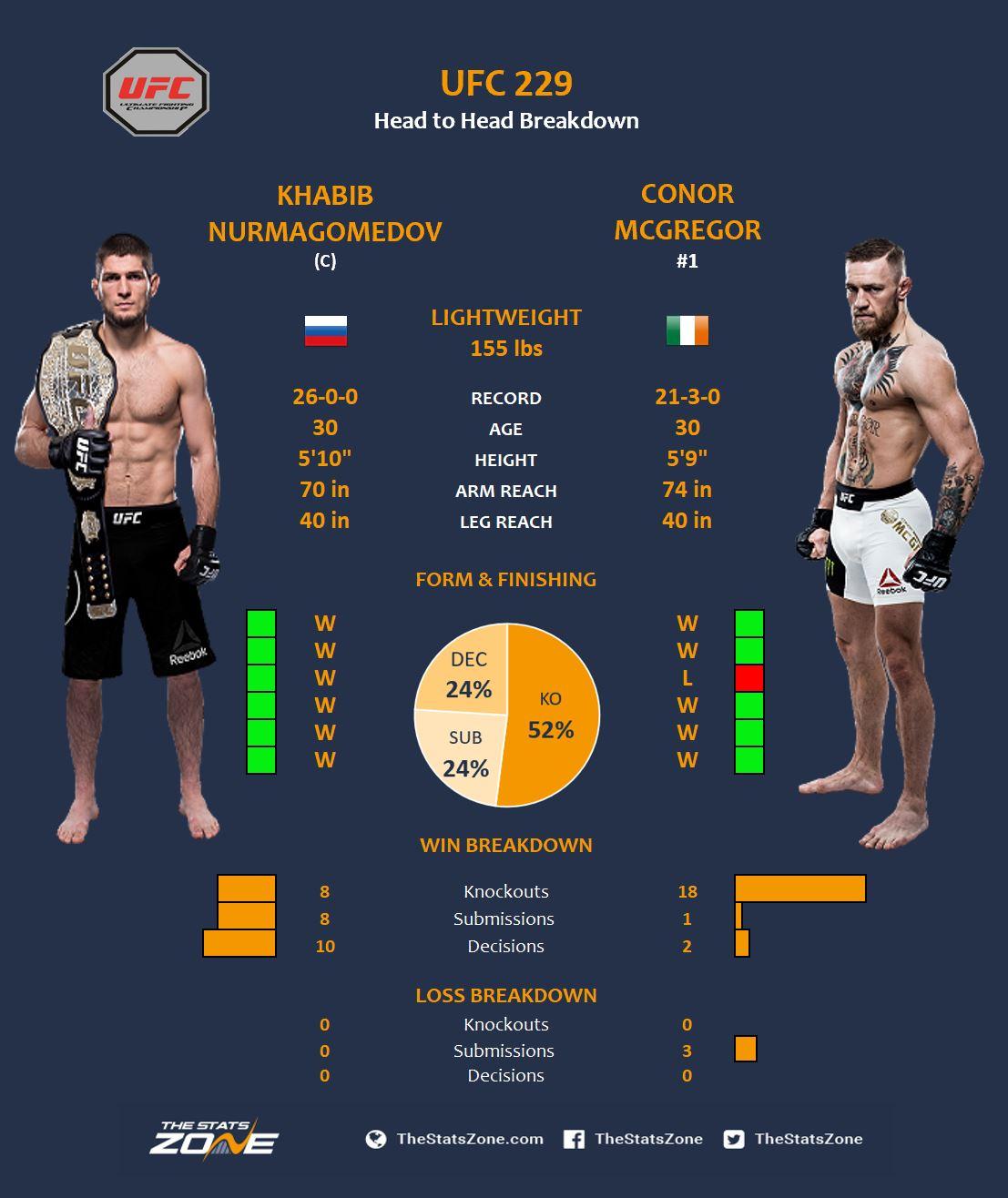 We are well-aware of their strengths and route to victory. Simply, Nurmagomedov wants to get his hands on McGregor, grapple him, take him down and punish him on the floor. The Russian arguably has the strongest grappling in the UFC and has dominated the majority of his opponents in this way.
McGregor has a contrasting skill set with phenomenal striking. He is elusive and possesses devastating knockout power so he is hoping to keep the distance at all costs – move, circle and find a home for that laser of a left hand.
So, who will succeed in their game plan? Let's take a look at their UFC fight stats: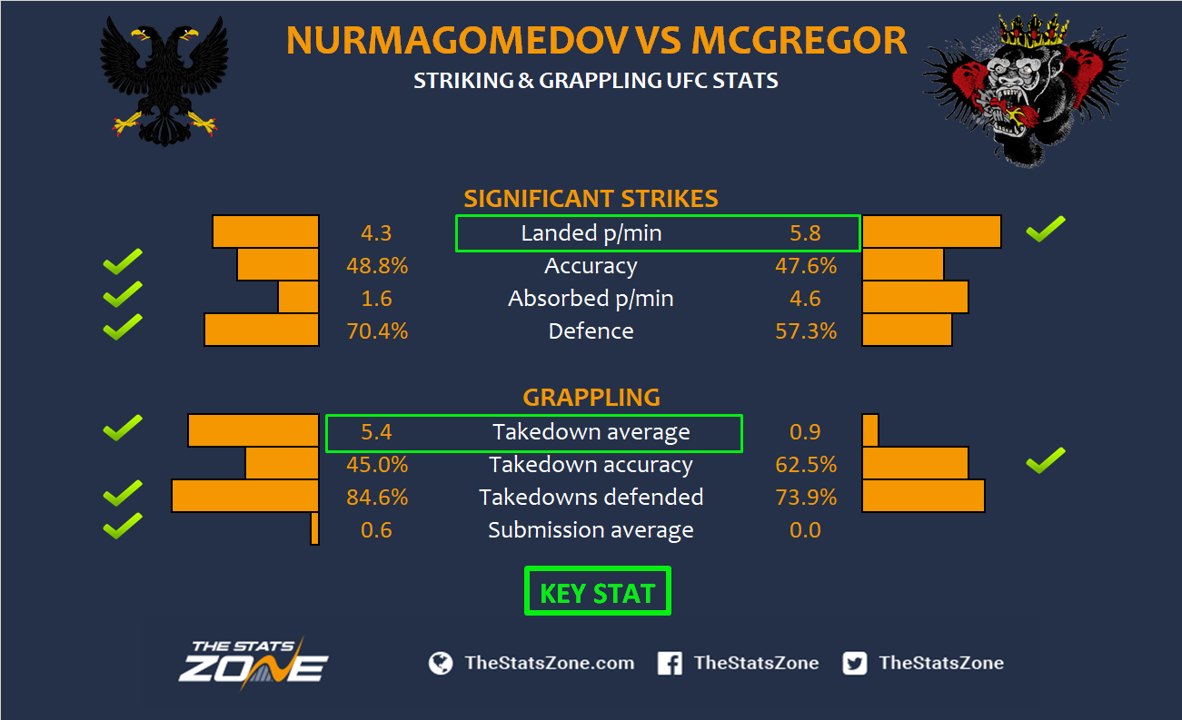 The key stats for UFC 229 are Nurmagomedov's takedown average and McGregor's significant strikes landed per minute. Five takedowns a fight is more than enough for Nurmagomedov to completely control the bout. However, McGregor has earned his success with his knockout power and landing nearly six heavy shots per minute is enough to cause fight-ending damage.
It is also important to note that the majority of Nurmagomedov's striking stats have been accumulated while in top control which are much easier to inflict than on the feet.
These stats cover their fights that go back as far as 2012 so let's look at their last five fights, focusing on the effectiveness of Nurmagomedov's grappling and McGregor's striking: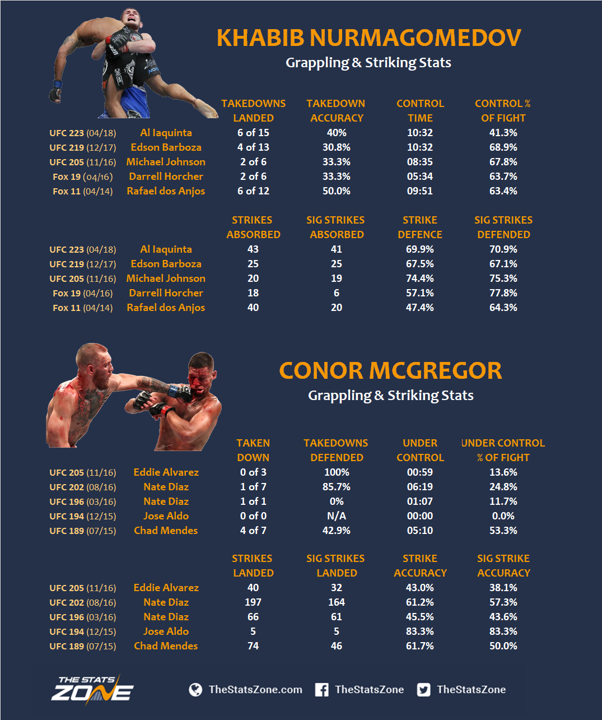 To summarize, let's average the stats of these five fights and compare: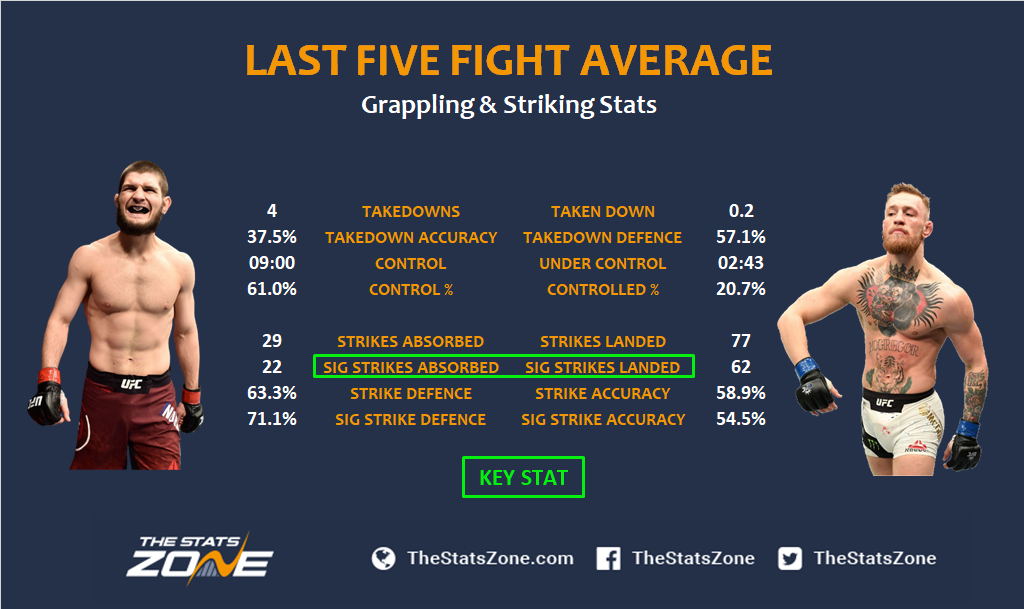 Nurmagomedov's skills are undeniable. Although he does not always succeed, he inevitably earns the takedown in every fight. It's not the fact he gets the takedown, it is how long and effortlessly he keeps his opponents down. His top control is frightening and this is where he breaks the will of his victims. In fact, with his grappling he has owned a staggering 61% control over his last five fights – so that's more than half the duration of the bout that is spent with the aggressive Sambo champion on top, raining down punches.
Bad news for McGregor. However, the Russian is also prone to absorbing shots. His significant striking defence does not differ much from his total striking defence which is a concern for him. This is because he keeps his chin high and hands down while walking his opponents down in search of the takedown. This was almost his undoing where he took damage from Michael Johnson and Al Iaquinta who in his most recent fight, landed 41 significant strikes.
He certainly cannot afford to let McGregor land 41 significant strikes. The Notorious needs just one shot to end a fight as we saw with Jose Aldo. On paper, it's a matter of when not if Nurmagomedov gets the takedown but he cannot afford to keep his chin exposed.

Below are stats against opponents with varying skill sets so let's focus on similar match-ups where Nurmagomedov took on the devastating striker Edson Barboza and when McGregor took on the powerful wrestler Chad Mendes: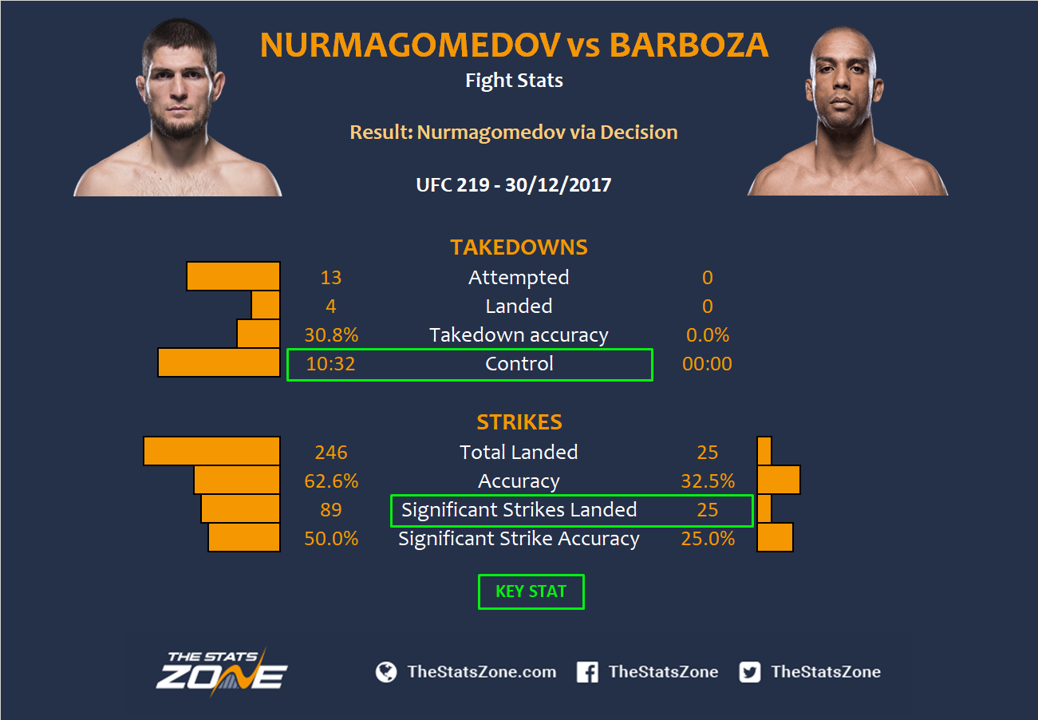 This fight lasted three rounds where Nurmagomedov utterly dominated Barboza who, like McGregor, uses his striking as his main threat. Barboza was ragdolled and under the Russian for the majority of the fight. He also only landed a mere 25 strikes, but they were all significant, highlighting the weakness in Nurmagomedov's defence.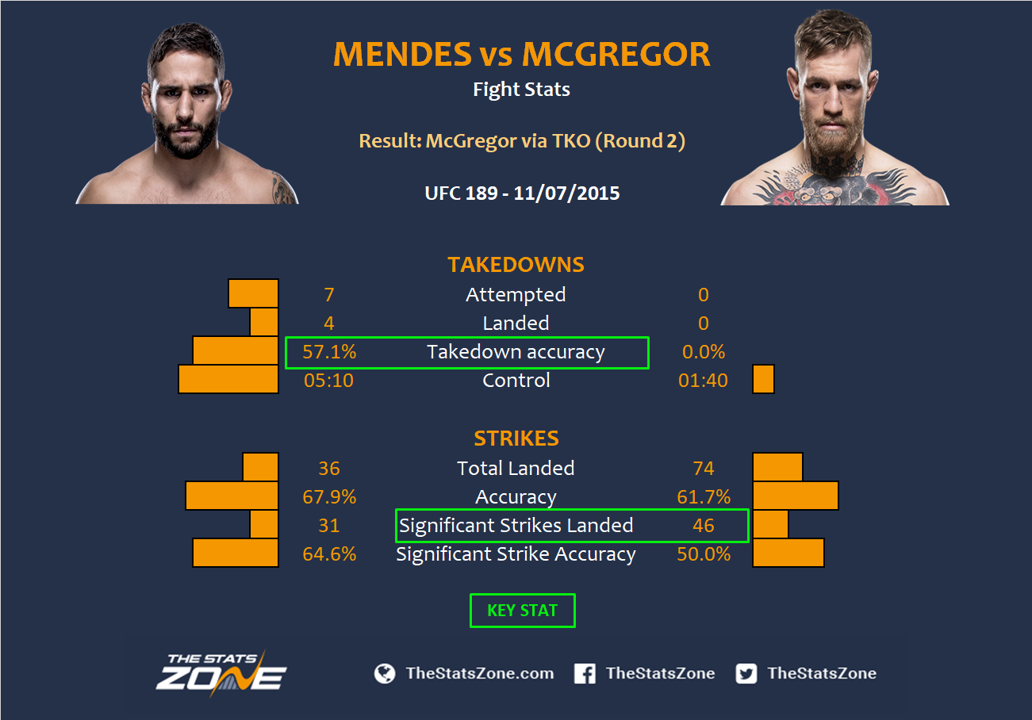 This fight started in similar fashion. Mendes took McGregor down four times and assumed control for the majority of the fight and looked as if he was comfortably grinding out a win. However, McGregor was still able to land several strikes - 46 of them significant - and it was in the last few seconds of the second round when both fighters were exhausted that McGregor got to his feet and landed a huge straight left, ending in a TKO.
PREDICTION

the stats suggest Nurmagomedov will inevitably land the takedown but they also suggest he will get hit - significantly. His defence is weak and McGregor is a genuine knockout artist who lands nearly six heavy strikes per minute.
If Nurmagomedov doesn't drastically improve his defence or find a finish, he is going to have to assume control for the majority of the 25 minutes. This means he will have to land a takedown at least once, in each round the fight lasts to set up the win when McGregor only needs one strike to set up a win. That is a much taller order than people realize, especially against someone with the weapons of the former champion and whose grappling skills are relatively unknown.
McGregor may accept he will be taken down eventually but his 18 knockout victories speak for themselves but then again, so does Nurmagomedov's unbeaten record.
The fascination and anticipation for a fight does not get much bigger in this classic grappler vs striker match-up and of course the fight is incredibly tough to call and could go either way but these stats will hopefully shed light on both of their chances.
Prediction: Conor McGregor via KO/TKO
Striking and grappling stats sourced via FightMetric