When Marc Sneyd converted the two goals following the awarding of an eight-point try in Hull FC's win over St. Helens last Friday night, he maintained his 100% success rate with the boot, having not missed a single one of his 21 kicks that he's attempted in Super League XXII. He has carried on where he left off last season, having won the Super League Top Gun award for the player with the best kicking percentage throughout the season.
Sneyd only missed 22 of his 132 attempts last season, which equated to an impressive 83% success rate. However, how does that measure up against other players in previous years? And against Super League's record goal-kicker, Kevin Sinfield?
We've collected data back to the start of the 2003 Super League season through to the present day. For the vast majority of data, we've only included kickers who have attempted at least 50 kicks at goal to give a fair representation of their percentage. NB – data for London Broncos or any of their other guises was unobtainable.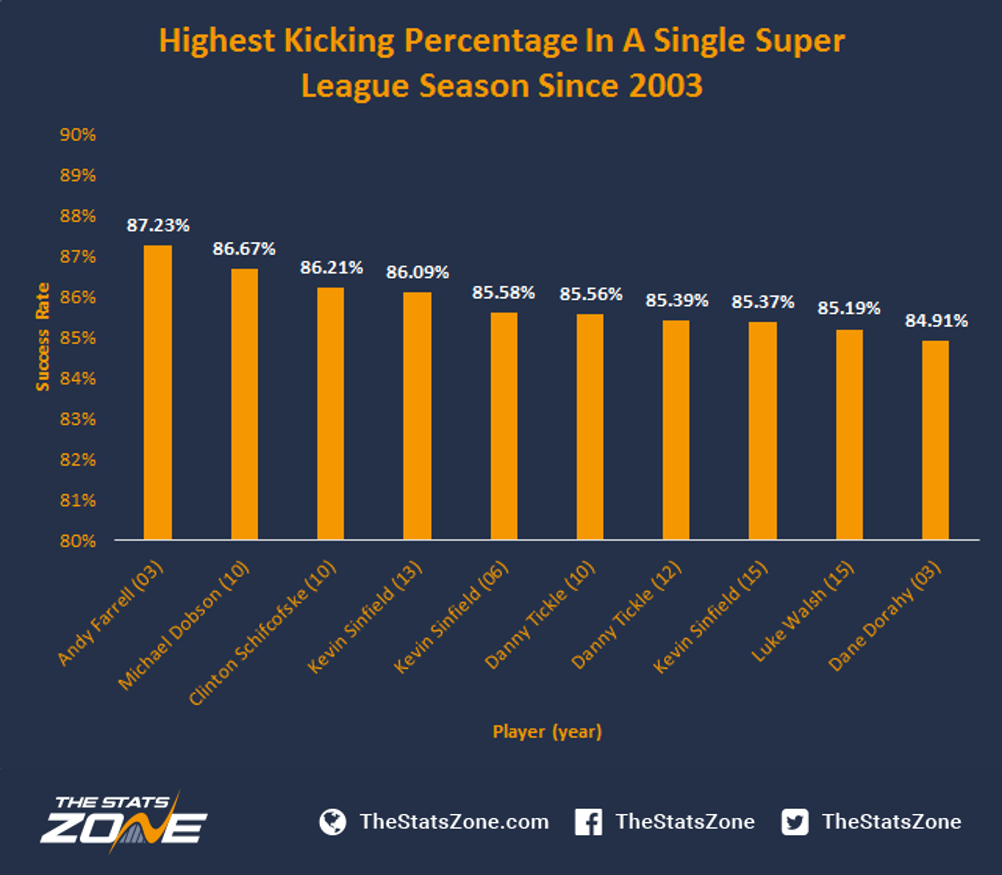 Sinfield makes his mark straight away in the above graph. He features three times in the top 10 single season kicking percentage records, with his efforts in 2013 (86.09%), 2006 (85.58%) and his final season in 2015 (85.37%). It's a high standard and demonstrates his remarkable consistency. Danny Tickle also managed to produced two very successful seasons in 2010 (85.56%) and 2012 (85.39%), but neither could top the mark set by Andy Farrell in 2003. He kicked 82 of his 94 attempts that season for a success rate of 87.23%.
On the flip side, there are also a few big names who feature in the lowest percentage records: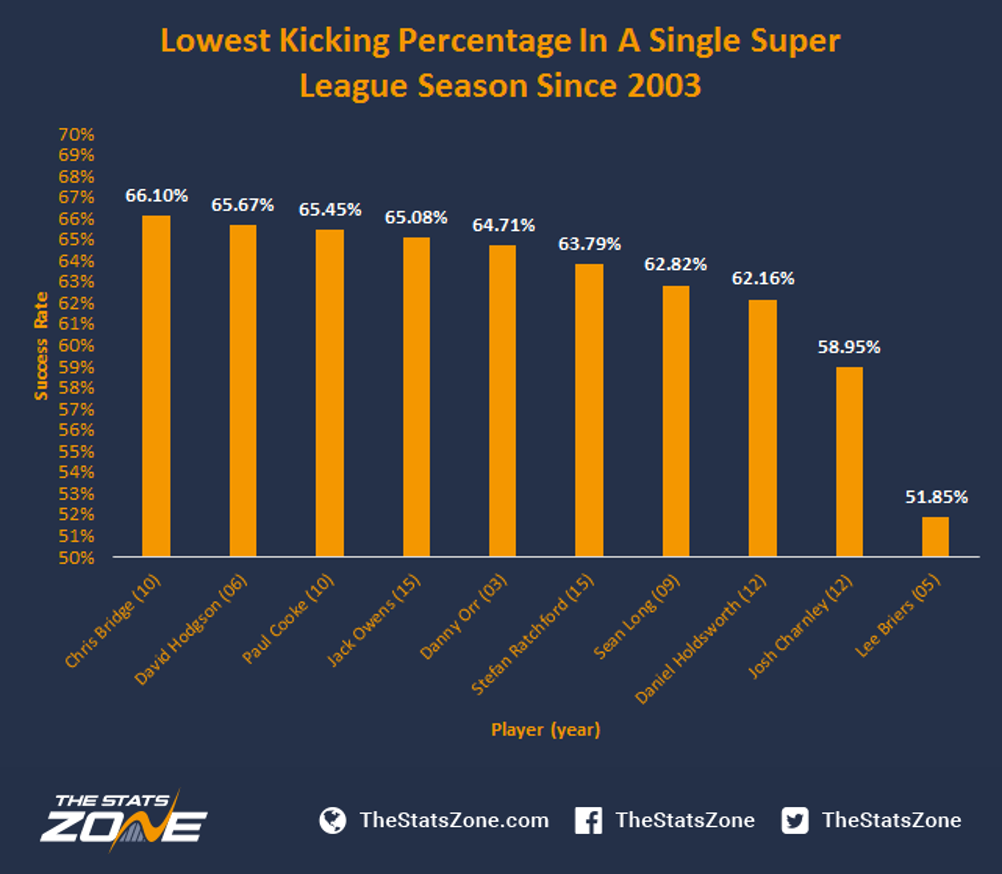 Lee Briers holds the lowest single season kicking percentage record since 2003 with his effort in 2005, when he attempted 54 kicks but only made 28 of them for a success rate of just 51.85%. Sean Long had a glittering career but he too features in this list with a 62.82% kicking rate in 2009.
Now we'll take a look at Sinfield's numbers in greater detail: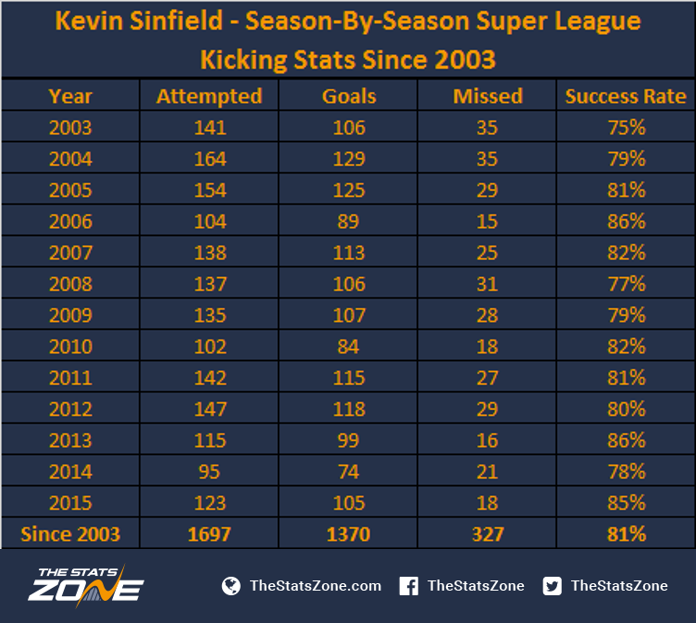 The above table shows how Sinfield fared in Super League from 2003 until when he played his final Super League game in 2015. Of the 13 season we collected data for, Sinfield attempted 1697 kicks at goal, converting 1370 and missing just 327. His success rate sits at 81% during that time, which is a phenomenal figure considering how many kicks he attempted. Only two seasons during that time did he convert at under 78%, again showing how consistent he was with the boot. That consistency doesn't happen by chance and Sinfield gave an insight into his kicking back in 2013.
To put Sinfield's greatness into further context, we have looked at how Leeds have coped in his absence: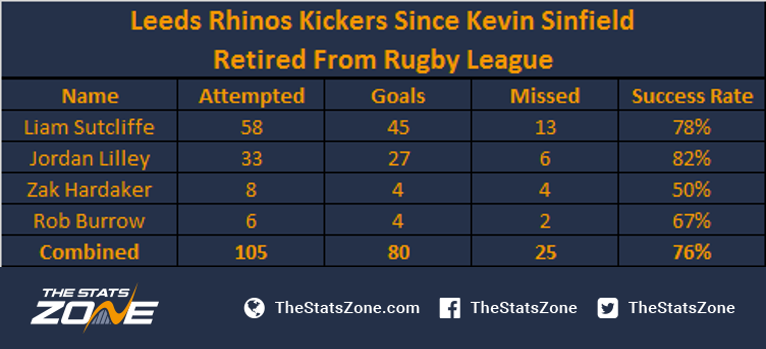 The Rhinos have had four different players attempt kicks at goal since he ended his rugby league career in 2015. Combined, they have attempted 105 kicks with 80 converted and 25 missed, for a success rate of 76% - a drop of 5% from Sinfield's career record since 2003. This is obviously over a much smaller sample size too, which highlights how much Leeds have missed Sinfield. Jordan Lilley is the Leeds player who currently has the best success rate since the start of last season, with a success rate of 82%, but that is only from 33 attempted kicks and would rapidly alter if he missed his next few attempts.
There have been some great kickers in Super League and arguably none more so than those mentioned here. We've featured four of those in the table below, with Farrell not included due to us only having access to data dating back to 2003: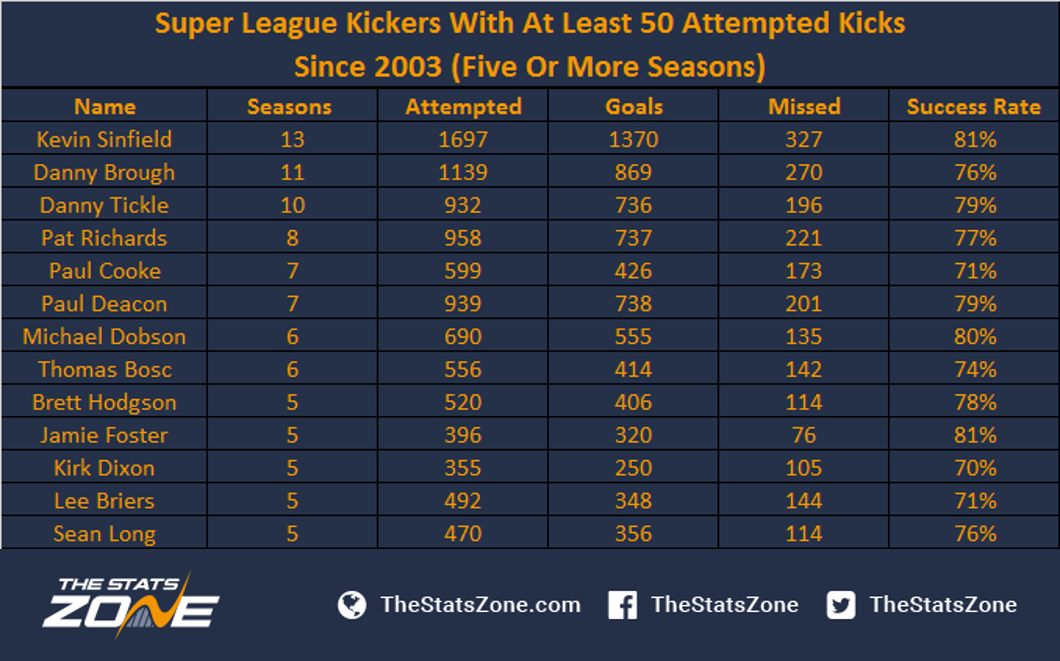 To try and demonstrate the standards that Sinfield has set within the game, we've looked at kickers who have played at least five seasons of 50 attempts or more per season. Danny Brough comes the closest in terms of longevity from the data we've collected, with 11 seasons recorded. In those 11 seasons, he's kicked at 76%, a drop of 5% from Sinfield's standard. Danny Tickle is next in line with 10 seasons, and his success rate is 79% throughout those seasons.
The two players closest to Sinfield's record are Michael Dobson and Jamie Foster. Dobson has six seasons with at least 50 attempts, and kicked at 80% to just fall short of Sinfield's record. Foster has five seasons recorded and he matched Sinfield's 81% conversion rate. In fact, when breaking it down further, Foster has a slightly higher figure than Sinfield, topping his success rate by 0.08%, but he has only attempted 396 kicks compared to Sinfield's 1697, showing the huge gulf in sample size.
One person not included in the above list is the man we mentioned at the start of the piece and the current top kicker in Super League:
Sneyd's kicking has improved since making his move to Hull in 2015, as he currently converts 82% of his kicks in a black and white shirt, compared to a combined 75% at Salford and Castleford.
He has a unique kicking style but it's something that works for him, and with another good season in 2017, we will be able to compare with how he stacks up against the others with five seasons or more of 50 attempted goals. As it stands, he's converting at 79% for his career with Sinfield's mark in sight, but must retain his consistency over a longer period to truly try and topple what Sinfield achieved with the boot. For such a sustained period of excellence, Sinfield remains the benchmark by which all other kickers measure themselves against.