When Eddie Hearn made the announcement back in July that Kell Brook would step into the ring with Gennady Golovkin, it instantly became a fight of the year contender right off the bat. The fight has posed so many questions, with the key intrigue surrounding how Brook will cope with the step up to middleweight. Having made his name in welterweight and currently possessing the IBF World title, he steps up two divisions to fight the man viewed by many as the most feared in boxing at present.
TSZ will look at how the two match up, including a focus on their impressive KO records; investigate the success of others who have stepped up two weight divisions and examine the numbers behind what makes Golovkin so feared.
Tale of the Tape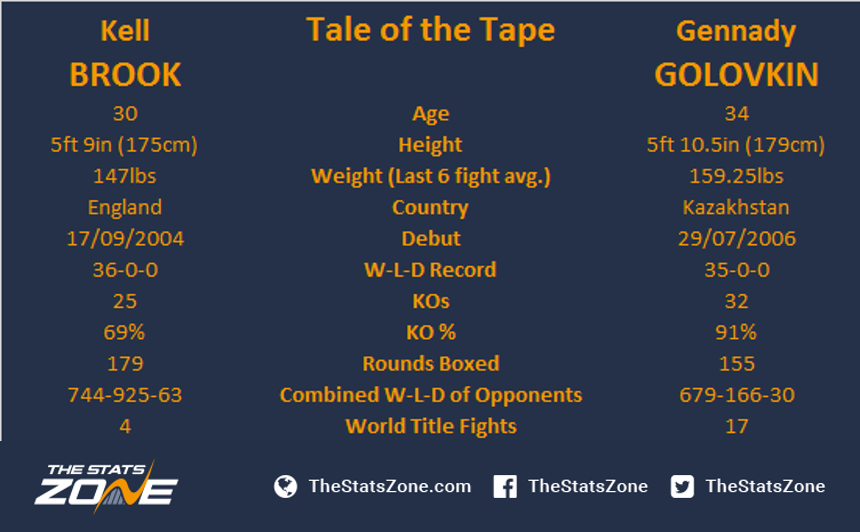 The pair share similar fighting records, with Brook enjoying the one extra victory than Golovkin, but Golovkin didn't make his professional debut until almost two years after Brook, despite being four years older. Golovkin has the slight height advantage but it's the weight that is obviously the big point here. Over their last six fights, Brook has averaged 147lbs with Golovkin averaging 159¼lbs. This is because of them fighting in different divisions, but it highlights the step up that Brook is making.
Despite the later debut, Golovkin has fought in 17 world title fights compared to Brook's four. Although both men have fought in a similar number of rounds, there's a significant difference between the quality of opponents faced. The combined W-L-D record of Brook's opponents (the record they held heading into their fight) is 744 wins, 925 losses and 63 draws. This is mainly due to fighting some poor quality fighters at the start of his career, with recent opponents offering much sterner records. Golovkin on the other hand has faced opponents with 679 combined wins and just 166 losses as well as 30 draws. This suggests that Golovkin has fought a higher class of opponent and began his career with more difficult fights rather than just finding his feet having turned pro from the amateur ranks, where he won an Olympic silver medal at the 2004 Olympics.
KO Records
Both men head into the fight undefeated with a combined record of 71-0-0, but the one thing that stands out is their impressive KO records, with Golovkin obviously stealing the limelight in that category. Brook's KO ratio of 69% is impressive but Golovkin dwarfs that with 91%, having knocked out all but three of his opponents. Is there anything we can take from when both men have won their fights to date?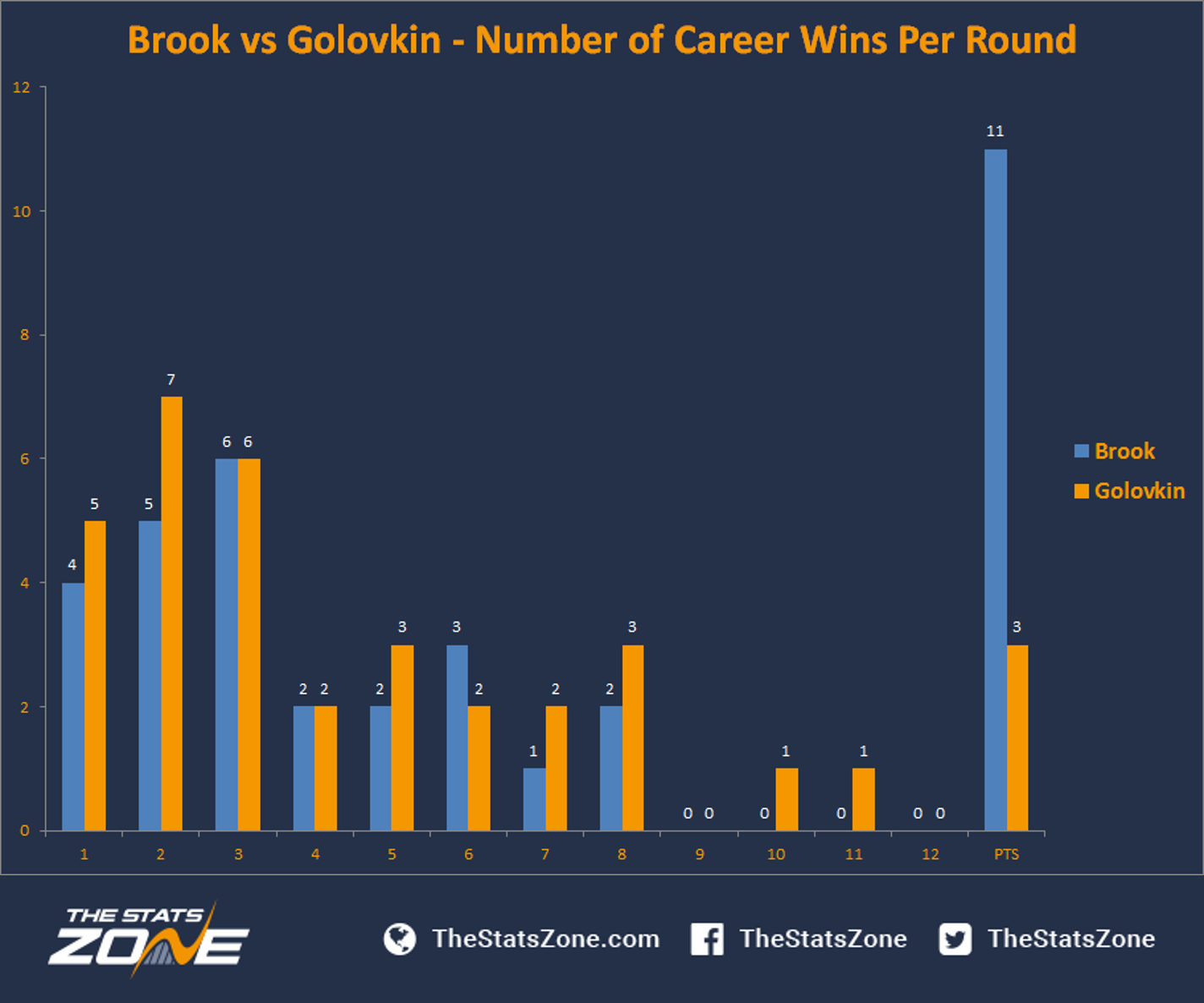 The first thing that stands out and possibly the main thing for Brook to take into the fight is the later rounds. He hasn't knocked anybody out in rounds 9-12 but has 11 points wins to his name. Golovkin only has two KOs in the same period but only three wins by points. Brook might think that if he can avoid an early KO that he may be able to grind it out and take the win on points, having fought in eight more fights that have gone the distance.
Of Golovkin's 32 KOs, 56% of those have come in rounds 1-3. He gets the job done early with the power and accuracy of his punching maybe catching his opponents by surprise. Brook actually has a greater percentage of KOs in the same three rounds with him producing 60% of his KOs in rounds 1-3.
Neither man is particularly dominant in rounds 4-8, with a maximum of three KOs in any round in that period. The numbers are fairly consistent for both but it's a very obvious lull following their impressive numbers for rounds 1-3. This could be that both men look to settle into their fights if they are unable to win it early and then look to build from there.
Step up in Weight
Having fought at welterweight (147lbs) for the majority of his career, the step up to middleweight (160lbs) is a big one for Brook. His camp have claimed that the step up in weight isn't a problem as he's always been a big welterweight and moving up the weights will allow him to fight at a more natural level for him. The move up is also something that Brook wants to become permanent, with him stating he has no intention of returning to 147lbs.
The check-weights provide us with a bit of insight into the two boxers, and does tend to support the claims from Brook's camp that this is a more natural weight for him to fight at. With 31 days until the fight, Brook weighed in at a huge 176lbs. Both men were allowed to be 10% over the fight weight limit at this stage of the build-up, putting Brook at the maximum weight allowed. Golovkin tipped the scales at 165lbs but both men were content with what they weighed at that stage of their preparations. A week before the official weigh-in, Brook was still almost five pounds heavier. He weighed in at 167.8lbs compared to Golovkin's weight of 162.9lbs.
Golovkin's camp have conceded that Brook may now head into the fight as the naturally bigger man, which would probably have been laughed off if that had been suggested when the fight was first announced. This may act as an advantage for Brook but, will a lack of experience at 160lbs show come fight night? The most Brook's ever weighed for a fight is 155lbs when he fought Darren Gethin in 2008. In contrast, Golovkin has never weighed in below 158½lbs. The step up in weight, whilst it may actually suit Brook to be fighting at a heavier amount, is a big one. Have any other boxers had success moving up two divisions?
The most recent fight that comes to mind involves Brook's long-time rival Amir Khan. He stepped up two divisions to face Saul 'Canelo' Alvarez earlier in 2016 for the WBC middleweight title at a catch-weight of 155lbs. Many before the fight said that this was a mistake as Alvarez would have too much for Khan. The opening rounds went Khan's way and he was holding his own but when the door was opened, Alvarez demonstrated that his natural power was too much and produced a stunning KO in the sixth round.
Adrien Broner stepped up to beat Paulie Malignaggi in 2013. His previous fight had been at lightweight but he jumped up to welterweight to claim the WBA World title. However, Broner suffered in his next fight against a harder-hitting welterweight in Marcos Maidana and was defeated. Broner settled at 140lbs following this and won an International super lightweight title but once again struggled when he stepped up that few extra pounds when Shawn Porter beat him in a bout set at 144lbs.
Manny Pacquiao had some success jumping up although he has fought at various weights throughout his career. His first fight in 1995 saw him fight at just 106lbs but has fought at a heaviest weight of 147lbs. The one fight that jumps out following a move up was against Oscar De La Hoya in 2008. He fought David Diaz at 134¼lbs but just six months later got into the ring with De La Hoya weighing 142. His speed was too much that night with De La Hoya looking slow and it ultimately turned out to be the American's final fight.
One of the most famous step ups in weight came from Roy Jones Jr. Holding titles at light heavyweight, he bypassed cruiserweight to fight at heavyweight for the WBA World title. Having fought his previous fight at 174¾lbs, Jones Jr. put on almost 20lbs and weighed in at 193lbs for his fight with John Ruiz, who weighed a massive 33lbs more at 226lbs. Jones Jr. was so impressive that the weight difference didn't matter as his hand speed and footwork saw him walk away with a unanimous decision victory.
Is Golovkin Really the Most Feared Man in Boxing?
There have been a few murmurings recently that Golovkin is possibly a little overrated and that many of his fights have been handpicked to suit his style. It's fair to say that Golovkin hasn't had many, if any, massive fights; fights that nobody wants to miss. Whilst his record cannot be disputed and some of the numbers regarding his success in boxing are nothing short of ridiculous, there is a feeling that his career may well be viewed in a similar way to Wladimir Klitschko, especially towards the back end of his career. Klitschko, like Golovkin, has a phenomenal record and enjoyed a huge run as World Champion but is always questioned about how good he truly was during that period, with the heavyweight division generally offering very little.
Golovkin could respond to those who knock him by saying he does want the big fights but people keep dodging him. He could also say that he doesn't care who he fights as he believes he has the tools to defeat anybody put in front of him. The Kazakh has been so impressive and dominant in the way he's despatched everyone put in front of him that it's difficult to understand where the criticism comes from.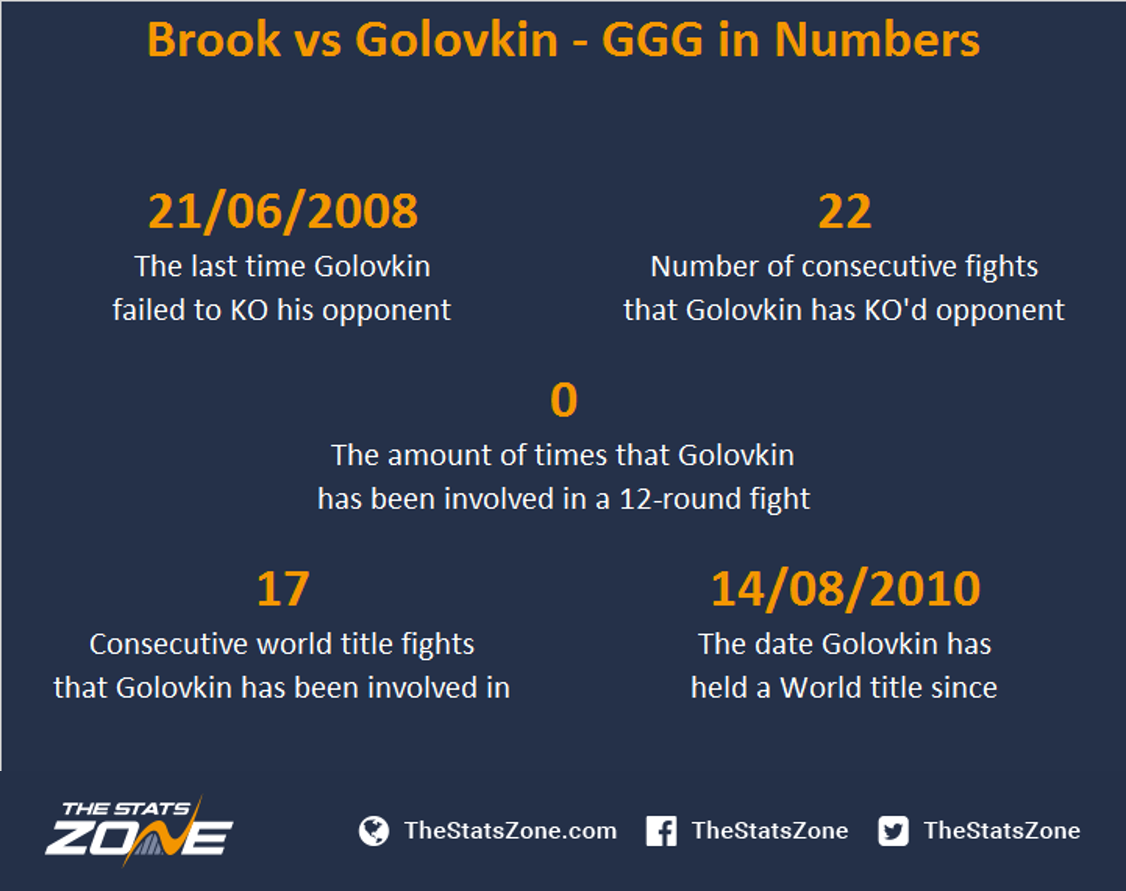 If you're in the Brook camp, those are scary numbers but there is one key figure there that will give him hope. Golovkin has never seen the 12th round of a fight. That's not to say his fitness isn't up to scratch but he's simply got rid of every opponent in a 12-round fight before the final round. He's never been to a points decision which means Brook may think he has the edge should the fight go the distance.
The last 22 opponents that Golovkin has faced have all found the canvas and it's a record he will want to extend. This is probably the one stat that stands out and offers some explanation as to why he is ducked. The man is dangerous inside the ring with his power causing damage to everybody who steps in with him. If Brook can avoid being knocked out, it will be the first time since June 2008 that Golovkin has failed to KO an opponent.
Conclusion
The fight with Brook has certainly got the boxing world interested. Many are expecting Golovkin to win with him heading into the fight as a big favourite with the bookies. If Golovkin is to triumph, it might finally open up some doors for him to get involved in some 'super-fights'. Conversely, it may deter people further from wanting to step into the ring with him. Chris Eubank Jr. was supposed to be the man taking this fight and may well be waiting in the wings, but Golovkin may decide he's missed his chance and look for a bigger named opponent. He's wanted to fight Alvarez for a long time but it has never happened. Andre Ward is another name that has been mentioned, fighting at either middleweight or Golovkin stepping up to super middleweight.
The step up for Brook may be the best thing that he has ever done and pulling off a shock on 10th September will propel him into unchartered territory. All of a sudden, he would become the man the world would want to beat. It would be a huge statement to beat a man of Golovkin's stature and reputation. Brook too has suffered taunts during his career that he hasn't really fought anyone of note, but nobody can knock him after accepting this fight. How he does against Golovkin could set the rest of his career alight. Even if he is defeated, a respectable performance would bring new challengers to light and it might even finally lead to a long overdue bout with Khan. One key thing for Brook – judging by history – is that he should stick to this weight regardless of his success in this fight, as others in the past have struggled when stepping back down in weight.
With Brook heading into the unknown, it's difficult to make a clear call on the fight. Golovkin would be the obvious call and may well prove to be too big and strong, but Brook's natural size may come as a surprise on fight night. A KO either way wouldn't be the most shocking outcome with their ratios there for all to see, but could this be the night where Golovkin is taken further than he's ever been before and make it into the 12th round of a fight? The furthest he's been previously was also against a Brit – Martin Murray in 2015 – when he gamely fought on until round 11. It's also Golovkin's first fight on British soil, and although he isn't averse to fighting away from Kazakhstan, it may be a completely different atmosphere to what he's experienced before.