Sheffield's Kell Brook makes his return to the ring for the first time since his middleweight loss to Gennady Golovkin. Brook has stripped off the pounds again to defend his IBF welterweight world title against mandatory challenger Errol Spence Jr, and will be making the fourth defence of his title since overcoming Shawn Porter in August 2014. Although Brook is facing an opponent in a weight category he is more accustomed to, this is by no means an easier fight and could well be his toughest test in the 147lbs division against the unbeaten Spence under Sheffield United's Bramall Lane lights.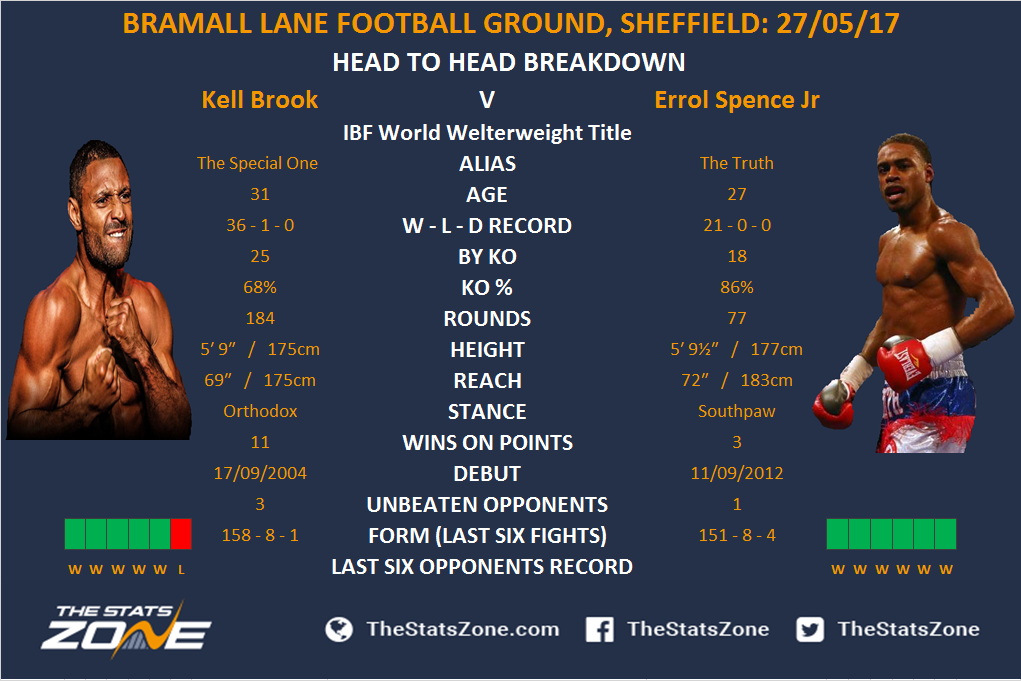 Brook is well regarded within the sport as physically big for a welterweight. However, he will be giving away two centimetres in height and a mammoth eight centimetres (3.14 inches) in reach, an area that could be major to the fight's outcome and respective tactics.
The Special One has amassed over double the amount of rounds (184 v 77 via 15 extra fights compared to Spence), and although many will be touting this as a significant factor, Spence has fought and beaten some high calibre opponents in his short career to date.
Both possess high amounts of power, with Brook knocking out 68% of his opponents and Spence 86%. However, the former has managed to win 11 bouts on points and this experience in a high calibre fight such as this could be a major factor if the contest goes into the later rounds.
Brook's sole career loss came in his last outing against the great GGG in a physical mismatch; nonetheless, the Englishman held his own up until the knock-out, which will have given him the extra confidence that he is capable of hurting and out-boxing any opponent.
Although Spence has impressively KO'd his way through his last eight challengers and created many a headline en-route to becoming mandatory challenger, this lack of big fight experience compared to Brook cannot be overlooked.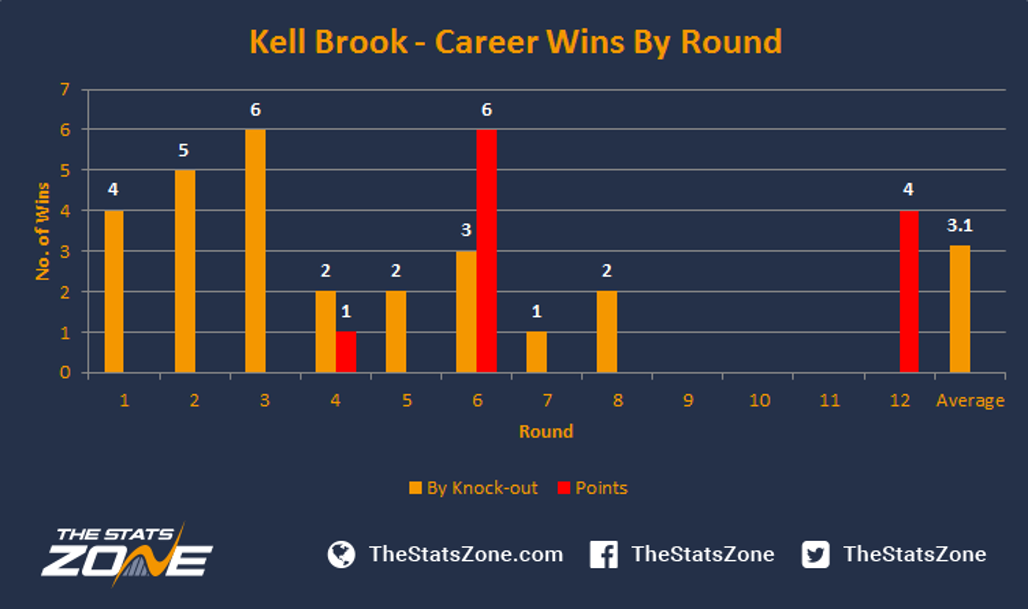 Brook's 25 knock-outs have all come during or before the eighth round, demonstrating his explosive power. Notably, he has recorded six wins on points during the sixth round, showing that during his career he has had to fight numerous unknowns to get noticed, hence only becoming a world champion after 32 bouts.
Additionally, Brook has achieved four victories on points over 12 rounds and actually won his IBF crown on majority decision against Shawn Porter in the states – an achievement that few predicted.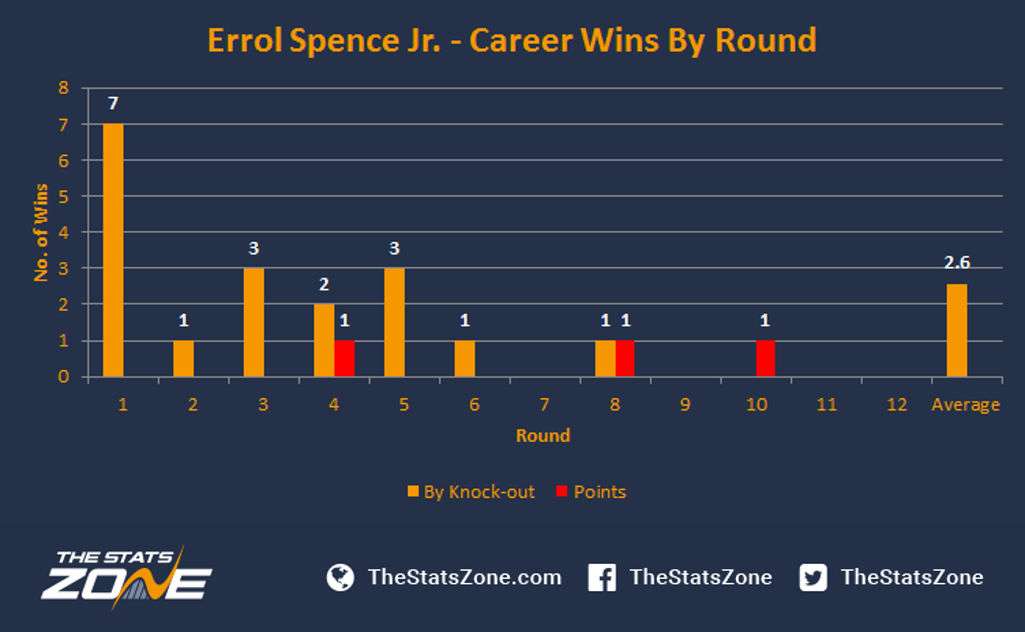 Spence has a similar record in relation to Brook, with 18 knock-outs all coming during or before the eighth round. 'The Truth's' rise to the top has been much more direct though, showing the calibre of fighter he is and the hype that surrounds him in the sport.
It is evident both have the speed and power to win by knock-out, but in a bout of this level the winner may have to be smarter in their decision making and a points victory looks probable.
Punch stats were collected from both fighters' previous bouts, and although the opponent's tactics determine largely the outcome of such statistics, they do also highlight each fighter's natural style.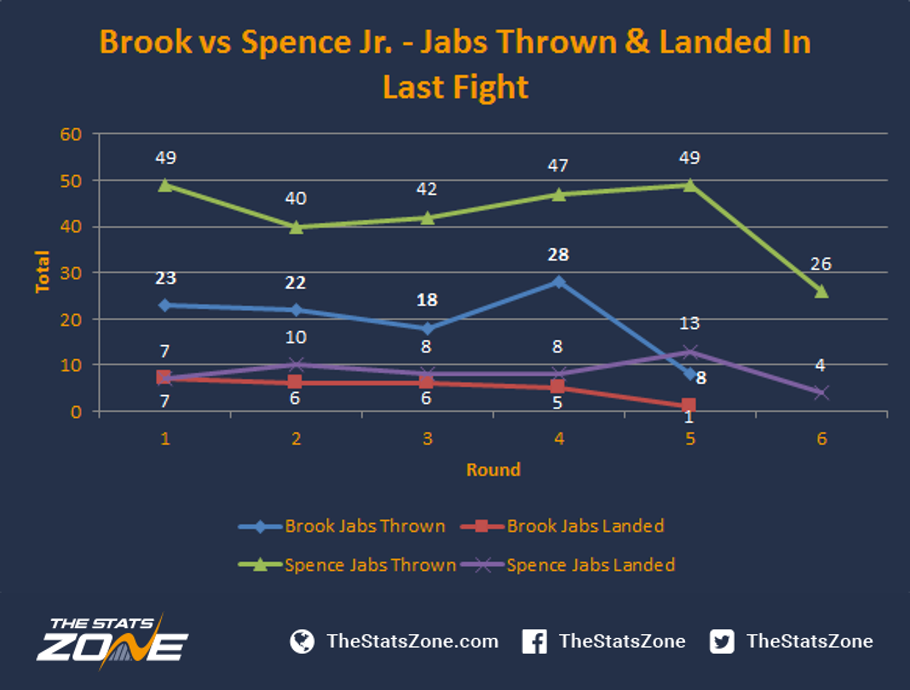 Spence likes to use his jab and threw 40 or more during the first five rounds (26 in the sixth) against Leonard Bundu, landing just 50 from 253 thrown, a conversation rate of 19.8%.
Brook was much more reserved with the jab against GGG but used it to greater affect. During the first four rounds – before he experienced significant damage to his eye that prevented him from throwing calculated punches – he threw between 18 and 28 jabs, roughly less than half during each round compared to Spence. From the 99 jabs thrown, he managed to land 25 (25.3%).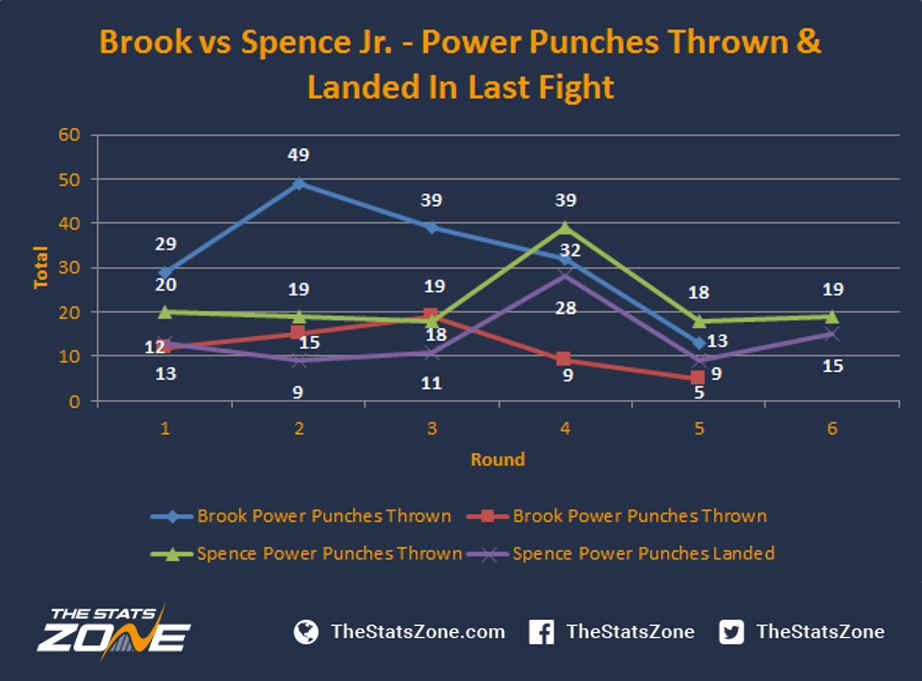 Conversely, Brook attempted more power punches compared to Spence in the respective fighters' last performance, but landed just 60 from 162 thrown (37%), whereas Spence landed 85 from 133 thrown (63.9%). What this demonstrates is Spence's ability to throw powerful and accurate punches for long periods of the fight, and shows why so many of his opponents have been KO'd. Coupled with a relentless jab, the all-action style will be something Brook will have to be at his very best for and the GGG fight could have been the perfect preparation.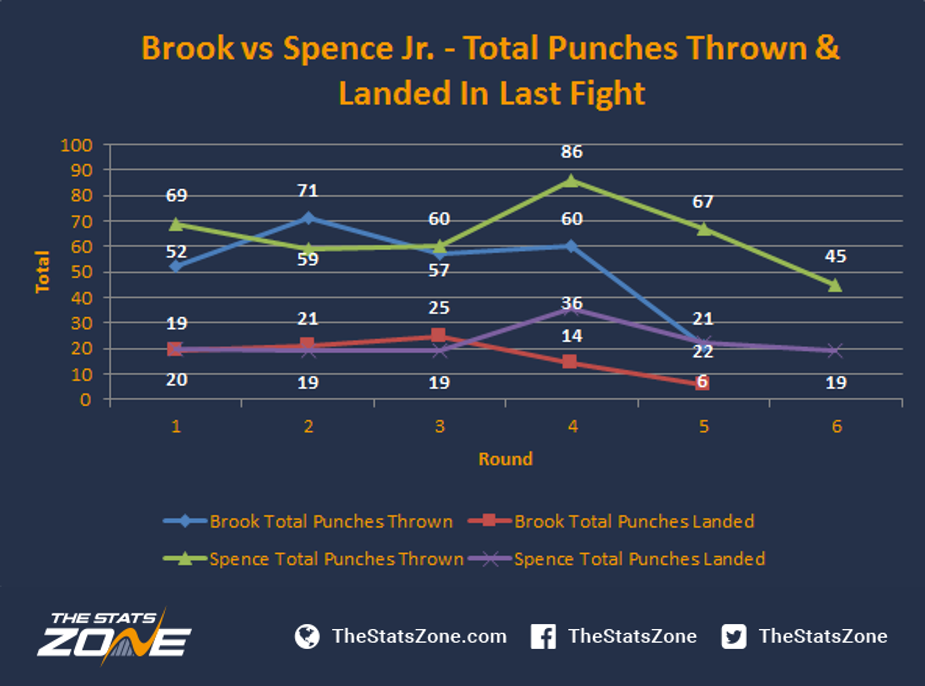 The picture of overall punches perhaps is telling and may highlight the tactics each fighter will adopt.
Overall, Brook threw 261 punches and landed 85 in his last fight, converting 32.6% with the jab being highly successful.
Spence threw 386 punches and landed 135 in his bout, converting 35% with power punches being highly effective.
It would appear Spence uses his jab frequently to set-up the power punch combination, whereas Brook is more calculated with the jab and uses his speed and ring craft to outscore his opponent.
In summary, Brook's big fight experience and longevity could be the deciding factor in him retaining his IBF crown and he is favourite to win on points. He also withstood some big blows from the big hitting GGG, showing he has the robustness of a bigger fighter. With Spence's power and energy however, we could be in for a great spectacle.
Punch stats sourced via CompuBox.