After facing some stiff criticism and a few niggling injury troubles, the ageing Jimmy Anderson skittled the Sri-Lankan cricket team with a phenomenal 10-wicket haul last week and fast approaching the 500 test-wicket club. With such an achievement looming and with such an impressive record, it is only appropriate to delve into his career and look at his remarkable test-match statistics.
Watching Anderson bowl in the Ashes series down under over the 2006/07 summer where the tourists were flogged 5-0 and get carted in every direction it would be fair for rivals and opposition fans to lick their lips at the prospect of facing him for years to come if he were to lead the English bowling attack ….how wrong we all were!
Through the years
When Anderson made his debut against Zimbabwe, he did so with immediate impact, capturing a remarkable first innings 5-wicket haul. His first year in the big time was a success netting 26 wickets from 8 matches. From there however, his next four years were extremely lean taking a combined 36 wickets and playing just 12 matches. As we can see in the below graphic, this was the turning point of Andersons career. Ever since the 2008 season Anderson took under 40 wickets just once in 2011 where he played a total of just 7 test matches.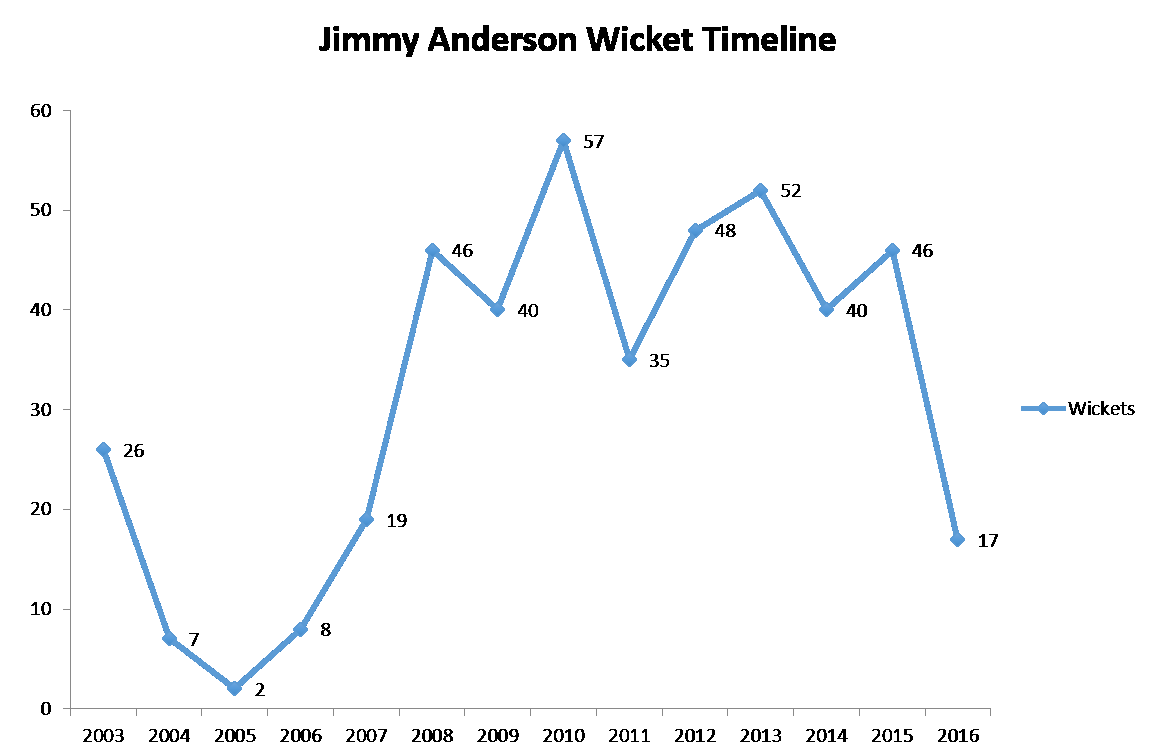 Record against opponents
What is most miraculous when studying Jimmy Anderson's record, is the consistency of which he is able to take wickets, there is no standout side that he completely dominates or struggles against. He has played a majority of his matches and taken the highest amount of his wickets against the top three test cricketing nations, Australia (87 wickets), India (82) and South Africa (64).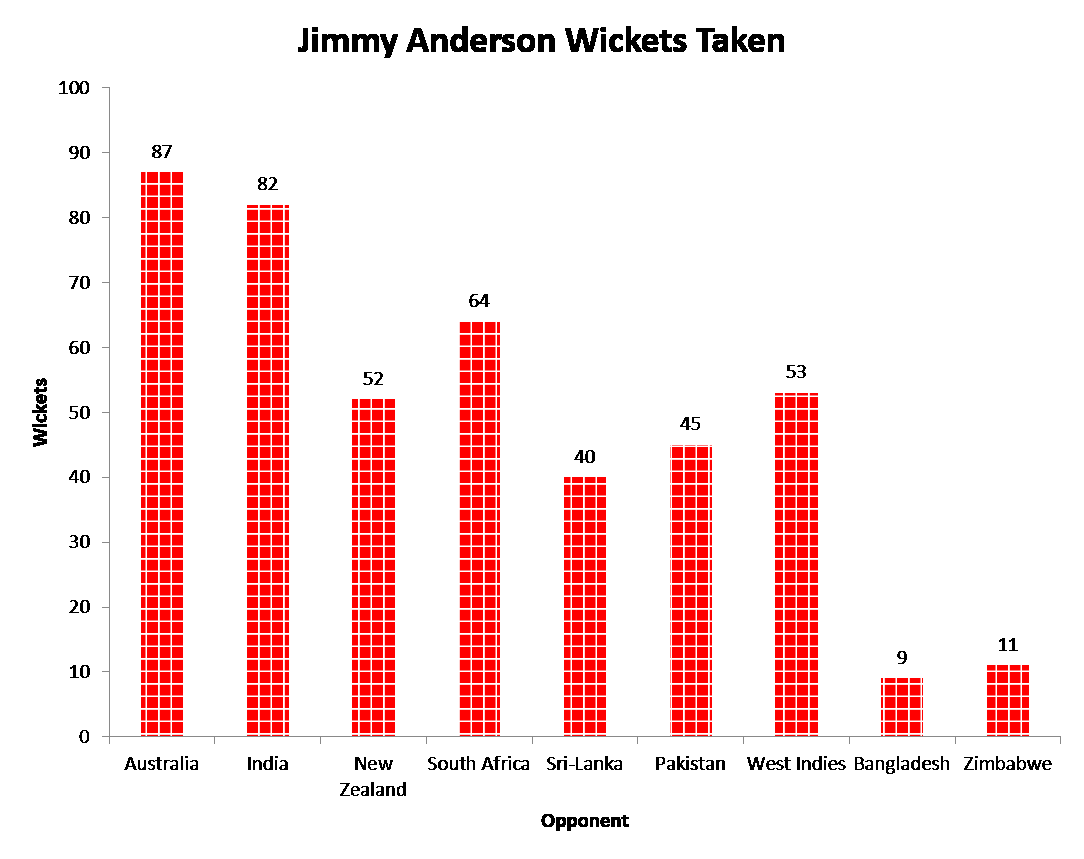 In regards to his bowling average, Anderson's career average sits at a very respectable 28.62. Aside from some slightly higher averages against South Africa and Australia, Anderson has been consistent against all test-playing nations.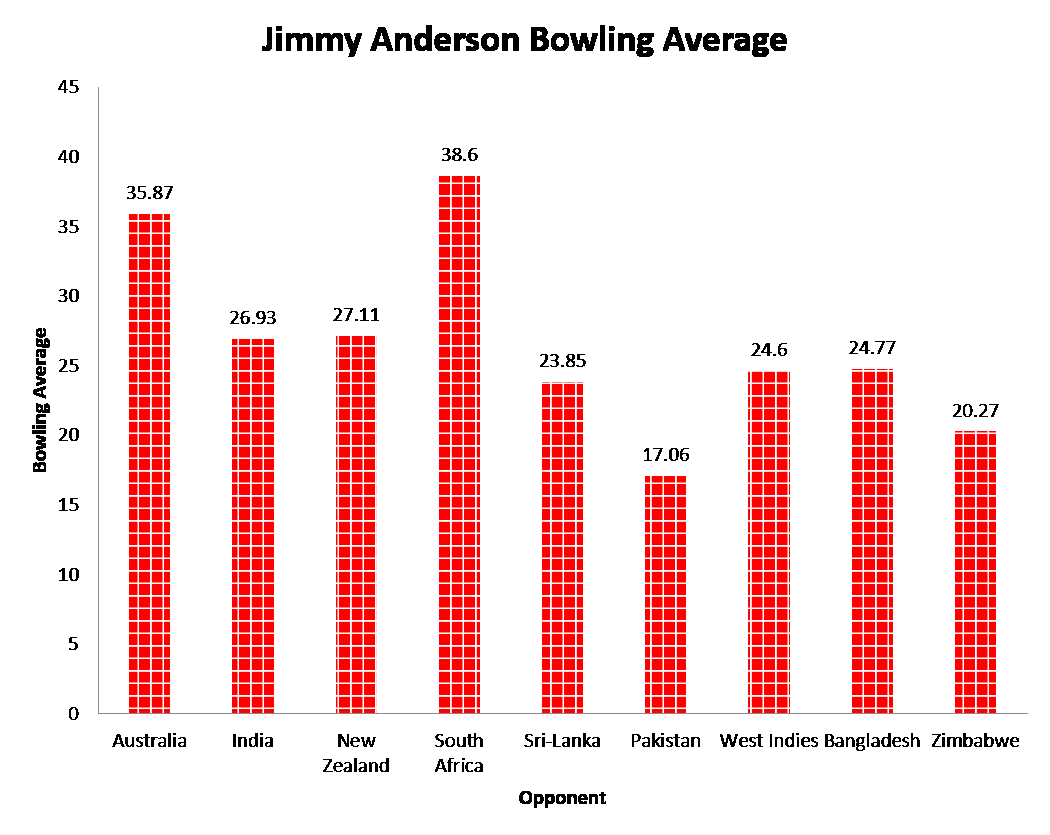 Record on foreign soil
Although a dominate force at home and with a very impressive record against all test playing nations, the only potential slight on Jimmy Anderson is his record in a handful of opposition countries.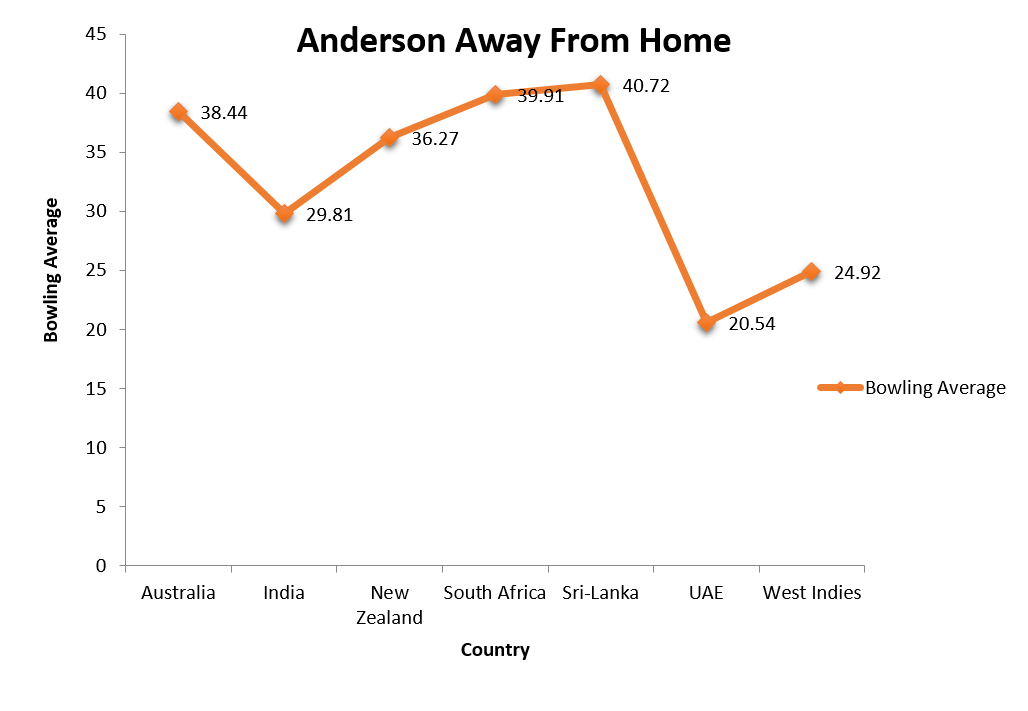 Interestingly, Anderson seems to thrive in most conditions not traditionally seen to be conductive to fast bowling (India, UAE and West-Indies). An extremely impressive record in the Caribbean and the UAE (total 48 wickets average of 22), Anderson also has a sound record in India with a very respectable 22 wickets at a respectable average of 29.81. The only anomaly in these types of conditions is his poor record in Sri-Lanka, capturing only 11 wickets in four matches with a below par average of 40 runs per wicket. Although his record away from home seems to be sound, the number of five-wicket hauls taken away from the UK is alarmingly low.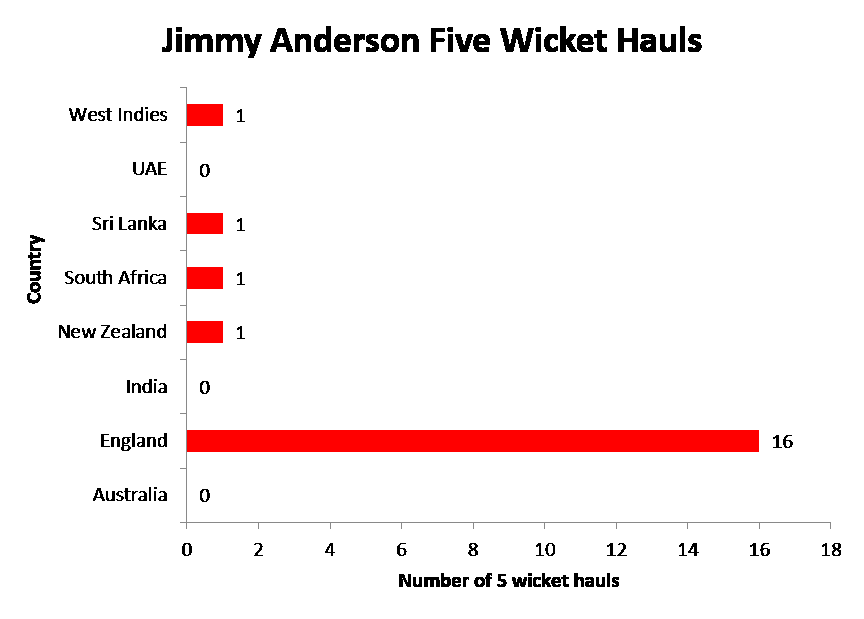 Compared to the great
Sir Ian "Beefy" Botham has long been regarded England's greatest player, so how does Anderson stack up against the great all-rounders bowling record? Currently, Anderson has taken exactly 60 more wickets than Botham however, the lanky lanc has played twenty more test matches. When comparing the two great bowlers, Beefy and Anderson both have similar career averages (28.40 & 28.62) and have taken a strikingly similar number of wickets at home compared to away from home.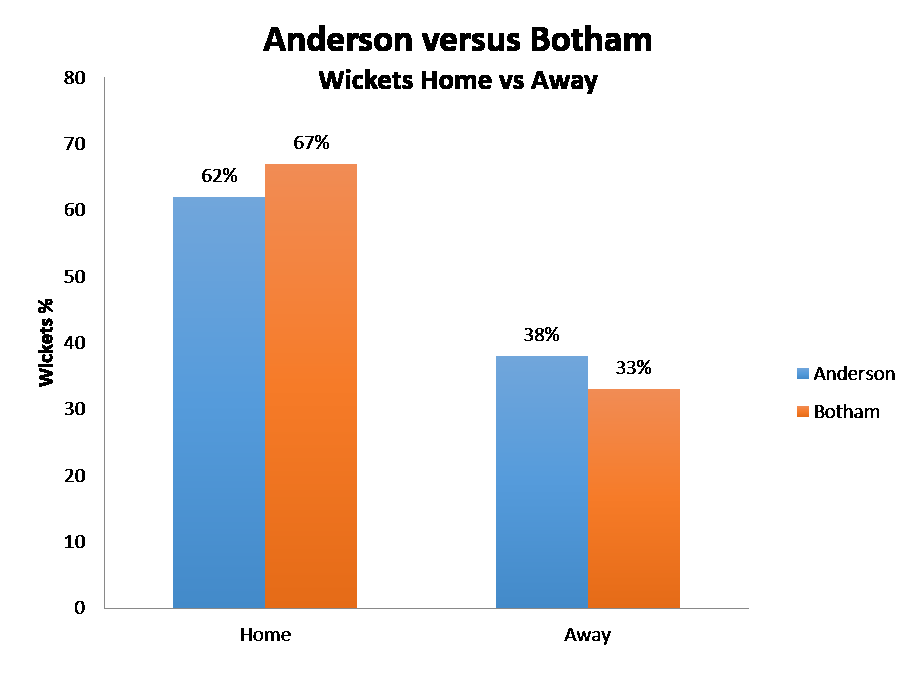 The two big fast bowlers also share very similar statistics when comparing their averages away from England in addition to their averages against opposition from around the world. The only real difference is the fact that Botham had a much better average against Australia (27.65) compared to Anderson (35.87), however Anderson has the bragging rights against the West Indies (24.60), the opponent Botham recorded his worst bowling average (35.18).
Jimmy Anderson has easily made his case to be England's greatest ever bowler in all eras, even when compared to those before him his numbers are unquestionable. Although into his 30's, Anderson has shown no signs of slowing down having already captured 17 wickets from two test matches in 2016. If he continues at this rate expect him to reach the magical 500-wicket mark in 2017 and if he's body can hold up and the fact he is a part of the second best bowling partnership in history, there should be plenty more wickets to come.