It is fair to say that Claudio Bravo's first few months in British football haven't gone as well as he'd hoped. The Chilean was handpicked in the summer to replace fan-favourite Joe Hart as incoming Manchester City manager Pep Guardiola favoured a different style of keeper. Despite making a winning start to life in the Premier League in the Manchester Derby, Bravo hardly endeared himself to the supporters; the keeper gifted Manchester United one goal, presented Ibrahimovic with another golden opportunity and perhaps should've been sent off for a tackle on Rooney after a clumsy touch. Bravo was brought in with the reputation of being a goalkeeper who was good with his feet but is now starting to earn himself a reputation of a keeper who struggles to stop shots; in Manchester City's last match against Everton he faced four shots, all of which resulted in goals.
Here at TSZ, we have looked into the statistics surrounding the keeper's performances so far this season and how he compares to others in both the Premier League and the top five leagues in Europe (the others being Spain, Germany, Italy and France). All data used is from www.foxsports.com but it must be stated that data varies slightly depending on the provider. Data is accurate as of 20/01/17 with only goalkeepers who have made at least 10 appearances considered.
First up, who are the top performing keepers in the Premier League?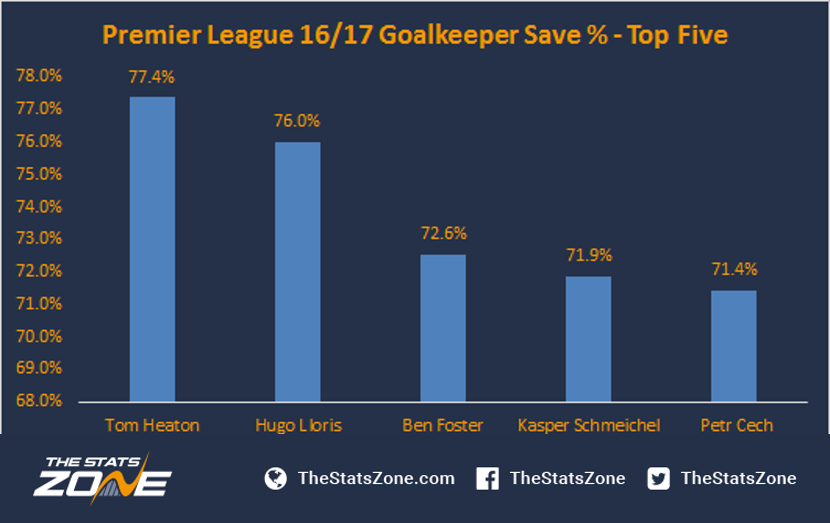 Burnley shot-stopper Tom Heaton leads the way with an impressive 77.4% save success – he has saved 89 of the 115 shots on target he has faced this season.


Two goalkeepers from the so-called 'top six' teams appear here – Spurs' Hugo Lloris (76.0%) and Arsenal shot-stopper Petr Cech (71.4%).


Despite the fact Leicester City have struggled this year, Kasper Schmeichel has been performing admirably as he has saved 71.9% of the shots he has faced, although he has been absent for a large proportion of the season.

What about the bottom five in terms of save percentage?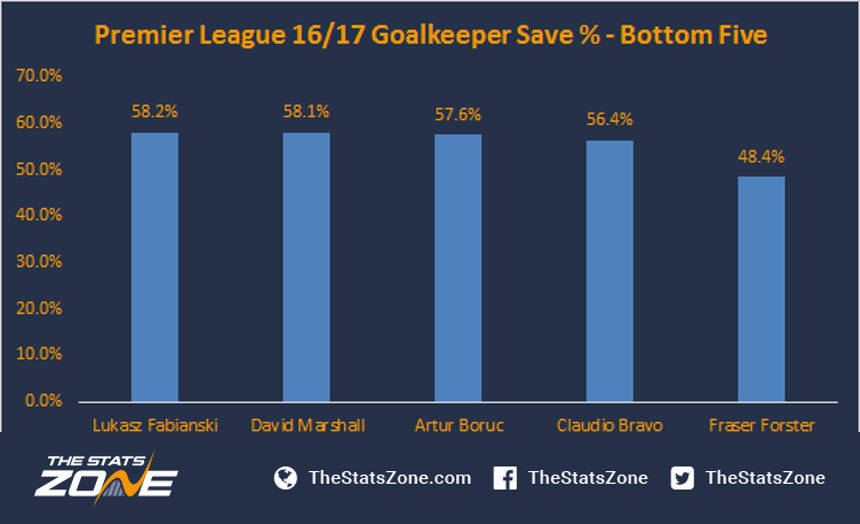 Of the goalkeepers who have made 10 appearances, the statistics don't make good reading for Claudio Bravo; the Chilean has saved just 56.4% of the shots he has faced; this equates to 31 saves from 55 shots.


Only Southampton's Fraser Forster has a worse save percentage (48.4%), which in itself is a surprise given his excellent displays for much of last season.


All of Manchester City's rivals have keepers who have a significantly better save percentage than the Chile international – what Manchester City fans would give to have a keeper with numbers as impressive as Hugo Lloris.


It's a massive 21.03% swing in terms of Bravo's performances to that of Tom Heaton.

Let's look wider afield. Now we will analyse the statistics for all goalkeepers in the top-five European leagues, providing they have made at least 10 appearances this season. Here are the top 20, with the rankings of Joe Hart and Claudio Bravo shown at the bottom: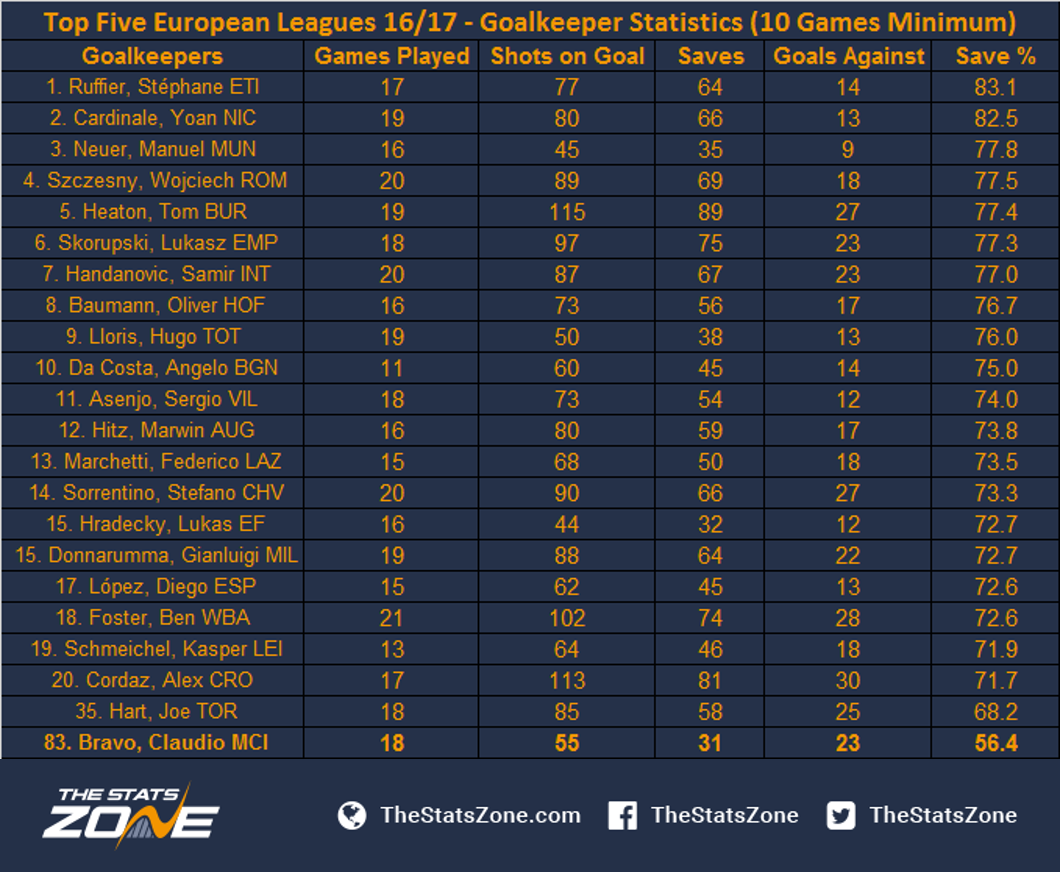 In terms of save percentage, Bravo ranks 83rd out of 97 keepers from the top five European leagues. The man he replaced has fared a lot better in Italy with Joe Hart ranked 35th with a 68.2% save percentage.


The two best performing keepers in terms of save percentage are both in Ligue 1 in France; Stephane Ruffier for Saint-Etienne (83.1%) and Yoan Cardinale for Nice (82.5%); the latter doing a great job for Nice as they push the big boys in their pursuit for the league title.


Arsenal fans may be slightly surprised to see Wojciech Szczesny up in fourth place with 77.5%; the keeper has credited Roma in making him a better goalkeeper with statistics back in December 2014 claiming he was one of the worst in the Premier League. Notable mentions must also go to Tom Heaton and Hugo Lloris who make it into the top 10, whilst at just 17-years-old, Gianluigi Donnarumma makes it into joint-15th spot.

One of the main reasons Claudio Bravo was bought was for his ability with his feet, and although he trails Joe Hart in terms of save percentage he does boast a slightly higher pass success percentage (71.5% vs 65.5%). However, Tottenham's Lloris excels Claudio Bravo in both performance measures with the Spurs stopper having a 72.9% pass success percentage (stats provided by www.whoscored.com).
Manchester City fans may feel that if Joe Hart had been in goal this season, he may have been able to save a few more shots, which is surely the more significant mark of a great keeper than his ability to pass out from the back. Despite Bravo's ability with his feet, he simply has not saved enough, and his ranking of 83out of 97 in terms of save percentage in the top five European leagues is a reflection of this. Pep Guardiola will hope his goalkeeper will improve in this area in the second half of the season, or come the summer he may be faced with a decision of whether to continue with an underperforming keeper that aids his philosophy or to buy another stopper who simply performs the basics better.