When Manchester United began to dominate the English game in the early 90's, they were known for producing a conveyor belt of home-grown talent, with household names such as David Beckham, Paul Scholes and Ryan Giggs emerging from their academy. But how does the current crop of academy graduates fare? Have Manchester United continued to produce talent of the highest calibre? How do they compare against their fierce rivals Liverpool? We decided to investigate once more the success of academy graduates since 2000.
Criteria
Included are all players who have made their senior team debut from 01/01/2000 until the present day.
Only players with UK nationality are included, but dual nationality is accepted.


Players must have been trained at the academy from the age of 14 or younger.

All data was accurate as of 20/03/17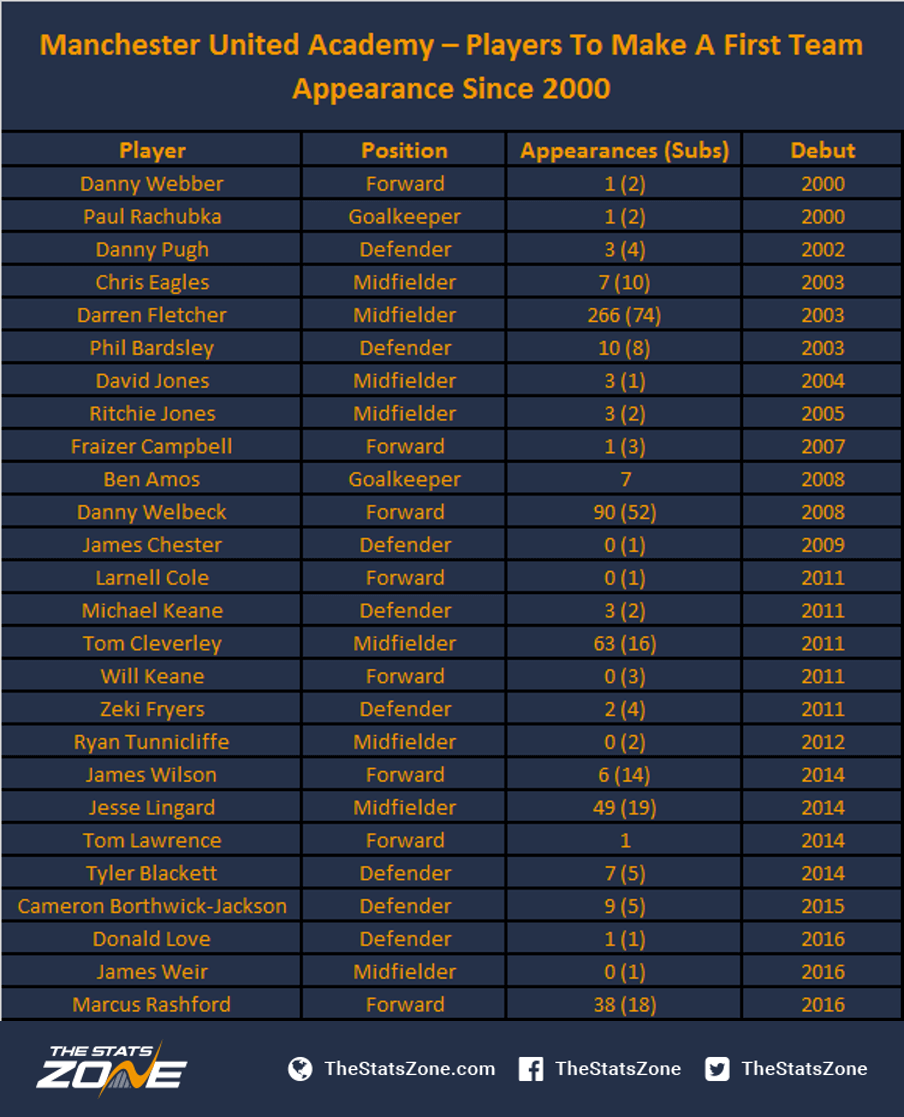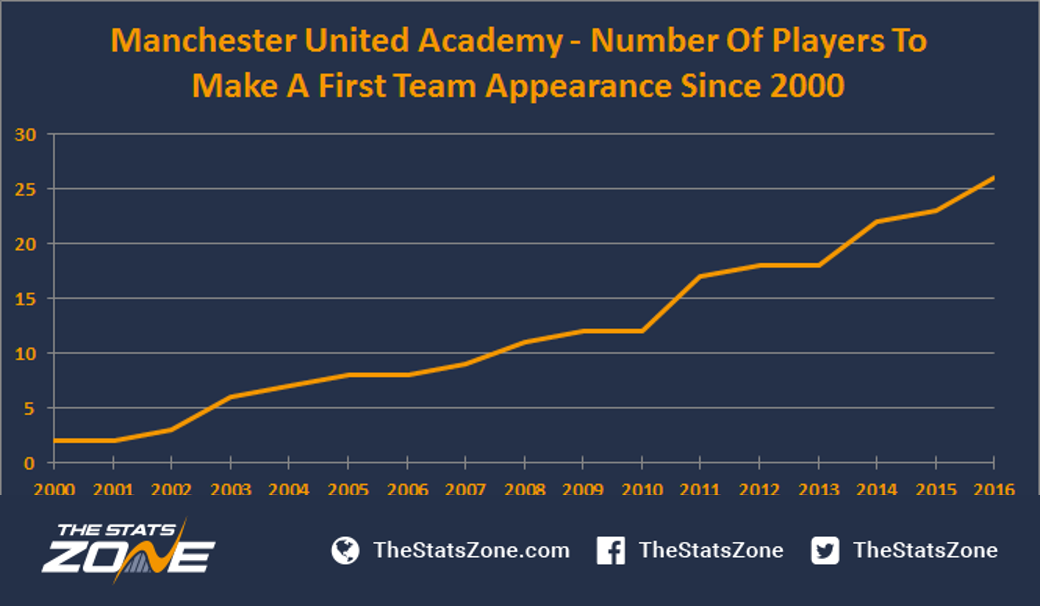 Since 2000, Manchester United have produced 26 players who have made their first team breakthrough.
Only four players who have made their debut since 2000 are still on the books at Manchester United; Marcus Rashford, Cameron Borthwick-Jackson, James Wilson and Jesse Lingard.
Their most prolific year was during 2011 under Manchester United legend Sir Alex Ferguson, when they fielded five debutants.
So what has been the most common position produced by United since 2000?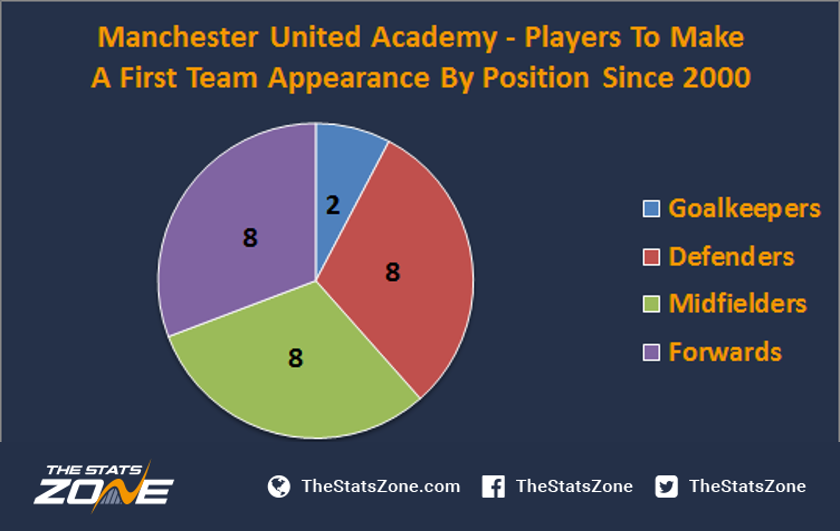 Two academy goalkeepers made first team appearances since 2000.
There is an even spread between all of the outfield positions with eight players each.
Over the years, Manchester United have won every trophy available at club level, but which competition have they most frequently chosen to debut their new academy stars?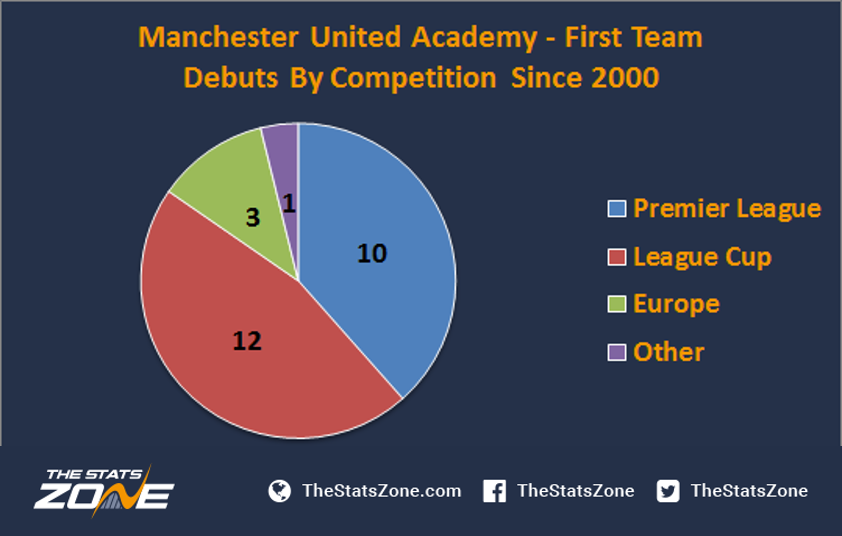 The League Cup has been used most often by Manchester United to blood their youngsters.
No academy graduate has made their debut in the FA Cup since 2000.
Paul Rachubka made his debut at the 2000 FIFA Club World Championship.
77% of all the graduates went on to appear in a Premier League match.
Hundreds of youngsters pass through the academy doors at Manchester United, yet not everyone can be the next David Beckham or Ryan Giggs. So, how many academy graduates went on to play a significant number of times for Manchester United?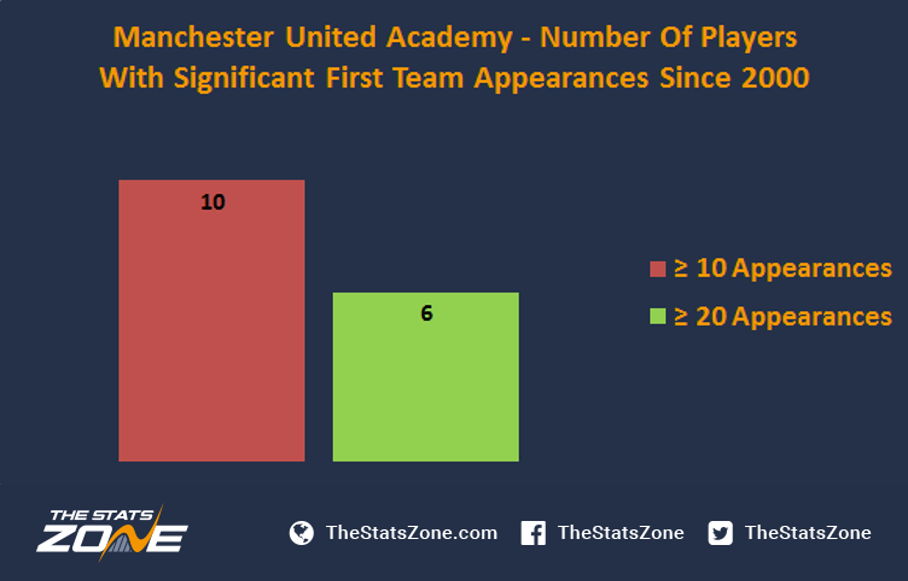 As things stand, 38% (10) of the 26 players have made 10 or more appearances for Manchester United in all competitions.
23% (six) of the 26 players have gone on to play 20 times or more.
It must be noted that out of the four players still on the books at Manchester United, only Cameron Borthwick-Jackson has yet to reach 20 or more appearances, and may do so in the future.
Next we have decided to look at how many academy graduates went on to represent the red side of Manchester the most times: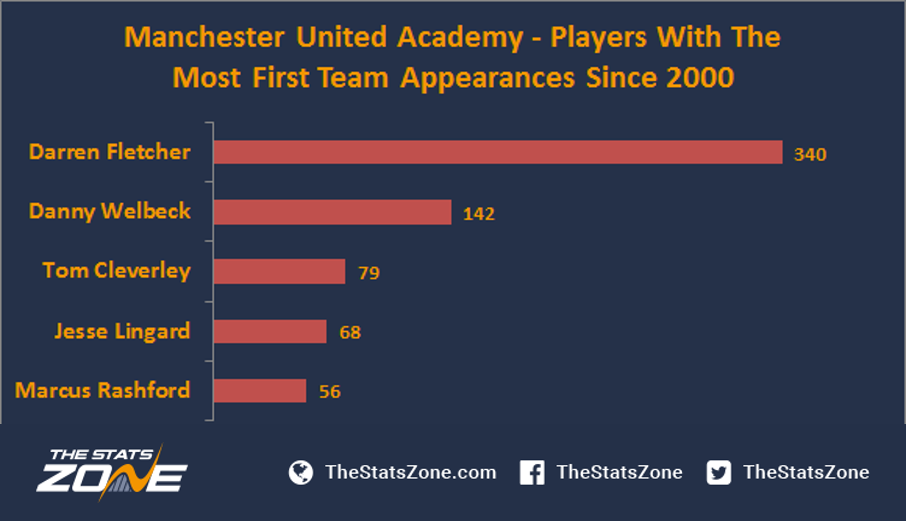 Darren Fletcher has notched up an impressive 340 games for United.
Out of the top five, only Jesse Lingard and Marcus Rashford are still Manchester United players.
Throughout history, Manchester United has never been shy in front of goal. So, which academy graduates have the best goal scoring record?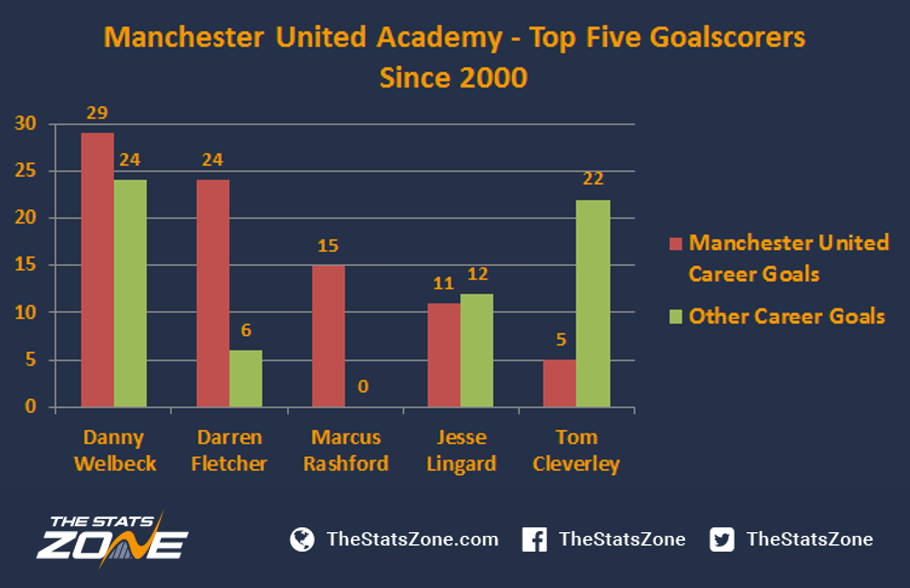 Despite his injury setbacks, Danny Welbeck has been the most successful academy goalscorer during his time with United, and since he moved clubs.
Danny Welbeck (England), Darren Fletcher (Scotland), and Marcus Rashford (England) are the only three players out of the 26 to have scored an international goal.
A special mention also goes to attacking midfielder Chris Eagles who only scored for United once in his short career at Old Trafford, but has notched up a credible 56 career goals elsewhere.
But what about another primary function of an academy; financial gain? How have Manchester United benefited from selling on their home-grown graduates?

Just over half of United's total transfer fees received came from Danny Welbeck's sale to Arsenal in 2014.
Defenders James Chester and Zeki Fryers between them make up 77% of the total from future transfer fees.
It appears that since 2000, Manchester United have made significant financial gains from their academy graduates. Let's now take a look at which players have managed to forge respectable careers after moving away from the Red Devils: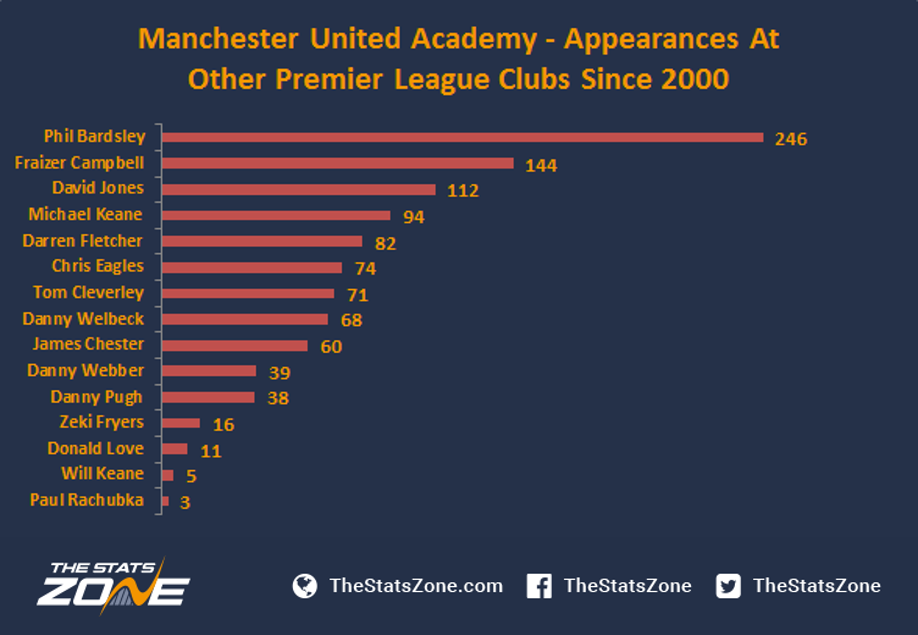 Phil Bardsley has appeared the most for other Premier League teams since leaving Manchester United.
10 out of the 15 players still currently play in the top tier of English football.
Nine out of the full 26 players have been capped at international level; Jesse Lingard, Tom Cleverley, Danny Welbeck, Fraizer Campbell and Marcus Rashford for England, Phil Bardsley and Darren Fletcher for Scotland, and James Chester and Tom Lawrence for Wales.
Although many players do not make the grade at the top level, Manchester United's academy has still succeeded in producing professional footballers who have enjoyed lengthy stints throughout the Football League: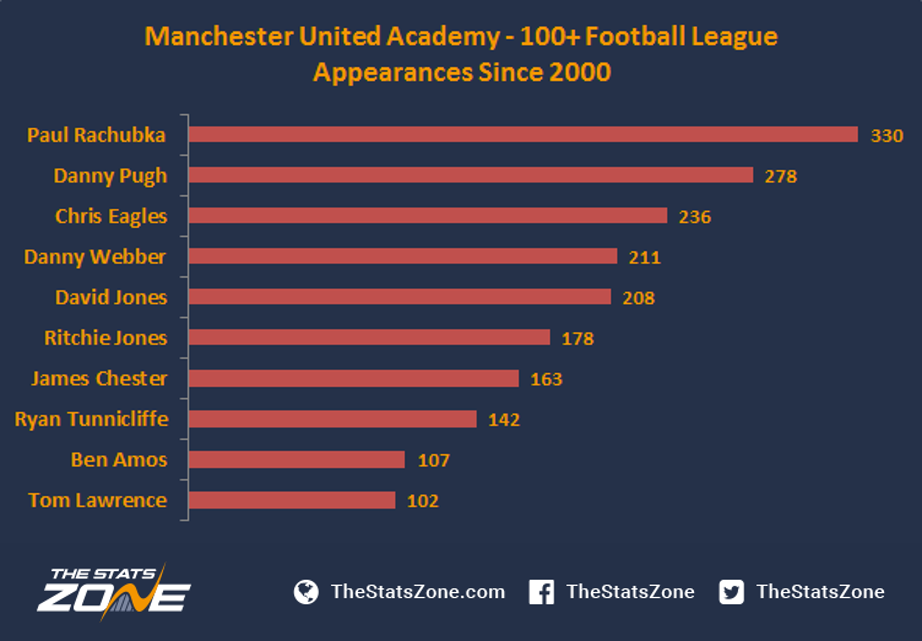 Despite only one start for United, Paul Rachubka – currently plying his trade with Bury in League One – has notched up an impressive 330 Football League appearances.
Danny Pugh made his debut in the Champions League for United, but only went on to make a further six appearances. He picked up an FA Cup runners-up medal in 2011 with Stoke.
Manchester united may not have been able to replicate the golden era of academy graduates from the 1990's, and ultimately may never do again, but there is still a crop of exciting talent coming through their ranks and they have produced an even distribution of players across all outfield positions since 2000.
You only have to look at recent England squads to see the rise of players such as Marcus Rashford and Jesse Lingard, so United fans have reason to be optimistic. Mourinho is certainly not known for blooding young players, but time will tell just how far the current crop of academy graduates will go under his tutelage.