AT A GLANCE

When is Warrington vs Frampton? Saturday 22nd December, 2018
Where is Warrington vs Frampton? Manchester Arena, Manchester, UK
What channel are Warrington vs Frampton on? BT Sport Box Office
Are tickets still available for Warrington vs Frampton? https://www.frankwarren.com/events/upcoming-events/
THE BREAKDOWN
Northern Ireland's Carl Frampton has forced his way into fighting for the IBF World Featherweight title against England's Josh Warrington at Manchester Arena. As a former two-weight world champion, a win for Frampton would make him a three-time world champion and set up a much-anticipated final showdown against Leo Santa Cruz. However, Warrington will be aiming to defend his title for the first time and make sure he is the one who can go on and rule the division.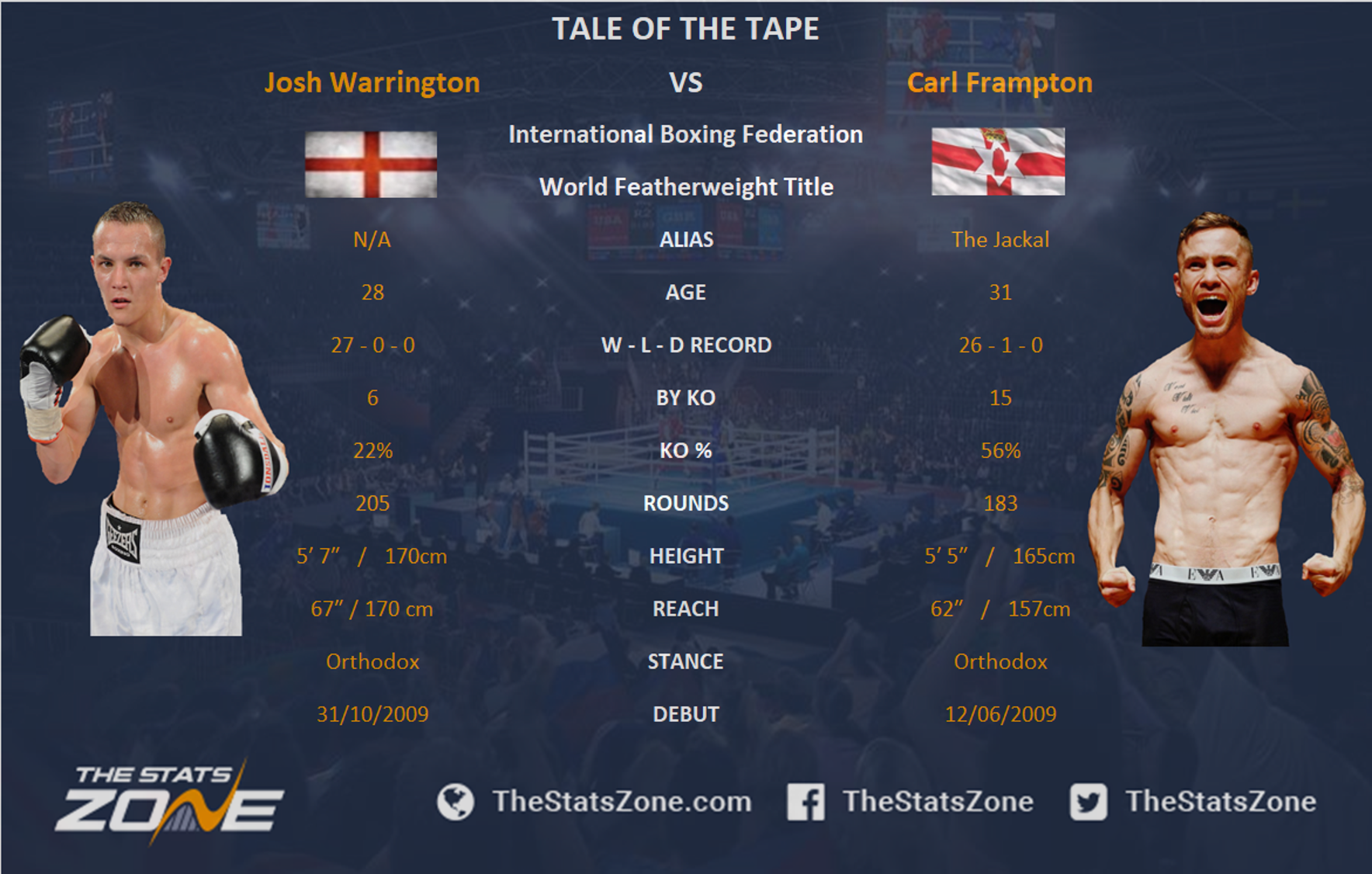 Warrington somewhat upset the odds in his hometown of Leeds to claim the IBF title against Lee Selby. The home advantage undoubtedly helped on the night as he had the support and atmosphere to help him succeed during the biggest fight of his career. That win took him to a perfect 27-0 record, but with just six KO's to his name, it is evident the type of featherweight Warrington is.
Frampton on the other hand has the one defeat to his name against the prodigious Santa Cruz. With 15 KOs to his record (56%), Frampton possesses tremendous power for a notably smaller fighter. As is often the case for The Jackal, he will be at a size disadvantage again, giving away two inches in reach and five in height. Nevertheless, his record demonstrates he uses that to his advantage and style, and it could perhaps even be the main reason as to why opponents struggle to pin him down.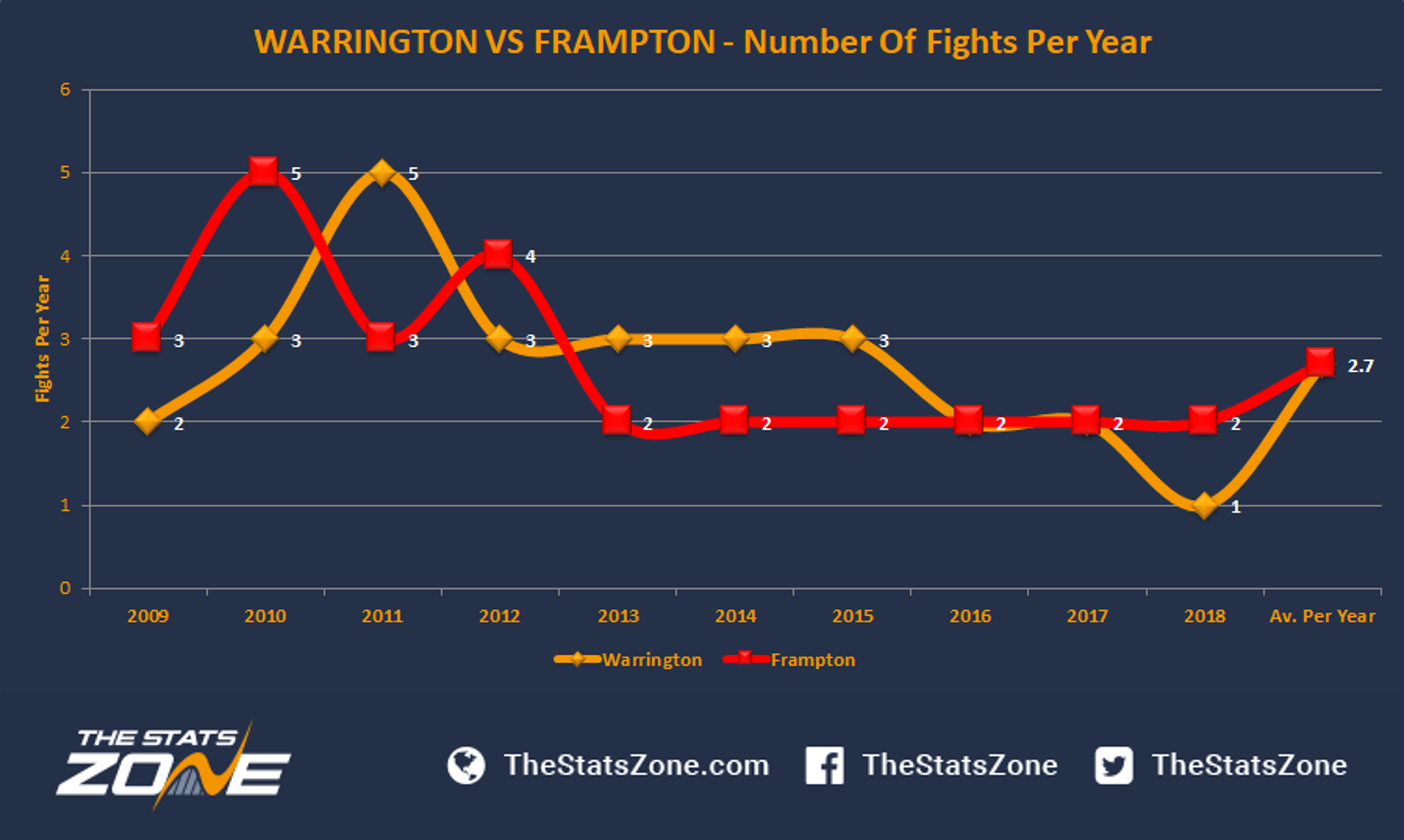 With just four months separating the times they turned professional, both have gone on to have 27 bouts each. However, Frampton has fought twice per year since 2013 – and this will be just the fifth time he has fought on three or more occasions in a year and the first since 2012 – suggesting The Jackal is only focused on one thing, and that is the rematch against Santa Cruz. Warrington, on the other hand, has taken longer to reach his prime and this will be just the third time he has fought twice in a year.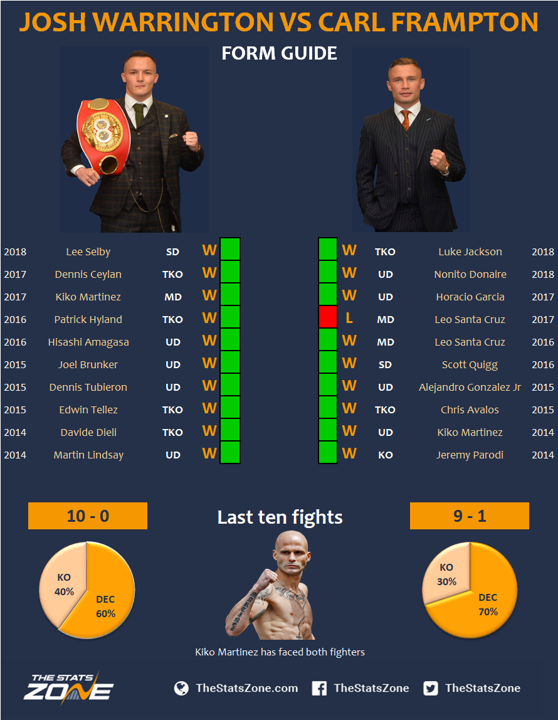 Frampton fought for this first world title fight in 2014 against Kiko Martinez – whom he had beaten in a ninth round TKO just the year before – for the IBF World Super Bantamweight title, winning via unanimous decision. The Jackal went on to win the WBA title from Scott Quigg in 2016 before stepping up to featherweight and beating Leo Santa Cruz for the WBA Super World Featherweight title and becoming a two-weight world champion in the process, as well as being ranked as one of the best pound-for-pound boxers in the world.
Upon losing his rematch against Santa Cruz, Frampton has changed coach and has been planning to put himself back in contention for a world title for nearly two years, with comfortable wins in his hometown of Belfast. Warrington on the other hand has slowly built himself to world level and has immediately looked to defend against Frampton, perhaps knowing this will be the biggest payday of his career.
Both have fought and beaten Kiko Martinez, but it is how those bouts were won that could provide insight into this fight. Frampton's TKO in their first outing demonstrates his power, but the UD win in the world title fight shows the level of Northern Irishman's boxing skills, having beaten him by 119 – 108 on two of the judges' score cards while having knocked him down in the fifth. Conversely, Warrington found it more difficult in his MD victory, with two judges scoring it a 116 – 112 and the third seeing it as a 114 draw.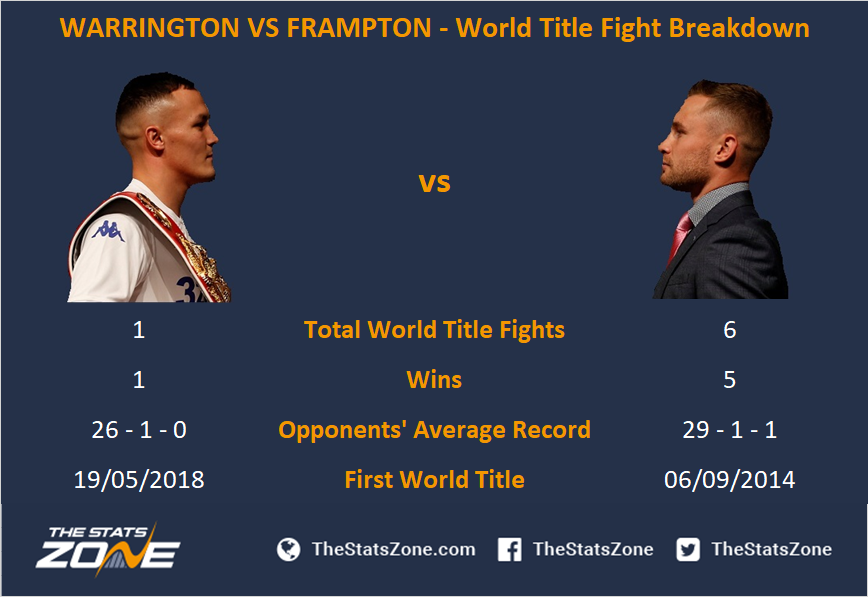 Both fighters turned professional just four months apart; however, the Englishman has just fought for his first world title in 2018 while Frampton has been challenging and defending since 2014, suggesting there is a possible difference in their boxing levels. Additionally, Frampton has fought and succeeded against some of the biggest names in his respective divisions, including wins in the United States.
Still, Warrington's victory against Selby cannot be underappreciated, especially with the Welshman having held the title since 2015. Yet, Selby announced he was moving up a division the following day, suggesting he had struggled to make the weight, and factoring in Warrington's home advantage, the Leeds man had everything on his side to claim the title.
THE PREDICTION
Frampton's career to date has been nearly flawless, having become one of Britain's most successful fighters in the process and only losing to someone of equal calibre while on their home turf. Warrington, on the other hand, has achieved something few can lay claim to, which should not be underestimated. Nevertheless, The Jackal is still in his prime and possesses the hunger that led to him becoming two-weight world champion. Factor in the home advantage that Frampton will have in Belfast, his desire to become a three-time world champion and the level he has fought at for many years, TSZ can only see a win for the Northern Irishman.
Warrington will know his only chance is on points as he does not possess the power to trouble The Jackal, but to out-box Frampton for 12 rounds seems just as unlikely. Expect Warrington to come out the blocks fast and try to apply his work-rate and size advantage early to unsettle Frampton, but as the rounds go on The Jackal's power and ring-craft will start to wear down the Englishman and a late KO for Frampton seems a good bet.