On 23rd September at Manchester Arena, Joseph Parker will be defending his WBO World Heavyweight title against mandatory challenger Hughie Fury in what will be Parker's first fight in Britain and just his fourth professional bout outside his native homeland. Both fighters were originally due to fight in Auckland in May, but Fury pulled out two weeks before the bout alluding to a back injury.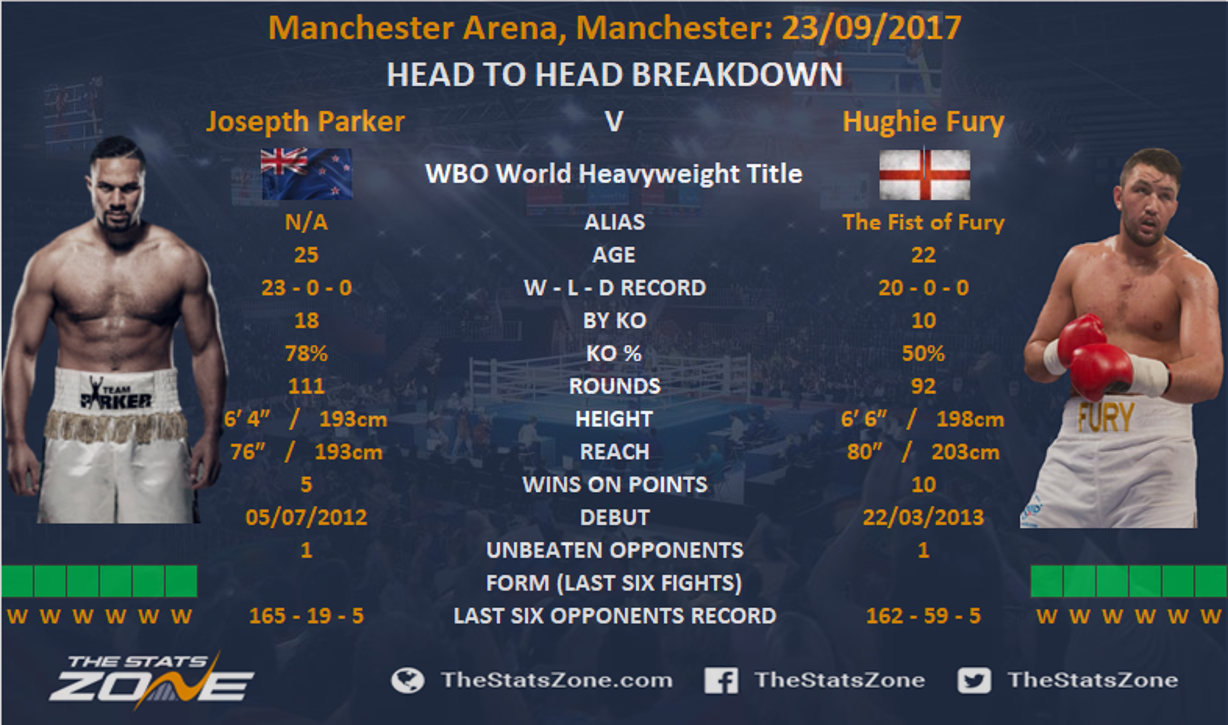 On paper, there is very little to split between the two fighters head-to-head. Both are unbeaten young heavyweights trying to force their way into the biggest fights in the division. Although Parker is a world title holder, he is still relatively unknown on British shores which will make for a fascinating contest.
Parker possess 18 KO's from 23 fights (78%), whereas Fury has 10 from 20 (50%), highlighting Parker's punch pedigree.
Fury has a noteworthy advantage in the physical department, standing two inches taller and boasting an extra four inches in reach, something the Fury camp could use in their fight tactics.
During both fighters' previous six bouts, Parker has faced the higher calibre of opponent (including two world title fights) with just 19 combined losses compared to Fury's 59.
This will be Fury's first world title contest while Parker will be defending his belt for the second time.
Parker claimed the vacant WBO belt almost a year ago in his homeland of New Zealand with a unanimous points victory against the then 29-fight unbeaten American, Andy Ruiz Jr.
Parker then went on to defend his belt against Fury's late replacement Razvan Cojanu, with a sluggish unanimous victory against his former sparring partner.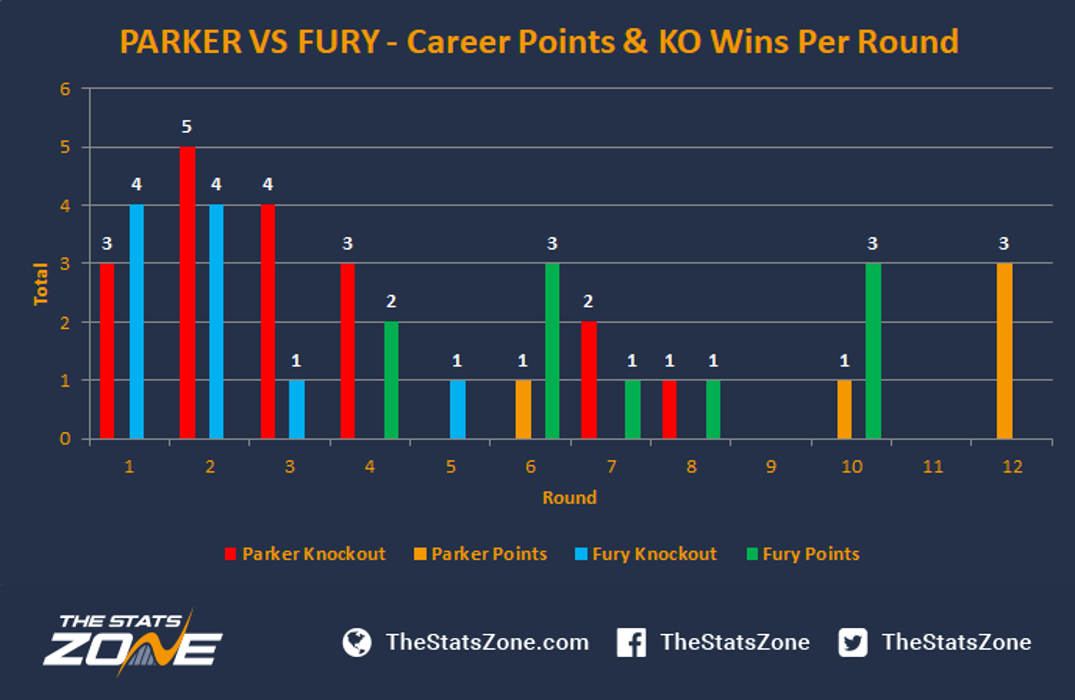 Both recorded the majority of their KO victories during the early rounds against some of their weaker opponents early in their careers. However, Fury has not posted a KO past the fifth round, whereas Parker has managed three between the seventh and eighth, further justifying that Parker carries more punch power overall.
What's more, Fury has never gone the full distance of 12 rounds, whilst Parker has done so on three occasions, all coming during his previous five bouts.
Parker just has the edge in power and championship experience, but expect this one to be decided on points.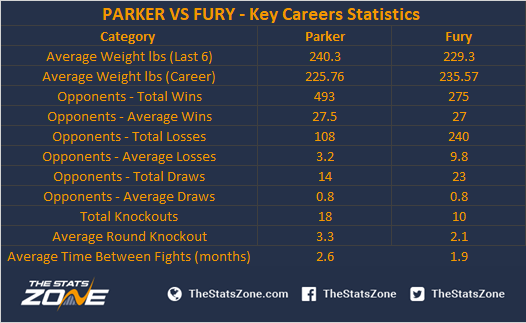 During their previous six fights, Parker has gained significant weight on his overall career average (15 pounds) while Fury has decreased slightly by six pounds. As the naturally bigger man, Fury has seemingly trimmed down to aid with his constant moving style, while Parker has increased lean muscle mass to further develop his knock-out power.
On average, both boxers have fought opponents with virtually the same wins and draws record, however the New Zealander has faced considerably better opponents in terms of losses. On average, Parker's opponents have lost just 3.2 times compared to Fury's 9.2, which could breed extra confidence for Parker.
Although Parker possesses eight more KO's than Fury, on average Fury has recorded his knock-out victories 1.2 rounds earlier (2.1 vs 3.3).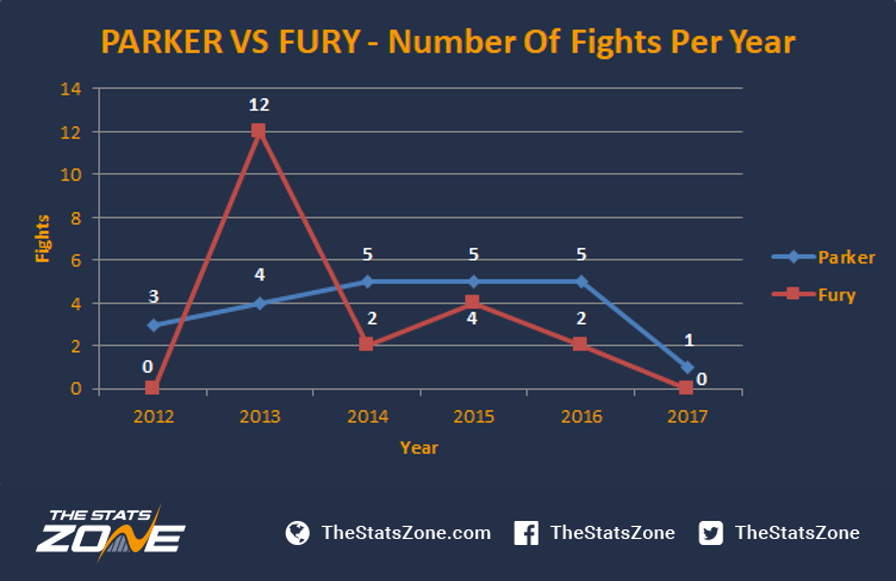 Both fighters have fought regularly throughout their careers, but Parker has been more consistent in terms of the number of fights he has contested per year. Additionally, by the time Fury steps in to the ring on fight night it will have been 17 months since his last outing, with health related issues and injuries causing this absence. This will give Parker the advantage leading into the fight.
In summary, there is little to choose between the two fighters on paper. This is a match-up of contrasting styles which should make for a great bout, but Fury's inactivity cannot be overlooked and factor in the development of Parker during those 17 months, and the New Zealander will be a difficult man to topple. If Parker does succeed, then a major clash against another British fighter in David Haye could be on the cards, leading the way to a unification match-up against Anthony Joshua in 18 months… the path is set!