Britain's 2012 Olympic gold medallist Luke Campbell travels to the US to take on P4P great Jorge Linares for the WBA World Lightweight title on Saturday, 23rd September. This will be Golden Boy's fourth fight against a British boxer in his last five bouts, a period in which British fight fans have witnessed the true class of Linares and the mammoth challenge Campbell faces in his first world title fight.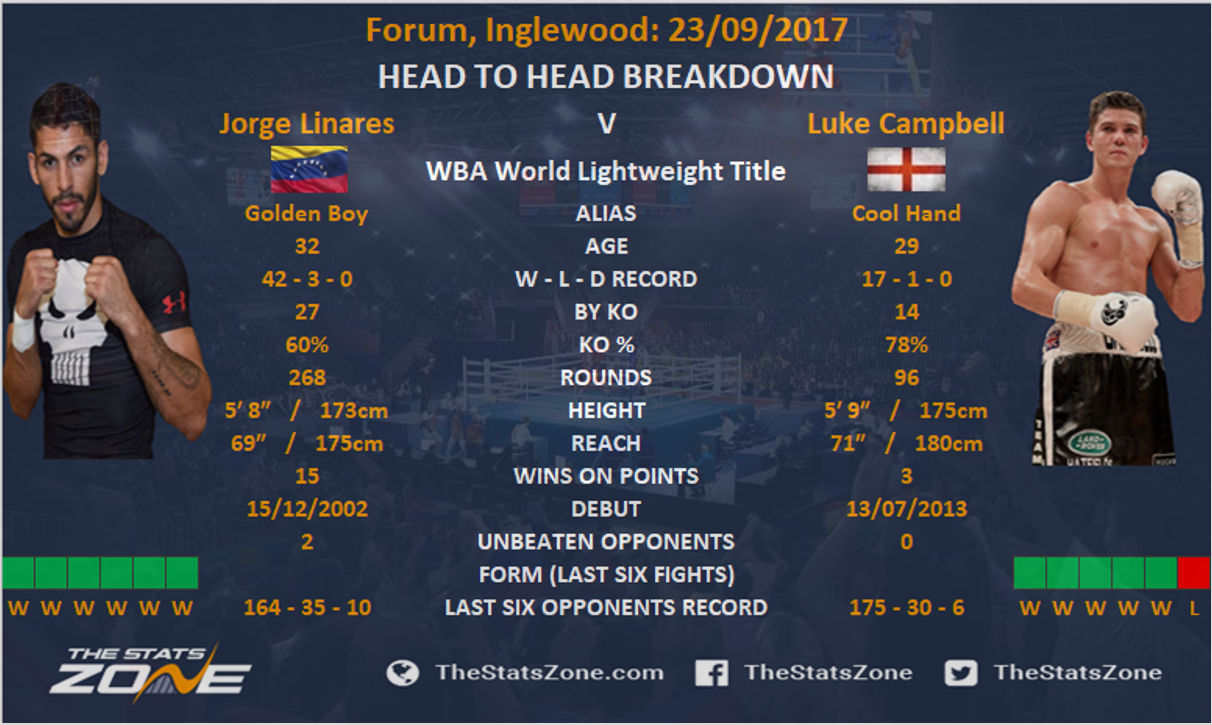 When it comes to career records, there are few comparisons between the modern day great Linares and the up-and-coming Englishman. Linares is a four-time world champion across three weight divisions (featherweight, super featherweight and lightweight) while Campbell is undertaking his first world title shot.
Linares has recorded 42 wins – 27 via KO (60%) – over his 15-year professional career. Still, the Venezuelan does have three losses to his name, all in the form of knockouts, with two of them in the lightweight division.
Campbell has recorded 17 wins with a 78% knockout percentage from 18 bouts with one loss. Since his only professional loss to Yvan Mendy, 'Cool Hand' has rebuilt his career, taking down some high-calibre opponents in the process.
Campbell also possesses the physical advantage with an extra inch in height and two in reach. With Linares having never lost when taken the distance, the Englishman will likely have to add to his KO% if he is to succeed.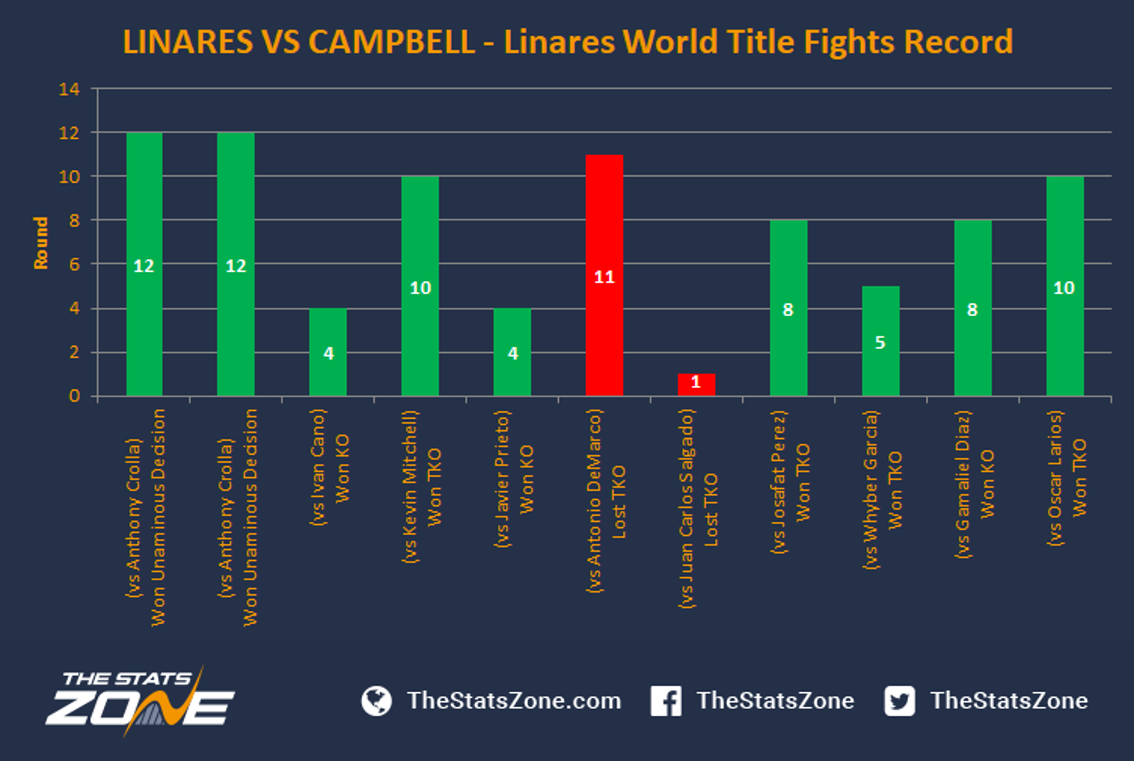 Linares has been in a total of 11 world title fights with an impressive record of 9 – 2 – 0. Of his nine wins he has knocked out seven of his opponents but was taken the full distance for the first time against Anthony Crolla.
Linares' two losses have come via knockout during the first and eleventh rounds, showing that Campbell's naturally powerful style may trouble him.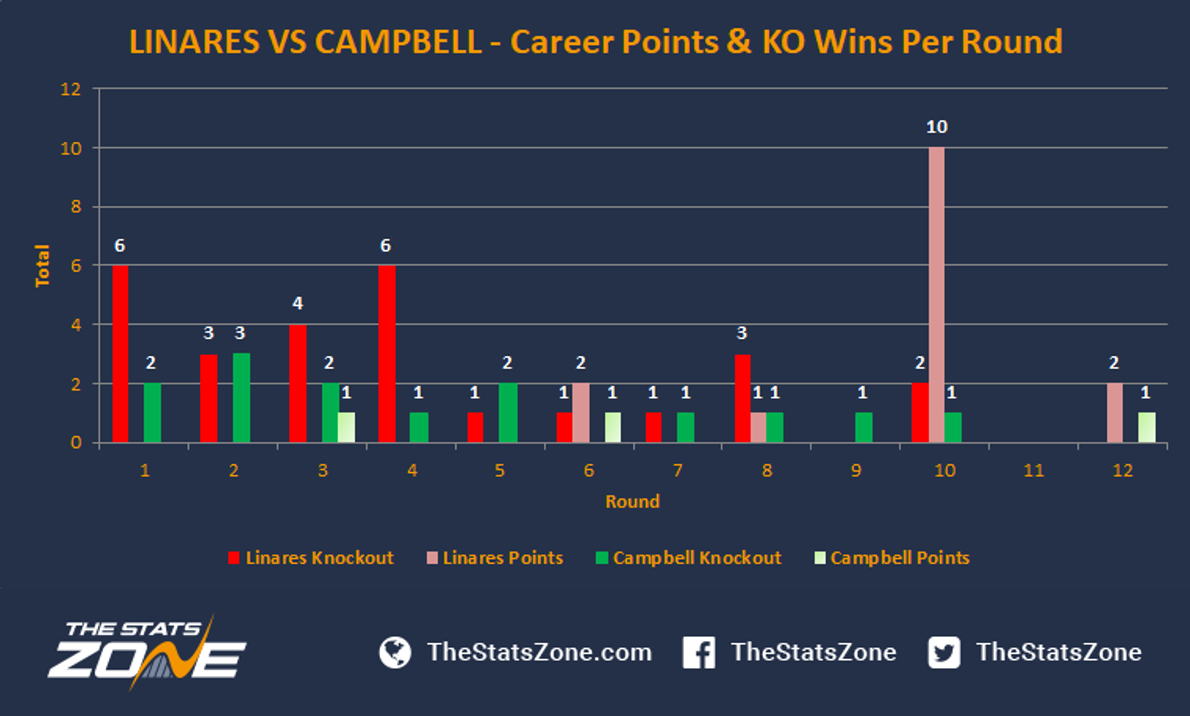 Campbell's knockout pedigree is clear to see as, barring the sixth round, he has taken out an opponent in every round up until the tenth. Nonetheless, he has only been taken the full 12 rounds twice, winning and losing one apiece on points, meaning a points victory is even less probable.
Similar to Campbell but on a larger scale, Linares has, barring the ninth round, recorded a knockout in every round until the tenth. With 19 of his KO victories coming in the first four rounds, it is evident he starts fast and if Campbell is slow out the blocks it could be over before he gets started.
If Campbell maintains his natural style, the fight could be much closer than many are predicting, and although a KO for the Englishman could be his best chance of victory, any slip-ups could just as easily result in a KO himself. One thing is for certain, trying to outbox Linares and take him on points isn't the best tactic for victory.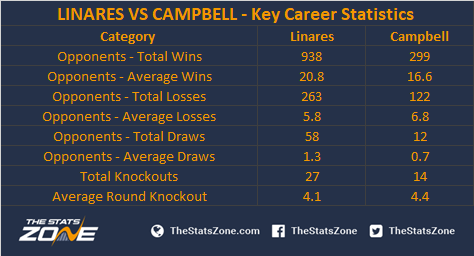 On average, Linares has perhaps naturally taken on the higher quality opponent with a 21 – 6 – 1 record compared to Campbell's 17 – 7 – 2. Linares' experience in the biggest fights cannot be overlooked, but after a 45-fight career - including 11 world title fights – facing a younger and arguably hungrier up-and-coming talent could balance the scales.
With both averaging their knockout victories in round four, this could be an explosive encounter where a KO from either boxer could happen at any stage, even during the final rounds.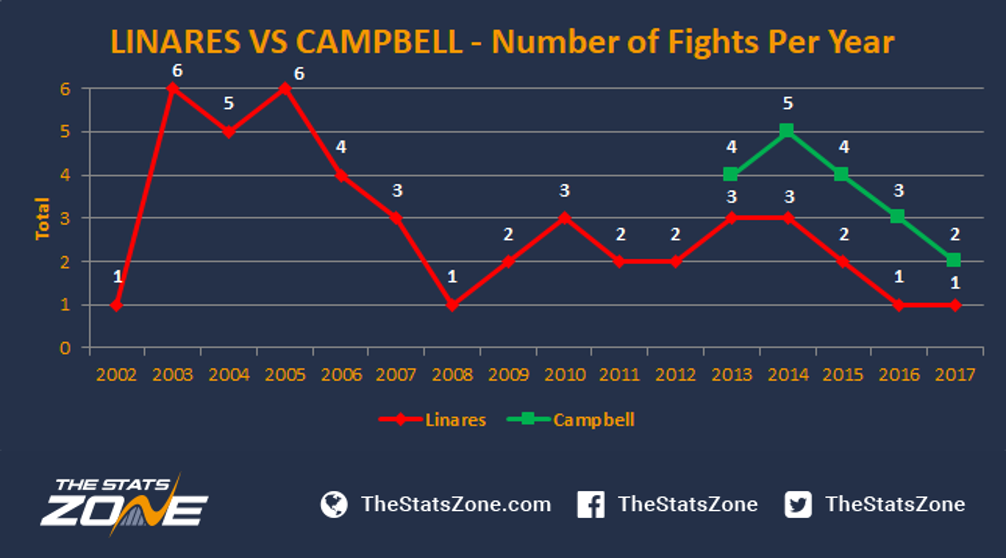 Since he became professional in 2013, Campbell has naturally fought less frequently as the calibre of his opponent's has risen. His first world title fight has come at the perfect time in his career and he may prove as difficult an opponent as any Linares has faced.
Linares' longevity can be put down to his career planning in recent years with this being just his fifth bout since the beginning of 2015, half the amount of 'Cool Hand'. This has allowed him to stay fresh and regularly peak for the biggest and toughest fights, so in this respect, Campbell could be facing Linares in his physical, tactical and experienced prime.
Campbell faces a task that so many, including other promising British fighters, have failed to overcome. Nevertheless, Linares faces a tough challenge here with Campbell having nothing to lose and everything to gain. Overall, expect Linares to triumph but anticipate Campbell to provide difficulties that few have managed in the past.