The last few years have been a joyous time for British tennis fans, but it's fair to say that this has largely been down to the success of Andy Murray, particularly after he became the first male British tennis player to win Wimbledon since Fred Perry in 1936. Whilst we are now seeing a raft of male Brits coming through, it's been some time since the nation's female players have enjoyed any significant success at the highest level. Enter Johanna Konta, who this year became the first British woman to reach a Grand Slam semi-final since Jo Durie in 1983. But who is Johanna Konta? What has she so far achieved and how far could she go in the world of tennis? We wanted to chart Konta's career, specifically focusing on her remarkable improvement in the last two years.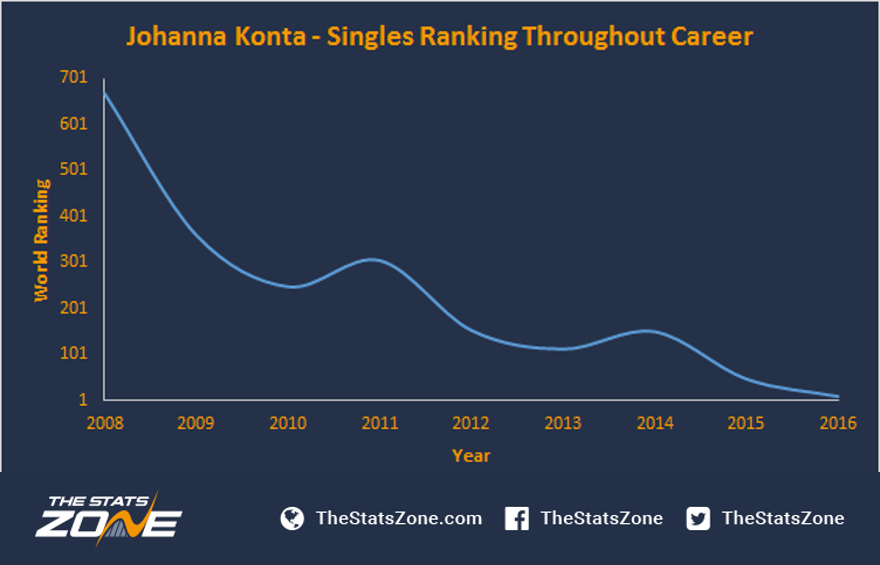 Since 2008, Konta has risen an astonishing 659 places in the Women's Tennis Association singles rankings, with an increase of 141 places in the last two years allowing her to break in to the top 10 for the first time in her career and achieve a ninth place ranking. Now ranked number 10, the Brit was also awarded the World Tennis Associations' (WTA) most improved player award at the end of this season.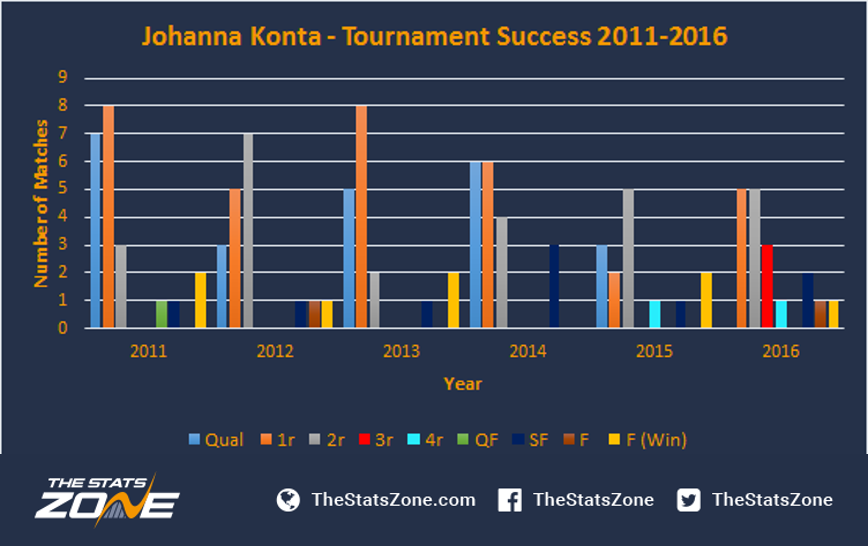 Over the years, Konta's improvement is marked. In 2011 she played in 22 tournaments and only progressed beyond the first round in seven, and she was not successful in the qualifying round in seven tournaments. In comparison, in 2016 she always advanced from the qualification stage of the tournament if required and progressed further than the first round in 13 out of 18 tournaments, reaching two semi-finals and two finals, winning one. In 2016, she also claimed her first ever WTA singles title in the Stanford Classic, claiming a victory over one of the biggest names in women's tennis, Venus Williams. This was followed by a final appearance in the China Open, where she lost out to Agnieszka Radwanska of Poland in the final.

If you pay close attention to her success in the Grand Slams you can see a significant development since 2011. This development is largely seen over the last two years, with Konta reaching the Australian Open semi-final and the fourth round of the US Open.
When comparing female British tennis players, Virgina Wade is always used as a benchmark as she achieved so much throughout her career. From the table below we can see she achieved a number two world ranking and won 55 WTA singles titles. At the age of 25, the current age of Konta, Wade had achieved 17 out of those 55 career WTA singles titles and had won one of her three Grand Slam titles – the US Open in 1968.

It may seem a little early to be drawing such comparisons, but it's useful to see what Konta would need to achieve in order to be spoken about in these terms. With time on her side, who's to say she can't achieve similar feats in the game.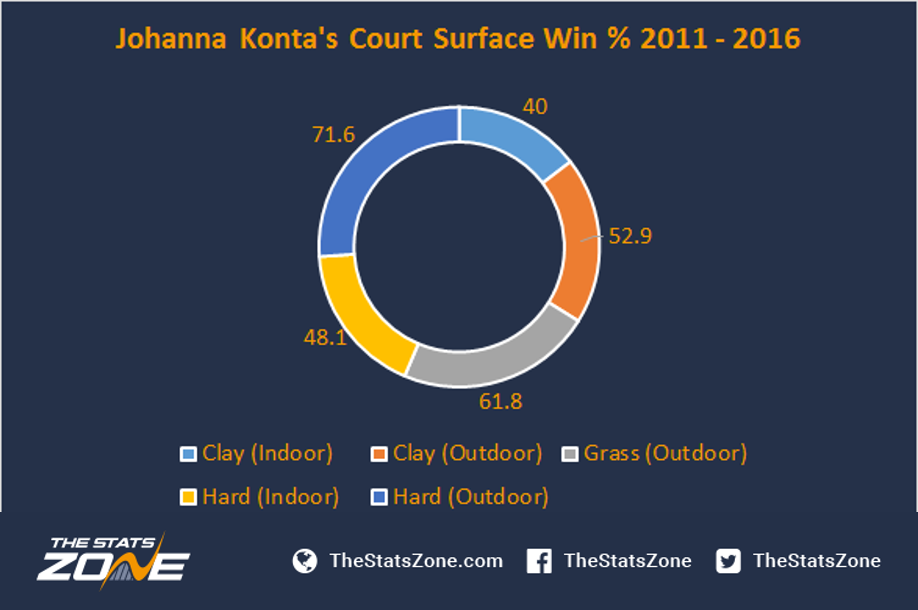 As Konta moves up the rankings each year and begins to compete for the big titles in tennis, we wanted to see what her preferred surfaces are based on her current win percentage and whether this could determine which of the four Grand Slams she might have the best shot of glory at in the future.
Based on her career since 2011, Konta is more successful when playing on hard surfaces outdoors – conditions seen at both the Australian and US open, which is supported by her success in these tournaments. Her lowest win percentage is when she plays indoor on either hard or clay surfaces, closely followed by clay courts outside which is shown by the fact she is yet to win a match at the French Open. Projecting from her court surface win percentage, we would predict that she has a greater chance of winning the Australian or US open closely followed by Wimbledon over that of the French Open.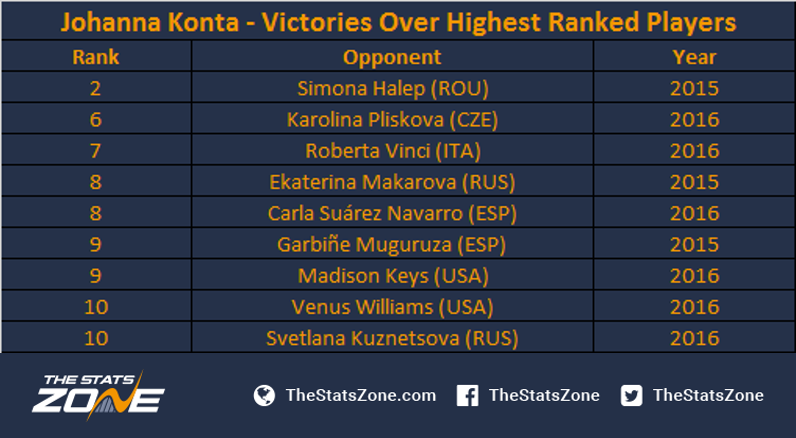 It wasn't until 2015 that Konta won her first match against a top 10 player, beating Makarova at Eastbourne. She then went on to beat nine players in the top 10 over the next two years, including Halep who held the number two rank at the time.
Johanna Konta is already breaking British records in women's tennis by becoming the first British woman to reach a Grand Slam semi-final since Jo Durie in 1983. Although this season didn't have the perfect finish for Konta, with her missing out on a place in the WTA finals after Russia's Svetlana Kuznetsova took the final slot, the future is clearly bright for the 25-year-old. How high she can climb up the rankings and whether she can claim the holy grail of a Grand Slam title remains to be seen, but her career trajectory is clearly heading in the right direction so it will be fascinating to see what the next few years have in store for the British number one. Whilst Andy Murray – at the peak of his powers – is currently hogging the limelight with his pursuit of the world number one ranking, it is Johanna Konta who may become the face of British Tennis in years to come. Of course, with Virginia setting the bar with three Grand Slam titles, Johanna Konta still has some way to go yet.