It's that time of the season again when supporters are constantly reading the gossip columns to see who their team may be signing/selling. The January transfer window is a chaotic time for Premier League clubs and this year is shaping up to be no different, but let's remind ourselves what happened in the last window. We shall be looking at the dealings of all current Premier League clubs, investigating the amount of loan moves and looking at where the vast sums of money involved both came from and ended up.
Let's outline what happened last year;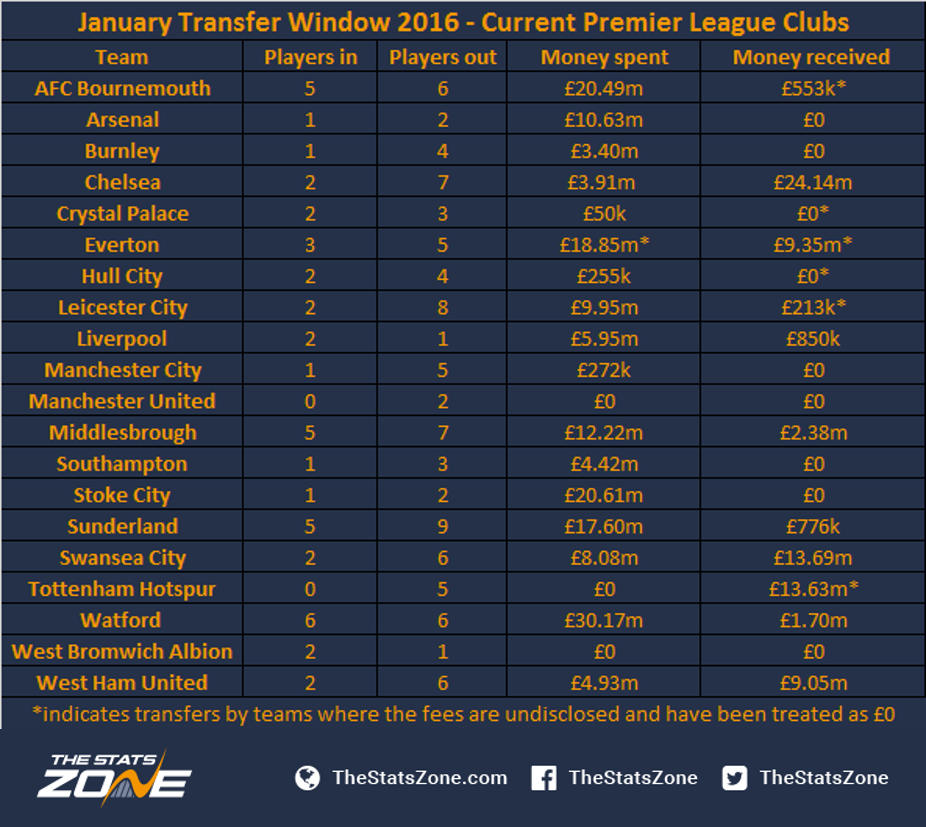 Last January saw Watford as the busiest club in terms of players coming in with six players (they also spent the most). They were closely followed by Sunderland, AFC Bournemouth and Middlesbrough who all brought in five players.

Sunderland shipped out the most players last January with nine players and were closely followed by Leicester City with eight. Chelsea allowed seven players to leave and received the greatest amount of money with £24.14m; this was largely due to the sale of Ramires to the Chinese Super League. A scenario similar to this has already occurred this time around with Chelsea already receiving a whopping £60m for Oscar from Shanghai SIPG.

Of the three promoted clubs, Burnley and Hull did not bring in many players last January and spent only £4m between them, whilst Middlesbrough were the most active of the three, bringing in five players and spending £12.22m. Now that they are Premier League clubs, fans might expect heavier investment, with Middlesbrough leading the way so far with the £6m signing of Rudy Gestede.
In the January transfer window, loan deals between clubs seem to have grown in popularity of late, so how many were made last year?

13 out of the 45 signings made by the current Premier League clubs were loans. Middlesbrough, whilst competing in the Championship, utilised the loan system to their advantage the most with three players coming in (Kike Sola, Gaston Ramirez and Ritchie de Laet).

Both West Brom (Alex Pritchard and Sandro) and AFC Bournemouth (Juan Iturbe and Marius Adamonis) brought in two players each.

As you can see, a lot of the outgoings from the clubs were loans with 68 out of the 94 (72.34%) being borrowed players. Sunderland managed to offload seven of their players on loan deals, the most of any club.
Finally, we look at which leagues the current 20 Premier League clubs did business with last January;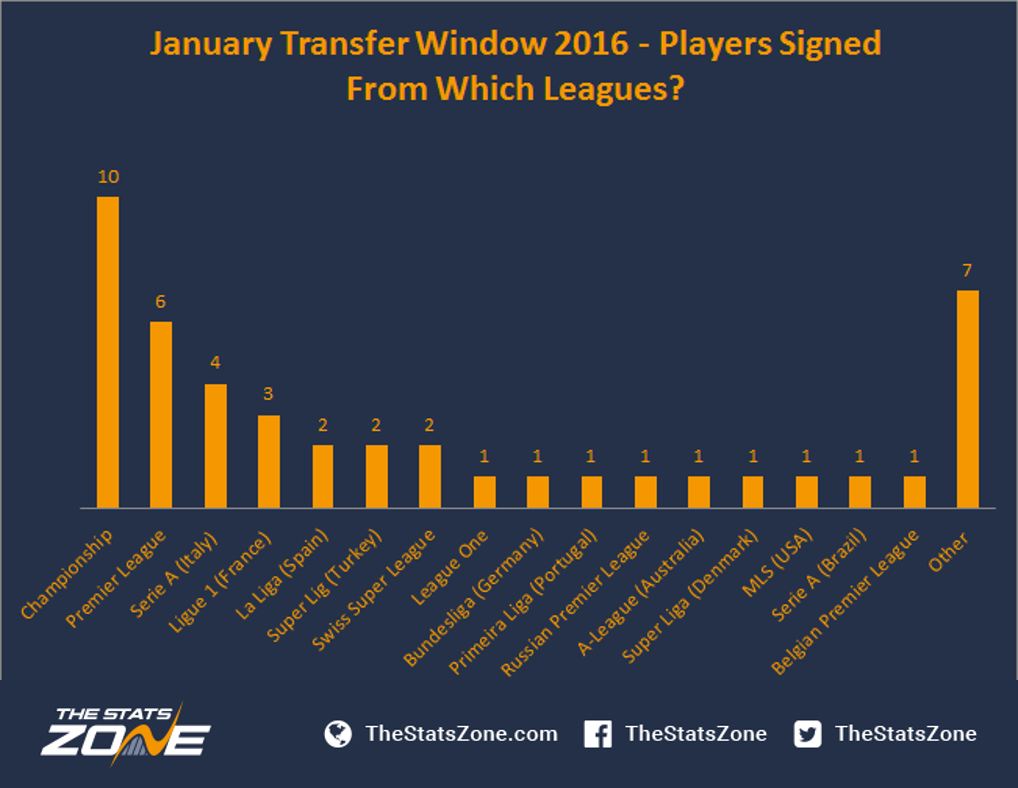 Signing players from the Championship was the most popular last year with 10 transfers, the most expensive being Benik Afobe's move from Wolves to Bournemouth for £11.31m. However, if we stay in the UK but drop down below the Championship to League One, only one players was signed.

Outside of the UK, signings from Serie A in Italy proved to be most popular with four being made; two of these for Watford (Adalberto Penaranda and Mario Suarez), one for Swansea in Alberto Paloschi and the other was Juan Iturbe who signed on loan for Bournemouth.

The 'other' category signifies some smaller leagues from around the globe and three players who were signed as free agents.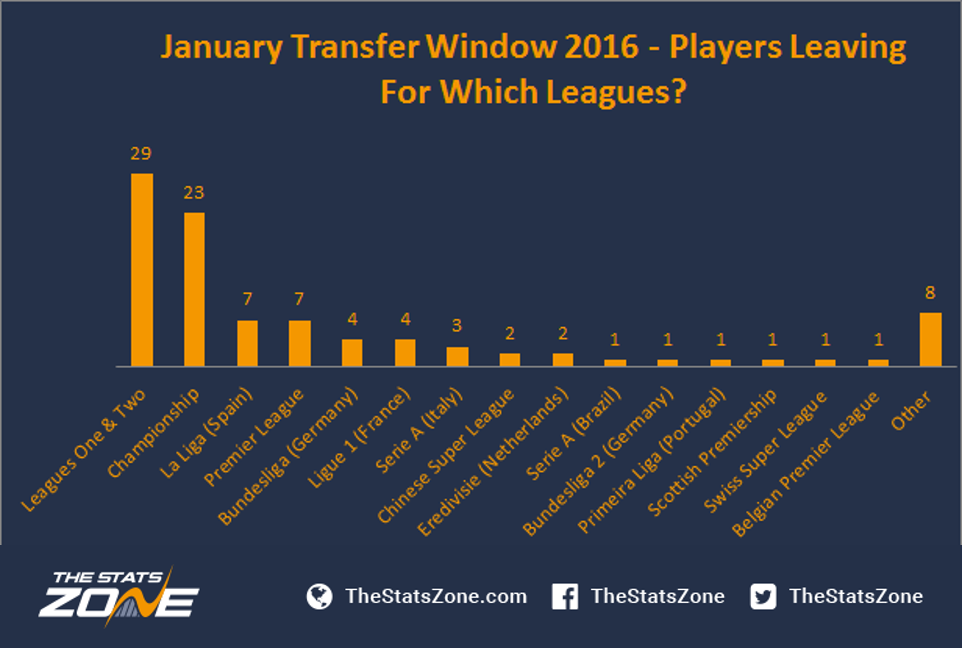 Players leaving to play in the Football League (either One or Two) were the most popular last January with 29; out of these 29 departures, 21 of them were loan moves – many were youngsters trying to make a name for themselves such as Jack Stephens who went from Southampton to Coventry City; the defender recently played in the Premier League for the Saints. Dropping down to the Championship proved to be quite popular too with 23 players doing so.

Outside of the UK, players leaving to play in La Liga (Spain) was the most popular with only one (Kike from Middlesbrough to Eibar) of the seven transfers commanding a transfer fee; the other six were loan moves.

Other notable moves in the window included the sales of Andros Townsend and Jonjo Shelvey to Newcastle and Steven Naismith to Norwich but neither of these players could save their clubs from relegation despite the hefty fees involved.
It will be interesting to see how this year's window compares to these numbers, but with the Chinese Super League in particular becoming a financial behemoth, it appears as if the transfer landscape is changing. Come deadline day, don't be surprised if Oscar is not the only Premier League player shipped off to the Far East for an astronomical fee…