Since the introduction of the 1.6-litre hybrid turbo engines in 2014, it's no secret that Mercedes have dominated in every area: practice, qualifying, races, speed, power, driveability and reliability.
In 2014, Mercedes were well ahead of the game, leaving Ferrari and Renault in their wake. While Ferrari's 2015 leap brought some form of hope, Renault remained stagnant and Mercedes romped to their second consecutive World Constructors' and Drivers' World Championships. Also in 2015, we saw the introduction of Honda's attempt to progress with their interpretation of the hybrid engine, but the less said on this the better.
Only Red Bull managed to break Mercedes' dominance in 2014, picking up three wins when the Silver Arrows faltered; likewise, in 2015, Ferrari picked up three wins.
Since 2014, Mercedes have won 85% of all races; even more worrying is the ability they have to turn up the wick to 11 in qualifying and virtually become untouchable, taking pole position in 37 of the 39 (95%) races since 2014.
However, following the start of the 2016 season in Melbourne, and Mercedes' poor start off the line, there has been a lot of focus on a potential chink in their armour. This article reviews the possibility in a bit more detail, by analysing the starts made since 2014 (data provided by David Ortiz, Chris Pudney and f1fanatic.co.uk), and investigate whether there is a case to answer here, or was it simply a bad day at the office, on which Ferrari capitalised.
Judging by Bahrain, this could well be the case following a decent start by Rosberg and an exceptional start by the two William's drivers. However, following a sluggish start by Hamilton which resulted in a tangle with Bottas, and Raikkonen admitting after the race his finger slipped off the clutch, explaining his poor getaway, there is still a high level of uncertainty. Ferrari's lightening start Melbourne wasn't a surprise to all, as according to Red Bull's Christian Horner, Ferrari's fast starts had already been noted during testing in Barcelona. Could this be a trend for the season?
Much has been made of the changes Mercedes made to their clutch following the race in Bahrain in 2015, and to which Hamilton has openly admitted his struggles to adapt. The stats back this up as he lost positions off the line in four of the six races following that in Bahrain, while Rosberg only lost out in two of the same six.
Further changes in reducing the communication between teams and their drivers were implemented from the Spa Grand Prix in 2015. As a result, teams are no longer able to advise or make any adjustments to the clutch biting points from the moment the car sets out to the grid. Another change introduced was the reduction of a double-clutch system to a single one, meaning that it is solely up to the driver to find the optimum biting points through a single-clutch lever. The idea behind these changes were twofold: firstly, to give more control back to the driver and, secondly, to provide more opportunity for driver error on the start grid and therefore the potential to spice things up.
Of the remaining nine Grand Prix following the introduction of the new starting procedures, Rosberg lost out in two, while Hamilton did not lose any of his positions. In the same races, Vettel lost out in two and Raikkonen in one. So, the numbers here don't particularly back up the theory of a Mercedes weakness.
However, looking at 2014, of the top 10 best-performing engines off the line, only two were Mercedes-powered (Nico Hulkenberg's Force India and Felipe Massa's Williams) – a feat repeated in 2015, with both of Force India's cars the only Mercedes-powered ones in the top 10, adding fuel to the theory.
As shown in Figure 1, in 2014 eight drivers recorded a net loss of positions in the first lap; of these, only two were Mercedes-powered.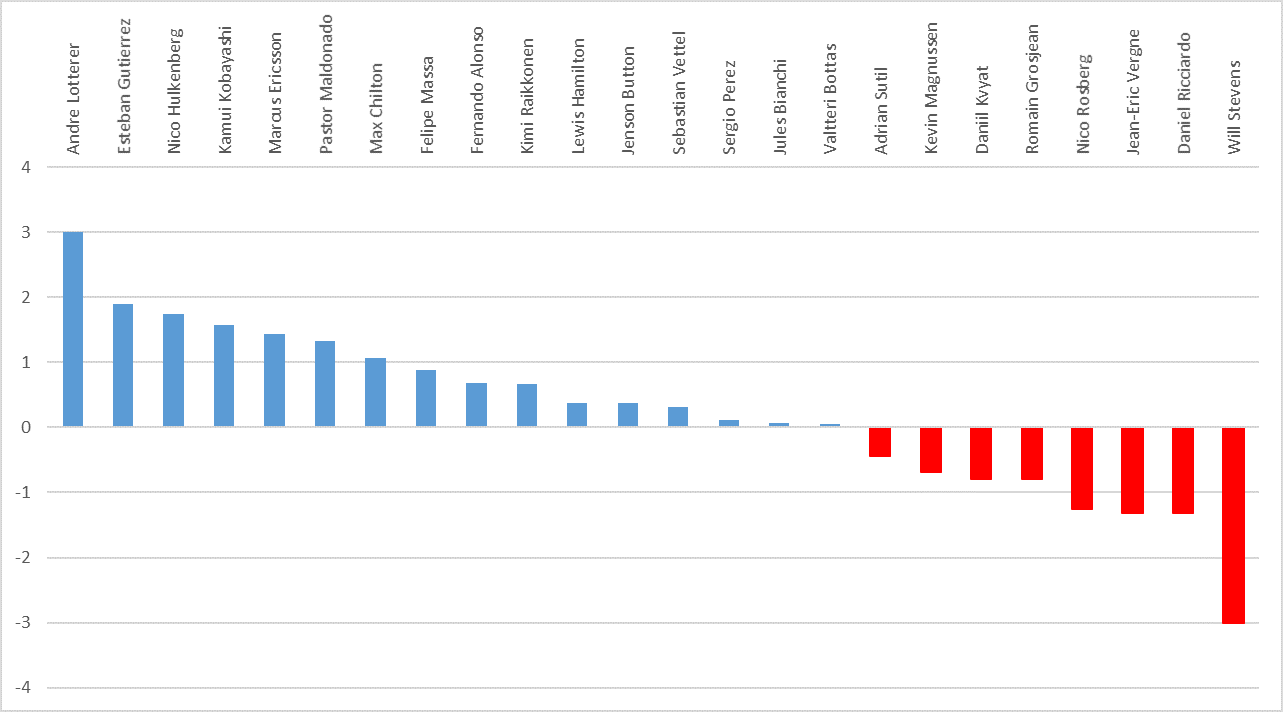 Figure 1. Average first lap position gain (blue)/loss (red) in 2014.
Compare this with 2015 when, again, eight drivers averaged a net loss. Five of the cars were Mercedes-powered (Figure 2).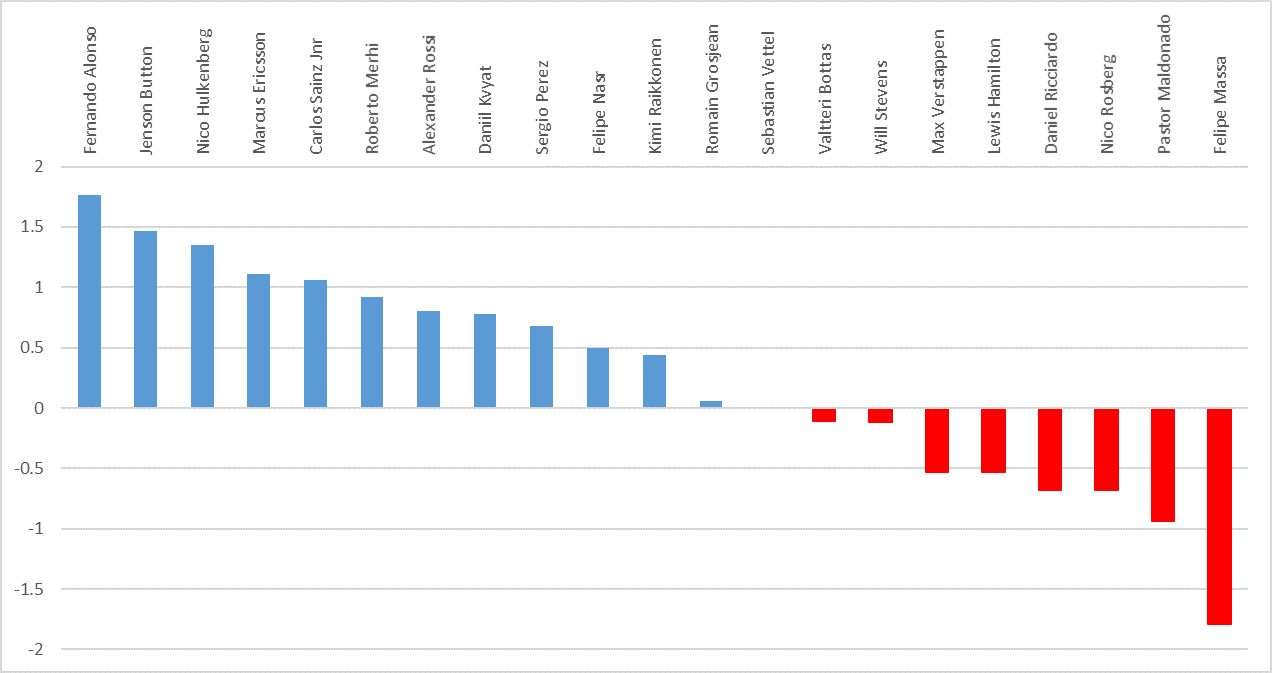 Figure 2. Average first lap position gain (blue)/loss (red) in 2015.
Worryingly, for Mercedes, at the 2016 Australian Grand Prix four out of six net losers were Mercedes-powered cars. Also a cause for concern is only one Ferrari powered driver over both Grand Prix this season has lost a position (including the two 2015 powered Toro Rosso) which was Kimi Raikkonen in Bahrain, which as explained previously was purely a driver error. Could this be a sign that as the other manufactures are continuously developing to close the gap on Mercedes, who arguably have less room to develop, are beginning to expose a true flaw in the Mercedes-powered engine?
However, it should be noted that in 2015 Fernando Alonso and Jenson Button, were the best performers, with an average of 1.76, and 1.47 places gained within the first lap respectively. This raises a new question: despite their poor showing last year, did Honda have something special that went under the radar? It could be argued that the experience of Alonso and Button and their seasoned race craft allowed them to scythe their way through the first few corners, or that simply being so far back generally presents much more opportunity to make up several places, i.e. into the first corner. It can also be noted that in the 2016 Australia Grand Prix, in stark contrast to the Mercedes team, the two best performers were the two Manor Mercedes, picking up a combined 10 places, again backing up the theory of the backmarkers picking up more places. Finally, some further evidence of this: if we take the average of the bottom five qualifiers in 2014 and 2015, three of them feature in the top five (in terms of places gained in the first lap) for both years.
Another factor to consider is Mercedes qualifying on the front row in 95% of races. This skews results as its impossible for them to make up places, other than by passing each other. Therefore, if we analyse the races in which Mercedes was not on the front row, what does this show? On seven occasions in 2014 either Rosberg or Hamilton qualified on the second row or worse; five out of seven produced a positive gain in positions, and only once did they lose position (Rosberg in the Chinese Grand Prix, losing two places). Overall, there was a combined net gain of 2.5 places. A slightly different picture was painted in 2015. Qualifying off the top row on five occasions, only once was there a gain in positions, with Rosberg picking up two in Italy. Only once was a position conceded (Rosberg in Bahrain), while the remaining three race positions were maintained. Overall, in 2015 the net gain from positions off the front row was down to 0.2. As previously suggested, could this indicate that in 2014 the power unit's supreme dominance overshadowed a potential weakness in Mercedes' starts, and through 2015 and now 2016 the other manufacturers are beginning to exploit this?
If we look at the four independent manufactures, and focus on the works team (and Red Bull in Renault's case) the percentage of races in which positions have been lost off the line can be compared (Figure 3). Again, despite Honda's woes last year, they have lost out in the fewest number of races (19%; 2015/16 season only). Ferrari are close behind (20%), followed by Mercedes (28%), with the Renault-powered Red Bull car losing out in 31% of all races since the introduction of the hybrid power units.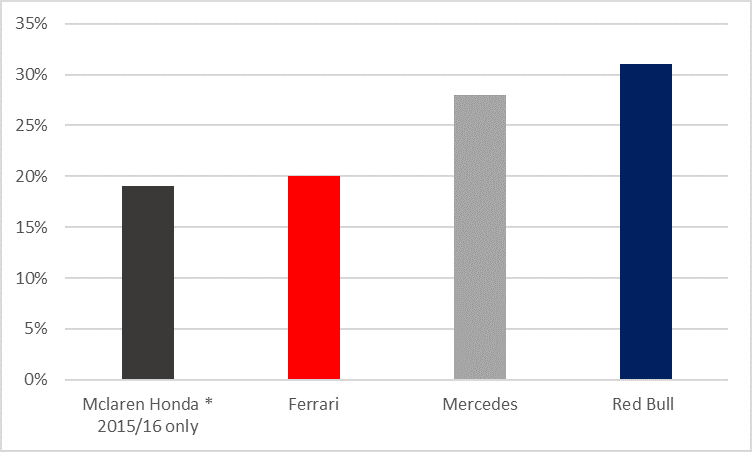 Figure 3. Races in which positions were lost.
On the face of it, then, it would appear that there may be a case to answer. If Ferrari have closed the gap, and can repeat the catapult start they had in Australia, given how they are able to run much closer to Mercedes in race trim, and if they can regularly find themselves on the second row, this could lead to some more competitive races and a more exciting 2016 season. However, given the form of Mercedes in the races and off the line over the closing stages of the 2015 season, this would suggest they were back on top of their start procedures, and perhaps Australia was just a blip. However, following the Bahrain grand prix Toto Wolff has openly admitted there is a hardware issue they were investigating. Only time will tell, following a few more Grand Prix in 2016.