After his near Man-of-the-Match performance in England's agonising t20 final defeat by the West Indies, we take the opportunity to look more into Joe Root's career and compare his statistics to some of the greats in the game. Is there a better player over 3 the formats in the world right now?
Adaptability
When Root was brought into the team for his debut against India in the 4th Test in 2012, he played at number 6 despite being an opener throughout his short career at Yorkshire. Since making his debut, he has batted at every position between 2 and 6, before finally making the number 4 spot his own. This fluctuation in his batting order has been down to mainly England failing to find an opening partner for Alastair Cook and Root finding his feet in the middle order. The following table shows Root's batting average at every position he has batted for England in Tests.


The first 3 batting positions were 6, 2 and 3, before moving to 5 and finally 4 whilst England tinkered with their strongest batting line-up. He struggled at the top of the order against Australia in the Ashes and was subsequently dropped for a brief period. The next match he played when reselected he made 200* batting at 5 against Sri Lanka in the first test at Lord's 2014. His average in the middle order is nothing less than impressive given his movement up and down the order.
Coming back stronger after being dropped

The moment Root was dropped appears to be pivotal in Joe's career in all formats as his form has gone through the roof ever since being reselected. The following 3 graphs show Root's ICC ranking in each form after every series he has featured in. In each graph the vertical line represents the point when Root was dropped.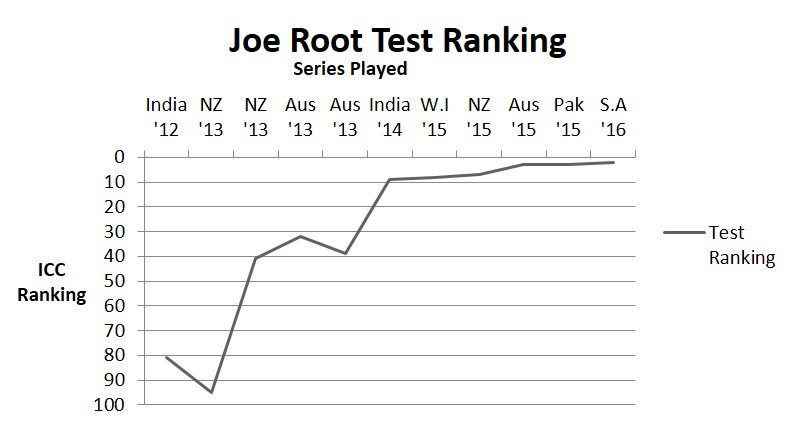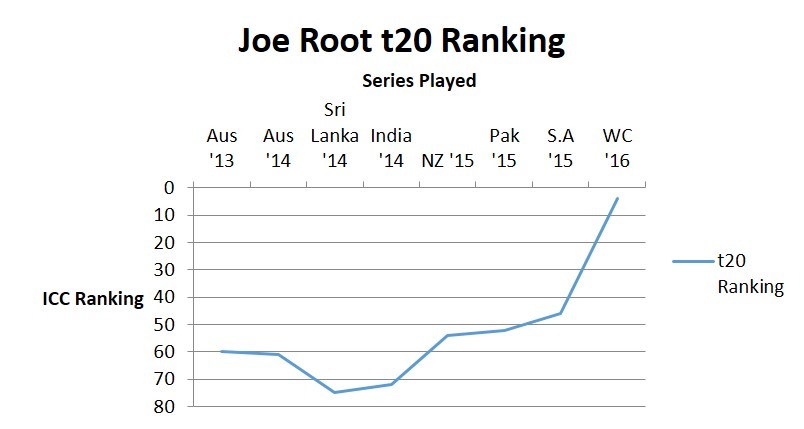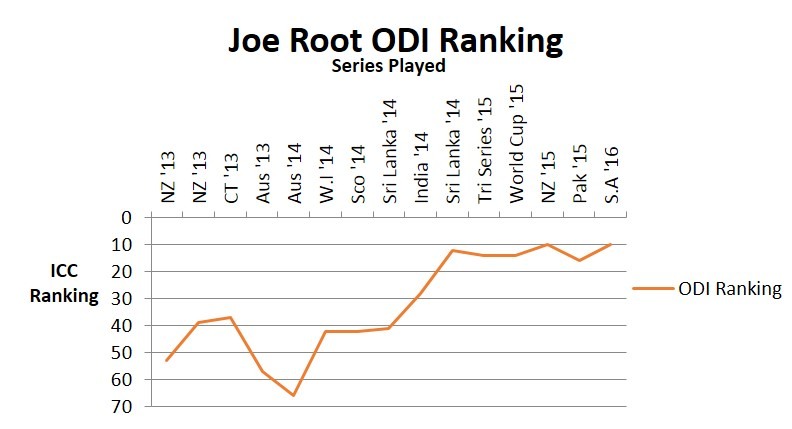 The graphs; particularly in his Test and ODI rankings show major progression after being dropped. His Test ranking has gone from 39 when dropped to his current ranking of 2 whilst his ODI ranking has risen from 66 to 10. Root is currently only 1 of 2 players to be in the top 10 rankings for each format, along with New Zealand's Kane Williamson.
The big 5

This begs the question; is Root currently the best player across all formats?
The following figure compares the batting statistics' of Joe Root, Kane Williamson, Steve Smith (Number 1 Rated Test Batsman), AB De Villiers (Number 1 Rated ODI Batsman) and Virat Kohli (Number 1 Rated t20 Batsman).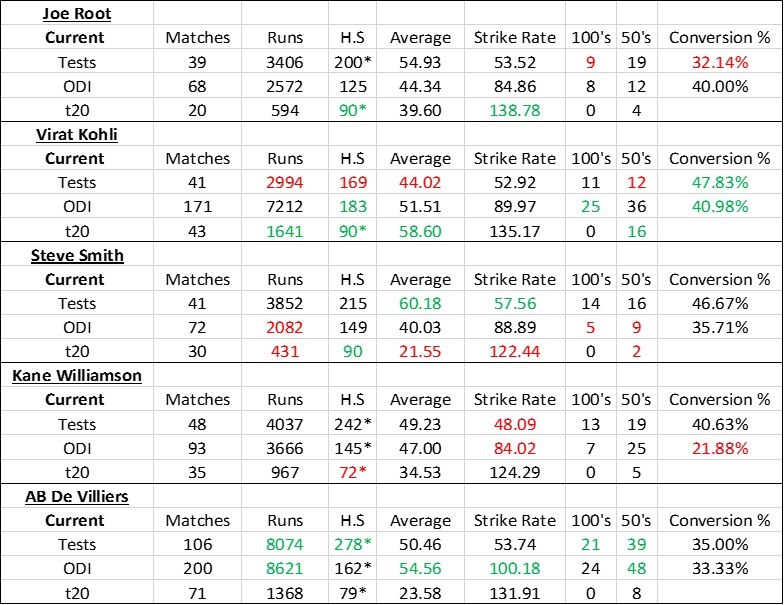 The green represents that the player has the best statistic out of the players and the red the opposite.
It's no coincidence that the 3 players with the best averages in each format are ranked 1st in their respective formats. AB De Villiers stands out with the most green numbers, but this is due to the fact he has played almost double the amount of everyone else, being quite a remarkable player probably accounts for it as well! Joe Root has played the least amount of games in all formats which could explain lower statistics but he still boasts the 2nd best Test and t20 average. His conversion rate of 50's to 100's in ODI is very strong, only Virat Kohli has a better conversion rate and Kohli has an unbelievable record in the shorter format. Virat quite comfortably has the lowest Test average at 44.02, whereas the next lowest is Kane Williamson at 49.23 which is still very strong. The most surprising statistic is the fact that Joe Root has the highest t20 strike-rate at 138.78, which is higher than Kohli and even AB De Villiers. The statistic shows just how much Root has improved his game to be able to strike the ball that well. A key point is Joe Root's low conversion percentage of 50's to 100's in Test Cricket, at 32.14%, this is perhaps one area of improvement he will be mindful of.
Players in Form
As already mentioned, Root's batting position was changed about a bit and he wasn't completely comfortable in the team until after he was dropped but has now established himself as one of England's best Batsman alongside Alastair Cook. Therefor it would be more informative to make comparisons of Root's statistics from after that point, the next figure compares the same top 5 batsmen from the point he was reselected for the team.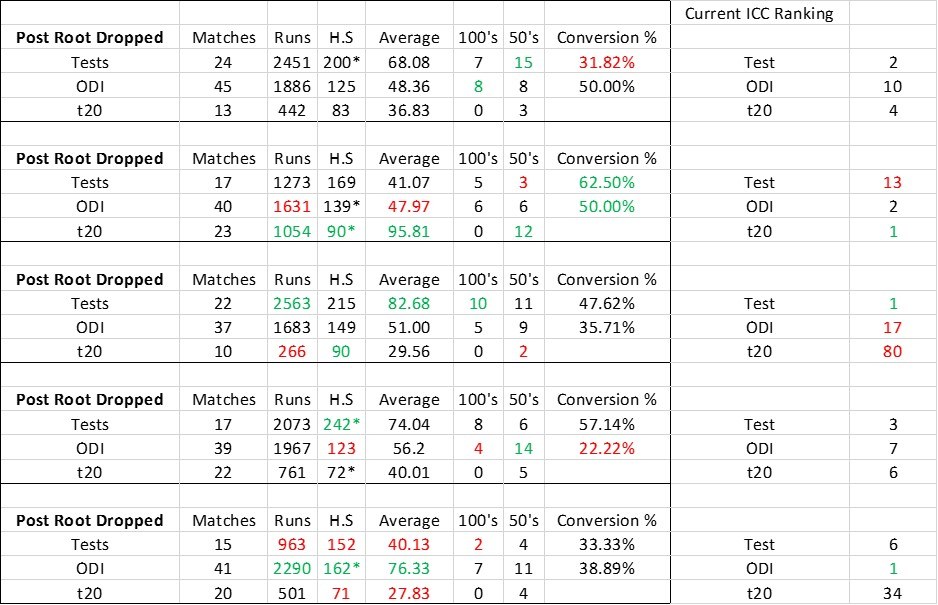 The statistics here show just how much of a stellar couple of years Smith, Williamson and Root have had in Test Cricket. For Root to be averaging 68.08 and have the 3rd highest average is quite staggering. Root has scored the most ODI centuries in this time having scored none in his first 23 matches, highlighting his adaptation to the shorter formats. Once again Root's conversion rate in Test cricket is low, particularly compared to Smith and Williamson, who have both scored more centuries despite passing 50 fewer times than Root. Smith's ODI average has markedly improved to that of his career average although his t20 statistics are some way behind. ABV has had quite a poor couple of years in Test Cricket and t20 for his standards but has an incredible 2 years in ODI's with a huge average of 76.33, whilst Kohli has had a quiet 2 years in the longer forms of the game, but in t20's is averaging almost 100 and has passed 50 on more than half of his innings which is quite incredible. These players are all superstars but these statistics show that possibly there is a particular format they haven't excelled in whereas Root and Williamson quite simply stand out from the rest.
The complete batsman
All in all, these statistics suggest that both Williamson and Root are the most complete players in the World right now. Kohli has the poorest Test Statistics by far, Smith has low numbers in the shorter format, although they are improving whilst AB De Villiers has surprisingly average t20 statistics and his Test form is on the decline. Root and Williamson have strong form in all formats however with Williamson marginally shading it over the last couple of years, where he is averaging just higher in all 3 formats of the game since Root was dropped during the 2013-2014 Ashes Series. You could argue a case for both players being the most complete batsmen in the world right now.
What does the future hold?
Root's brilliant start to his Test career is very similar to Alastair Cook, England's record Test run scorer and the youngest ever player to have reached 1,000 and 2,000, 5,000 and will be the youngest to reach 10,000 if he scores 36 runs in the next few matches. If Cook continues to play at the same level for another 5-6 years, we could be seeing him break the record of Tendulkar's number of runs scored in Test Cricket of 15,921. So where does Root's start to Test Cricket compare to these two Test players?
Their career statistics are shown below:

Despite Root's lower number of appearances he impressively has the highest average out of all 3 players. Root's conversion rate is the lowest out of the 3 players, Tendulkar has a conversion rate of 42.86% which has resulted in him scoring an incredible 51 Test centuries, the next highest being Jacque Kallis at 46. The graph below shows the number of runs scored by each player every 10 Test matches to see how Root has begun Test cricket compared to these players: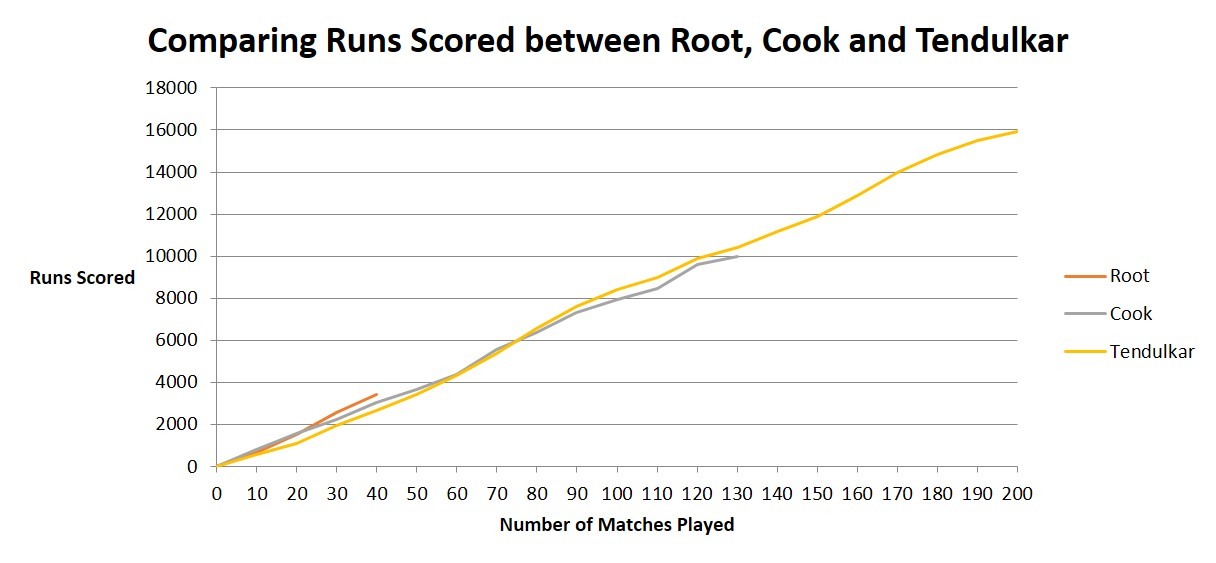 The graph shows Root clearly above both players after 39 matches for runs scored which is very encouraging for him. The gradient of Tendulkar's line starts to really rise after 50 matches showing how much he improved, something Root will have to do if he wishes to stay above Tendulkar's line. Cook managed to do it until 80 matches but has since dipped just below although he is staying almost parallel now. A further comparison can be made by looking into Cook and Tendulkar's Test careers after 39 matches. The following table highlights Root's incredible start to Test cricket.

After 39 matches Root has scored 597 more runs than Cook and 746 more than Tendulkar! His average is the highest, he's the only player to score a double century at this stage and he's also scored the most centuries and half centuries. Interestingly Cook at this stage had a very poor rate of converting 50's into 100's and Tendulkar's is lower than his career percentage. This is a hugely positive sign for Root as he becomes more experienced; he has every chance to convert those 50's into big scores more often. A point to note is that Root made his debut at the oldest age of the 3 players at the age of 22 whereas Cook was 21 and Tendulkar was unbelievably only 16, so he has even more of a challenge to break as many records as Cook and particularly compared to the great Tendulkar!
A big summer ahead
This summer England host Sri Lanka and Pakistan, ranked 7th and 4th in the ICC Test rankings (England being ranked 5th), with the possibility of being the 1st team to hold all the Test series trophies at one time if they beat both. If that wasn't a big enough incentive then England can use revenge as extra motivation; Sri Lanka were the last team to defeat England at home in 2014 and Pakistan were the last team to beat England in Test cricket in the UAE 2015. Considering England last beat the previously number 1 ranked Test team South Africa in their own backyard, they will be very confident of beating a Sri Lanka team trying to rebuild after the retirement of some greats in Jayawardene and Sangakkara whilst Dilshan and Malinga only play in the shorter format nowadays. Pakistan have a series record of 3-2-8 (W-D-L) in England, this certainly won't go unnoticed in the England dressing room.
Looking at statistics in this article, you can expect 2 things this summer from English cricket:
• Alastair Cook will become to youngest ever player to reach 10,000 test runs.
• Joe Root will have a big summer for England with the bat.