Early in the calendar year, Roger Federer was the name on many people's lips in the tennis world, as he proved the doubters wrong by sensationally winning the Australian Open. The clay court season heralded an extended break for Federer, and since then the story of men's tennis has been Rafael Nadal, who has rediscovered his old form to make him the favourite at his beloved Roland Garros. Both Nadal and Federer are defying perceived wisdom about career trajectory, as they have shown that improvements can be made later on in a career, and in Federer's case, well into your mid 30's.
With the French Open now underway, this article we will focus specifically on Nadal. Let's first take a look at how the Spaniard has performed in 2017 so far: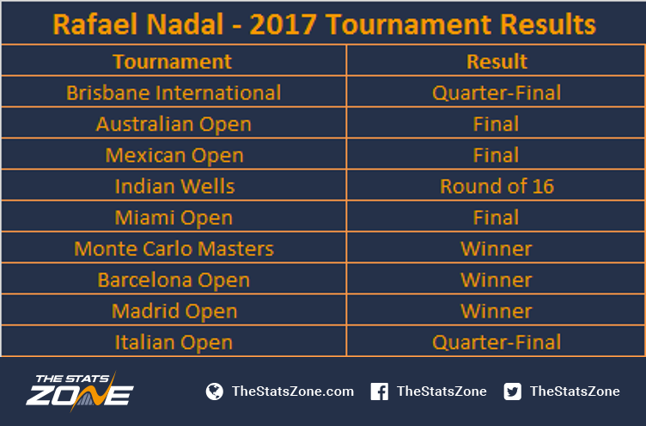 Nadal started off his year brightly, reaching the final in both Australia and Mexico, where he lost to Federer and Querrey respectively. However, he got that winning feeling back when he returned to the clay; the Spaniard won three consecutive tournaments that he played in, winning in Monte Carlo, Barcelona and in Madrid before losing in the quarter-final to Thiem most recently in Italy.
It was this run of three consecutive tournament wins on clay that prompted some to claim that Nadal had reached his performance levels of old.
If we look at his 2017 results to date, how do his previous five seasons compare?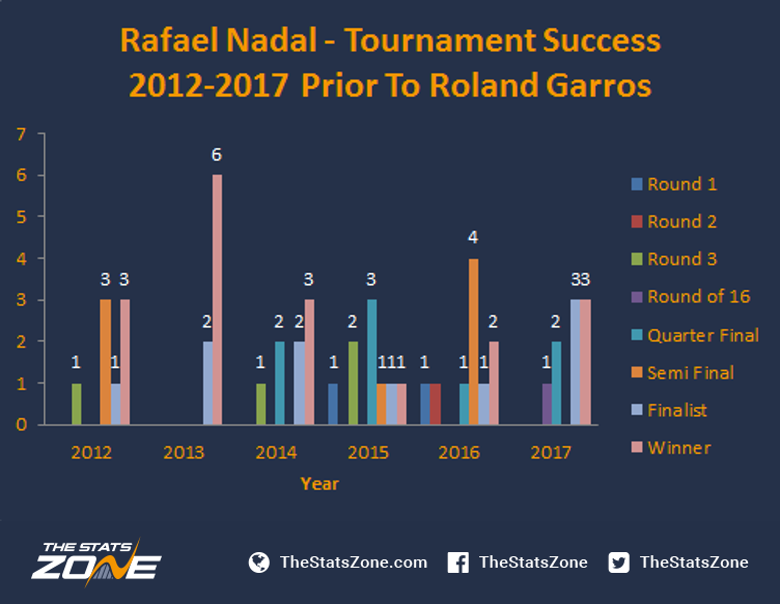 Nadal has shown an excellent level of consistency this season, managing to win three tournaments and finishing as runner-up in three other tournaments, with two of those losses coming to an inspired Roger Federer. His worst showing in a tournament this year was when he was eliminated from Indians Wells at the round of 16 stage – again at the hands of the age-defying Federer. The Spaniard's results this season prior to Roland Garros are superior to those he managed in four out of his last five seasons. We need to go back to 2013 to see a similar level; a year in which he won six tournaments before the second Grand Slam of the season.
The signs are good for Nadal fans, as when we look back at the last five years, each time he has won at least three tournaments heading into Roland Garros he has gone on to win the title in Paris. Ominous signs for the rest of the field are that the three titles Nadal has won this season have all been on clay; he won the Madrid Open, the Barcelona Open for the 10th time and a 10th Monte Carlo Masters title, whilst this year he will be going for an amazing 10th title in Paris.
With Nadal's tournament success improving this year, we'll now dig into the statistics to see where in his game he has made improvements in recent times. We'll compare his 2017 numbers to date to that of his entire 2015 and 2016 seasons.

The introduction of Carlos Moya to the Nadal camp has seen an improvement in the Spaniard's serving; so far this year he has been able to earn more free points with a higher amount of aces on average per match than his previous two seasons, whilst also handing his opponent less free points by reducing the amount of double faults he makes. Improvements on Nadal's second service in particular have been of great significance, which has allowed him to win more points behind his second serve than his previous two seasons. With Nadal feeling comfortable behind his serve in 2017, he has been under less pressure, facing fewer break points on average.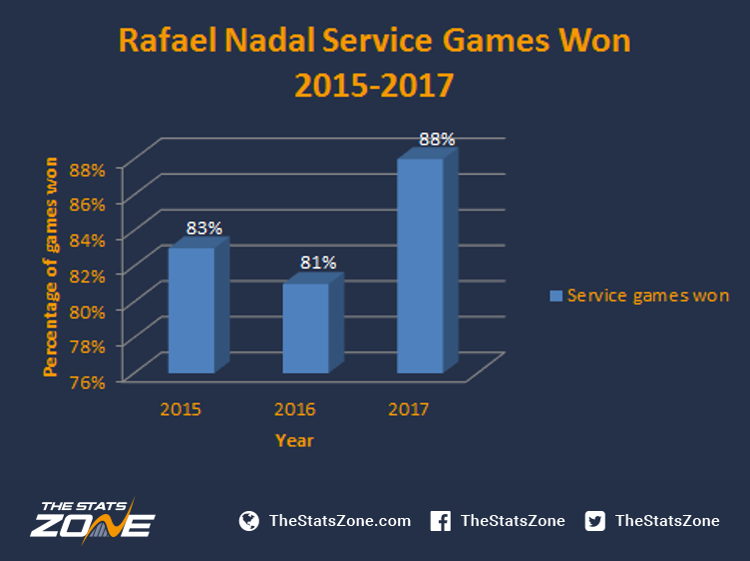 All the above improvements in the serving of Nadal ultimately means he has been able to win more games on serve; this year he has won 88% of his service games, a big improvement on 81% in 2016 and 83% in 2015. It should be noted that these stats are for the entire year, so now we will focus in on clay specifically: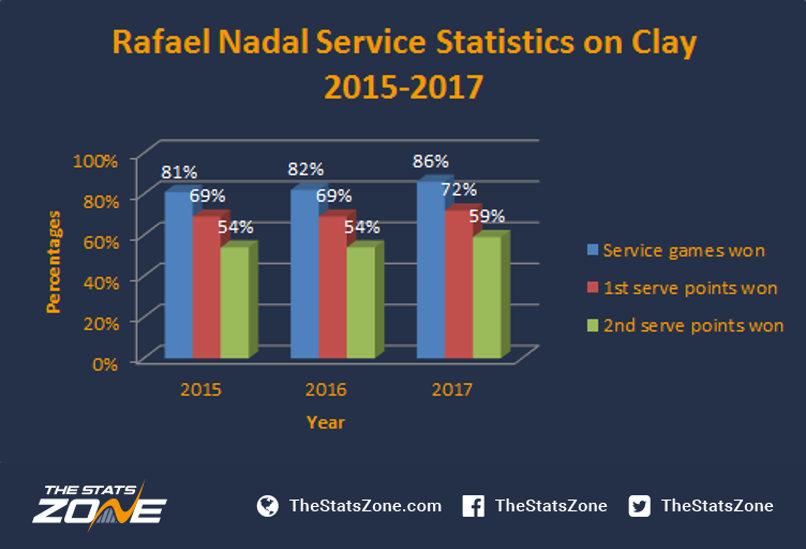 The fact that Nadal has won three tournaments this year is obviously a tell-tale sign that he is performing better than recent years; however, with Djokovic and Murray slipping below their usual standards and Federer (a man who has defeated Nadal on three occasions this year) not participating on the clay, critics may well say the king of clay was expected to do well. Nevertheless, Nadal can only play who is in front of him. The Spaniard has improved his clay percentage of 1st serve points won, 2nd serve points won and percentage of service games won compared to 2015 and 2016.
Rafael Nadal is the bookies favourite to earn a 10th French Open title, with his improved performances and three titles already this year all coming on the clay. Nevertheless, there are other candidates who could upset Nadal:
Andy Murray
World number one Andy Murray has not produced the performances we know he is capable of this season, but he will be hoping for a better showing than what he managed in the first Grand Slam of the season; however, a recent defeat to Fabio Fognini on the clay cast doubts over whether he can go all the way.
Novak Djokovic
Similar to Murray, Djokovic has gone off the boil this year; however, he is hoping the input of Andre Agassi can turn things around for the reigning French Open champion. Djokovic showed signs that he was getting back to his best when thrashing Dominic Thiem in the semi-final in Rome, but then produced an ordinary performance in the final in losing to Alexander Zverev.
Stan Wawrinka
The Swiss tennis player has often been in the shadows of a certain Roger Federer, but Stan certainly has the game to compete. He is a three-time Grand Slam winner and is looking to recapture the title he won at Roland Garros in 2015; his one handed back hand is one of the most beautiful shots in the game and on his day he can beat anyone.
Dominic Thiem
The Austrian has enjoyed somewhat of a breakthrough season and has shown he can compete with the very best; he is the only player to beat Nadal on the clay this year, but followed that with a comprehensive loss to Djokovic in less than an hour in Rome recently.
Alexander Zverev
He has been touted as a future star of the game for a little while now and Zverev now looks to be on his way to fulfilling his potential. Victory over Djokovic in Rome to claim his first Masters 1000 event will have given the youngster a massive boost in confidence heading into the French.
After two gruelling weeks and potentially seven matches, on June 11th Nadal will be hoping that 10 is his lucky number as he is crowned French Open champion for the 10th time. With the statistics showing that he is playing some of his best tennis for years, he remains the man to beat at Roland Garros.
Serving statistics obtained from http://www.atpworldtour.com/en/stats