It's been nearly 50 years since the Australian tennis legend Rob Laver achieved a remarkable record, winning a calendar year grand slam in the men's tennis. This record stands out in the history of the sport and has proven itself to be extremely difficult to repeat. One of the crucial factors in accomplishing this feat, which makes tennis unique, is the necessity for players to adapt and master playing on different surfaces. Each surface has its own characteristics. The ATP tour in 2016 consists of a total of 66 tournaments out of which 37 (56%) are played on a hard court (indoor and outdoor grouped), 22 (33%) on clay and 7 (11%) on grass. The majors aren't any exception to this variety, with US Open and Australian Open taking place on hard surface, Wimbledon on grass and French Open on clay. Another more recent success story is Novak Djokovic who managed to win all majors bar the French open last year, due to his ability to master the different surfaces across the tournaments.
With this in mind, The Stats Zone has decided to delve deeper into the data and investigate the key differences between the surfaces on which tennis is played. As an extension to this with the French Open just kicking off, we will bring out the key statistics for performance on clay for the top 10 players on the ATP tour and see where they sit prior the tournament. This will give us an opportunity to predict who is most likely to give Djokovic a run for his money in the final stages in early June.
There were a few restrictions to consider in this analysis. Firstly there is no free source (that we know of at least) that offers structured data per surface for all ATP players. However the ATP World Tour offers stats for at least the top 60 players and in some cases roughly 100 depending on surface. All player stats and averages are calculated with this in mind and include 52 weeks of data as of Monday 9th May 2016. Since the available data provides different numbers of players per set of statistics and surface, the total percentage of service games won + percentage of return games won (break) doesn't add up to 100%. We acknowledge this, but can still confidently say that this will give a good indication of characteristics for each respective surface. In the second part of the analysis we bring out clay percentage of service and return games won for the top 10 players on the ATP tour. Finally, in the last stage of the analysis we try to predict the winner of the French Open. In order to do this we have decided to add up the proportion of service and return games won and multiply this by 100. This is referred to as the 'Clay Performance Index' and will give a score of the overall clay performance for each player.
The table below represents the high-level service stats for each surface. We can see that grass has the highest score for all 4 measures with a remarkable 83.1% of service games won. The same measure for clay is 5% points lower at 78.1%. Furthermore, clay is the surface where the serve seems to have the least advantage, scoring lowest on everything but 1st serve accuracy.

Moving on to the return stats we can see the contrasting scenario in the table below with clay having the highest return score for 3 out of 4 measures. What stands out in this table is Return Games Won (break games) at 23.8%, which is 8.1% points higher than grass (15.7%) and 3.0% points (20.8%) higher than hard surface. This suggests that grass is the toughest surface to break your opponents, as it scores lowest across all 4 measures.

The second part of this analysis looks specifically at clay performance for the top 10 players on the ATP tour. The graph below illustrates the percentage of games won for each player. We can see that the world number 1, Novak Djokovic naturally is the strongest server in the field at 91.2% of his service games won. Roger Federer is second in the field at 87.3% and significantly 3.9% points behind Djokovic. Another point worth highlighting is that Rafael Nadal, who is famous for being good on clay, 'only' wins 79.5% when he is serving and hence ranks lowest in the field with that stat.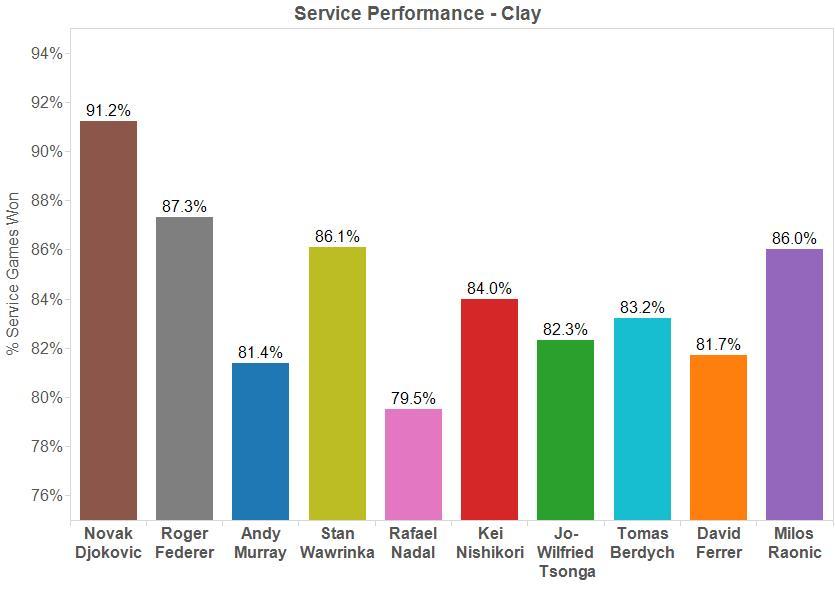 Having said that, Nadal's return performance is significantly better than his competitors, which is evident from the graph below where his percentage of breaking games sits at 41.9%. The second best return player is Andy Murray who is 7.8% points below Rafael Nadal at 34.1%. Even more interesting is that Novak Djokovic sits at 29.6% or 12.3% points below Nadal.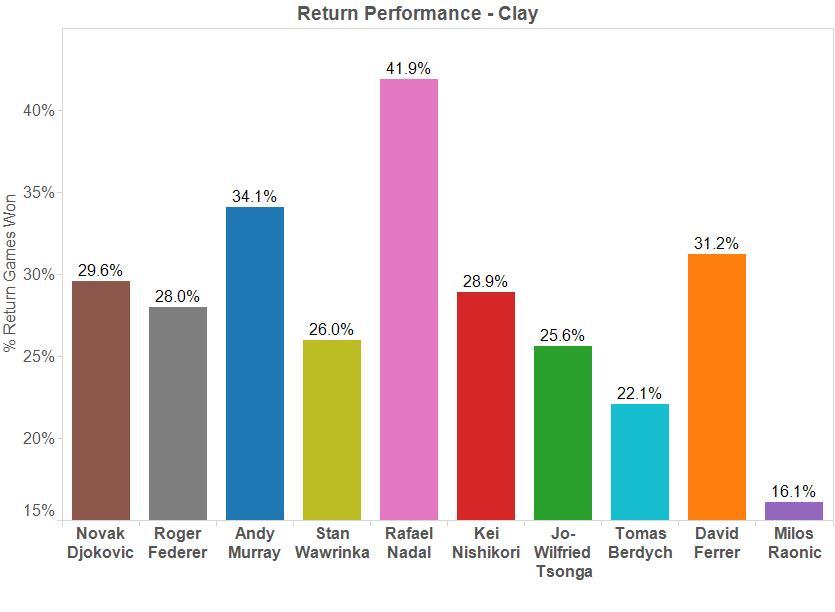 The last graph is the aforementioned Clay Performance Index. This index graph shows us that Nadal scores the highest at 121.4, closely followed by Novak Djokovic at 120.8. Andy Murray and Roger Federer are around 6 index points behind Rafael Nadal at 115.5 and 115.3 respectively. Taking this analysis into account, it would be reasonable to conclude that it seems rather unlikely that any player will really challenge Djokovic or Nadal for the French Open title this year. As a side note (for those interested in gambling), looking at the betting market for the French Open we find that the top price for Djokovic currently sits at 1.8 (14th May 2016) and 4.5 for Nadal. This suggests that the betting market considers service rather than return performance when pricing outright odds.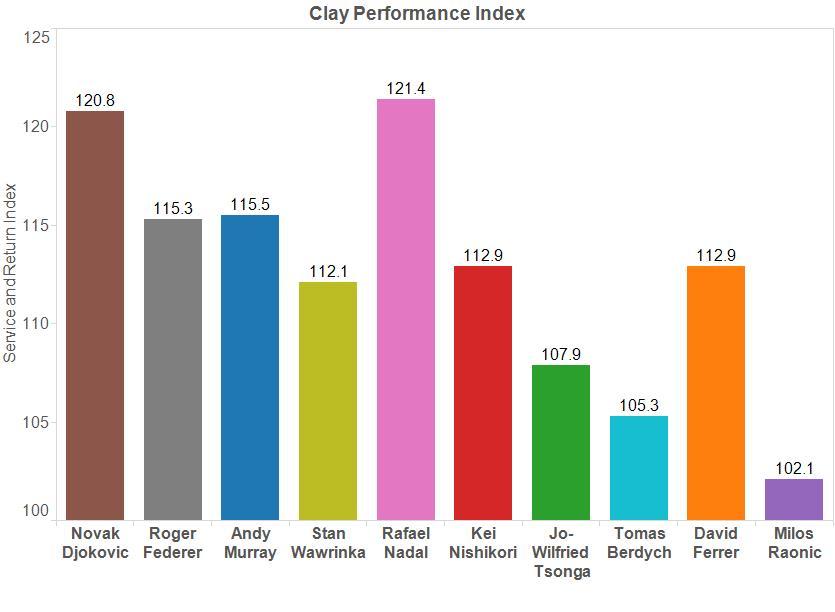 Overall, when investigating the impact of different surfaces on tennis performance, there are a number of learnings from the data. Looking at the serving stats, it is clear that grass is the most beneficial surface for serving, especially in terms of proportion of won service games. This essentially also means that grass is the hardest surface to break your opponent on, something that is again evident from the data. On the other hand, the surface with best return performance is clay, where on average nearly a quarter of games end with a break.
In the prediction of French Open we have looked at win percentages while serving and returning. The analysis shows that Nadal and Djokovic are the two most likely players to win. Going by the betting market, Djokovic is a strong favorite to win, which contradicts with our analysis that showed Nadal has the highest Clay Performance Index. However, it is worth highlighting that Nadal has had a couple of recent wrist injuries which have kept him away from the court and this may have put a slight spanner in the works going into the clay season. Having said that, due to his notably high performance in terms of return of serve, we believe that the competition between Nadal and Djokovic will be more even than the betting market suggests.