Wembley Stadium plays host to rugby league's showpiece event on Saturday, with the 115th Challenge Cup Final between Hull FC and Warrington Wolves. The two sides currently sit first and second respectively in the Super League table, which in theory means that the best two teams this season will come head-to-head in what should be a fascinating encounter.
Warrington head into the final having won this competition eight times previously, with Hull also managing three wins. However, those three wins have all come away from Wembley, with that unwanted record something that the black and whites will be keen to rectify. With the anticipation rapidly building for what is always a great occasion, we examine the key match-ups between the two teams and look to see if there are any significant trends from previous finals.
Key Battles
With so many of this season's standout players due to take to the field it was difficult narrowing this down to just three match-ups, but we've gone with where we think the game could be won or lost.
Marc Sneyd vs Chris Sandow
The two scrum halves are the key playmakers for their respective sides. They are the ones who have more often than not provided the spark for their side in an attacking sense, which has led to both getting mentioned in the talk for the Steve Prescott Man of Steel Award.
Sneyd has taken his game to the next level this season following some inconsistent performances last year. His kicking game in particular has been a real highlight, and he currently leads the way in this area with a league high of 104 goals.
Sandow has proven to be a real fan favourite amongst the Warrington fans this season, and is seen as a genuine match-winner. He's unpredictable with ball in hand and sometimes difficult to bring down with his footwork a real problem for defences.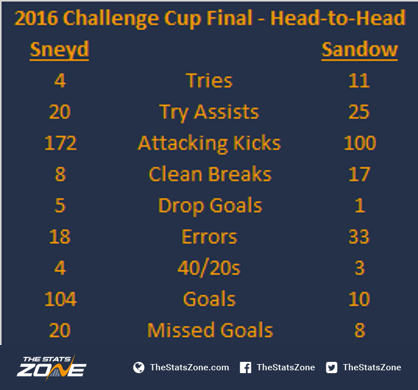 As we can see from the numbers, Sandow has been a little more productive with ball-in-hand, scoring seven tries more than Sneyd and chipping in with five more try assists. However, Sandow has made 15 more errors than Sneyd, with the Warrington man responsible for a greater number of errors than anyone on either side with 33. Whilst Sandow has been more prolific with ball-in-hand, Sneyd comes out on top with the boot as he has produced some outstanding figures this season; he's kicked five drop goals (second highest in the league) compared to Sandow's single effort as well as kicking one more 40/20.
Danny Houghton vs Daryl Clark
Another two who have been mentioned for the Steve Prescott Man of Steel are the hookers. Houghton is affectionately referred to as a "machine" by Hull fans for his seemingly endless engine. He plays 80 minutes almost every week in a physically demanding position and backs it up with huge numbers, particularly in defence. He is once again on course to win Super League's Hitman award for the most tackles in a season as he currently sits on 1130.
After a quiet season last time out following been crowned the Steve Prescott Man of Steel, Clark has looked back to his best this season. He's provided a spark out of dummy half with his pace a real asset as he looks to get his team moving forward quickly. Clark can be lethal with ball-in-hand on the back of a quick play-the-ball, and it is sure to be something Hull will be trying to stop in order to come out victorious on Saturday.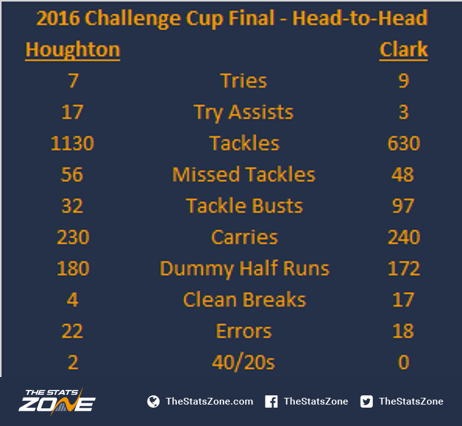 As already mentioned, Houghton leads the way with 1130 tackles this season in comparison to Clark's 630; The Hull man has admittedly spent more time on the field but it's still a huge difference. Houghton has missed 56 tackles compared to Clark's 48 misses but their tackle efficiency both stands at over 90% (95.28% for Houghton, 92.92% for Clark). With Clark often getting spelled with bench hooker Brad Dwyer, he is expected to be fresher in the latter stages of games which should help him post better attacking stats than Houghton. Clark has made an impressive 97 tackle busts compared to Houghton's 32 as well as outscoring his opponent 17 to four in clean breaks. Although Clark has two more tries than Houghton, there's a large difference in try assists with Houghton setting up his teammates for 17 scores with Clark managing just three.
Scott Taylor vs Chris Hill
After picking two head-to-heads where creativity is the significant factor, it only felt fair to select this final match-up from the big boys up front. Taylor has been a revelation for his hometown club in his debut season and has become a real fans' favourite after notching numerous man of the match awards.
Hill has developed into one of the most consistent front rowers in Super League over the last few years and is the leader of the Warrington pack. His dependability saw him take over the captaincy at the start of the season and he's put in another season of reliable performances.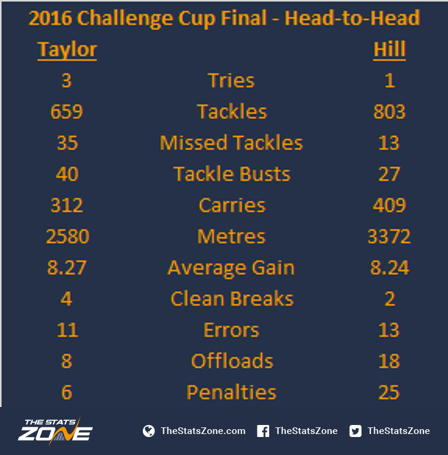 The Warrington prop tends to play a lot of minutes for someone in his position which has helped him rack up 3372 metres so far this season, the highest of any player in the Super League. Taylor has made considerably less with 2580 but he's actually slightly ahead of Hill in terms of average gain per carry, with Taylor managing 8.27m compared to Hill's 8.24m. Taylor has also managed 13 more tackle busts than his counterpart as well as two more clean breaks, which highlights how dangerous he can be when carrying the ball. Hill's reliability is again underlined by the number of missed tackles he's made with just 13 to his name, an efficiency of 98.41%. Taylor has missed 35 and has completed less, with his tackle efficiency coming in a bit lower at 94.96%. The one aspect of Hill's game that could improve is the number of penalties he concedes with him penalised 25 times this season compared to the six of Taylor.
What do Previous Finals tell us?
When looking at past finals and how they've panned out, are there any trends from the previous 20 finals that stand out that we can look towards when watching the game on Saturday?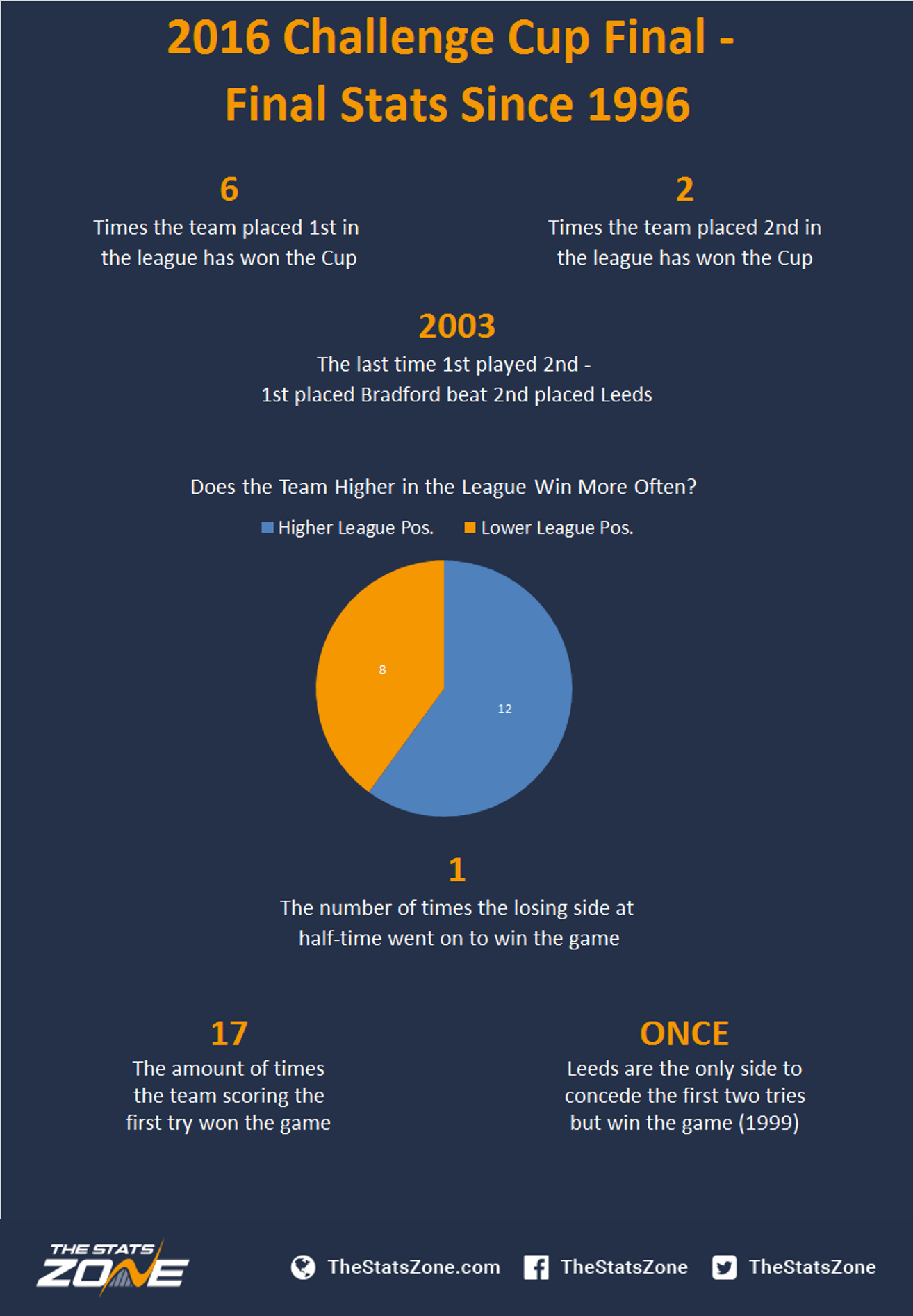 There are some very interesting points to take from the above graphic and these could be key indicators to who will win.
Only one team has overcome a half-time deficit to go on to win the game, with St. Helens doing this 20 years ago in 1996 against Bradford.
The team scoring the first try has gone on to win 17 out of 20 finals. Only London in 1999, Leeds in 2005 and Huddersfield in 2006 failed to make their positive starts count.
London in fact scored the first two tries that day against Leeds but as stated, failed to win the game. They're the only side in the last 20 years to score two tries consecutively to open the scoring but didn't win the game. In 10 other years, the winning side scored the first two tries.
The team that ended the regular season in the higher position has won the final 12 times (60%) with the team that finished lower winning 8 finals (40%).
The only time in the last 20 years when first place in the league standings has come up against second place was in 2003 when first placed Bradford came out on top against Leeds.
Route to the Final
Hull are in a unique position heading into the final. They have had the toughest possible task to make it to Wembley, having beaten the sides that ended the regular season in third, fourth and fifth place in the Super League table. With Hull ending the regular season in first place, they face the team that finished second – ensuring the toughest possible route to winning the competition.
We've looked back to see how the winners over the previous 20 years made it to glory. We've done this on a points system with the number of points awarded representative of the final position in the regular season (tenth place would be 10 points). The highest number of teams Super League has had during this period is 14 so if a winning side has played a team from the lower leagues, they have been awarded 15 points for those games.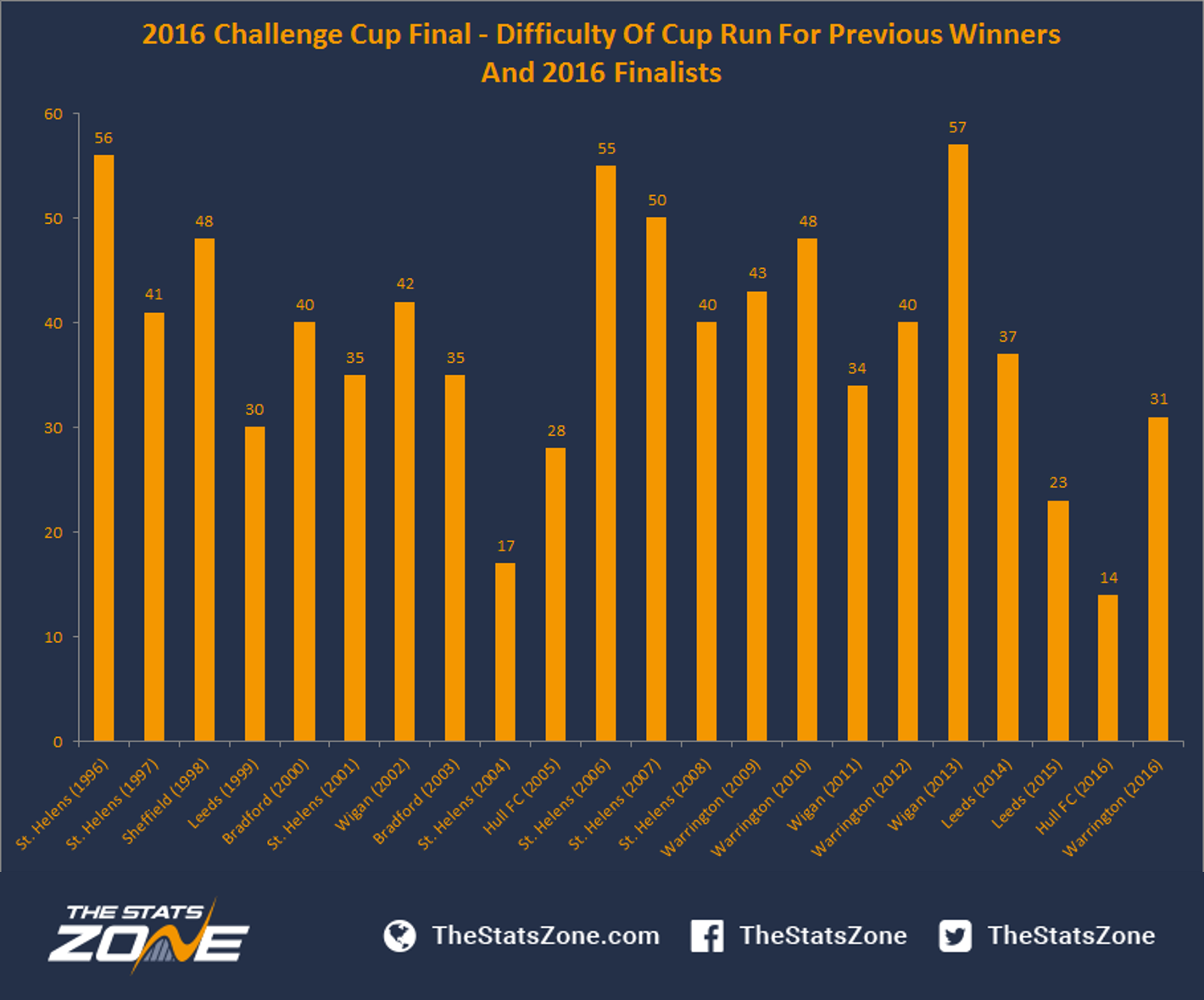 As mentioned, if Hull lift the trophy on Saturday they will have faced the toughest run-in possible. The closest to this was in 2004 when St. Helens lifted the trophy. They ended that season in fifth position but had to overcome the teams in first, second, third, fourth and seventh. It could even be argued that this is more impressive than Hull this season as St. Helens also had the extra game to play that year, and weren't as successful in the league as Hull have been this season.
Should Warrington be successful, they too wouldn't have had the easiest run to lift the trophy. In fact, their run would be deemed the fifth toughest since 1996. Other notable winning runs came from Leeds in 2015 but they also only had to win four games to lift the trophy and Hull in 2005 who had to beat all Super League opposition along the way.
At the other end of the spectrum, Wigan's win in 2013 is deemed as the easiest run with them facing two lower league teams and didn't face a team lower than sixth from the Super League. St. Helens in 1996 and 2006 also had relatively easy routes to winning, with three lower league opponents helping the 1996 side out.
What Happens After The Final?
This will be the last thing on the mind of Hull and Warrington fans at the moment, but with them both still competing for the League Leaders Shield, it's important to examine how they could react in their next games. We've gone back to 2005 – when the Challenge Cup Final was moved to the back end of the season – to see how the winners and runners-up have both fared following the final.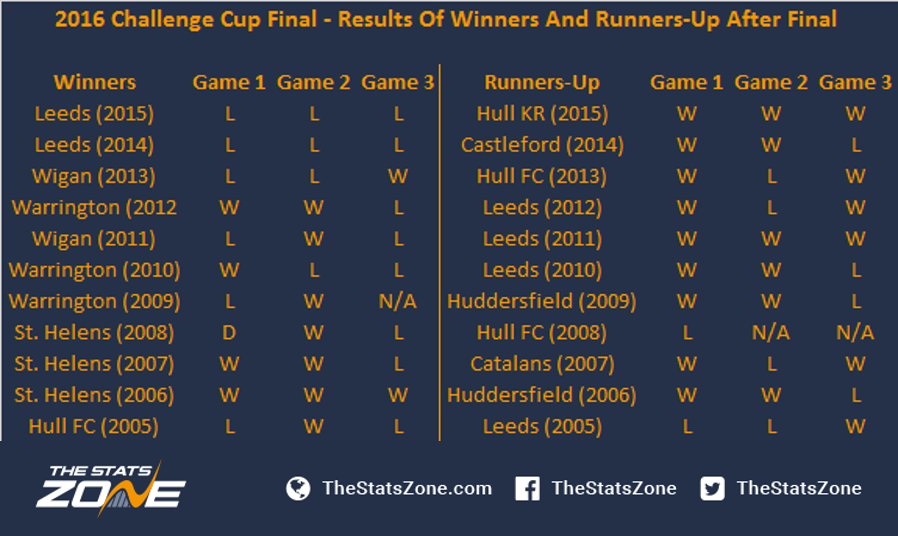 As the above table shows, the losing side in the final tend to go on and achieve better success in the league in the short-term. The runners-up have won their following game on nine out of the last 11 occasions (81.82%), compared to four of 11 for the winners (36.36%).
The second game after the final is a little closer, with the winning side tending to do better but not by much (63.64% compared to 60%). In the third game following the final, it is once again the side who lose that go on to greater success by a decent margin (losing side wins 60% of the time, winning side 20%).
Overall, there is a fairly big difference in the league form of the two sides following the final. The winners since 2005 have won 40.63% of their games following the final whereas the runners-up have won 67.74% of their games after losing the final.
The Game
It should be a great game at Wembley between two sides that have performed well all season.
We've examined the key battles, looked at what previous finals tell us, how impressive it would be for Hull to lift the trophy considering who they would have faced throughout the competition (Warrington would also have done well when looking over the last 20 years) and what we can expect from both teams in their upcoming league games.
Whilst there are some pretty intimidating trends to overcome for the side that concedes the first try (especially if they also concede the second) as well as the side going in behind at the break, all is not lost. History suggests the side leading at half-time tend to go on to win the game, but records are there to be broken. Could a side concede the first two tries in the game but go in ahead at the break? That would develop a whole new statistic altogether!