Everton academy graduate Tom Davies has gone from strength to strength since breaking into the first team, and there's no doubt he has enjoyed a dream start to his Toffees career. The Liverpool-born midfielder has been enjoying his first real run in the side and scored his first senior goal for the club last month in the 4-0 rout of Manchester City. The 18-year-old's assured performances in the middle of the park were recognised recently when he was named the PFA Fans' Premier League Player of the Month for January.
With Davies following in the footsteps of the likes of Wayne Rooney and Ross Barkley as academy graduates progressing to the senior team, we've decided to raid the archives and look at the amount of players Everton have brought through their own ranks since 2000. How successful have they been? Did they stay at the club or move on? Where are they now? We answer these questions and more.
Criteria
Included are all players who have made their senior team debut from 01/01/2000 until the present day.


Only players with UK nationality are included, but dual nationality is accepted.


Players must have been trained at the academy from the age of 14 or younger.
All data was accurate as of 13/02/17
The following players meet this criteria: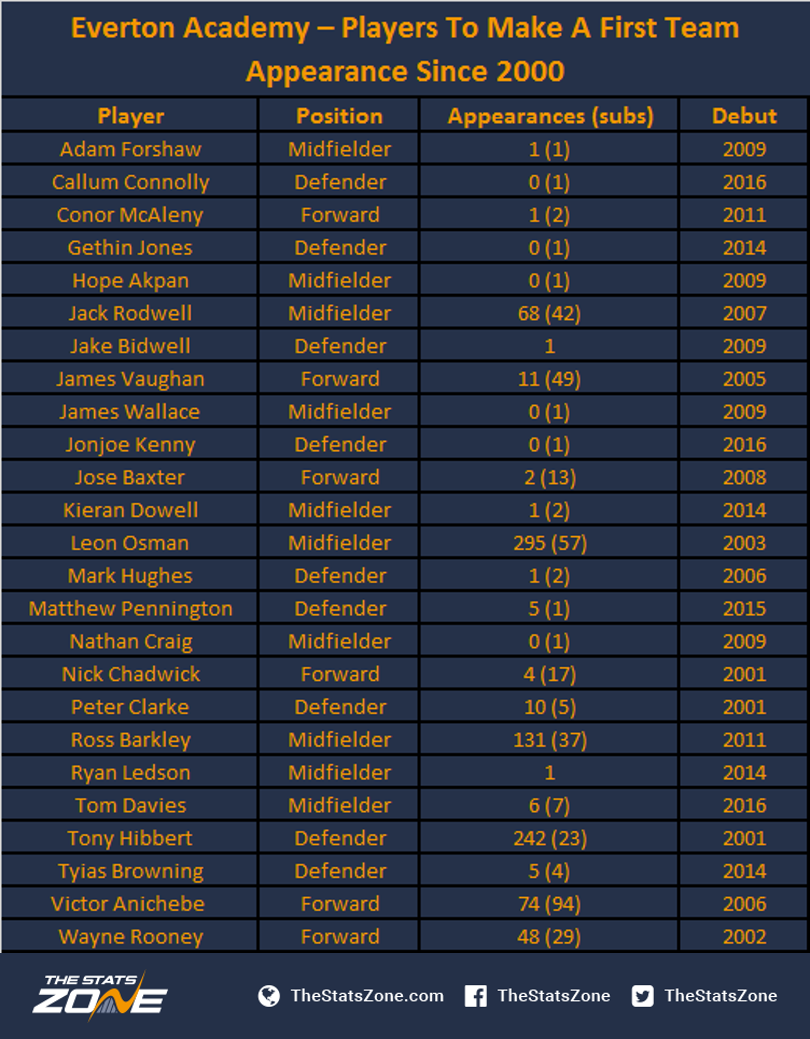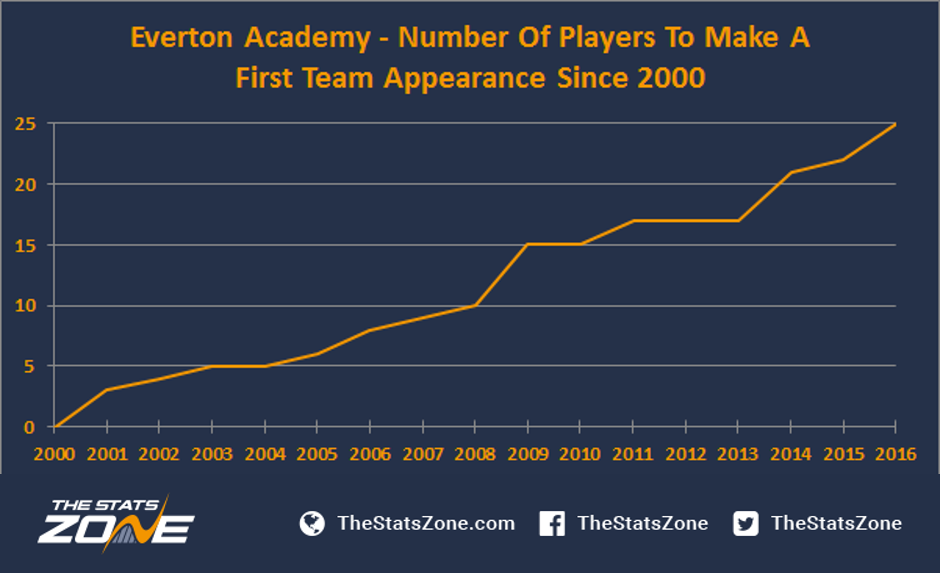 Since 2000, Everton have produced 25 players who have made their first team breakthrough.
Nine players who have made their debut since 2000 are still on the books at Everton: Conor McAleny, Ross Barkley, Gethin Jones, Kieran Dowell, Tyias Browning, Matthew Pennington, Jonjoe Kenny, Callum Connolly and Tom Davies.
Their most prolific season was during 2009 under David Moyes where they fielded five debutants that calendar year.
So it appears that, on average, more than one player per season makes the step up to the Everton first team. Let's investigate this further and take a look at the spread of positions amongst these academy graduates: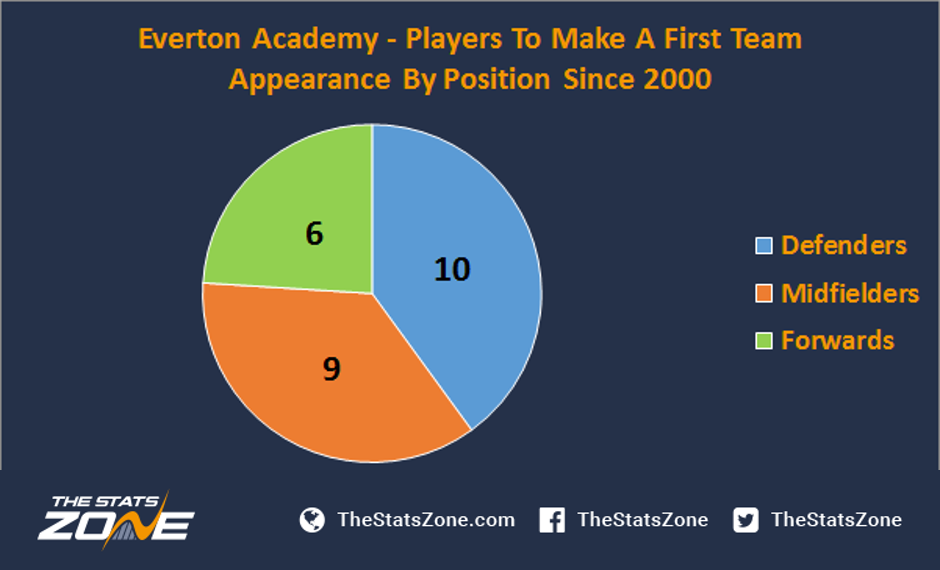 Defenders have been the most common position produced since 2000.
Zero academy goalkeepers made a first team appearance during this timeframe.
Some of the bigger clubs have received substantial criticism over the years for fielding "weaker" teams in certain cup competitions and dead rubber matches. So, which competition has Everton favoured to first blood their future stars?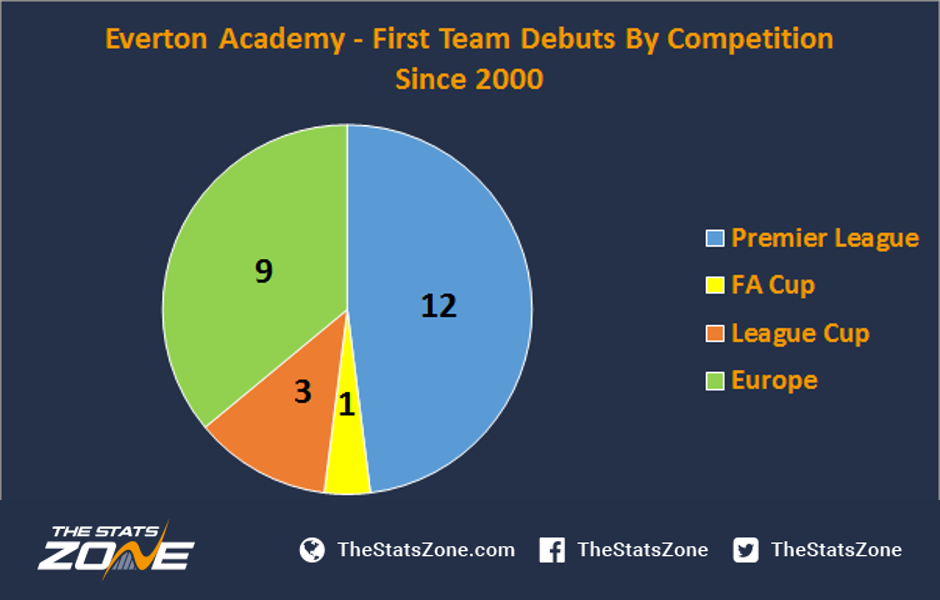 Since 2000, Everton have most commonly chosen the Premier League to introduce their academy players.
European competition was also a popular choice to first blood their youngsters.
Interestingly, the FA Cup only sees one academy player make their debut since 2000.
80% of all the Everton debutants went on to make a Premier League appearance.
Unfortunately, some young hopefuls acquire fame as an obscure quiz question (Jose Baxter?), rather than a popular club regular. So, how many academy players went on to play a significant number of times for Everton?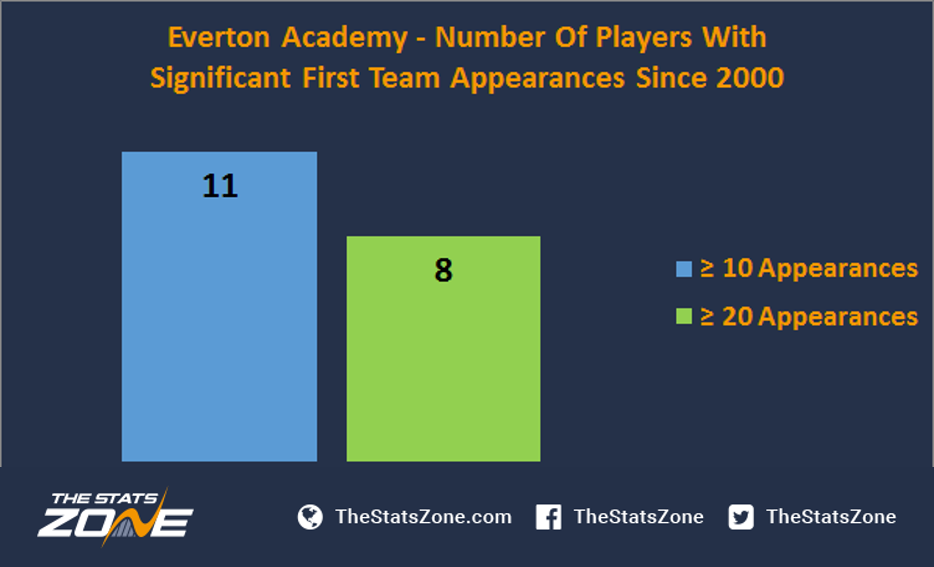 At this stage, 44% (11) of the 25 players have gone on to play 10 times or more for Everton.
Only 32% (eight) out of the 25 players have gone on to play 20 times or more for the club.
It must be noted that seven out the nine players who still play for Everton have yet to reach these appearance landmarks, but may do so in the future.
To explore this further, let's take a look at those players who have made the most first team appearance for Everton: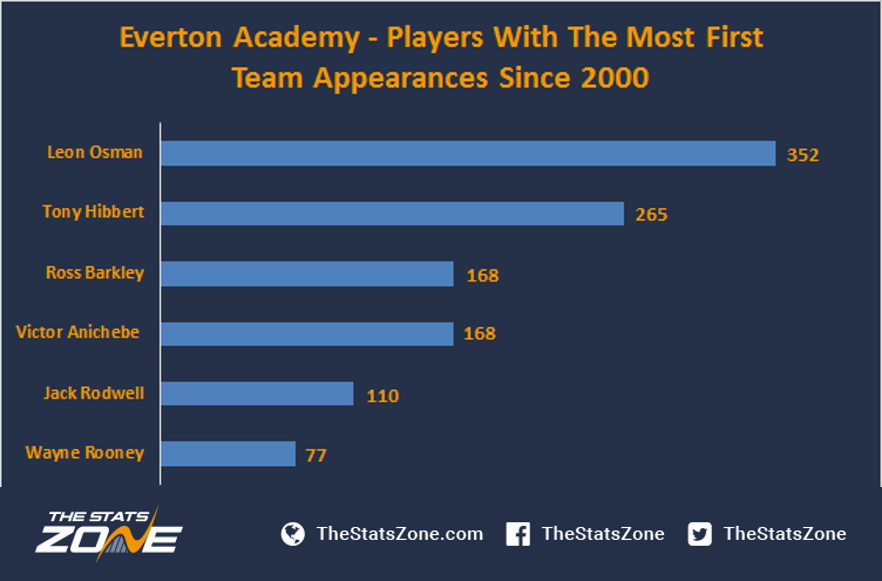 Leon Osman amassed an impressive 352 appearances for the club.
Five academy graduates have made over 100 first team appearances for Everton, with Ross Barkley the only player still at the club.
A successful academy aims not only to produce players for their first team, but also generate financial profit which can potentially be re-invested into the grassroots of the club. So, how have Everton benefited financially from selling on their academy prospects?

Everton have received over £51m in transfer fees for their academy players. 61% of this was from England captain Wayne Rooney's move to Manchester United in 2004, and a further 24.5% was from Jack Rodwell, leaving only 14.5% of the total coming from other player sales.
This sample of players have commanded over £17m in transfer fees after they have left Everton, with the most significant sum being the £10.7m that Manchester City received from Sunderland for the services of Jack Rodwell.
This leads us on to those who have flown the nest. Everton can still take credit for academy players who have forged careers elsewhere, so let's first look at those who have turned out for other Premier League clubs: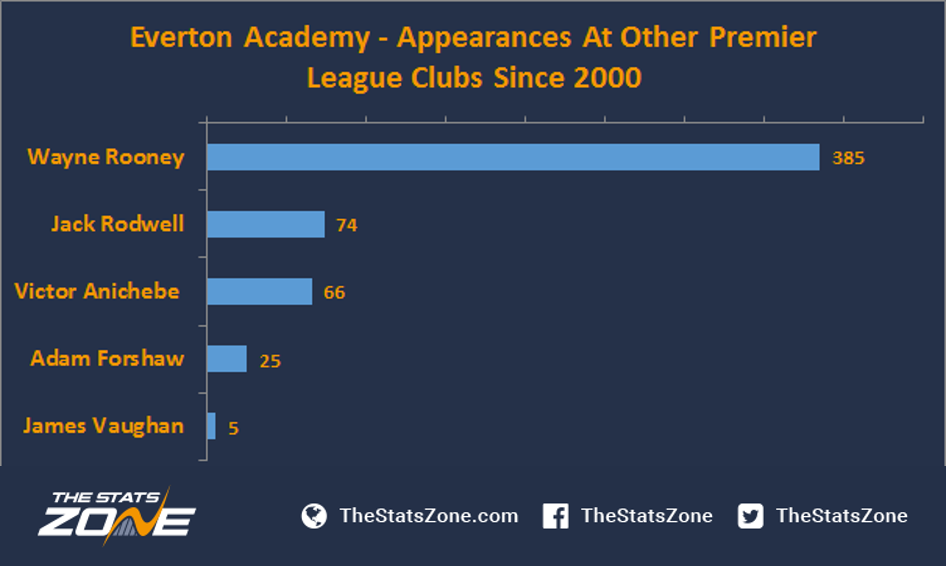 Wayne Rooney is by far the most successful Everton academy graduate, forging an impressive career for both club and country after leaving the Toffees.
All players except James Vaughan are currently still playing in the Premier League.
Six of the 25 players have made senior international appearances: Barkley, Rodwell, Osman and Rooney for England, and Akpan and Anichebe for Nigeria.
Scoring goals is undoubtedly an integral part of football success, so which players scored the most for Everton during their time there, and how did they fare after they left?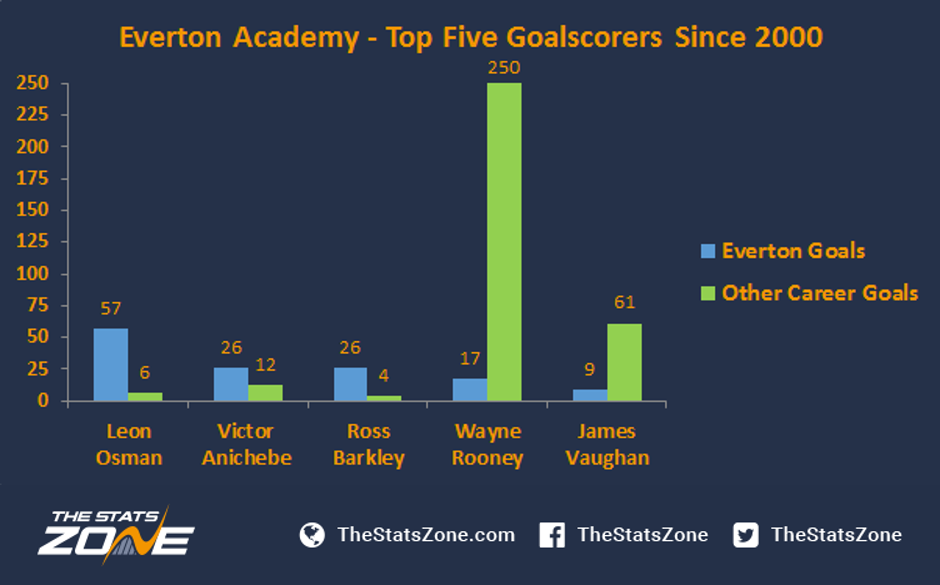 Leon Osman is the highest scoring academy player at Everton, with 57 goals for the club.
Wayne Rooney is head and shoulders above anyone else overall, scoring 250 club goals since leaving Everton for Manchester United.
Three players out of our sample of 25 have scored at senior international level: Rooney and Barkley for England, and Anichebe for Nigeria.
Despite some players not making the grade at the top level, Everton's academy has still succeeded in producing professional footballers who have enjoyed lengthy stints throughout the Football League: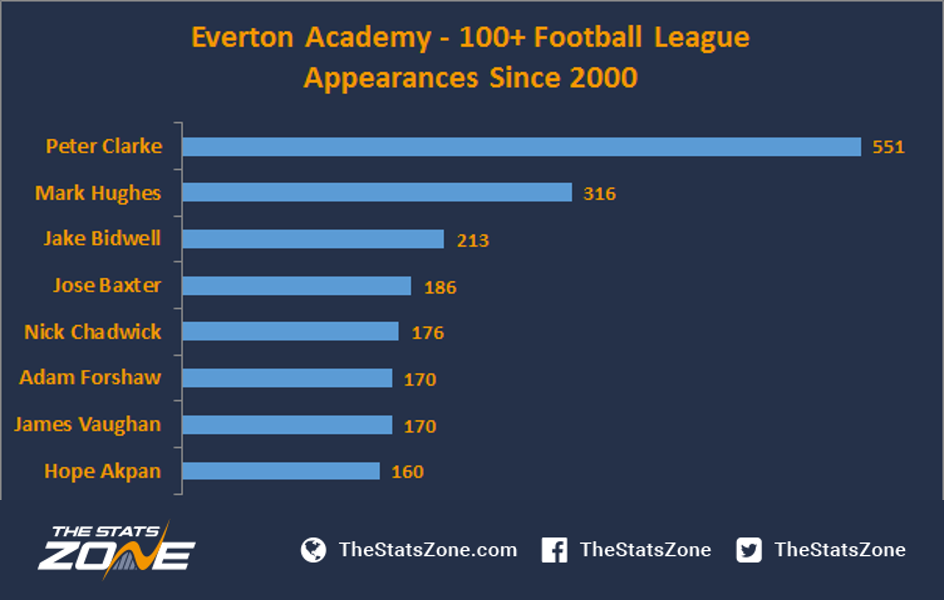 Peter Clarke played for Everton on only 15 occasions, yet has 551 Football League appearances to his name (as of 13/02/16), and is still going strong for Oldham in League One.
Jake Bidwell and Hope Akpan both only made one appearance for Everton's first team.
James Vaughan scored his first goal for Everton at the age of 16 but only managed eight more during his time there.
Academy success can be measured by a number of variables. Everton have successfully nurtured young talent into first team regulars, with Leon Osman, Tony Hibbert and Ross Barkley leading examples, whilst the club has also made significant financial gains from those they have sold on – Wayne Rooney and Jack Rodwell springing to mind as prime assets. 23 players of the 25 are still actively playing today, with a significant proportion spending the majority of their careers in the Football League (Championship, League One and League Two), which, whilst not the top level, shows that Everton have been capable of producing professional footballers on a regular basis since 2000.
If their current crop of young players can emulate some of these success stories, then the future can be a bright one for Everton.