The 2015/16 European Tour season came to a close at the DP World Championship; in what has been another great spectacle in European golf. Matt Fitzpatrick's second win of the season propelled the 22-year-old to world number 29, making him one of 19 Europeans inside the world top 50. With the wrap-around season providing players the opportunity to plan their upcoming year, many of Europe's leading players look to ply their trade on both the European and PGA Tour.
Due to the four Majors and World Golf Championships (WGC's) each counting as events on both Tours, the decision to play on both sides of the Atlantic for the world's top 50 players is an obvious one. Players such as Fitzpatrick and Hatton will be looking at the transition to America where the prize money and world ranking points on average are greater as well as all-round bigger tournaments available on a weekly basis.
Although the rewards for players are greater on the PGA Tour, the decision to play regularly in America can have implications for many a player and has resulted in a downturn of form and world ranking for some. Therefore, here at The Stats Zone we look at how Europe's elite have fared on the PGA Tour in modern times and whether the transition is a greater risk for those considering than is originally believed.
The 2016 Ryder Cup team possessed six rookies who had no membership status on the PGA Tour, which many argued to be Europe's biggest downfall. However, in two years' time this is likely to be a different story as many of the players will have established themselves further in world golf. Nonetheless, Europe's Ryder Cup stalwarts over the past 20 years have pursued their trade in America as well as Europe, providing them with the familiarity of playing on the biggest stage on a weekly basis and permitting them to be classed as a genuine international player. As a result, we'll take a look at the main players who have competed on both tours in recent times and how they have fared in their conversion: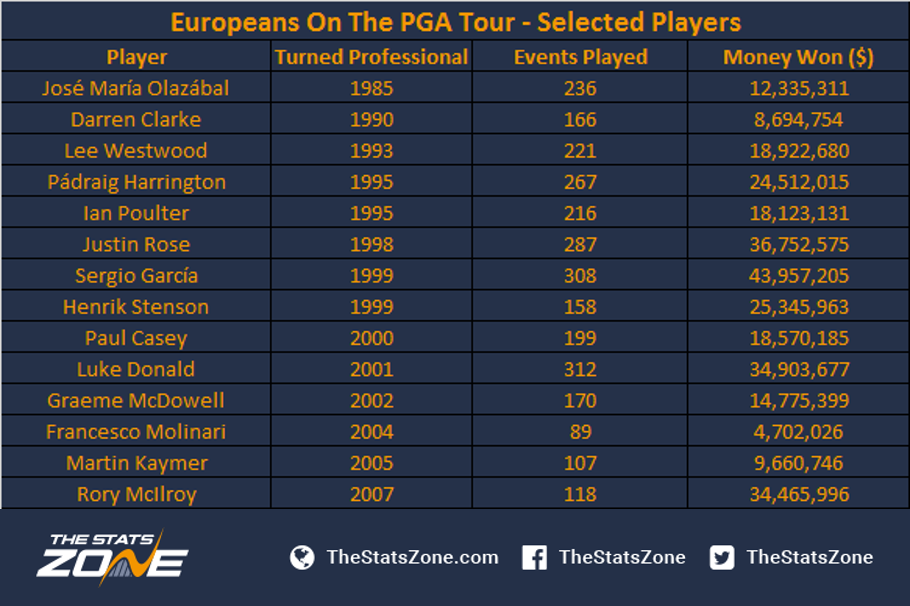 Over the past two decades, the European Ryder Cup team have been dominant over the USA with the above players being significant factors to their success. The above names have all won on the PGA Tour (excluding Francesco Molinari) including Majors, WGC's and regular tour events, but their success and transition is not as prominent as it may appear.
Notably, Rory McIlroy sits third in total money won and yet has played the third lowest number of events on the PGA Tour, demonstrating his consistency in the biggest tournaments. Garcia, Rose and Donald have all predominantly played in America and have amassed the three highest numbers of events and money won, signifying their stability on the highest level for over 15 years. Although the biggest names participate regularly on the PGA Tour, many have scheduled a more international game, participating all over the world each season and not just sticking to the one tour. Those who focus mainly on the PGA Tour, perhaps not surprisingly, have had the most success in terms of money won: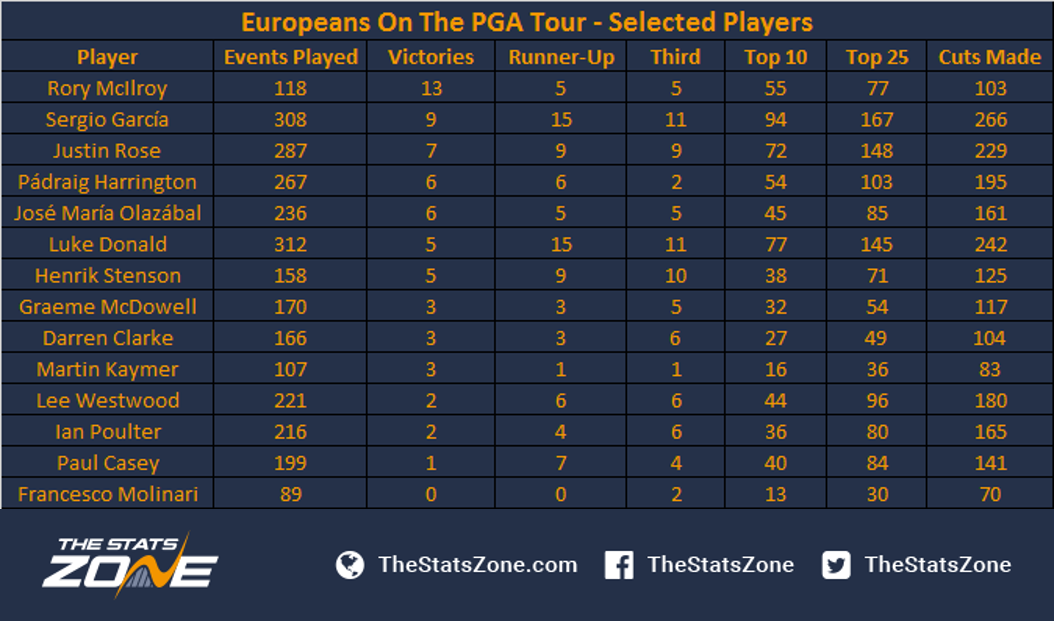 McIlroy dominates total victories with 13, four greater than second best Garcia who has played the tour for eight more years. Although a somewhat smaller number of runner-up and third place finishes achieved, it simply exhibits McIlroy's ability to close out when in contention. Garcia and Donald have the joint highest second (15) and third (11) place finishes, totalling 52 between them but have only yielded 14 victories, just one more than McIlroy's total individually. Remarkably, Casey has only registered one victory from his 199 starts, which perhaps explains his inability to win again during the 2016 FedEx playoffs when regularly in contention. With seven runner-up placings - fifth highest – as well as being a previous world number three, the difficulty to win on the PGA Tour is to a certain degree more demanding than in Europe. This is further justified through Westwood's record, who has consistently been one of the world's best players for the past decade but has only managed two victories and six runner-up's, a rather smaller number than many would expect.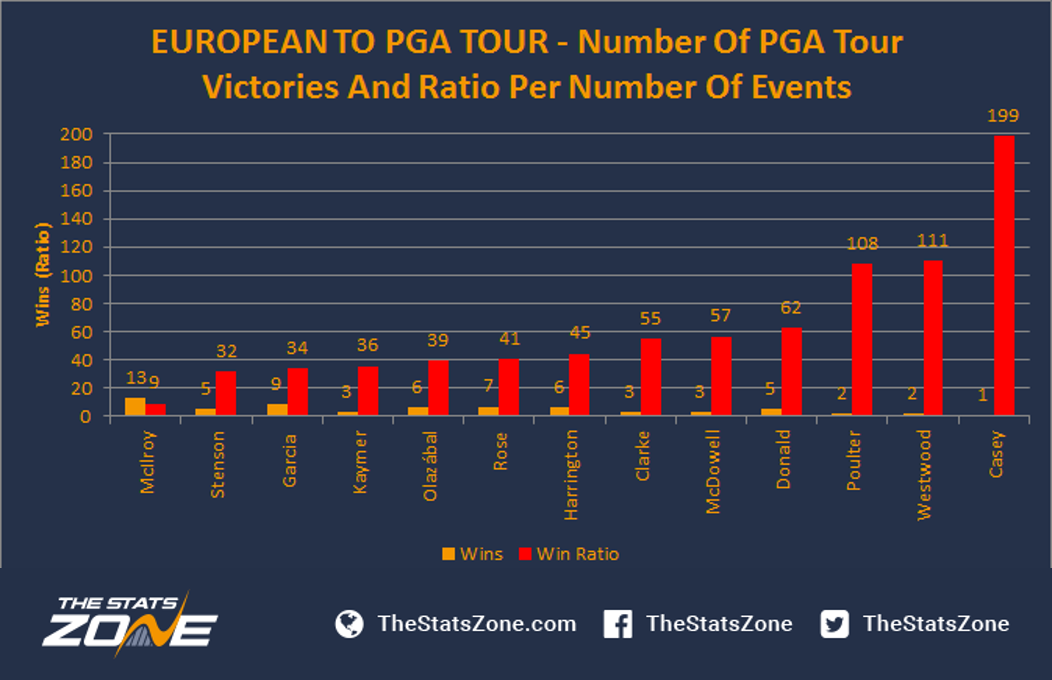 McIlroy's winning aptitude is all the more impressive when comparing wins to number of events played. Staggeringly, he has won a PGA Tour sanctioned event once in every nine played. Stenson (32), Garcia (34) and Kaymer (36) all follow with strong records but are considerably higher than Rory's. Unfortunately, Poulter's Ryder Cup exploits have not transferred to his PGA Tour events, having the third lowest of one win in every 108 tournaments entered.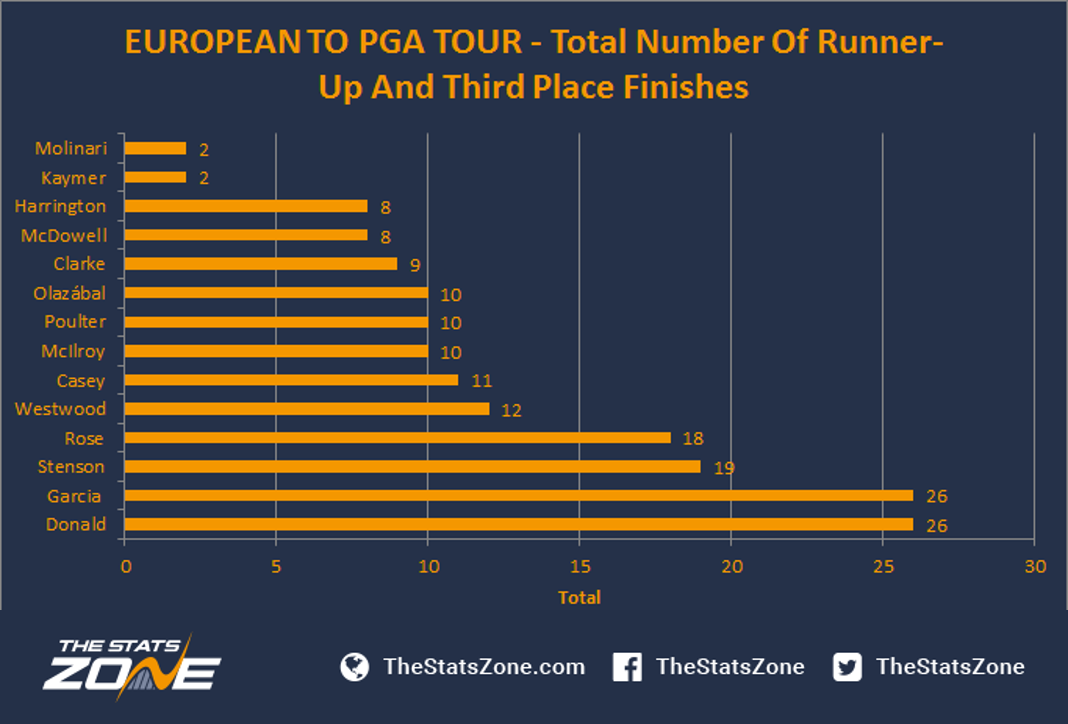 Kaymer, who has the fourth highest win to starts ratio, has the joint lowest runner-up and third place finishes, representing his capability to close-out when in contention. Furthermore, both Harrington and McDowell have struggled to place themselves into contention on the PGA Tour regularly. Moreover, Westwood (12) and Casey (11) have the fifth and sixth highest total respectively, demonstrating their incapacity to win more when in contention. On the other hand, they have also been two of the most consistent players in world golf over the past decade. Rose, Stenson and Garcia make up three of the top four and are all renowned as three of the best ball strikers in world golf - perhaps this suggests the type of golf that is typically necessary for success around PGA Tour golf courses.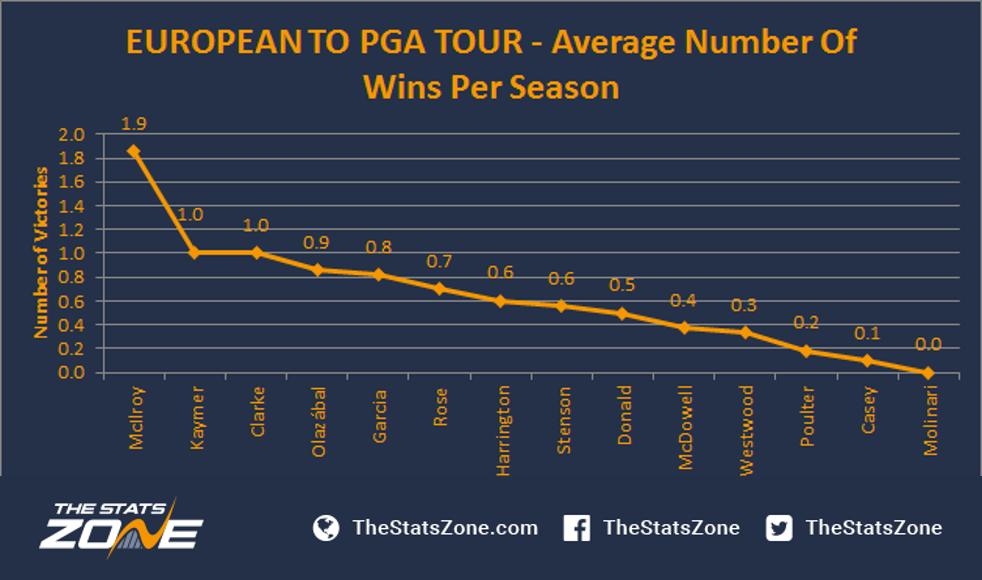 Evaluating the statistics of Europe's best has identified the difficultly of winning on the PGA Tour. For those such as Westwood and Harrington who have been on tour for 20 years, the struggle to consistently win over a longer period is even more demanding. Both Kaymer and Clarke have averaged one win per season with McIlroy recording a staggering 1.9 victories per season. However, the remaining names all average less than one a season, showing that winning alone is challenging but winning multiple events a year is only possessed by a select few in the game. McIlroy's standing in golf is not only great for European players, but outstanding internationally and could see him become one of the greatest players ever by the time he retires.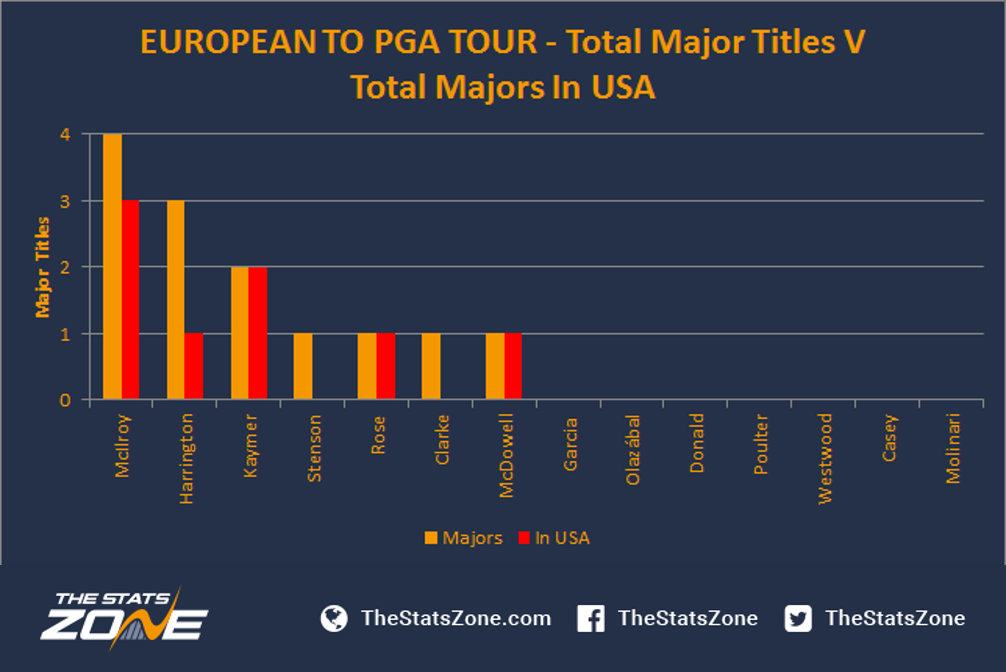 Of the 13 majors won by the European players, eight have been won in the USA; considering only one of the four majors is played outside of America, the struggle to win in the US for European golfers is exemplified.
Summary
The transition from the European to the PGA Tour is the natural process for a player who regularly contends in Europe and is advanced in the world rankings. The PGA Tour represents the leading circuit in golf, with consistently greater purses per event, stronger fields and extra world ranking points available. Nevertheless, the transition for even the world's best golfers is still testing as Europeans have rarely succeeded on a scale that many other international players have. With consistently big crowds even in the smaller events, a higher calibre of fields and long, challenging golf courses every week awaiting the players, the ease of contending is much more demanding than in Europe. Consequently, success in Europe has little correlation on the PGA Tour and with different climates and challenges to face, it is suggested that the skills required on the European Tour differ in many respects to the PGA Tour. Very few have transitioned successfully and unless a player possesses an all-round game of the highest level, taking their game across the Atlantic could prove to be the wrong decision.