After last season's remarkable Premier League triumph by Leicester, many reporters asked Claudio Ranieri how many players he intended to keep. In his charismatic Italian style, he replied "All of them". Several rumours circulated but as we approached the end of August, it was clear that the reigning champions had done well. Not only did they manage to keep two of their star players in Jamie Vardy and Riyad Mahrez, in fact the champions managed to keep every regular starter. Every regular starter that is, barring a certain N'Golo Kanté who departed for Chelsea. Since then, the story for Leicester has turned somewhat sour, reaching absolute rock bottom when the Italian manager surprisingly got fired from the club nine months after winning the title. Poor league performance and risk of facing relegation stood as the main reason for the sacking, whilst there have also been rumours of dressing room revolt (last night's emphatic 3-1 victory over Liverpool in their first game without Ranieri has done little to quash those claims). However, over the course of the season, there is no doubt that the presence of French international Kanté has been described as one of the main reasons behind Leicester's significant drop.
Leicester haven't looked anywhere near the same outfit in Kanté's absence, which is evident from the team's performance statistics with number of tackles and interceptions per game dropping from 22 to 16 and 19 to 14 respectively. Furthermore, Chelsea manager Antonio Conte has heaped praise on Kanté, saying that he is a complete box-to-box midfielder who balances his team perfectly, demonstrating a great judgement of when to defend and when to use his stamina and charge forward. With this in mind, we wanted to look at Kanté's on-field statistics this season compared to the last two seasons. Is his performance level higher now and how big is his impact in Chelsea's success so far this season? The data will give us some answers.
The data below consists of Kanté's performance in domestic league action for the last three seasons – 2014/15 with Caen, 2015/16 with Leicester and 2016/17 (so far) with Chelsea. The graphs consist of bar/line graphs that are occasionally combined into one visualisation. When this is the case, we have labelled titles and axes appropriately.
Let's firstly look at his distribution across the past three seasons: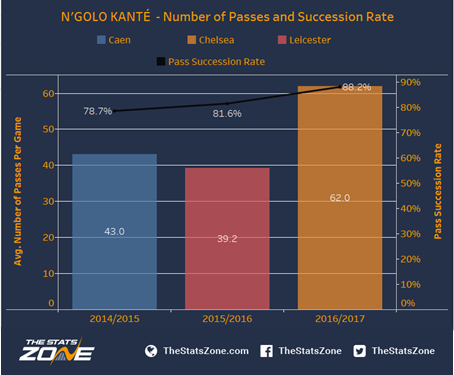 The graph above shows an astonishing trend for Kanté increasing his average number of passes at Leicester last season from 39.2 to a remarkable 62.0 at Chelsea so far this season. This comparison is also significantly higher compared to his time at Caen, where he managed an average of 43.0 passes per game. Kanté's pass succession rate at 88.2% so far this season is also the highest out of the last three seasons. With this in mind, it is clear that Kanté is seeing considerably more of the ball in a Chelsea shirt than he has done previously, and his distribution has improved as a result.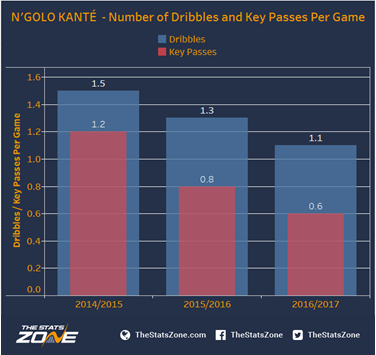 When looking at his average number of dribbles and key passes however, we see the opposite development with a decreasing trend. This is potentially down to the fact that at Chelsea, Kanté is surrounded by flair players such as Hazard, Fabregas and Pedro, who are more likely to be the creative force in the team in taking on more dribbles and attempting more key passes. This has likely allowed Kanté' to focus solely on his tireless defensive endeavours this season, as he can trust his attacking teammates to come up with the goods in the final third. Looking further, are there any other measures where the French midfielder shows a significantly different performance from season-to-season?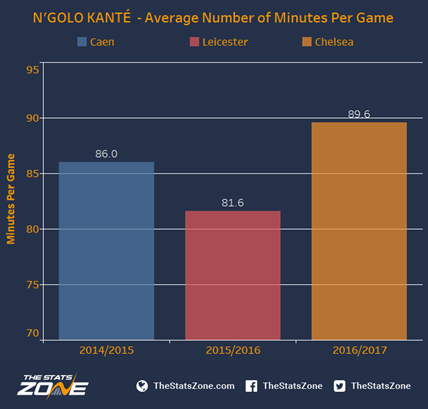 Kanté's average number of minutes per game this year sits at 89.6, significantly higher than last season with Leicester at 81.6, and also above his average with Caen in 2014/15 at 86.0. Again this proves how integral the midfielder is to Conte's plans, and how crucial he is to balancing the midfield at Chelsea. Looking into the raw data, we can see that Kanté has only missed one game so far this season, the Boxing Day fixtures against Bournemouth when he was suspended. Also, he has only been subbed off once this season, in the 2-0 loss against Tottenham at the end of the game, where Chelsea were sending more attacking options on the pitch.
Let's delve deeper into his defensive statistics: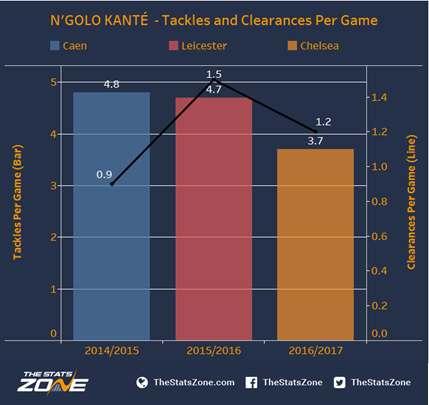 We can see that Kanté provided significantly more tackles per game at Caen (4.8) and at Leicester (4.7) compared to his performance so far at Chelsea (3.7). The number of clearances last season at 1.5 is also the highest, followed by this season at Chelsea with 1.2 clearances per game. Leicester fans will not be surprised to see his impressive numbers from last year, and we suggest there are a number of reasons why this has dipped this season. Firstly, Chelsea see far more of the ball compared to the Foxes last year, meaning less time is spent defending in each match. Secondly, when Conte's men are on the back foot, the burden of responsibility is perhaps more evenly shared between a higher number of players compared to Kanté's previous two clubs. Nemanja Matić, for example, is a defensive-minded midfielder himself and certainly takes some of the onus away from Kanté when the pair have lined up together in central midfield this term.
Let's now take a look at some attacking statistics: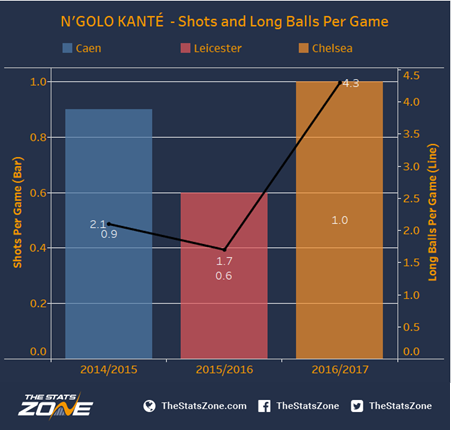 The attacking numbers look a bit brighter this season with Kanté shooting on average 1.0 shots a game. This is 0.1 higher than his time at Caen (0.9) and 0.4 higher than at Leicester last season. The average number of long balls this season at 4.3 is more than twice as many compared to last season, and 1.8 higher than his time with Caen at 2.1. Tying this back to the distribution statistics, it is impressive to see that his pass completion rate is highest at Chelsea despite his tendency to play a greater number of long balls.
We now look at Kanté's performance ratings (taken from Whoscored) and Man-of-the-Match (MOTM) awards: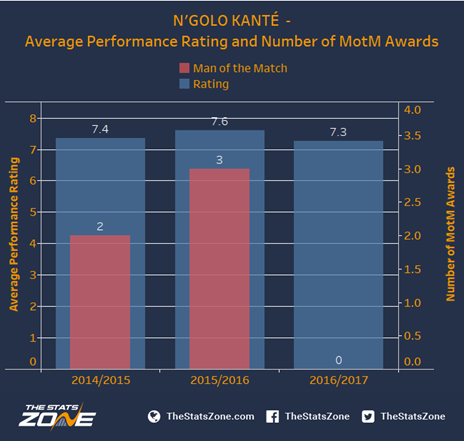 Here we can see that Kanté has had a fairly consistent performance rating from season-to-season with a slight peak last season at 7.6. When looking at Man-of-the-Match (MOTM) awards, we can see that he was awarded this three times last season and two the season before, whilst he has so far not been awarded one this season. Whilst it is a little surprising that he hasn't been recognised in this respect in a Chelsea shirt, it is less so when you consider the form or Diego Costa and (to a lesser extent) Eden Hazard, who often receive the plaudits for their frequent goal and assists. Of course, there are still twelve matches remaining in the current campaign so there is plenty of time for Kanté to pick up a MOTM award at Chelsea.
The next graph displays the number of unsuccessful touches and fouls per game: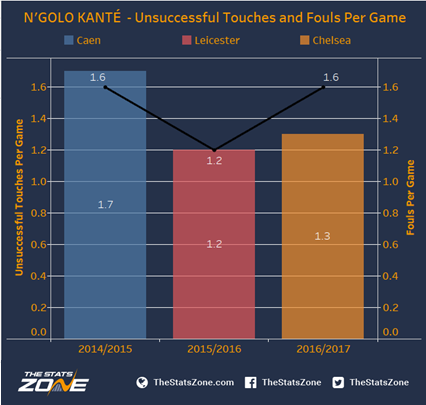 In terms of unsuccessful touches, Kanté sits at 1.3 this season, which is just above his lowest average at Leicester last season at 1.2. Comparing this measure to his time in Caen, we can see the trend has been for Kanté to really improve in this element of the game. The average number of fouls per game so far this season at 1.6 is in-line with his time at Caen but below last season's performance at 1.2.
What about goals and assists?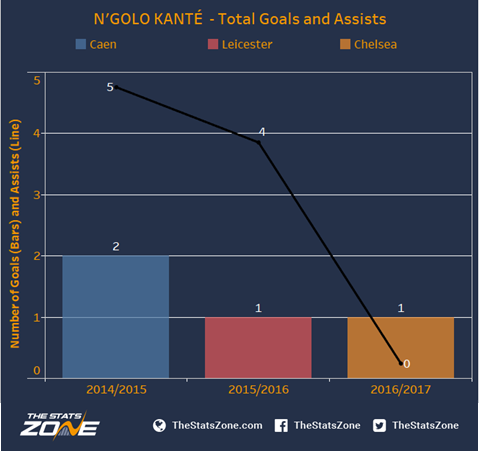 Kanté scored two goals and provided five assists while playing at Caen, which is his best performance to date. The lowest score so far is this season as he has only scored one goal and had no assists in the league. Yet again, this could be attributed to the skill set of the other players on his team when compared with his role at Leicester and Caen. As goals and assists are not a key aspect of the Frenchman's game, we shouldn't read a great deal into this.
So what is the difference between Leicester last season and Chelsea this year?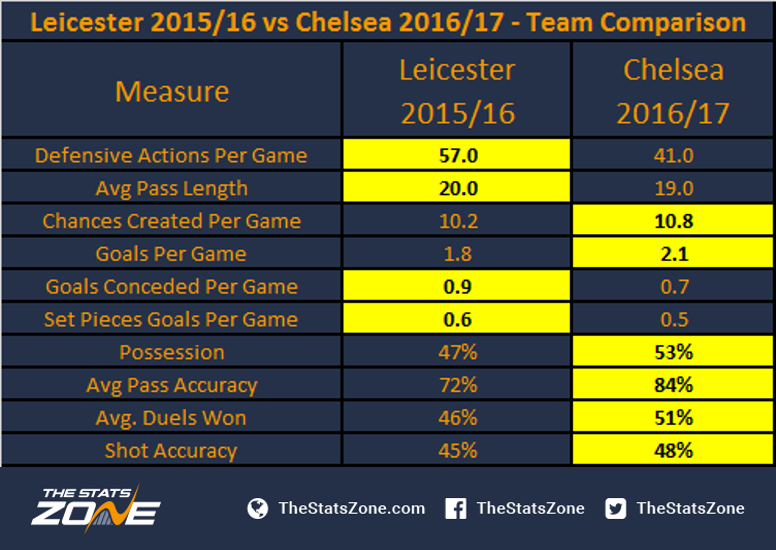 The table shows that Leicester had significantly more defensive actions per game which would partly explain the significant fall in tackles and clearances from Kanté this season. On the flip side, when we look at chances created Chelsea are superior to Leicester, which helps explain why Kanté is taking more shots this season. Finally, before we move on we can see that the average pass accuracy is significantly higher for Chelsea compared to Leicester. Without reading too much into this, it could be that the French international's improved performance in this area could be linked to the overall superior passing and movement of his current teammates.
In this analysis, we have looked at N'Golo Kanté and how he has developed throughout the last three years. It is definitely clear that Kanté is playing a significant role in the team at Chelsea. This is most evident when looking at his average number of minutes played and the fact that he only missed one Premier League game so far this season (and has only been subbed off once). In terms of statistics, we can see that he performed better across some measures last season than this season and vice versa. When looking at the team statistics, it becomes clear that Leicester were a different outfit compared to Chelsea this season. This suggests that Kanté has changed his role and style of play, and not necessarily that he is a more outstanding player this year. However, the ability to change and fit into a new style of play is a very tough thing to do for a professional footballer and perhaps one of the reasons why Antonio Conte rates his midfielder so highly. If Kanté and Chelsea can keep up the same pace, it is very likely that the Frenchman will win his second consecutive Premier League title and fulfil the dream of playing in the Champions League next season.