We've looked at every Premier League line-up in 2016/17 to see how often each club made changes to their starting eleven. Here are the results: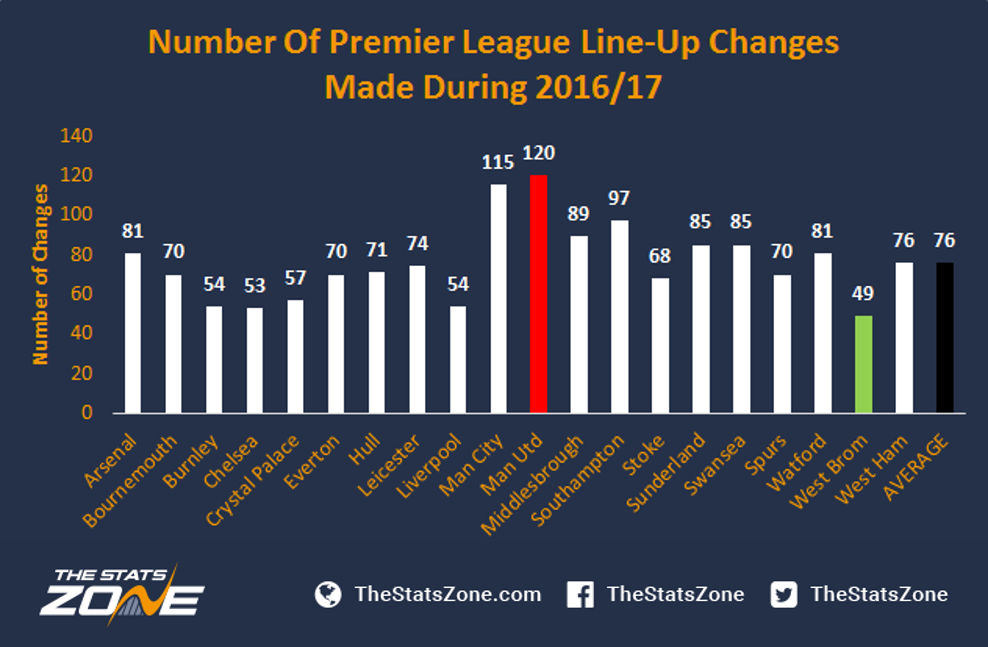 Manchester United made the most changes in the Premier League (120), just ahead of their cross-town rivals, Manchester City (115). They are the only clubs to have made over 100 changes during the course of the season and both averaged over three changes per Premier League match.
West Brom had the most settled line-up over the course of the season, with Tony Pulis making just 49 alterations to his starting eleven. Chelsea (53), Burnley (54) and Liverpool (54) were not far behind.
The average number of changes made amongst all Premier League teams was 76 (2 changes per game).
The average number of changes made amongst teams who played in either the Champions League or Europa League (not including West Ham who did not reach the group stage) was 93 (2.4 changes per game).
It should be noted that Chelsea made 15 line-up changes in their last two matches (after they secured the title). Therefore, their total does not accurately reflect how settled their line-up was through the majority of the season.
Antonio Conte did not make more than two changes to Chelsea's starting eleven until their 33rd Premier League match, and at one point he fielded the same line-up for five consecutive matches.