With game one of this year's State of Origin going the way of the Queenslanders after a tight affair at ANZ Stadium, it looks like a tough ask for New South Wales to bounce back and win the series. It's simple saying this, but what do the numbers say? TSZ investigates, starting with a look at the history of where game 2 will be played, Suncorp Stadium in Brisbane.
Fortress Suncorp
Returning to the scene of last season's demolition job is going to be tough for New South Wales to handle. With the series tied at one apiece, the Blues headed to Suncorp hopeful of winning back-to-back series for the first time since they won three in a row from 2003 to 2005. However, the Maroons were rampant and produced a stunning display to win 52-6, the biggest winning margin by either side in State of Origin history. In fact, this stadium has been host to Queensland's three other largest winning margins (36-6 twice in 1989 and 2003 and 30-0 in 2008).
Previously referred to as Lang Park before sponsorship saw it renamed in 1994, Suncorp is the spiritual home of Queensland Rugby League and the Maroons' record at this venue speaks for itself.
Queensland have a great record at Suncorp, claiming 32 of the 51 games at the venue since 1980. With a win percentage of just 35.29% for New South Wales, the task facing the Blues becomes evident, especially when just looking at the history of game 2 at Suncorp with New South Wales only winning two of 10 contests there, a win rate of just 20%.
If this wasn't bad enough, New South Wales' recent record at Suncorp is even worse (something we'll look at later in the piece). As well as this, Queensland know last year's hammering must have been very difficult to take for their rivals and they are not afraid to remind them of it!
The Importance of Game 1
In a three-game series, it's always going to be difficult for the team who loses the first game to win the series, if not just because of the small margin of error left to work with. Do the numbers support this?

As the graphic above shows, it is a comprehensive yes. In the 34 three-game State of Origins played since 1982, the team winning the first game has gone on to win the series on 26 occasions (76%). Of the eight occasions where the team losing the first game has gone on to win the series, New South Wales have only managed two of those in 1994 and 2005.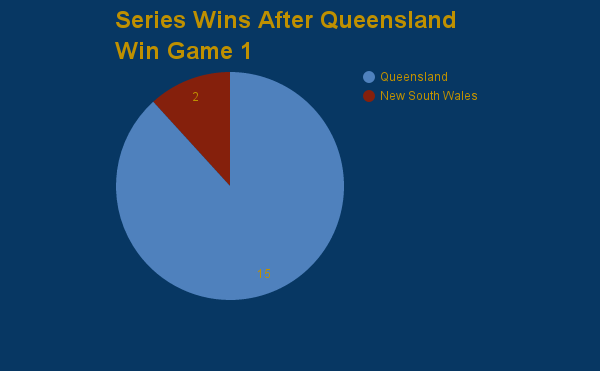 Those two occasions make even worse reading when looking at how many times Queensland have won game 1. They've done that 17 times (19 if including the two wins in 1980 and 1981 when State of Origin was only a one game series). Of those 17 game 1 wins, Queensland have been able to see the series out 15 times (88%).
Queensland's Recent Dominance
The challenge facing New South Wales becomes all the more daunting the further you look into it, especially if isolating the last 10 years of Origin in which the Maroons have enjoyed the most dominant period ever recorded.
Eight series wins in a row is something that may never be beaten. It was a truly remarkable achievement, especially when New South Wales have only ever managed to win three on the bounce. Queensland's dominance now sees them looking for their 10th series win in 11 years as they look to continue the most impressive phase in Origin history.
In the previous 10 years when looking at margins of victory, Queensland's points differential is a staggering 173. The only time New South Wales came out on top in the margins was in 2007 when they were just three points better off over the course of the series. Even their sole win in 2014 saw Queensland 18 points better off than their rivals.
During this Queensland supremacy, Suncorp has played a big part in their success.
Queensland have won 10 of 13 games at Suncorp in the last 10 years (76.92%). Two of those wins for New South Wales came in dead rubbers (Queensland also won one in a dead rubber) and taking those into account, the Blues have won just a single game of 10 that played some importance in the outcome of the series (10%).
Game 2 provides another battle for the Blues too. They haven't won at Suncorp in the previous 10 years in game 2 (out of four attempts). In fact, you have to go back to 2000 to find the last time New South Wales won an Origin match at Suncorp in game 2.
A glimmer of hope for New South Wales?
Okay, so it looks pretty grim for New South Wales - there's a lot that goes against them winning the series from this position. However, we've managed to find a little bit of hope for the Blues to cling on to!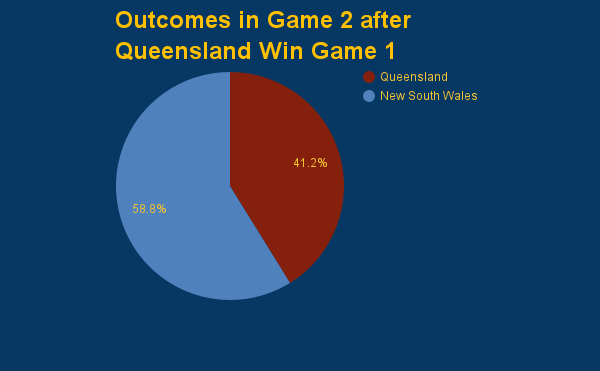 It isn't too much to go on when you look at the overwhelming evidence to back up a Queensland series win from this position. However, New South Wales have historically responded well to going behind in the series, at least immediately. They have won game 2 10 times after losing game 1 (59%).
If they can manage to increase this number with a series-levelling win in game 2, they give themselves a chance heading into game 3 at ANZ Stadium. To do it, they will have to be at their very best and lay the ghosts of the last 10 years to bed in what is sure to be an intimidating atmosphere at Suncorp.