Whether it is an elegant cover drive off the front foot or a huge slog down to cow corner, cricket fans worldwide love to watch the runs flowing. Back in August this year, England recorded the highest ever ODI innings total on their way to defeating Pakistan in Nottingham, and with records tumbling in this format of the game for some time now, TSZ asks - has 50-over international cricket become heavily stacked in favour of batsman?

The top five highest ODI innings total have all occurred in the last 10 years, including three innings that have occurred since the beginning of 2015. Sri Lanka's impressive total in 2006 was against the Netherlands; an associate nation who's world ranking was significantly lower than their victors.

A similar trend exists amongst the highest ODI individual totals, with two out of the five totals occurring just last year, and all of the scores occurring in the last five years.

Furthermore, the quickest landmark scores all occurred last year, including the record for 150 and 200 runs being smashed at the 2015 ICC World Cup. Notably the record for the quickest 50 and 100 runs was achieved in the same innings by AB de Villiers. With the majority of records and highest totals being broken in recent years, how have they changed over the years?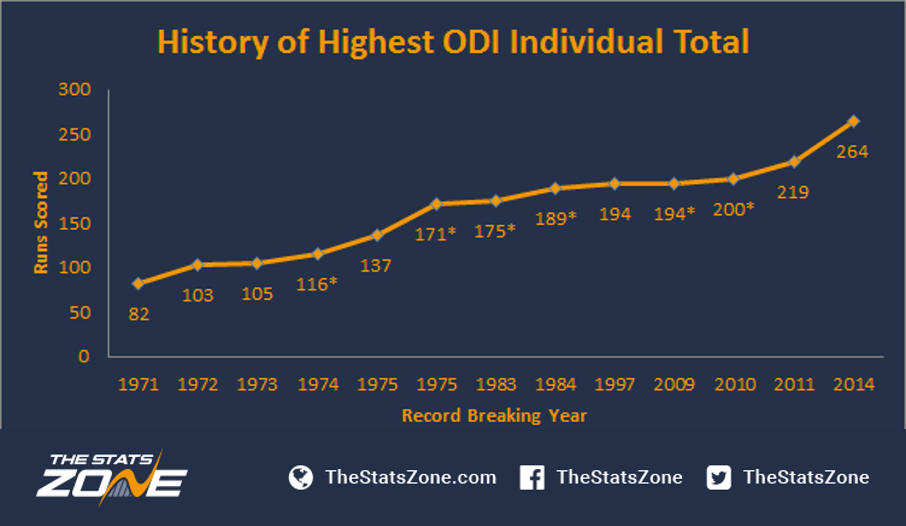 Despite the recent increase in record high individual scores, the actual record has only been beaten six times in the last 32 years. Interestingly, the first 100 scored in an ODI took place in 1972, yet it wasn't until 2010 that the first 200 was achieved.
So why are 50-over games producing such record breaking stats in recent years? In 2005, powerplay overs were first introduced, along with fielding restrictions. These rules were amended once more in 2012 so that during non-Powerplay overs, a maximum of four fielders can be placed outside the circle, instead of five. Bowlers were also restricted to using a maximum of two short pitched deliveries per over.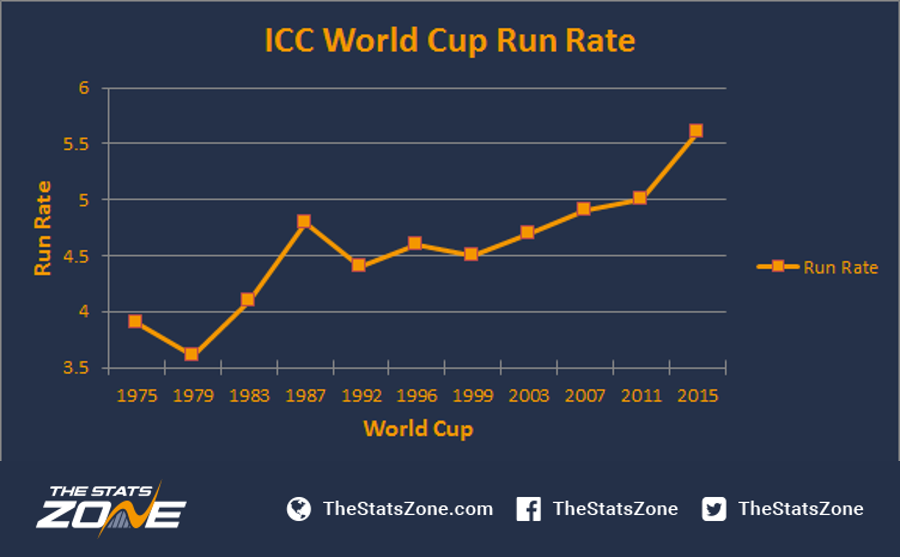 As these rule changes were enforced, the average run rate at each World Cup since has increased. This culminated in the 2015 World Cup setting the highest run rate by some distance. South African pace bowler Dale Steyn once said "It's always tough to be a bowler. All the rules are against us. We're starting to realise if bowlers can go for between eight runs and 10 an over in the last 10, you're actually doing a pretty good job."
2005 also saw the first Twenty20 international, an even shorter format of cricket that encourages expansive batting styles. No doubt the popularity of this format has influenced batsman throughout cricket, breeding a new innovative and aggressive batsman.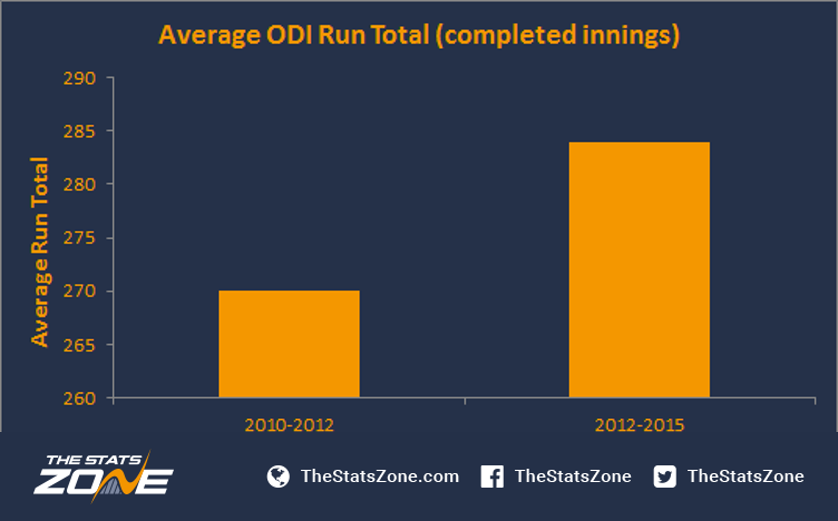 Across all ODIs, these rules changes in 2012 has seen an increase in average runs scored. However, these trends have not gone unnoticed, and in the wake of a record breaking 2015 World Cup, the ICC introduced further rule amendments. These changes were aimed to help the languishing bowlers by removing the batting powerplay and some of the fielding restrictions.

However, it appears that the batsmen are still coming out on top in some cases. It was prior to these most recent rules changes that England recorded the highest innings total. Not only that accomplishment, but England's ODI record since April 2015 has vastly increased.
The debate does not just involve rules weighted towards favouring batsman, but also the lack of restrictions on cricket bat size. Modern day bats are significantly bigger and stiffer than those found in previous years, resulting in easier boundaries and far more mistimed shots shooting away for runs. A report by the MCC in 2014 found that bat thickness had increased by 22mm, the size of the sweet spot was just over two times larger, and edge thickness increased by almost 300%. Yet despite these findings, no restrictions were bought in. In the wake of the recent run-fest in ODI cricket, there is a growing pressure to revisit the issue and further investigate bat size and enforce appropriate restrictions.
Like all sports, cricket is constantly evolving. Rule changes no matter how subtle have been shown to have significant effects on the outcome of games. The rise of Twenty20 cricket has seen crowds flock to stadiums worldwide to witness gripping and entertaining matches. Cricket bats are almost unrecognisable from the ones used a decade ago. But these issues are not solely responsible for the recent record breaking in ODIs. Boundaries have become shorter in many grounds, making scoring easier. Far too often grounds offer incredibly flat pitches, making effective bowling a tough ordeal. Finally, protective equipment has also changed drastically over the years, becoming more robust; encouraging batters to go after bowlers they once feared. But despite the runs flowing in the majority of ODI matches, have these issues changed cricket for the better? The jury is still out on that.