Hammersmith's George Grove faces Hove's Chris Eubank Jr. in the semi-final of the World Boxing Super Series at super middleweight, with both fighters putting their respective world titles on the line. It means another great all-British showdown at Manchester Arena on the 17th of February between two boxers that fans would class as 'marmite'.
Throwing in his two cents, former super middleweight world champion and British boxing legend Carl Froch has stated that Groves has no chance of winning judging from his previous two bouts with the Londoner and previous sparring sessions with Eubank Jr.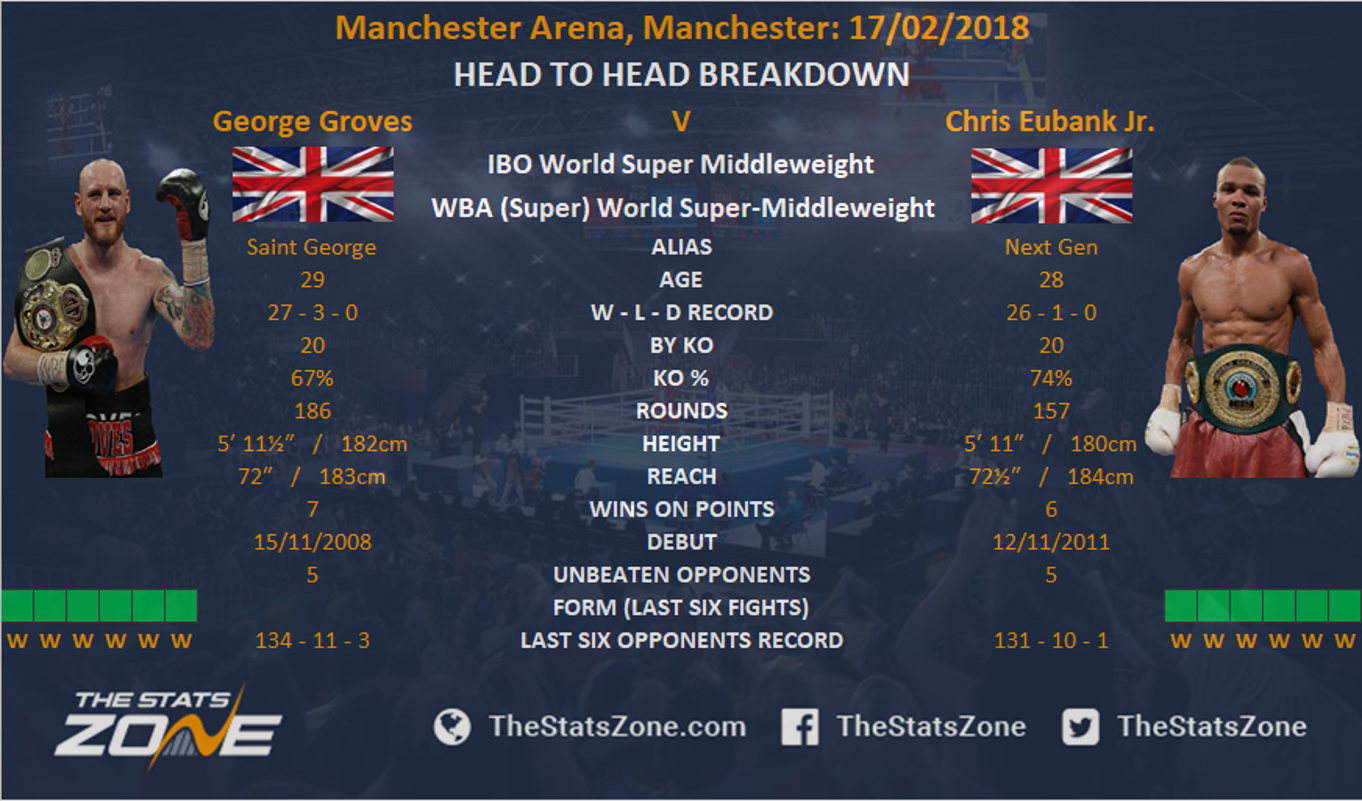 On paper, very little separates the two fighters in all categories aside from the fact that Groves' career has all been at super middleweight, whereas 'Next Gen' only stepped up from middleweight just three fights ago in order for him to compete in this World Boxing Super Series.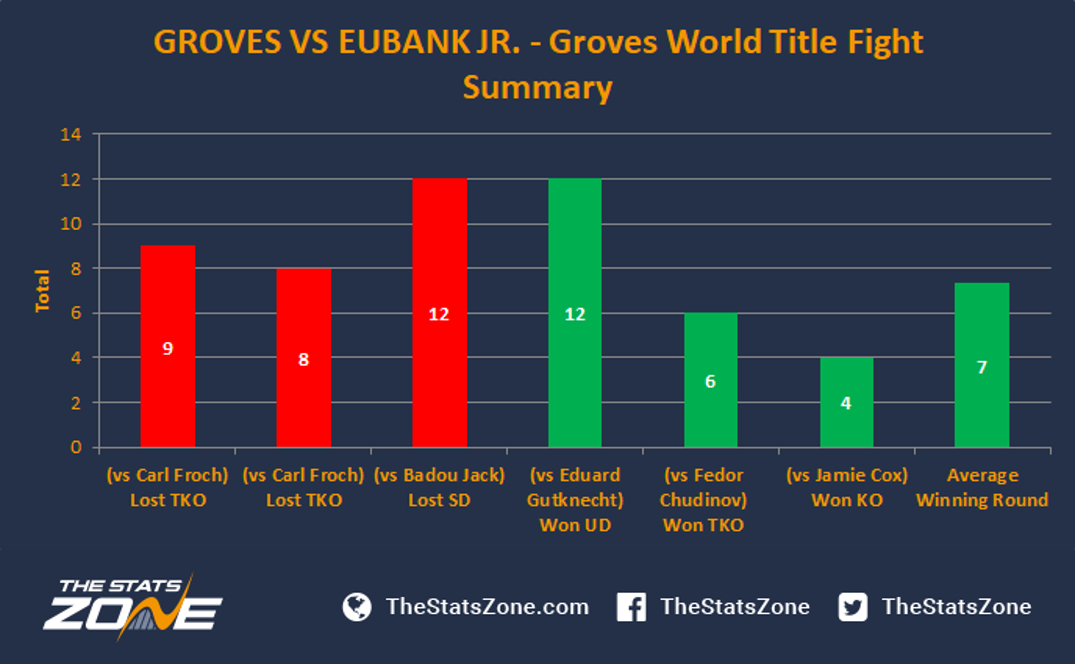 Groves won his first world title on his fourth attempt after losing twice in a row via TKO to Carl Froch and again to Badou Jack in America on a closely fought split-decision. However, since teaming up with new coach Shane McGuigan, he is on a six-fight winning streak, picking-up the WBA Super against Eduard Gutknecht and defending against Fedor Chudinov and Jamie Cox.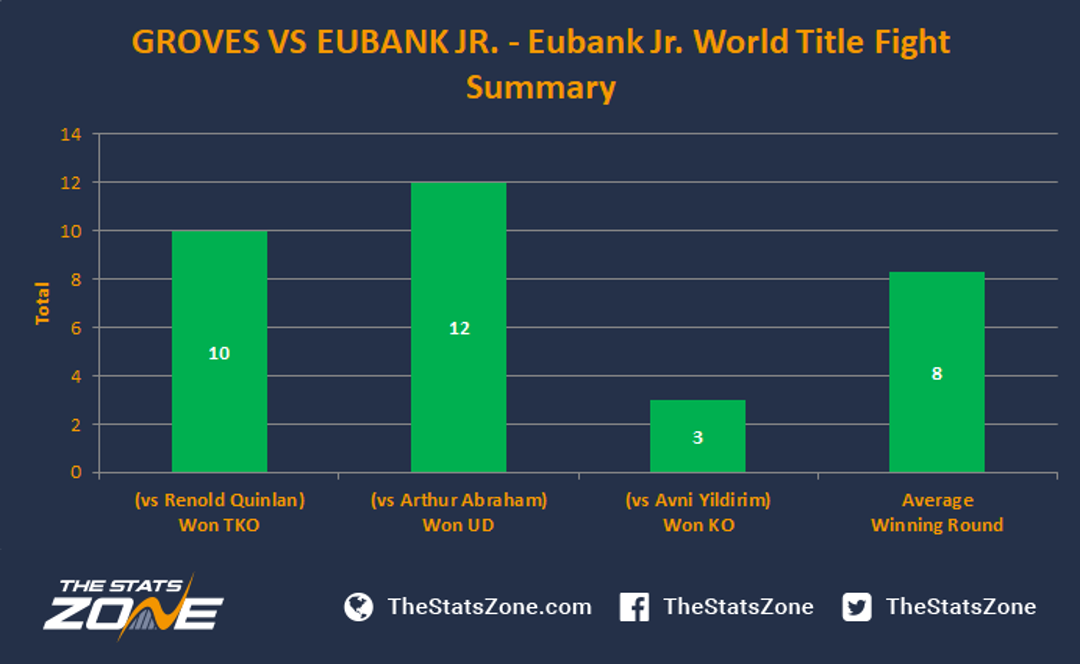 Eubank Jr.'s career thus far has taken a slightly abnormal path. Having won the interim WBA World Middleweight title, he then vacated to fight for the British Middleweight, which he won and defended once. From here he moved up in weight division and won the IBO crown in his next outing which was also his first world title fight. Surprisingly, this took 24 professional bouts which could and perhaps should have happened much sooner. Possibly the extra time fighting below world level could just work in his favour long term.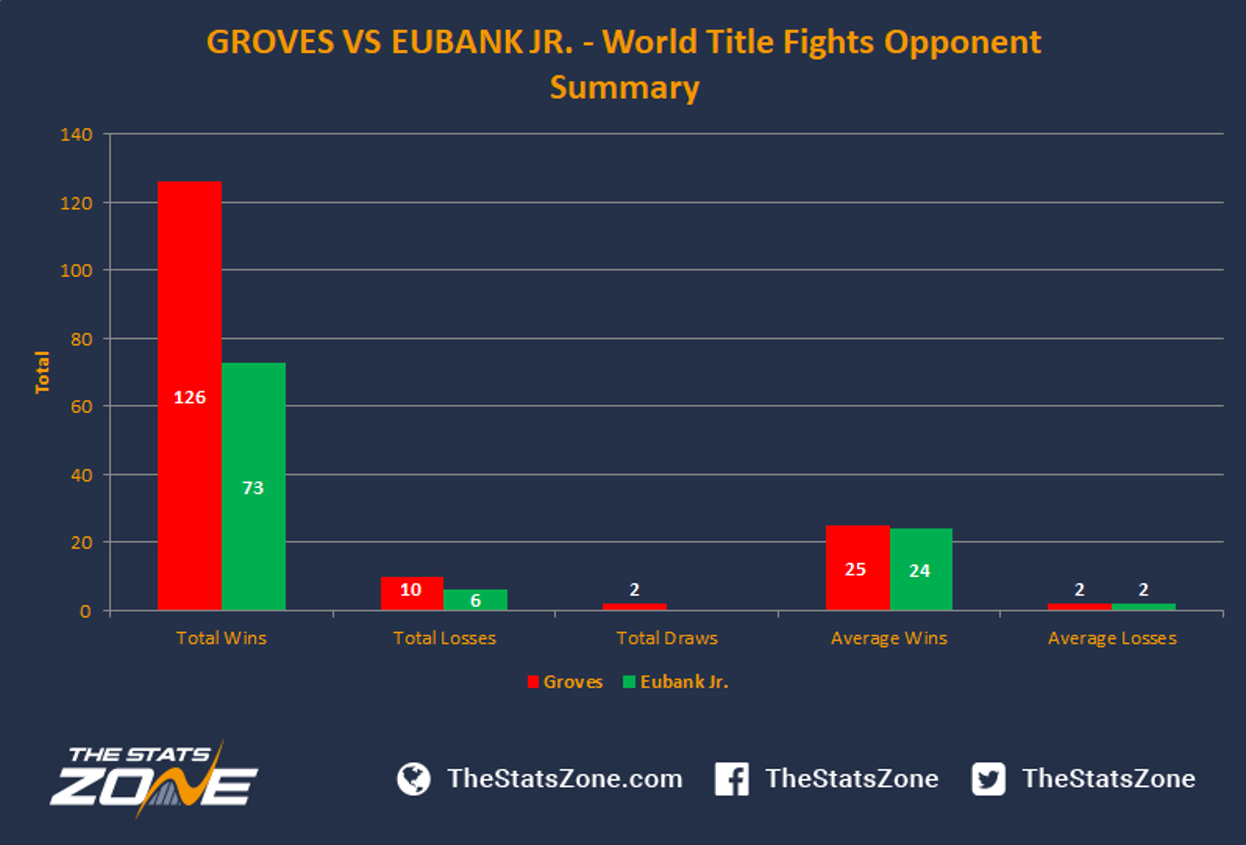 Groves' extra experience in world title fights against two of the very highest standard opponents have resulted in losses but this could provide him with the knowledge of how to alter his style throughout the rounds to outclass another world class opponent in Eubank Jr.
Nevertheless, on average there is little difference in the W-L-D record of their opponents with Eubank Jr. convincingly dismantling his opposition compared to Groves' defeats and perhaps less resounding victories.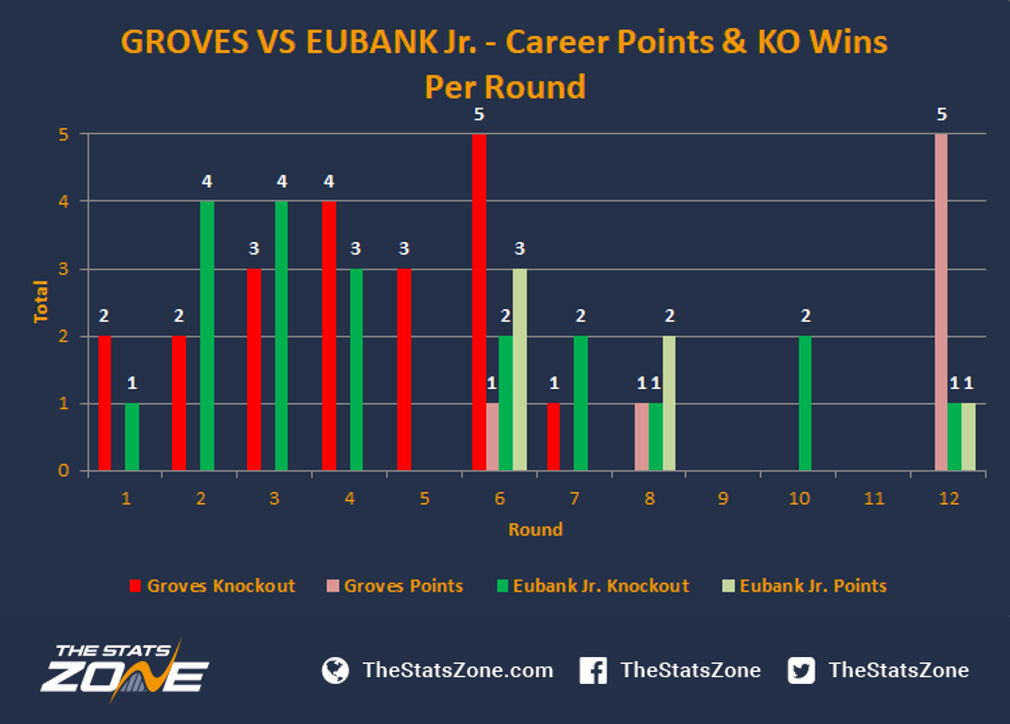 Both fighters have recorded 20 KO victories apiece but in very different manners. Significantly, Groves has never KO'd an opponent after round seven but has amassed 60% of his knockout's between rounds four and six, suggesting he calculates his opponents' style during the early rounds and either takes them out early or decides to take them through the rounds on points.
Eubank Jr. on the other hand, has recorded four KO wins after round seven – including one during the 12th – highlighting his well-known relentless and persistent style from round one to 12 which have marked him out as one of the fittest and most durable fighters in world boxing.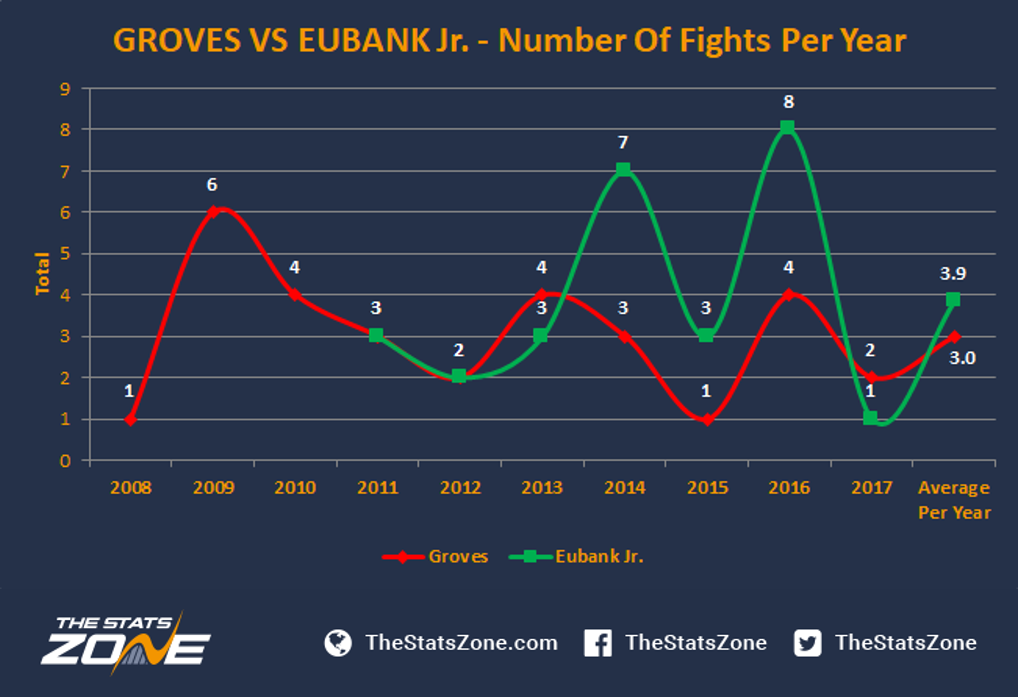 Eubank Jr. turned professional three years later than Groves but has been highly active during this period, averaging 3.9 fights per year compared to exactly three of Groves. Notably, he fought seven times during 2014 and eight in 2016, further highlighting the different approach he has taken during his career thus far while amassing 27 fights, just three less than his opponent.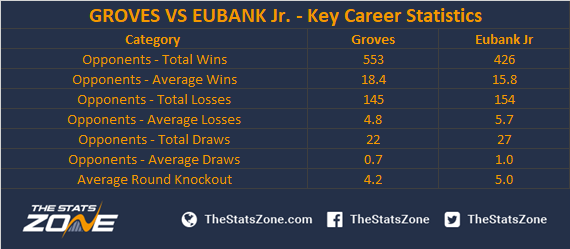 On average, Groves has faced slightly better opponents overall (18-5-1 compared to 16-6-1) and although he has suffered three career defeats, they have all come at the hands of world class opponents and perhaps on different days, he could have at least won one.
Eubank Jr. has only fought one opponent of genuine world class level in Billy Joe Saunders in which he suffered his only career defeat via split-decision.
This match-up could well be a boxing classic as on paper there is little to choose between the two fighters. 'Saint George' has faced the biggest opponents on the grandest stage and has that extra involvement of how to handle the situation. Then again, he also carries the mental scars that have perhaps driven him to rebuild his career so far but also serves as self-doubt during the toughest of situations. Alternatively, Eubank Jr. has consistently embarrassed opponents and looked brilliant in doing so but the standard of many challengers have rarely tested or taken him into deeper water.
Groves may just have the know-how to adapt to whatever Eubank Jr. throws – which will be unrelenting throughout the fight – while Eubank Jr.'s work-rate, speed and durability that he has proven from start to finish on many occasions could be too much for any super middleweight to handle. If Froch – feasibly the one individual who has the most worthy opinion is predicting 'Next Gen' – then it's enough to just edge our prediction in Eubank Jr's favour.