Recently we published an article on the funding that brought Olympic success to Team GB in the Rio Olympics, and with the Paralympics finishing last week with a triumphant Team GB second on the medal table, we thought we would look at the development of funding for para sport over the most recent Paralympic Games.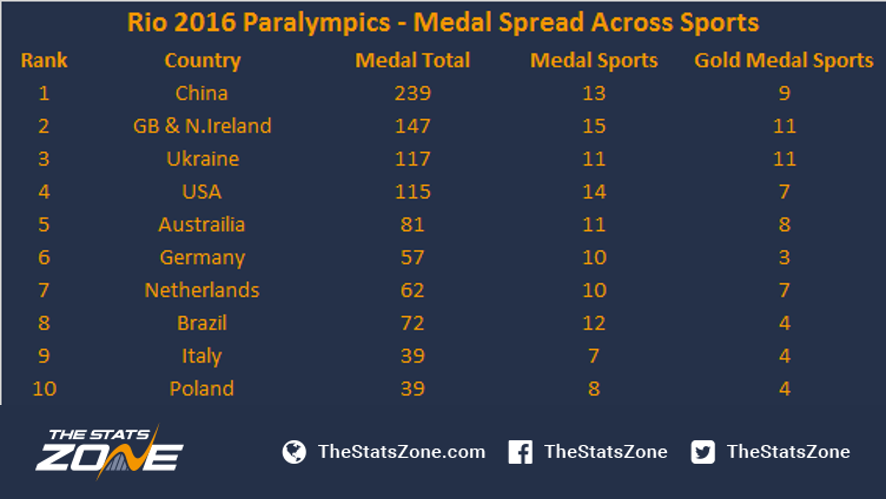 At this year's Rio Paralympics, China topped the medal table for the fourth consecutive Paralympic Games with Team GB in second. China's medal total was a significant 92 medals more than Team GB's, however Team GB impressively won medals in the most sports in Rio with 15 whereas China only medalled in 13 sports. Both China and Team GB didn't achieve a gold in four of their medalling sports with the Ukraine, who were third on the medal table, achieving a gold in all sports they medalled in.

Since Beijing in 2008, Team GB's total number of medals won has been on the rise, with targets being exceeding at each games. The number of sports they have medalled in has also increased by two sports every Paralympic Games since 2008. This year, Team GB almost doubled the number of gold medals won in London four years ago.
Throughout the Rio games so many athletes, whether they won a medal or not, thanked the National Lottery funding. Hannah Cockroft, gold medal winner in the Women's 100m, 400m and 800m T34 Finals in Rio, said that without the National Lottery funding, so many of the achievements wouldn't be possible. The importance of funding has a huge impact on the athletes and the increase in funding and increase in medals won can't be a coincidence.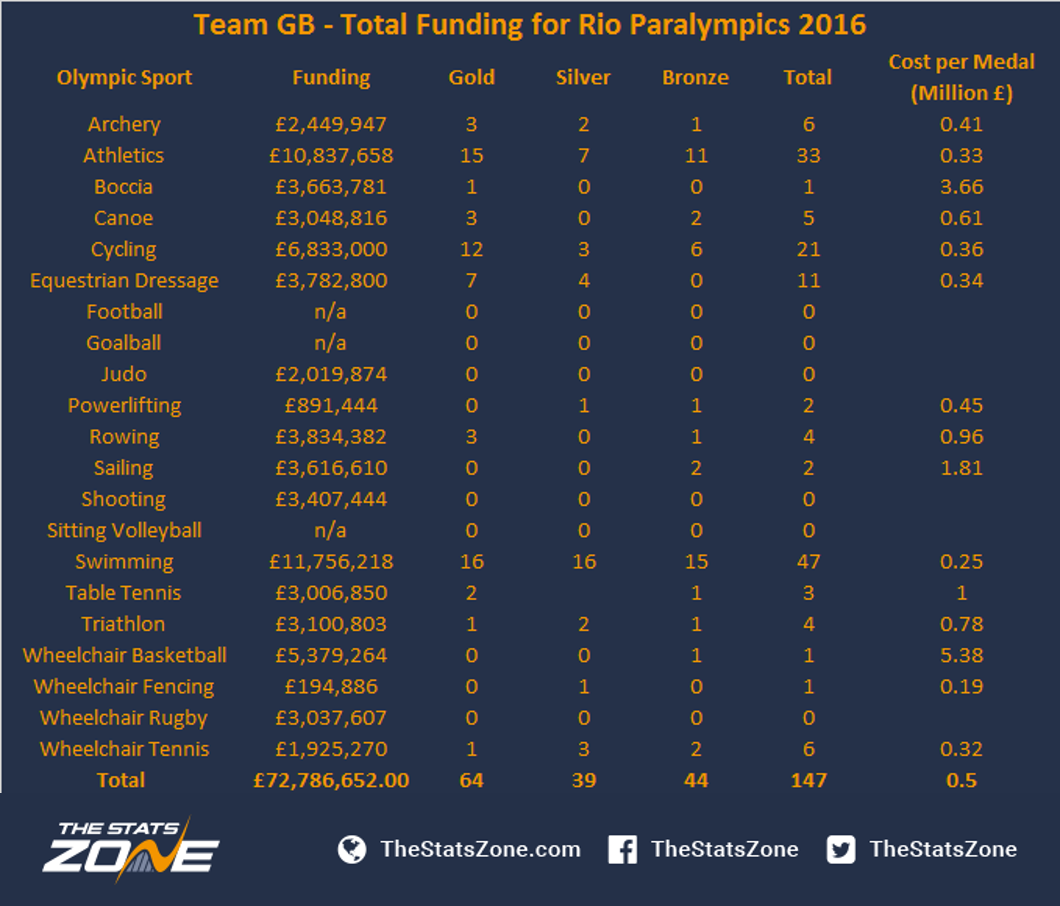 For Rio 2016, athletics and swimming received the most funding out of all Team GB Paralympic Sports, with £10,837,658 being given to athletics and £11,756,218 being given to swimming. Unsurprisingly, athletics and swimming saw the most success for Team GB in Rio.
Each Team GB medal won during the Rio Paralympics cost, on average, £0.5 million. The most expensive medal based on the funding received for that sport and the number of medals won was wheelchair basketball. Wheelchair basketball won a bronze in Rio which cost £5.38 million. Closely followed was boccia who received £3.66 million in funding and won one gold medal. The cheapest medals won were in wheelchair fencing, where one silver medal cost £0.19 million and in swimming where each medal cost £0.25 million as they won a staggering 47 medals in total. If you compare sports such as wheelchair basketball to swimming there is a huge difference to the cost of a medal, however only one team medal is up for grabs in the men's wheelchair basketball compared to a large number of individual medals available in swimming.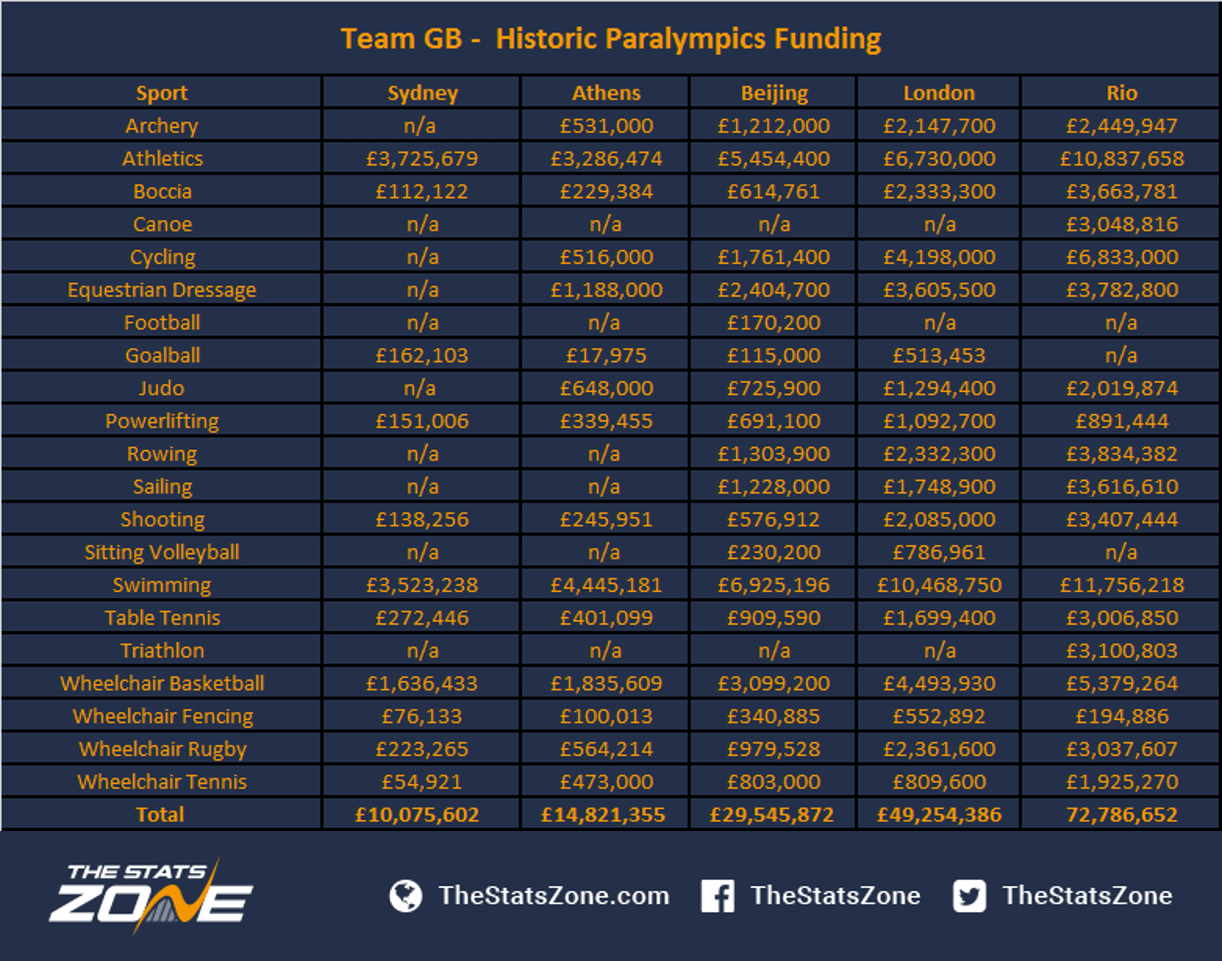 Looking right back to the Sydney Paralympic Games in 2000, Team GB's overall funding has significantly increased by £62,711,050. With this increase in funding, most sports have received more money over the years and the number of sports receiving funding has also increased. In Sydney 2000, Team GB only received funding for 11 out of the 18 Paralympic sports, this has increased to 19 out of 19 in Beijing 2008 and 18 out of 21 sports in Rio 2016. Consequently, with this increase in funding Team GB's medal totals has been on the rise.
Referring to the article we wrote on the funding that brought Olympic success to Team GB in the Rio Olympics, both Olympic and Paralympic Team GB sport has received an increase in funding from Beijing to Rio resulting in an increase in medals. However, the difference in funding between Olympic and Paralympic sport for Rio was £201,678,889. Although in the Olympics Team GB have more athletes and more sports to compete in, there is still a huge difference in the funding given, but with more support this gap can be bridged.
With the obvious trend of money to medals, continued funding and support is a must if Paralympic sport and Team GB are to continue their success into Tokyo 2020 and to inspire the next generation. In Paralympic sport success is more than just winning medals, it is about raising awareness of disabilities and finally starting to put disability sport on the map