As London passed on the Olympic baton to Rio, many questioned if Team GB could get anywhere near their impressive 2012 medal haul. However, as the dust now settles in Rio, Team GB return home with their heads held high, posting a record breaking medal total in the process.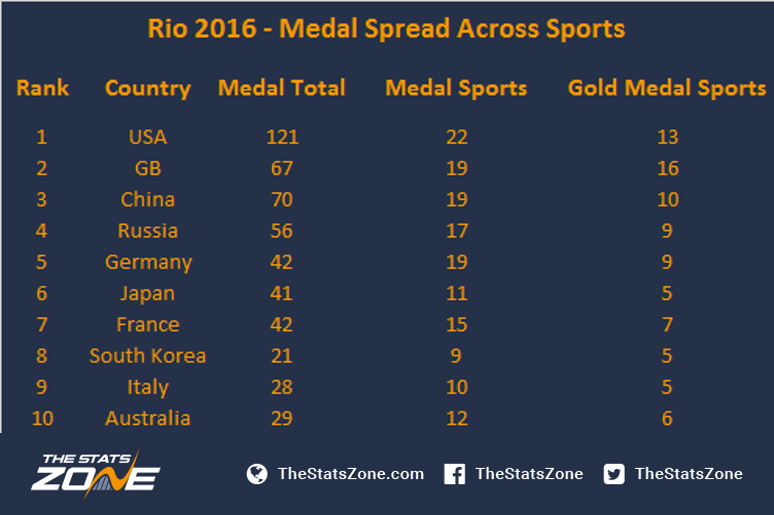 Looking at the top 10 countries from the medal table, it appears that the USA had the greatest spread, with 22 different sports making up their 121 total medals. Team GB, China and Germany are next with a total of 19 different sports spanning their respective overall medal hauls. Furthermore, Team GB boasts the most impressive spread amongst gold medals, with 16 out of their 19 successful sports yielding gold.

Between Beijing 2008 and London 2012, Team GB's medal total saw a significant rise in both gold medals and total medals achieved. Recent success in Rio has seen Team GB push on from their 2012 performance, marking the first time that any nation has recorded a greater medal total at the Olympics directly after being the host nation.
There is no coincidence that after Team GB recorded a solitary one gold medal during the Atlanta games in 1996, their fortunes would change. Increased funding has made a huge difference to the success of Team GB's athletes.
Each medal Team GB earned during Rio 2016 cost approximately £4.1 million. The most expensive medal was in hockey, where the ladies' triumph for gold cost a huge £16.1 million. The cheapest medals were in shooting, where two bronze medals cost approximately £2 million each, and in gymnastics, where a very successful Olympics saw each medal cost £2.1 million. However, despite the vast difference in cost between sports, it must be noted that in sports like hockey, there are only two medals on offer – men's team and women's team – compared to a sport like gymnastics where there are numerous events with far more individual competing athletes.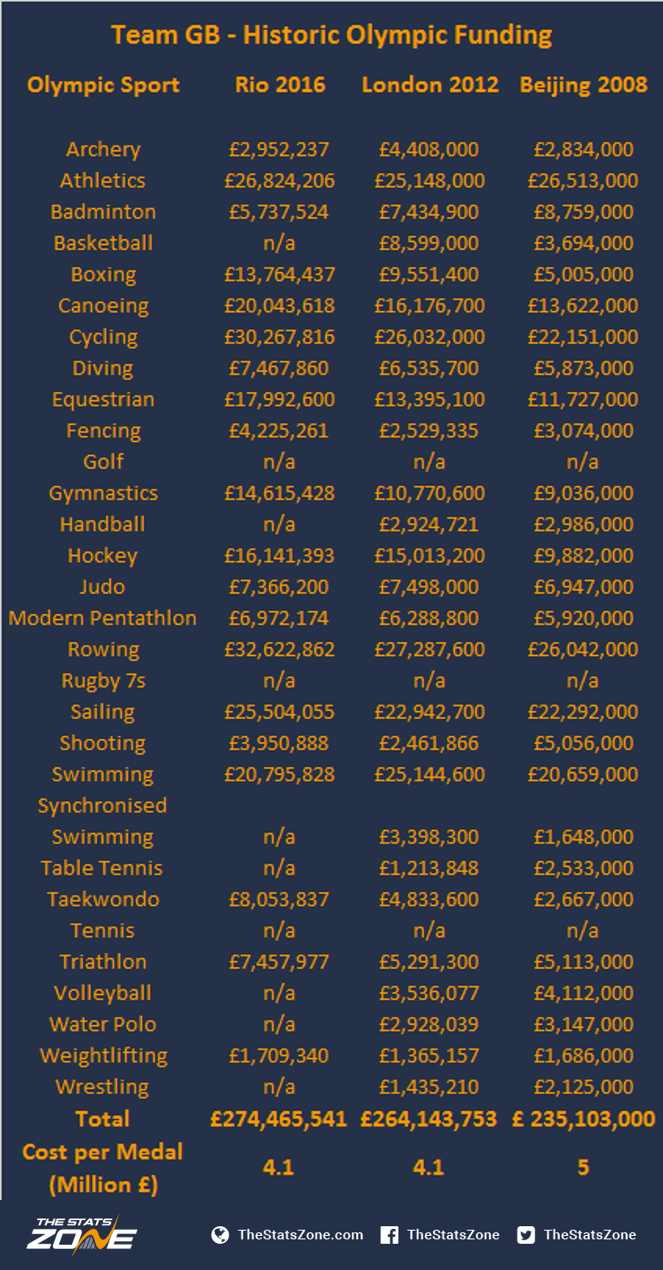 Although total spending has increased since Beijing 2008, the cost per medal during London 2012 and Rio 2016 has decreased. In terms of success, the real winners were Team GB's swimmers, who had their funding cut by £5 million since London 2012, yet performed significantly better. Diving and Gymnastics also saw significant increases in medal success despite increases in funding on par with other sports.
You only have to glance at the Rio 2016 medal table to see that the vast amount of money being filtered into these sports is clearly paying off. So, looking forward to Tokyo 2020 and beyond, appropriate funding will be vital in ensuring Team GB's continued success and to inspire the next generation of potential Olympians.