With the festive period drawing to a close, January becomes a big month in the Premier League calendar and not just for the teams. Fantasy football managers know this is a crucial period with the winter transfer window now open, not to mention the fact that the second wildcard is now available
Whilst the wildcard talk may be premature unless you're in desperate need to shake things up early in the window, there are other things to consider this month. With the African Cup of Nations on the horizon, some teams may have potentially big gaps that need filling.
We're going to look at gameweeks 20-23 to try and look at which teams have favourable January fixtures by looking at the Fixture Difficulty Ranking (FDR) as well as looking at those teams you may want to avoid in the coming month. However, there may be a couple of gems in good form that can still pick up fantasy points even if their team isn't doing so well. We'll also look at which players may be worth ditching to free up some funds whilst they're away on international duty.
By averaging out the next four fixtures for each Premier League side, we're left with the following FDR scores: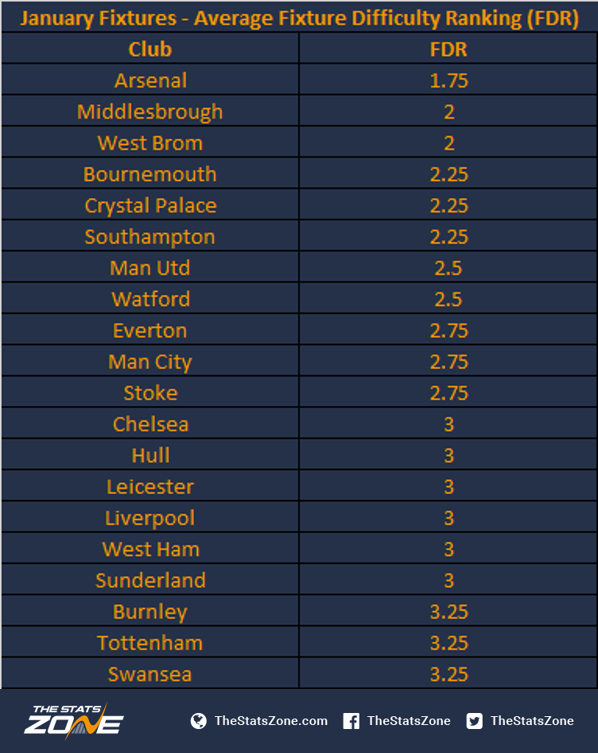 Favourable Fixtures
Arsenal have the 'easiest' set of fixtures according to FDR, with Middlesbrough and West Brom not too far behind.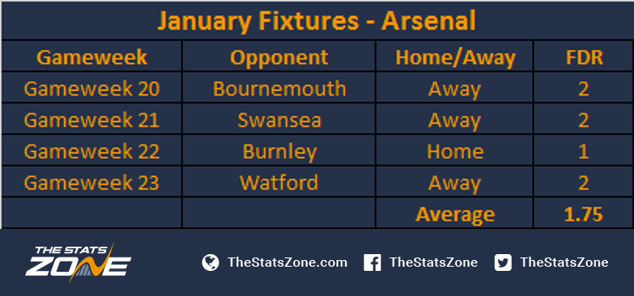 The Gunners have the lowest average FDR despite three away trips in these gameweeks. However, all games are very winnable with only the trip to Bournemouth looking like it could cause Arsenal problems. It looks as though Olivier Giroud (£8.5m) has managed to find his way back into the Arsenal starting XI and following his 'scorpion' kick against Crystal Palace, he might be a decent shout for a few goals in what could be a profitable spell for Arsenal. For those with cash to splash, it's hard to put anybody off Alexis Sánchez (£11.9m), who is currently the highest scoring midfielder on the game with 136 points. With Arsenal visiting struggling Swansea as well as a home fixture against Burnley, Hector Bellerín (£6.5m) could yield a couple of clean sheets as well as providing the potential for further points at the other end of the pitch too.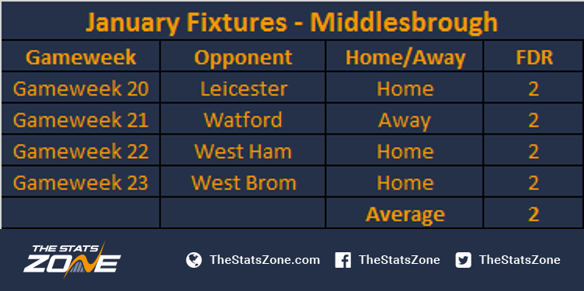 Middlesbrough have some favourable fixtures according to FDR with three home games helping their cause. On the face of it, there aren't too many 'Boro players who immediately jump out but with some games where they will fancy taking the game to their opponents, Álvaro Negredo (£6.4m) is a relatively budget option to plug a gap up front. He will fancy his chances of adding to his five goals this season in these games should he receive some better service. It's difficult to suggest who may be the one to provide that service with 'Boro having so many midfield options so it may be worth opting for defender Ben Gibson (£4.9m), who will hope to pick up some clean sheet points during January.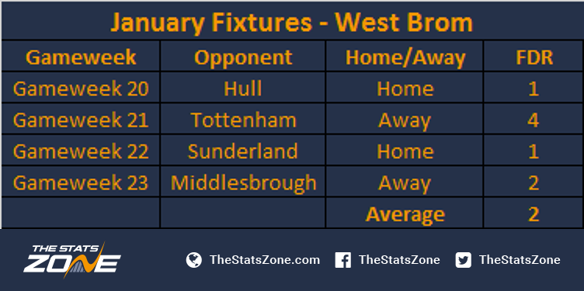 In-form West Brom have a tricky game away at Tottenham but their other games in January look like they could be fruitful in terms of points and fantasy returns. Jonny Evans (£4.5m) returned in the Baggies' away victory over Southampton and should provide more solidity at the back against some tame looking attacking teams. Matt Phillips (£5.6m) could prove to be an astute pick-up following a productive season so far which has seen him collect 91 points, 31 points more than the nearest West Brom midfielder. Salomón Rondón (£6.7m) could also be another popular choice in January with him looking to add to his tally of seven goals so far this season.
With three home games, Bournemouth are another side who appeal in January with an FDR of 2.25: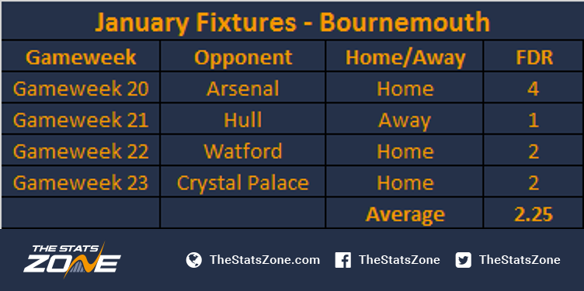 With Arsenal at home first up, Bournemouth will like the look of their other January fixtures. Their defenders are no strangers to providing assists or finding the back of the net themselves with Charlie Daniels (£5.1m) always in with a chance of claiming points at either end of the field. A slightly cheaper option with potentially a higher upside is Adam Smith (£4.7m) who has found himself in midfield on a few occasions this season. Junior Stanislas (£5.1m) enjoyed a good start to the season before he struggled with a couple of injuries but now back to full fitness, he could have a profitable month as Bournemouth's chief threat from midfield.
Unfavourable Fixtures
At the other end of the scale, we have three teams who all share the highest FDR of the January games.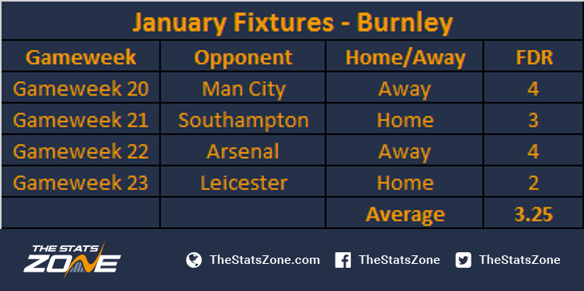 Burnley's home form compared to their away form is staggering with the Clarets so far only collecting a single point away from home. However, at home they are a different animal and would be fifth in the Premier League table if solely home games counted. Whilst daunting away games to Man City and Arsenal would see you want to bench any Burnley player you have, the two home games against Southampton and Leicester provide a chance for potential points. Andre Gray (£6.1m) has four goals in his last two games and is the most likely to find the back of the net for Burnley.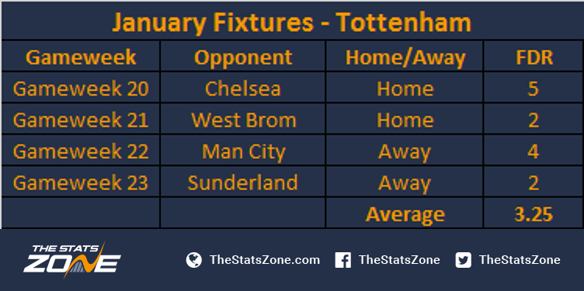 Tottenham have a tricky set of games with the away game against Sunderland at the end of the month their easiest looking fixture. With Spurs having so many options across the park, it's difficult to say with any certainty who may be a good choice for FPL purposes but Harry Kane (£11.0m) is always going to start up front and has three goals in his last two games. Another man bang in form is Dele Alli (£8.3m) but with five goals in his last three games, has he peaked?
The final team with the highest FDR is Swansea and it's difficult to make a case for anybody with the way they have played this season. Their form seems to show no signs of turning following yet another heavy defeat at the hands of Bournemouth. If you're still playing any Swansea defenders, they have to be dropped and quickly. At the other end of the pitch, there's one man who always stands out for fantasy purposes in Gylfi Sigurðsson (£7.4m), but he is arguably too risky for a team that have only scored two goals in their last six games.
African Cup of Nations Impact
Whenever the African Cup of Nations (ACoN) pops up, fantasy mangers are always posed with a tricky dilemma – stick or twist? In a similar situation to medium-term injuries, do you bin your in-form player who could potentially cost you more to buy back?
Sadio Mané (£9.4m) is likely to be the biggest loss to FPL managers when he heads off to represent Senegal but opting for a Liverpool teammate as a replacement could see you with more cash in the bank and a similar points return. Adam Lallana (£7.6m) is in great form with a goal or an assist in four of his last five games.
After last season's heroics, Riyad Mahrez (£9.0m) has become somewhat of an expensive commodity this season and it may be time to finally get rid of him if he still finds himself in your team. Mahrez's teammate Islam Slimani (£8.3m) is also fairly pricey for somebody who hasn't yet justified his huge price tag with game time not always guaranteed. Mahrez could be replaced by Theo Walcott (£7.6m), providing he is fit or Paul Pogba (£8.4m), who has started to look more dangerous in Man Utd's attack recently. Slimani on the other hand could be replaced by any of the strikers already mentioned earlier on with Olivier Giroud (£8.5m) the pick of the bunch at just £0.2m more than the Leicester man costs.
Although he has had a drop in form lately, Wilfried Zaha (5.8m) still features in many FPL teams, so an adequate replacement will need to be sought. The aforementioned Matt Phillips (5.6m) seems the ideal choice in this price bracket, but Hull's Robert Snodgrass (5.7m) is also one to consider with six goals to his name this term.
It's guaranteed to be an exciting month with new players bound to come into consideration. Whatever you decide to do, ensure you check your team and aren't left with players in your starting XI who are headed to the ACoN!