With just a few months remaining in the Premier season, March is a relatively quiet month before a busy end to the season. Fantasy Premier League managers are again faced with some tricky decisions, especially as we approach gameweek 28 (11th-12th March), with the FA Cup quarter-finals already wiping out over half of the Premier League fixtures over that weekend. To compensate for that, we've got a double gameweek (DGW) up next for Man City and Stoke, and we can already hear those chips being thrown around.
Now is the time to start planning for what lies ahead and if you still have a wildcard up your sleeve, you could benefit greatly by ensuring you use it correctly to maximise how many points you can earn. There are numerous other teams who should have a double gameweek at some point – probably in April – and they could be the key to gaining an edge in your league.
Before we focus our efforts on an overall preview of March fixtures, we should of course pay some attention to the upcoming DGW for Man City (we'll discuss Stoke later on in the article). City are away at Sunderland before hosting Stoke and this should be at the forefront of everybody's mind. Sergio Agüero (£12.7m) is now back in the side following the injury to Gabriel Jesus and if you still have your 'triple captain' chip sitting in your arsenal, then you must surely be considering using it on him in gameweek 27. It represents a great opportunity for the Argentine to bag a few goals and there is unlikely to be a better opportunity to use it this season. Guardiola seems to have settled on the make-up of his strongest line-up behind Agüero too, and if you can squeeze in two of Kevin De Bruyne (£10.6m), Raheem Sterling (£7.8m) or Leroy Sané (£7.5m) to complement him, March and gameweek 27 in particular could be a very good period for your FPL side.
Now we'll focus on all fixtures in March, which span gameweeks 27-29: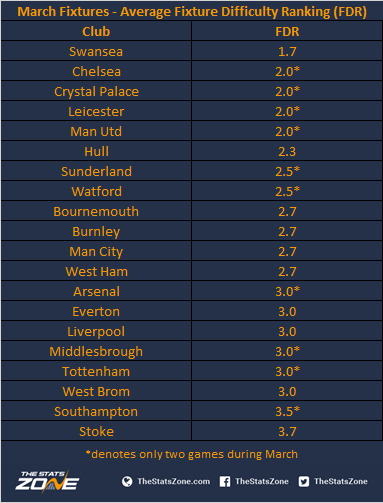 Some teams once again only have two fixtures in gameweeks 27-29. As highlighted earlier, The FA Cup quarter-finals have accounted for the postponement of six games and although one of those fixtures has been rearranged for gameweek 27 (aforementioned DGW for Man City and Stoke), the Fixture Difficulty Rating (FDR) may be slightly misleading once again this month because of the postponements. However, we'll look at which teams have the best and worst fixtures on paper and analyse how to view certain teams.
Low FDR
Swansea are the side with the 'easiest' set of fixtures in February and they have the bonus of having three fixtures too. There are a handful of teams not too far behind but they all have just the two games, with Hull having the next best after those.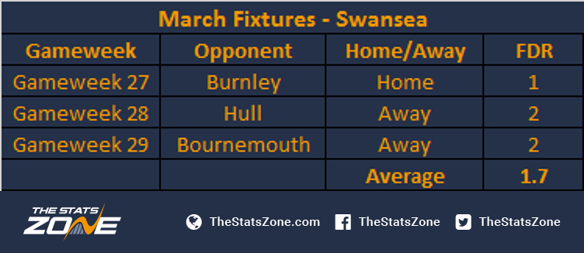 After back-to-back months of having the toughest set of fixtures, Swansea finally appear to have some respite with the best looking fixtures on paper in March. Since Paul Clement's arrival, Swansea have improved immeasurably and with these favourable fixtures ahead, it represents a great chance for them to collect more league points. It may seem repetitive but it's for good reason – do you have Gylfi Sigurðsson (£7.6m) in your team yet? He's gone up £0.4m since our last preview and for good reason – he's registered three goals and three assists in his previous five games. Fernando Llorente (£6.3m) is still Swansea's best bet for a goal and he'll be hoping to build on the goal he bagged in the Swans' previous game against Chelsea. Swansea have only kept two clean sheets in their last 12 games so it's difficult to suggest any of their defenders with any confidence, but Alfie Mawson (£4.5m) has collected 25 points in his last four games.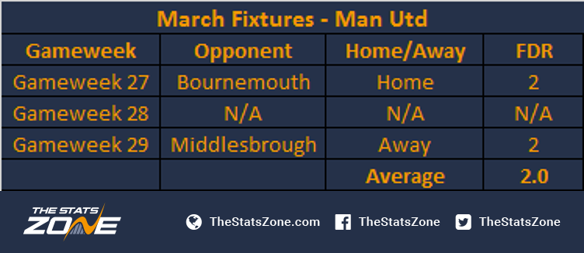 From the cluster of teams with an FDR ranking of 2.0 for March, we've picked Man Utd to look at in more detail, simply because getting their players in is a good ploy not just for March but long-term too, especially if you have the resources to carry them on your bench in gameweek 28. The Man Utd defence has been difficult to predict week-to-week but Antonio Valencia (£5.6m) has been a consistent selection at right-back and has started the last 10 games. He's been part of the defence that has kept three clean sheets in the last three games, and with two favourable games in March, that run could continue with Valencia also hoping to add to his two assists from his previous five games. David de Gea (£5.4m) will start in goal providing he is fit and he too will be hoping to continue his run of clean sheets. We couldn't look at Man Utd and not include the main man - Zlatan Ibrahimović (£11.5m). He's grabbed all the headlines recently, especially after his two-goal performance in the EFL Cup final. Despite those headlines, he only has one goal in his last four Premier League games and that's worth remembering if you're looking to bring him into your team, especially if you're not too flush and need a cheaper option. If you can splash the cash, he may turn out to be a good option for the upcoming games, especially with Man Utd having two extra games to catch up on beyond gameweek 28.
Hull had a tough run of games in February but failed to collect all three points in their easiest game on paper, when they surrendered a lead at home to Burnley. Their fixtures are once again intriguing for March with their FDR rating suggesting they have one of the easiest sets of games, but it might not be as straightforward as that. Their next game is away at Leicester, which could prove to be more difficult following the Foxes' change in management and subsequent victory over Liverpool. They then face Swansea at home in a huge relegation battle before travelling to Goodison Park against an in-form Everton. It therefore seems that their FDR rating is a little misleading this month. Although Hull have improved under Marco Silva, it's difficult to be too confident suggesting their players, One budget option could be Andrea Ranocchia (£4.5m), who we suggested last month and was an integral part of their clean sheet against Liverpool. Hull have injury problems up front and it's difficult to know who will be selected so their strikers are best avoided, unless an obvious option develops during the month. For a cheaper option in midfield, one of Lazar Marković (£5.4m) or Tom Huddlestone (£4.6m) could help you free up funds for more lucrative players. Marković missed the last game with a knock but if he returns, he'll offer the pace out wide that should help Hull create chances and Huddlestone is starting to become more involved under Silva, whilst he's also now on penalty-taking duties.
High FDR
Stoke have the highest FDR in March followed by Southampton. After that, there are a clutch of teams but some who only have two games, making them even more unappealing.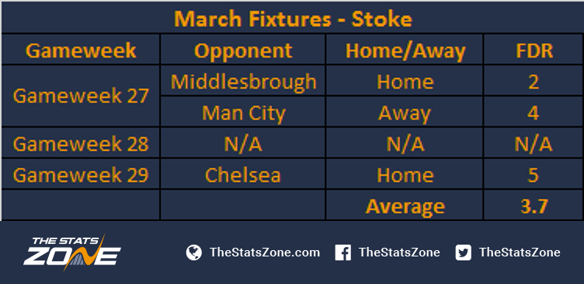 Stoke are certainly worth discussing as, despite having the weakest FDR for March, two of their three games come in gameweek 27. If you do happen to have any Stoke players in your team, it would at least be worth keeping them for the DGW before shipping them out. Despite having just conceded four at Spurs, Lee Grant (£4.4m) is the seventh ranked goalkeeper in terms of points this season and could reward you with a clean sheet against shot-shy 'Boro. However, you'd feel he is unlikely to garner many points against a fired up Man City. We mentioned Saido Berahino (£6.0m) as one to keep an eye on last month but he's yet to start for his new side. After Stoke's showing at Spurs, this could be the weekend he gets the nod and may be tasked with trying to change his side's fortunes. That being said, with what follows in March, it may still be best to see how this one plays out and act if and when he becomes relevant in fantasy terms.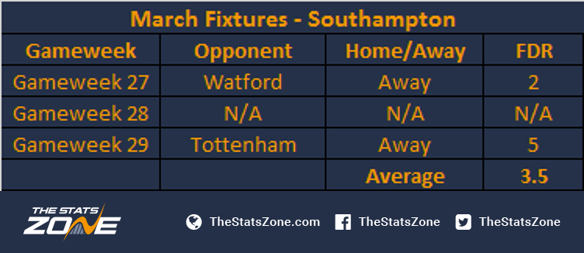 The immediate reaction is to look elsewhere in March with Southampton having the second most difficult set of games as well as playing just the two of them. They may become relevant in April however, as their blank in gameweek 26 (due to their involvement in the EFL Cup final) means they now have two matches to catch up on. If you don't want to wait though, a trip to Watford awaits in gameweek 27 and this may turn out to be a decent fixture for the Saints. One player who is sure to be popular is Manolo Gabbiadini (£6.7m), who has scored three goals in his two Premier League games so far as well as bagging a brace at Wembley. At the time of writing, he's still only selected by 6.3% of teams so could be a good choice to separate you from other teams in your league.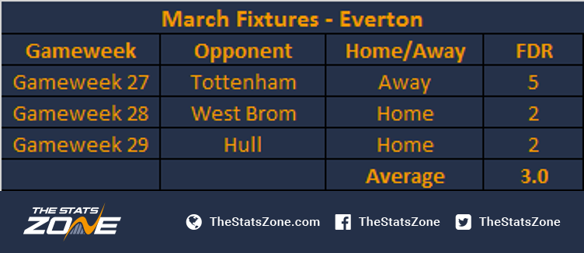 Everton have a high FDR score but they do have the advantage of three games in March, and their presence in gameweek 28 certainly makes their players worth considering. Additionally, they're a team in form with their unbeaten run now stretching to nine games in the Premier League. We mentioned the following two players last month and make no apology for doing so again. Romelu Lukaku (£10.0m) has increased in value by £0.4m since last month, in part thanks to scoring five goals in his three games, including four against Bournemouth which saw a bumper score for fantasy players (even more so if you were lucky enough to captain him that day!). He is, as always, Everton's main source of goals and if they create chances, he'll fancy himself to continue his good run of form no matter who he is facing. Two home games against West Brom and Hull should offer plenty of chances to increase his lead as the highest scoring striker in FPL, although the trip to White Hart Lane to face Tottenham this weekend is what pushes Everton's FDR up. Seamus Coleman (£5.9m) has increased in value by £0.3m since the start of February but that is again with good reason. He provided two assists in February which helped him haul in a total of 23 fantasy points across his three games. He's looking like an excellent option heading into the final months of the season.
Other points of interest
As we touched upon last month, Burnley have three away fixtures in March. From their 12 away matches so far this season, they have only collected two points. They have scored just six goals but conceded 25 to leave their goal difference at -19. These figures aren't conducive to their players picking up fantasy points and it may be time to lose any Burnley players you have this month, with the possible exception of trusty Tom Heaton (5.1m).
More important decisions lie ahead this month with long-term planning a must. Because of the disruption caused by the League Cup final and the FA Cup quarter-finals, Southampton, Man Utd, Man City and Arsenal each have three games to catch up on. The teams with an asterisks in the FDR table all have an extra game to fit in too but it is not yet known when they will be played, although there is speculation that gameweeks 34 and 37 could be likely candidates for extra games. April could turn out to be the most vital month of the season and we'll have a bumper preview before gameweek 30 kicks off.