As we enter the penultimate month of the 2016/17 Premier League season, the fixture computer has thrown up plenty of matches to get our teeth stuck into, with the vast majority of teams having six games during April.
This month could define your whole fantasy football season and play a big part in where you finish in your mini-leagues. We're going to do things a little differently this month to try and give you as much help as possible to extract the most value out of your teams.
To begin with, we're going to look at the three teams who have a double gameweek (DGW), before focusing on three teams who have favourable fixtures according to the Fixture Difficulty Rating (FDR).
DGW Teams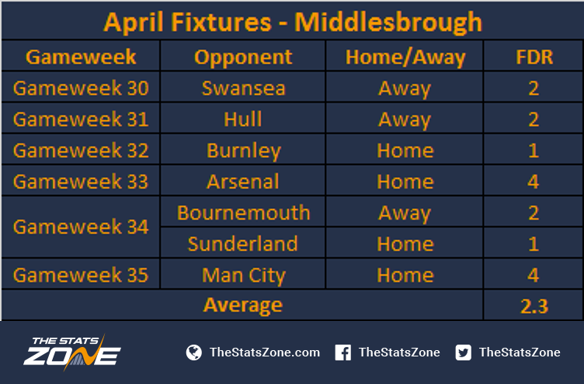 Middlesbrough are an interesting proposition in FPL terms this month. They have the joint second lowest FDR (2.3) but also have the luxury of a DGW and possess the kindest fixtures during that week (Bournemouth away and Sunderland at home). With Aitor Karanka having departed the Riverside, 'Boro – currently entrenched in the relegation battle – will be hoping they can collect some points quickly. They have been fairly solid at the back for most of the season and with some kind fixtures ahead, Ben Gibson (£4.9m) will be hoping to add to his season's tally of 91 FPL points on the back of his first call-up to the England senior squad. Fabio (£4.4m) is another cheap option at the back that could yield a good haul of points. Although it's difficult to justify anybody further up the pitch based on how they've performed this season, with a change of approach and the need to pick up wins to try and get out of danger, it could be worth risking the inclusion of a 'Boro striker. Having been isolated up front on his own for most of the season, Álvaro Negredo (£6.1m) hasn't scored since gameweek 23, but if he can receive better service with a more attack-minded set-up, he could be the man to find the back of the net for his side.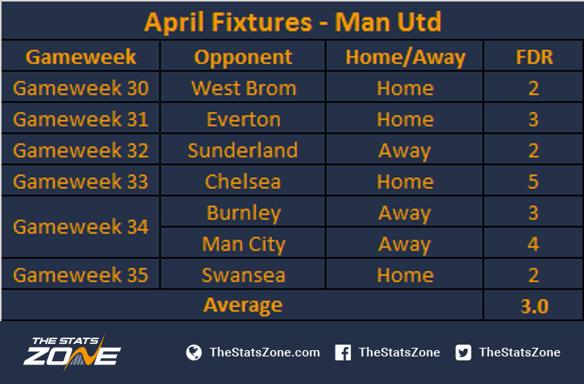 Man Utd have some tricky fixtures ahead in April, highlighted by their FDR score of 3.0, but their DGW makes it worth taking a look at them. A further concern is Man Utd's involvement in the Europa League which could see José Mourinho rotate his side for certain games, but if you make the right selections then this may not be an issue. With two away games during gameweek 34 (Burnley and Man City), it might not be too fruitful in terms of FPL points but Zlatan Ibrahimović (£11.4m) is surely going to be the man to lead Man Utd's assault on the top four once he completes his suspension. As mentioned last month, Antonio Valencia (£5.8m) has been a consistent choice at right-back this season and chipped in with a goal in his last game against Middlesbrough. With Chris Smalling and Phil Jones struggling with injuries, Eric Bailly (£5.3m) looks the most likely to play at centre-back and could help his side collect some clean sheets.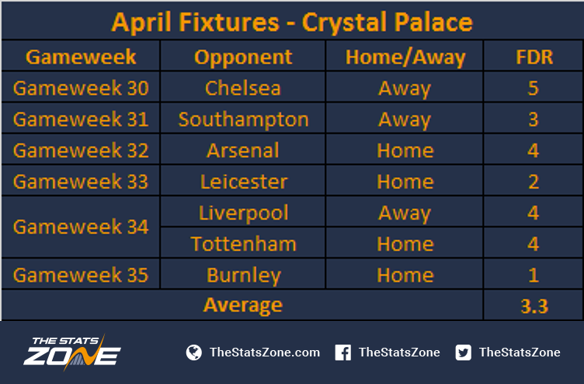 Crystal Palace are the final side with a DGW, but it's important to note their high FDR (3.3), which is the second highest of April and their fixtures during the DGW look daunting (a trip to Anfield to face Liverpool before hosting Tottenham). Whilst their tough fixtures are fairly off-putting, Palace have won their last three games so could be a tougher proposition than their league position suggests. One choice that stands out for them is Wilfried Zaha (£5.6m), who returns after impressing during the international break and will hope he can add to his five goals and eight assists so far this season. The winger can be inconsistent but he remains Palace's biggest threat from midfield and represents better value than teammate Andros Townsend; Zaha costs £0.2m less but he has accrued 29 more points than his fellow winger at the time of writing, whilst he is selected by just 6.1% of teams so he could make a difference for your side. As well as winning three games on the spin, they also haven't had their goal breached during those games either so Patrick van Aanholt (£5.0m) could be a decent option if he has recovered from his recent injury. He didn't feature in the most recent win against Watford but should come straight back into the side once fit and represents a chance to earn points both in defence and attack.
Low FDR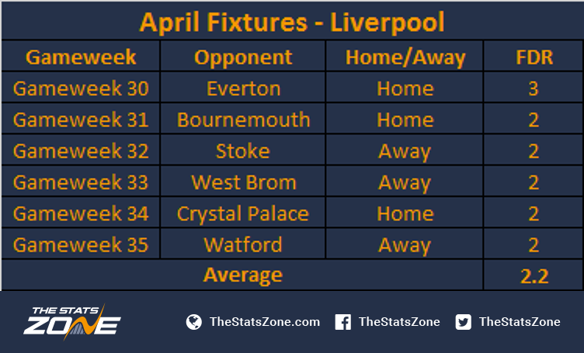 Liverpool have the lowest FDR in April with a string of favourable fixtures following the Merseyside derby this weekend. They haven't been that solid defensively this season and it may pay on their players to supply your team with goals as we enter April. With Adam Lallana potentially out for the full month after picking up an injury on international duty, there will be more focus on Sadio Mané (£9.7m) to provide the spark for his side and with 12 goals and seven assists to his name already this season, it's no surprise to see him selected by 23.7% of teams at the time of writing. For a differential selection, Georginio Wijnaldum (£7.5m), in good form, is only selected by 1.6% of teams and Lallana's absence may offer him more freedom to get forward. A word of warning with the Dutch international, though – he is yet to score an away goal in the Premier League since he signed for Newcastle at the start of the 2015/16 season. The final selection for what could be a profitable month for Liverpool came down to a choice of two men, Philippe Coutinho and Roberto Firmino (£8.4m). We've sided with the latter due to the possibility he will start some games in a more advanced role through the middle, whilst he has also has a lower ownership than his Brazilian teammate (9.6% compared to 17.8%).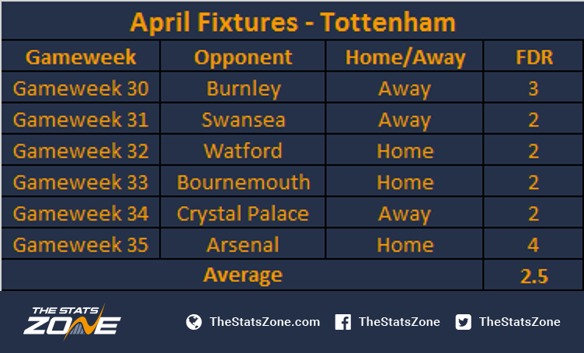 Tottenham are one of a handful of teams with an FDR of 2.5, which ranks favourably this month. Spurs are attempting to retain their place in the Champions League and will have to be consistent to ensure a top four finish. They have a nice fixture list to do this with only Burnley away (3) and Arsenal at home (4) ranked higher than a 2 in terms of FDR. They will have to do this without top scorer Harry Kane but this could be a real opening for your FPL team. Kane is still owned by 9.6% of teams with £11.2m effectively sitting on your bench. You could replace him with another free-scoring player at another club or look to reinvest into Spurs. Heung-Min Son (£6.9m) could be one of the shrewdest investments of the season; He is only currently selected by 5.7% of teams but expect this to shoot up if he retains his role as Kane's replacement up front. With him being classed as a midfielder for fantasy football purposes, you also get the benefit of an extra point per goal he scores, as well as the bonus of an extra point should his side keep a clean sheet. Dele Alli (£8.9m) has maintained his fine form all season and should be able to add to his 14 goals and six assists this season, as well as hoping he can extend his scoring run past the current three games. Spurs have the joint best defence in the Premier League this season with only 21 goals conceded so Jan Vertonghen (£5.5m) could be a nice addition to your defence; he's the cheapest of the first-choice defence for Spurs so could show his value in that respect.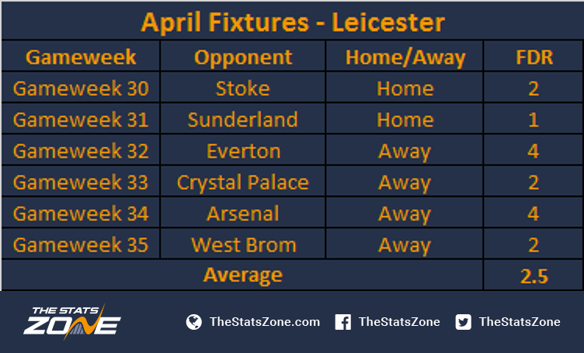 Since the sacking of Claudio Ranieri, Leicester have looked like a completely different team – or as some have said, like the team that won the Premier League last season. With an FDR of 2.5, they are an intriguing proposition this month, and we're going to put forward two players who could stand out in FPL terms. Jamie Vardy (£9.8m) hasn't hit the heights of last season but with three goals in his last three games, he could be the man to fire you to some good totals in April. Similarly, Riyad Mahrez (£8.9m) has shown glimpses of why he was the PFL Player of the Year last season, notching goals in back-to-back games.
Other Points of Interest
The FA Cup semi-finals that take place during gameweek 34 have resulted in some postponements for the four teams still left in the competition.

These fixtures have yet to be rearranged, but it's worth noting that they're going to have a double gameweek at some point before the end of the season. It could pay to get some players from these sides in your team, although be wary of the fact that West Brom do not have a fixture in gameweek 34.
Following FPL favourite Seamus Coleman's sickening injury during international duty, there is a gap that needs filling in the Everton defence. It remains to be seen who replaces the Republic of Ireland international for the remainder of the season, but Mason Holgate (£4.0m) might get the first shot at the vacant right-back position.
As mentioned earlier regarding Harry Kane still being selected in 9.6% of teams, Romelu Lukaku (£10.5m) is surely the man to turn to as his replacement if he is still present in your team. He's currently in 47% of teams but for good reason and he is a solid choice to see you through the rest of the season. He currently leads the goal scoring charts with 21 goals, with nine strikes in his last six games. The Belgian is still reasonably priced compared to other big-name strikers too, which could free up some extra cash to invest elsewhere in your side.
Finally, if you're lucky enough to still have your wildcard, using it the week before the next DGW would be wise, to allow you to use one of your bonus chips, if you still have any to use, during the DGW. For those with just bonus chips left, don't let them go to waste but use them wisely to try and exploit the most value out of them, but using them during a DGW is surely the best way to go.