A relatively stress-free GW last week saw Mohamed Salah (£12.9m) return to scoring ways, Sergio Aguero (£11.4m) continue his prolific run in front of goal and Eden Hazard (£11.0m) reward all his new owners with an impressive two point haul…hmm maybe not completely stress-free then! Still, let's roll with the punches and look ahead to GW7. With a multitude of potentially high point scoring fixtures ahead, the question this GW seems less of who to get in and more who to captain.
The obvious choice is Aguero, as free-scoring Manchester City face Brighton. The Argentinian maestro has been on fire this season, having been involved in eight Premier League goals already (four goals and four assists).
It seems odd to describe Harry Kane (£12.4m) as 'medium risk' but that's what 'just' three goals in six matches will do to an FPL manager's faith in a player. Spurs travel to bottom-of-the-table Huddersfield and Kane could offer serious differential value if you can get him in before his inevitable points scoring takes off.
Arsenal face Watford at the Emirates to round off our trio of good-looking fixtures. Although starting the season strongly, Watford have yet to keep a clean sheet since the opening day of the season. Alexandre Lacazette (£9.4m) looks assured of his starting place up top for the Gunners and comes into the game with two goals and two assists in his last three Premier League starts, not to mention a midweek Carabao Cup goal.
Despite the good fixtures, the form guide can't be overlooked. Even though Liverpool vs Chelsea may not appear the most favourable clash on paper, special players tend to have a way of rising to the occasion.
Salah can never be overlooked and Eden Hazard showed what he was capable of against Liverpool midweek. With Aguero, Kane, Lacazette, Salah and Hazard offering potential, there are in fact a wide array of good options.
Let's see if the numbers can shed any light on the situation.
OPTIMUM SQUAD
GW6's projected optimum team saw six of the 11 suggested players either score, assist or keep a clean sheet on its way to 62 total points. Top scorer in the side this week was Trent Alexander-Arnold (£5.1m) who collected 11 points. Captain for the third week running was Raheem Sterling (£11.0m), who despite not matching his 11-point prediction, did score six points thanks to an assist and a clean sheet. The team was rewarded for keeping the faith with Mo Salah who bagged. Arsenal's victory over Everton saw Aaron Ramsey (£7.4m) and Pierre-Emerick Aubameyang (£10.8m) score nine and seven points respectively.
This brings us to GW7's projected best XI.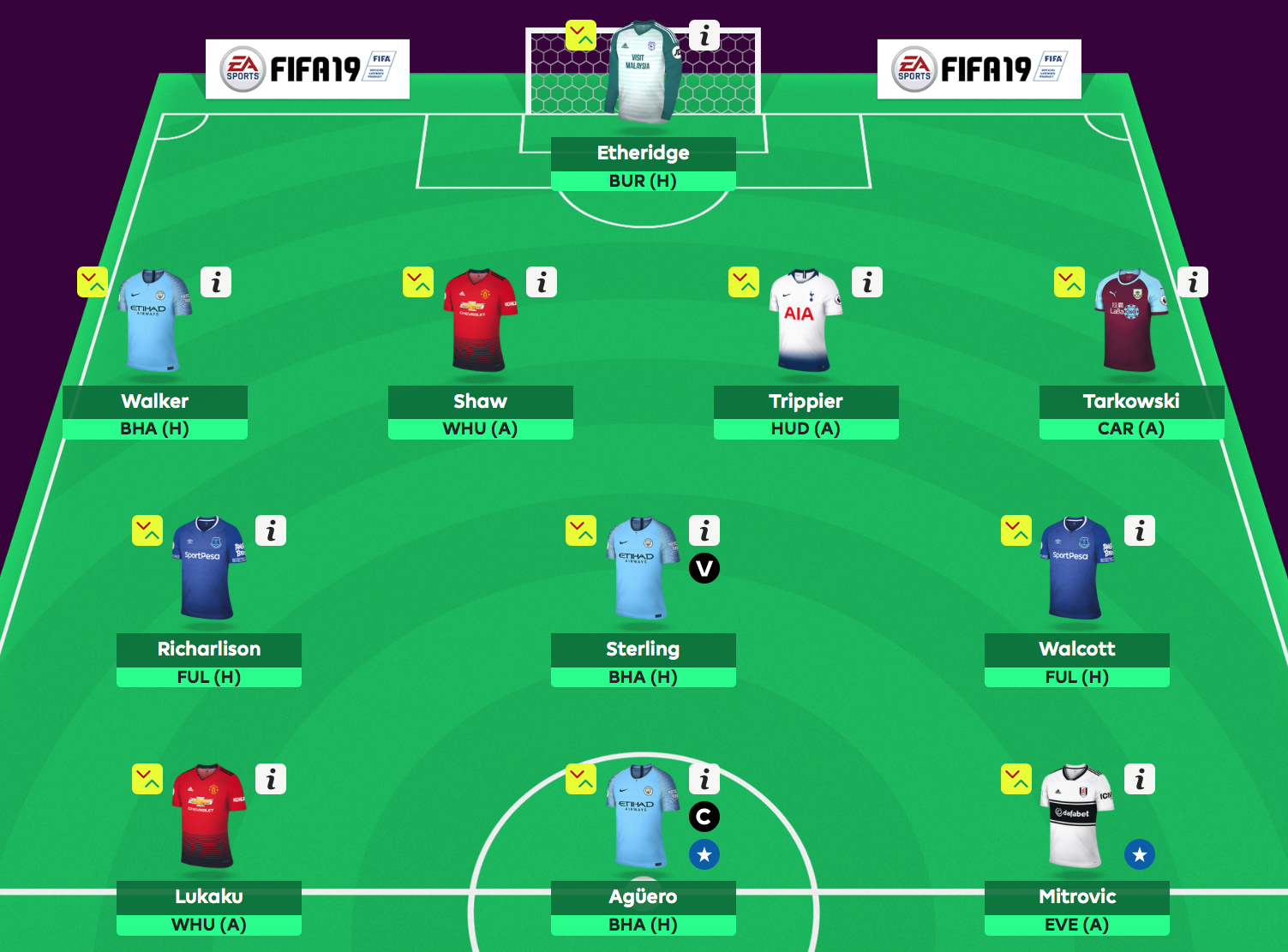 For the second time in as many weeks, the team lines up in a 4-3-3 formation.

However, for the first time this season the projected back five is made up of players from five different teams. In net is Cardiff City stopper Nathan Etheridge (£4.6m), who host Burnley on Sunday at 16:00.
With Chelsea playing Liverpool and Benjamin Mendy (£6.3m) still likely injured, there's no place for any of FPL's 'holy trinity' of defenders. Instead, Kyle Walker (£6.5m), Luke Shaw (£5.1m), Kieran Trippier (£6.1m) and James Tarkowski (£5.0m) make the squad. The quartet is projected to keep the ball out at one end, while having the potential to produce attacking returns at the other.
Raheem Sterling makes the side for the fourth week running and should return points against a Brighton side that has conceded in every league match this season. He is joined in the midfield by Everton pair Theo Walcott (£6.6m) and Richarlison (£6.6m). The tricky duo should find joy against Fulham in front of the Goodison faithful.
Captaining the side is Aguero, who just keeps the points rolling in regardless of how many minutes he spends on the pitch. The Argentinian is supported by the best value forward in FPL - Aleksandar Mitrovic (£7.0m) - and Romelu Lukaku (£11.1m), whose record against West Ham is impressive to say the least.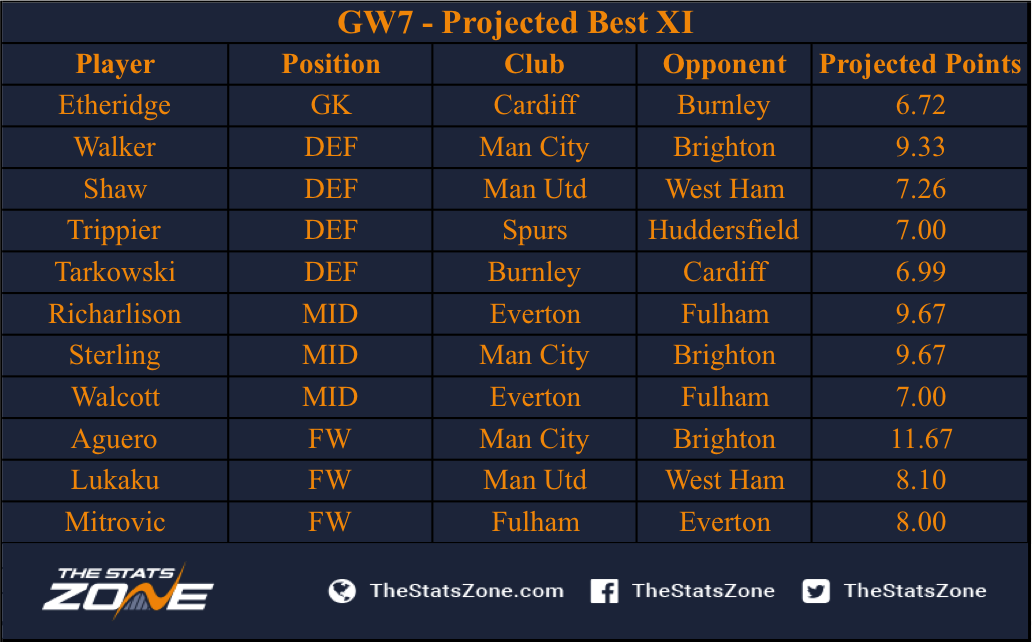 THE REST – GOALKEEPERS / DEFENDERS
With four clubs projected to keep a clean sheet this week, FPL managers have a range of goalkeepers to choose from. Top of the list is Ederson (£5.6m), closely followed by his Manchester rival David de Gea (£5.9m). Joe Hart (£4.5m) and Paulo Gazzaniga (£4.5m) offer cheaper alternatives than the Manchester duo. Mat Ryan (£4.6m) completes the top five, as he will undoubtedly score multiple save points when Brighton travel to Manchester City.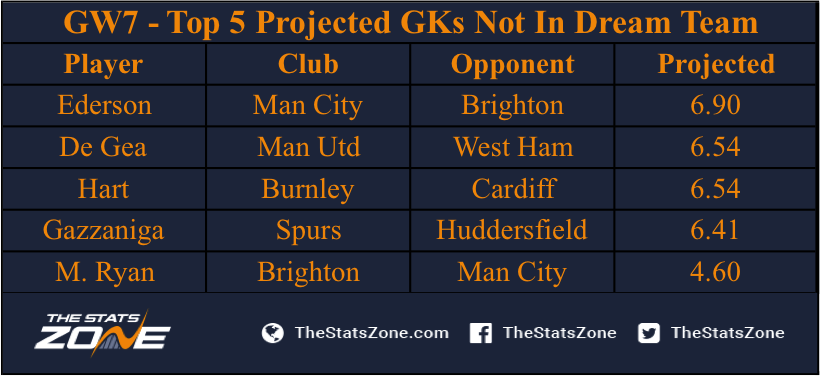 Three of the top five defenders – Jan Vertonghan (£6.0m), Danny Rose (£5.9m) and Toby Alderweireld (£5.9m) are from Tottenham as Spurs travel to a Huddersfield side who have yet to find the net at home this season. Chris Smalling (£5.8m) splits the Tottenham trio and there is a first-time appearance in the top five for a Cardiff defender. Sol Bamba (£4.5m) is the man who makes the grade as his Cardiff side host Burnley, who have failed to score in two of their three away games this season. Bamba was benched in the league last time out, but could be reinstated into the Bluebirds' backline following the injury to Lee Peltier (£3.9m).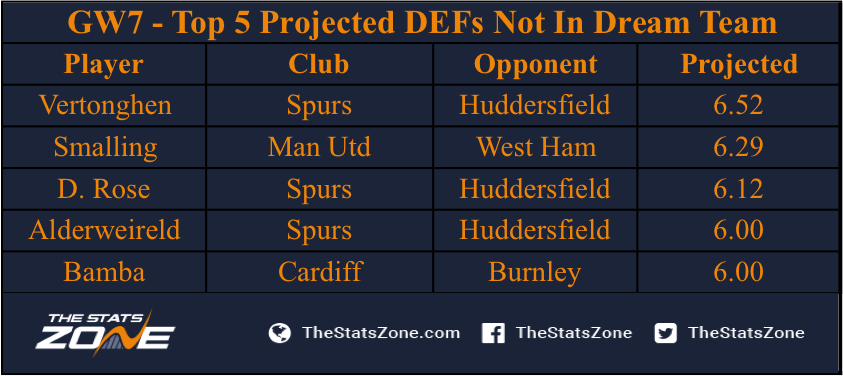 THE REST – MIDFIELDERS / FORWARDS
Manchester City host Brighton with David Silva (£8.6m) set to be chief tormentor of the Seagulls. As Mendy is still expected to be ruled out, Leroy Sané (9.2m) is a good bet to continue his run in the team. Lucas Moura (£7.4m) plays a Huddersfield side that sits bottom of the table, winless and conceding on average 2.33 goals a game. The final two spots are taken by Eden Hazard, who averages 8.33 points per app, and Everton's Gylfi Sigurdsson (£7.4m).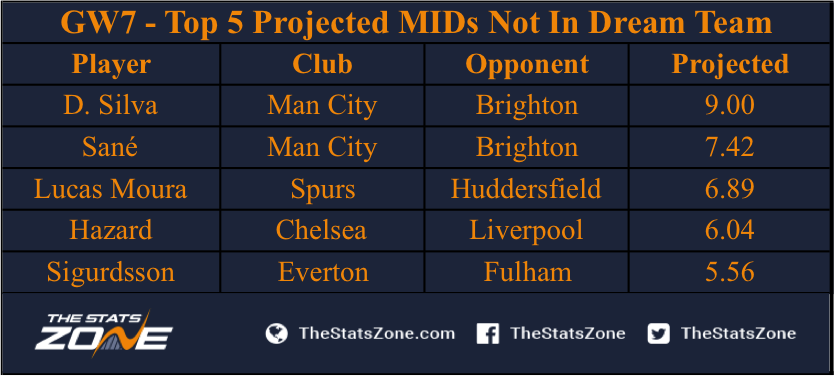 Up top are a trio of budget forwards all in form. Wilfred Zaha (£7.0m), Andre Gray (£6.0m) and Danny Ings (£5.7m) all cost £7.0m or less and have combined to score nine goals already this season. Harry Kane's (£12.4m) slow start to the season has him projected to score just the one goal against Huddersfield, though he has blow-up potential this weekend. Jamie Vardy (£8.9m) will be looking to make it a happy trip to Tyneside against Newcastle.